2021 Accommodation In Serbia: Where to Stay in Belgrade And Across Serbia
Some posts contain compensated links. Please read this disclaimer
for more info.
This accommodation In Serbia guide was written by Cal Bailey from MountainLeon.com – a travel blog he started after two years on backpacking around the world.
Serbia lies on the Balkan Peninsula, a geographical area in southeastern Europe. Although it's not as globally known as other vacation hotspots in the area such as Croatia or Montenegro, Serbia's cultural charm, history. and key summer music festivals make it the perfect destination for your next European trip.
Read on for tips on where to go and the best places to stay in Belgrade, Nis and the Fruška Gora Mountain.
2021 Belgrade Accommodation

Serbia's capital, Belgrade, is located at the intersection of the Danube and Sava River and offers an eclectic mix of old and new. Orthodox churches, 19th-century architecture, Art Nouveau buildings, colorful facades, and quaint squares, there's always something interesting to see. As well as soaking in plenty of history at the Kalemegdan Fortress, a stroll through the park provides incredible panoramic views and is one of the best places to enjoy the sunset. Then, after all that sightseeing – here is where to stay in Belgrade.
Best Hostels in Belgrade

Green House Hostel
With an expansive terrace and great views of the river, the Green House is one of the most popular hostels in Belgrade.
Check Rates or Find More Belgrade Hostels Here
San Art Floating Hostel and Apartments
Comfortable, inexpensive, and set in a pedestrian zone, this is a great option if you're looking for a tranquil atmosphere close to the city center.
Check Rates or Find MoreBelgrade Hostels Here
Best Hotels in Belgrade

Hotel Mint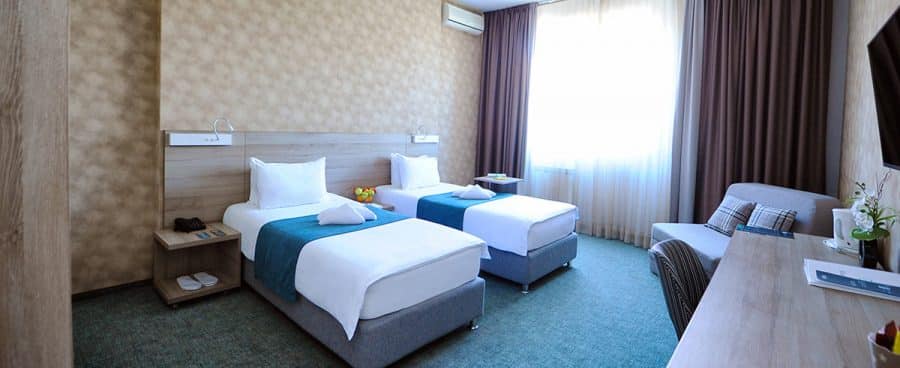 Accommodation In Serbia does not get much better than this! Located in a quiet area and about 2 km from Belgrade's historic core, Hotel Mint features modern rooms with air conditioning, and free Wifi and parking and reasonable rates.
Check Rates or Find More Belgrade Hotels Here
Garni Hotel Vozarev
This is an ideal base if you're interested in sightseeing and exploring the old town. It's about 3 km from the center, but there is a bus and tram stop just a few minutes away.
Check Rates or Find More Belgrade Hotels Here
Square Nine
This elegant hotel located in a superb spot on Student Square offers high-end dining, style, and character.
Check Rates or Find More Belgrade Hotels Here
Belgrade Art Hotel
Sitting on Knez Mihailova, the main pedestrian area in Belgrade, this classy hotel offers the perfect base for exploring the city. It also has a spa so you can unwind after a busy day.
Check Rates or Find More Belgrade Hotels Here
Novi Sad

Novi Sad is the second largest city in Serbia and famous for its domineering landmark, the Petrovaradin Fortress. It's also home to one of the best music festivals in Europe, EXIT, which is held here every July.
As well as plenty of picturesque spots, it's the perfect place to hop on a river cruise, visit museums and art galleries, or soak in the atmosphere in one of the many bars and cafés.
Best Hostels in Novi Sad

Varad Inn
The ideal choice for high-quality, low-cost accommodation. Located in a baroque-style building close to the fortress, it has a lovely garden, communal café, and rooms with private bathrooms.
Check Rates or Find More Novi Sad Hostels Here
Hostel Sova
Close to some of the best bars in town, shops, and restaurants, this hostel is a great place to meet other like-minded travelers.
Check Rates or Find MoreNovi Sad Hostels Here
Best Hotels in Novi Sad

ARTA Boutique Hotel
With spacious rooms and affordable rates which include a buffet breakfast, the ARTA hotel is close to the center and good for accessing the all the important sites the city has to offer.
Check Rates or Find More Novi Sad Hotels Here
CitiHotel Veliki
With the choice of both rooms and apartments, this hotel offers excellent breakfasts and is only three blocks away from the main pedestrian street.
Check Rates or Find More Novi Sad Hotels Here
Prezident Hotel
This hotel offers affordable luxury with indoor and outdoor swimming pools, spa, gym, lounge bar and an international restaurant.
Check Rates or Find More Novi Sad Hotels Here
Hotel Leopold I
Great views of the Danube, a fitness and wellness center, and friendly staff are a just a few of the things that make this one of the top picks in Novi Sad.
Check Rates or Find More Novi Sad Hotels Here
Fruška Gora Mountain

Accommodation in Serbia in the Fruška Gora region is just where you need to be for true relaxation. It is on the border with Croatia and known as "the jewel of Serbia" thanks to its spectacular scenery and relaxed pace.
There are a lot of vineyards and wineries – Serbian wine is not to be missed – and the area is popular for hiking, climbing, and dotted with stunning picnic areas.
As well as the Fruška Gora National Park, it's well worth visiting the many Orthodox monasteries which are scattered over the countryside.
Check Rates or Find More Fruška Gora Hostels Here
Best Hostels

Hostel Fruska Gora
There's not a lot of choices when it comes to hostels in Fruška Gora, but this is a good option if you're on a tight budget. The location is excellent and they offer free use of bicycles.
Check Rates or Find More Fruška Gora Hostels Here
Best Hotels In Fruška Gora Mountain

Aria Apartments
At Aria apartments, you get a lot for your money. Each apartment has a fully-equipped kitchen and guests have access to a terrace, garden, barbeque area, and pool. You can also rent bikes for free.
Check Rates or Find More Fruška Gora Hotels Here
Hotel Premier Aqua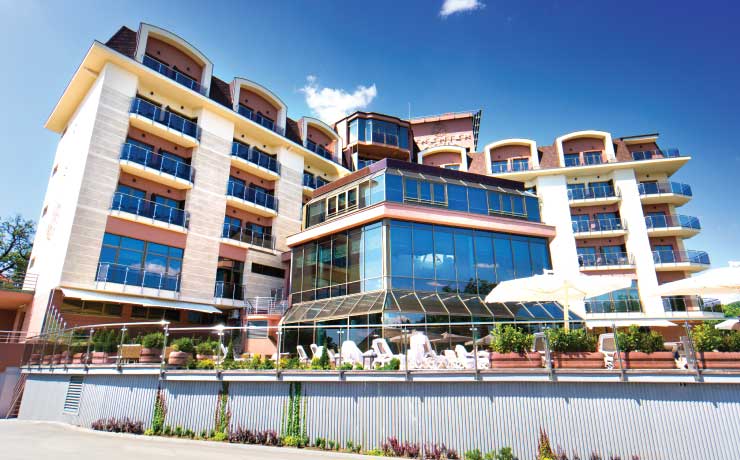 This modern 5-star hotel provides the perfect starting point for any of the activities offered in Fruška Gora, from wine tasting to hiking. Its thermal settlement also makes it an ideal place to relax.
Check Rates or Find MoreFruška Gora Hotels Here
Etno Naselje Vrdnička Kula
Almost like a small village, this is the place to stay if you're looking for a green getaway.
As well as the onsite wellness area which features a hot tub and sauna, guests can also use the Premier Aqua's facilities too.
Check Rates or Find More Fruška Gora Hotels Here
Niš

Nis is a university town in the South of the country and known for its relaxed, fun vibe. Some of the most famous spots include the memorial of Constantine the Great and the Niš Fortress. After a busy day sightseeing, the rows of cafés in front of the fortress offer the perfect place for a rest.
Best Hostels in Niš

Sweet Hostel
Just a five-minute walk from the central square, Sweet Hostel has a variety of shared rooms and apartments.
Check Rates or Find More Nis Hostels Here
Hostel Day 'N' Night
It's central location, comfortable beds, and friendly staff makes this one of the most highly rated hostels in Niš.
Check Rates or Find More Nis Hostels Here
Best Hotels in Niš

ArtLoft Hotel
Located in the heart of Niš, this quirky hotel features modern rooms with paintings from local artists and has numerous bars and restaurants nearby.
Check Rates or Find More Niš Hotels Here
Good Night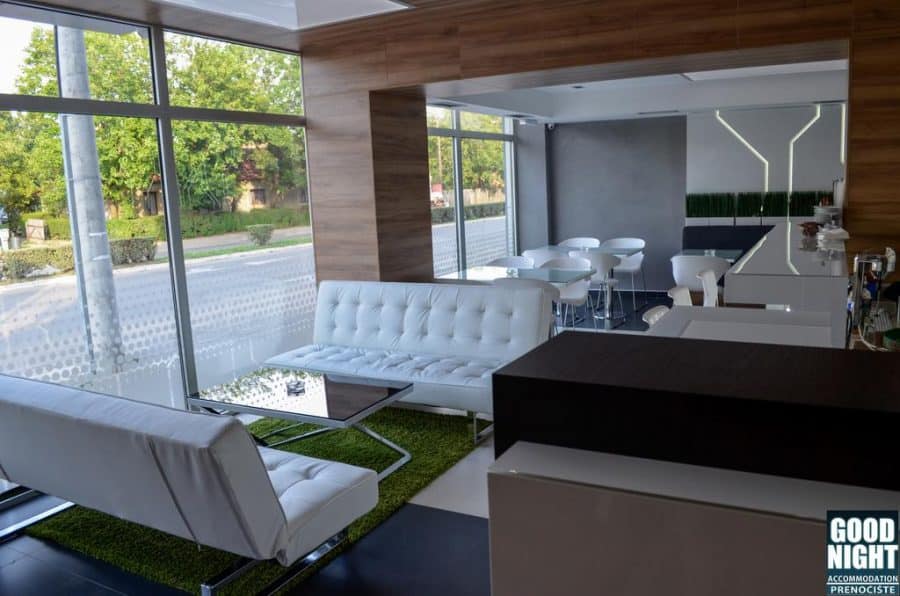 Just 300 meters from the bus station, Good Night's minimalist design and cozy rooms make it a top pick for mid-range hotels.
Check Rates or Find More Niš Hotels Here
Best Western Hotel My Place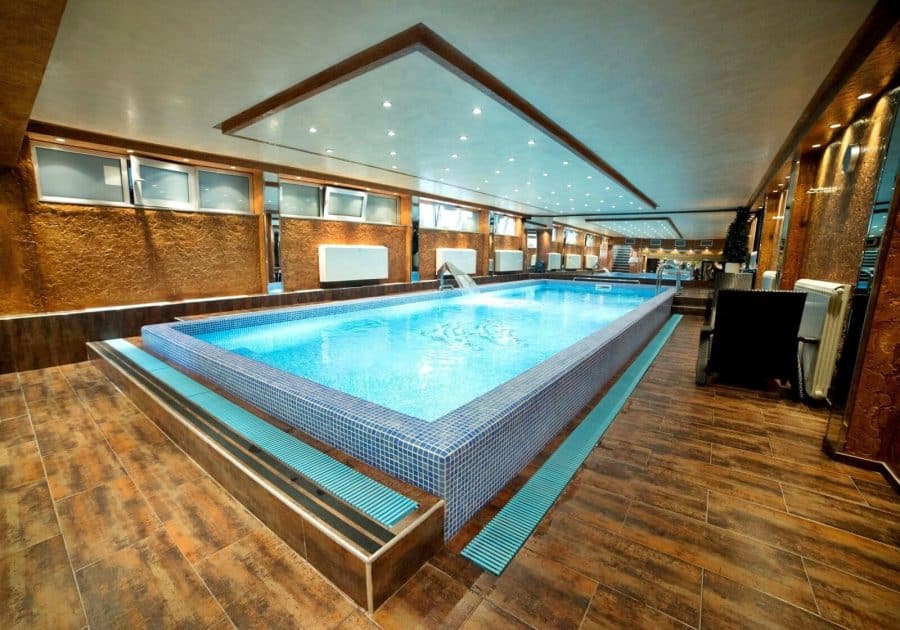 Located right on the Nišava river and facing the fortress, My Place is the place to stay if you're looking for affordable luxury. Its restaurant has panoramic views, and breakfast is included in the room rate.
With plenty of urban attractions, a bustling café and bar scene, and picturesque towns, Serbia is still one the cheapest destinations in the balkans and a place not to be missed.
Check Rates or Find More Niš Hotels Here
 

Serbia's Climate

Serbia has varying climates depending on where you decide to venture, so if you are planning on an epic country-wide adventure, then you should be ready for different weather conditions depending on the direction in which you travel.
The northern portion of Serbia is known to have a continental climate, and that means winters which are cold, but not freezing and summers which can be very hot and humid. Rain in this part of the country is spread evenly across the year.
If you head to the central part of Serbia, then you can expect a moderate continental climate, which is a slightly less extreme version of what you will experience in the north.
Heading south, however, you will find winters which experience snowfall, often substantial, with freezing temperatures, before the mercury soars during the summer, with very little rain at this time.
What To Do In Serbia

We have a whole post on the top 50 things to do in Serbia, but here are a few suggestions to get you started.
Explore Nature at Palic

Close to the town of Palic you will find a dedicated and stunning nature park, which is home to a natural spa on the northern section of the Palic Lake. You can spot wildlife until your hearts content here, with countless species of birds to check out.
Enjoy a Cycling Tour of Belgrade Sights

If you want to be active and see the sights at the same time, I Bike Belgrade organizes guided cycling tours around the city's main areas, which means you can get some exercise, see the main highlights, and do it all with the help of a guide.
All you need to do is grab Belgrade sightseeing map and pedal off on your adventure.
Save Your Legs with the Hop On and Off Belgrade Sightseeing Bus

A Belgrade top 10 list is never complete without this bus. This is an excellent family friendly trip around the city – all without giving yourself blisters and hearing the kids moan about all the walking.
Use the hop on and off sightseeing bus to its maximum potential. This has several routes, and you can choose the route which suits your interests, hopping off if you want to explore further, before re-joining the next tour.
Other Great Serbia Travel Blogs

Share