2021 Car Rental Serbia & Driving In Serbia Tips
Some posts contain compensated links. Please read this disclaimer
for more info.
Serbia is a land-locked country in the Balkan region and one that has enjoyed a tourism resurgence in recent years. If you go once, you'll totally understand why! Packed with things to see and do, both in the capital city of Belgrade and further afield, Serbia is also home to several world-class ski resorts in the south of the country.
If you like history, you're also sure to love the various different historical nods you'll find in all major towns and cities, dating back to Roman and Byzantine times, and even the Ottoman Empire.
Of course, the best way to see any country is on your own steam, and hiring a car is a good way to do that. The other plus point of being land-locked is also the various countries around the borders, and Serbia shares borders with Bosnia & Herzegovina, Hungary, North Macedonia, Romania, Montenegro, Croatia, Bulgaria, and Albania.
This means that Serbia as a whole is influenced by many different countries and their individual cultures, and experiencing it all is a must do.
Being able to explore the differing landscapes, from the flat farmlands of the north, the hills and valleys through the center of the country, down towards the alpine ski resorts and mountains of the south, is a fantastic experience to have.
Finding the best car rental options in Serbia is, therefore, something you need to think about ahead of time. The best car rental company will give you options in terms of the best vehicle for you, but you also need to know out the Serbia driving laws, and probably a little confidence boost before you head off.
Let's face it, driving in any foreign country can be a little nerve-wracking at first, but once you get used to it, you'll see that driving in Serbia is nothing to worry about.
Our Serbia car rental guide should help to alleviate any worries you might have.
Things You Should Know When You Rent A Car In Serbia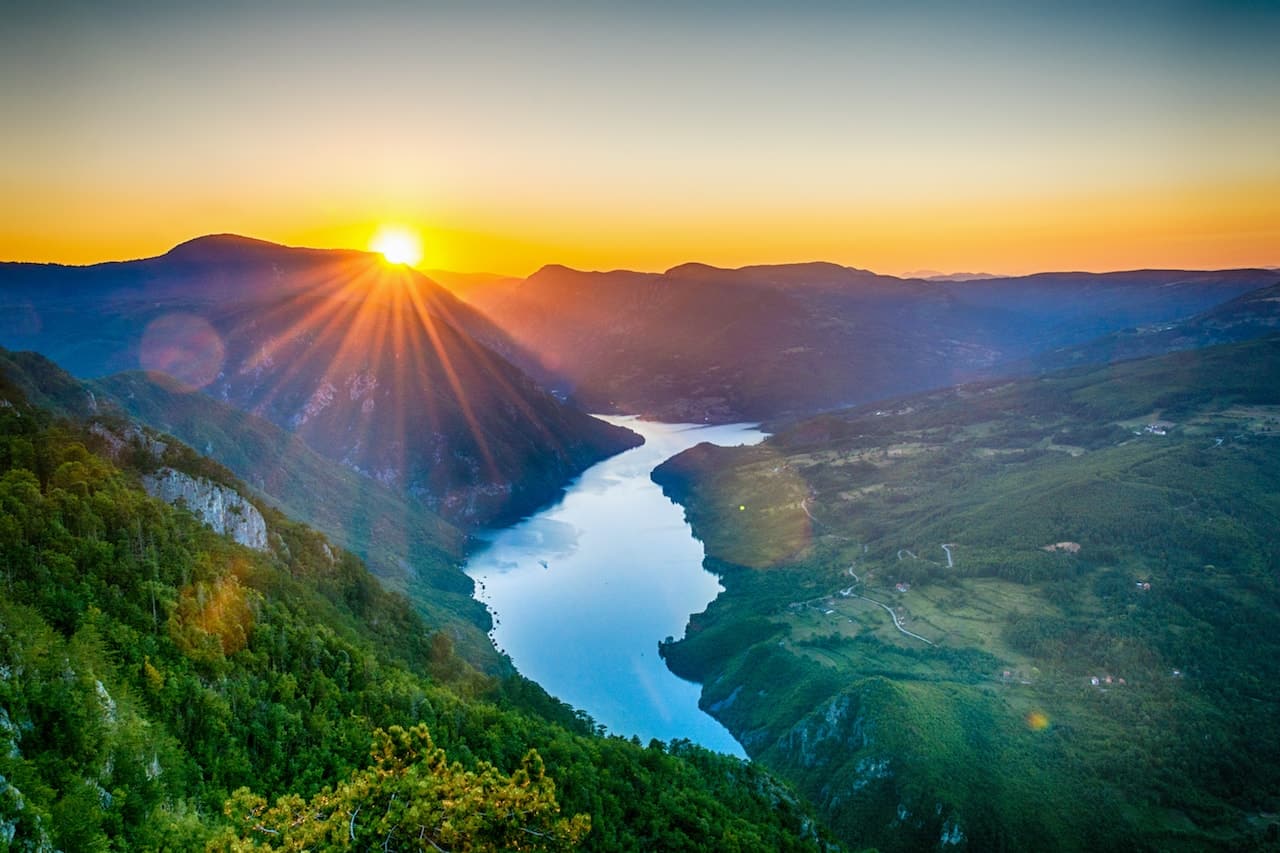 As we just mentioned, when you hire a car in a country you're not familiar with, it can make you a little nervous, but by reading all the hints and tips we're going to give you, you'll be super prepared and confident. Remember, road rules can and do change on occasion, so do read up quickly before you head over to Serbia, to ensure you're up to date.
You can also check with your Serbia car hire company if you're not too sure of any of the finer details. There are many cheap car hire Serbia choices to look into, who will be happy to help you.
We'll give you the low down on the best car rental companies operating in Serbia, and tell you what you need to know when renting a car from a reputable top rent a car company.
While Serbia isn't as touristic as neighboring Croatia, it certainly makes sense to book your choice of car hire in Serbia ahead of time, especially if you're visiting during the peak summer months between the end of June to August.
Adventurous visitors like to cross borders and explore the neighboring countries, so you'll probably find the surge in tourism in Croatia affects rates and availability when you arrange your car hire in Serbia.
You also need to be aware of the bare minimum requirements to rent a car in Serbia, and of course, drive it!
To Hire A Car In Serbia, You Will Need:
To be 21 years of age or over (this might vary according to the type of vehicle you want to hire)
A full, valid driving license from your country of origin, and accompanying passport
You must have held your passport for at least two years
If you are under 25 years of age, some car hire companies may charge you for being a young driver. This means your car hire rate will be higher
To carry your car hire paperwork with you at all times, including insurance details
To be able to drive on the right-hand side of the road
In answer to the question of 'can you drive in Serbia without a license?' The answer is a resounding no! You will need a valid license to not only hire a car but also to drive it. You may be stopped and checked at any time by traffic police.
2021 Car Rental Companies Serving Serbia

You're probably wondering what is the best car rental company to opt for, and these are the companies which serve Serbia as a whole:
Rental Cars – we love their easy-to-use search system (as seen above) and excellent customer service
Auto Europe – we have also used Auto Europe many times and really like the way the search features work.
Europcar Rent a Car
Hertz
Ade Rent a Car Belgrade
Enterprise
AR Rent a Car
Budget Car Rental Serbia
Skill Rent a Car
Oryx Rent a Car Serbia
Sixt Serbia
Dollar Thrifty Rent a Car
ZIM Rent a Car
Goldcar
Menadzer Rent a Car
Mega Rent
Avis Rent a Car Serbia
Omnibus Belgrade
Unirent
Mega Rent
Alamo Car Rental Serbia
Green Motion Car Hire
Firefly Car Hire
National Car Hire
Inter Rent Car Hire
Surprice Car Hire
Most car hire companies operate out of Belgrade Airport, however, they will also have offices in Belgrade itself, as well as the major towns and cities around the country.
Checking availability online will give you the best rates and types of cars available for your dates. For instance, Oryx Car Rental Serbia is a popular option, but to avoid disappointment, especially during summer, it's best to check ahead of time.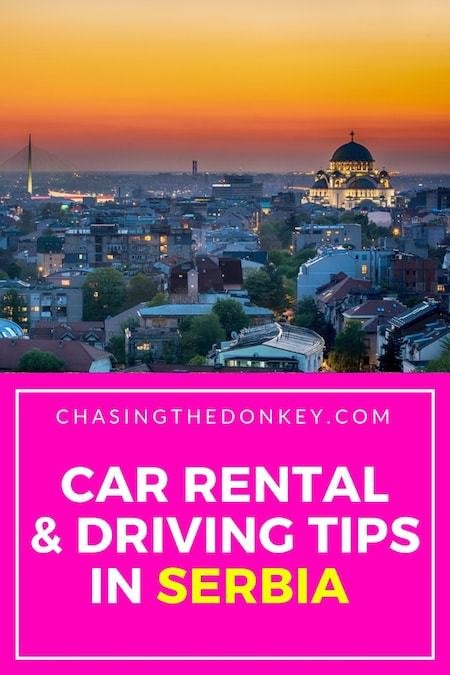 Car Rental Serbia Tips For 2021

Always Book Ahead of Time

While Serbia isn't as touristic as Croatia during the summer months; it is still a very popular spot for people to explore, especially if you're hiring your car from Belgrade (likely). In that case, just turning up and expecting a car to be there waiting for you is not the best tactic to adopt.
It's so quick and easy to check online and book that you should undoubtedly book ahead of time, and avoid any disappointment. Remember, Belgrade is a very popular, international city these days, and during the winter months, many visitors head there for the festivities during the Christmas and New Year periods – another time to book ahead of!
Shop Around

It goes without saying that you should shop around. There are many budget car rental Serbia choices, and it's just a case of doing your research and comparing rates and vehicle availability. We mentioned earlier that some companies might charge drivers 25 years of age a higher rate due to their age, but that's not the case with all companies, so this is something to look into before making your final choice.
You'll Need A Credit Card To Secure Your Booking

The overwhelming number of Serbia car rental companies these days will ask for a credit card to secure your booking, and to act as a deposit against any potential damage to the vehicle upon return. This is something just to be aware of.
Check What Insurance is Included With Your Car Hire

The best car rental company in Serbia will include the mandatory insurance with your booking, and you can include further coverage at an extra fee. Fire and third-party liability insurance are the two mandatory types of insurance you should look for, and you can then opt for collision and theft insurance if you want to, for an extra cost.
Again, check the small print very carefully before you make your final decision, and always remember to carry the insurance paperwork with you when you venture out.
Driving Outside of Serbia And One-Way Rentals

Again, this is something you need to check with your particular company, as regulations var. Generally speaking, there are several countries where you cannot drive a car that was rented in Serbia.
International one-way rentals are usually not available, but domestic one-way rentals are available from most cheap car rental Serbia companies, although the cost and insurance charges will probably be higher than if you simply return it to the same office
Some top car rental companies will not allow you to hire a car in Serbia and travel to Kosovo, Bulgaria, or Albania in particular. This is due to safety issues, as in the past there have been problems with cars registered with Serbian plates being targeted for vandalism or trouble, especially in Kosovo.
Ask About Unexpected Fees

Hiring a car anywhere in the world can be filled with unexpected charge pitfalls unless you ask about them beforehand. One of the best car rental tips around is to ask about the following:
Fees for one way hiring
Picking up and returning the vehicle out of hours
Extra drivers
Cancellations at the last minute
Costs for additions, such as car seats
The Rules Of Road When Driving In Serbia

Of course, renting a car in Serbia is pretty straight-forward, just like it is in other countries. The driving rules, however, might be a bit different than what you're used to. So, we've compiled some of the most noteworthy rules of the road when driving in Serbia here.
Tolls

There are several toll roads around Serbia, mostly near to the borders with other countries. You can pay for these in cash, or you can use major credit cards, e.g., MasterCard, Visa.
Gas/Fuel

Petrol stations are easy to find around Belgrade and major towns, but you may struggle in the distances in-between. It's a good idea to top up your car with fuel regularly if you are traveling over large distances.
Side Of The Road

In Serbia, as in the rest of mainland Europe, you drive on the right-hand side of the road.
Motorways

There are certain sections of motorway which only have two lanes and a hard shoulder situated only one onside side.
Local Drivers

Be aware that local drivers may use the central lane to overtake, and that may force you onto the hard shoulder.
Speed Limits In Serbia

There are various speed limits in force, depending on the type of road and the area. check signposts and always adhere to the limits.
On-the-Spot Speeding Fines

If you are stopped by police for speeding or another offense while driving, you are given a fine on the spot.
Seat Belts

Seat belts must be worn at all times.
Children Under 12 Years

A child under 12 years of age cannot travel in the front passenger seat. Children under 12 years must be seated in an appropriate car seat, or be restrained appropriately.
Drinking And Driving In Serbia

Drinking alcohol and driving in Serbia comes with very high fines and the potential of serious trouble with the law. You are considered to be over the limit if you have 0.03% of alcohol or more in your blood.
Landmines

Stick to marked roads and do not go off-road without a guide. Whilst Serbia is cleaning up rural areas following conflicts in the past; there is still a risk of finding an unexploded device or landmine.
Right Of Way

Always give right of way to trams and cyclists using cycle lanes. Give way to traffic coming from the right at an intersection or roundabout, unless otherwise indicated on road signs.
Use Of Horns

Do not use your horn in residential areas at night, unless there is a pressing need, e.g., danger or a person in the car is seriously ill.
Driving in Serbia is a great experience, provided you find a top car hire company to provide you with a quality vehicle, and you know what to expect ahead of time.
There are very few issues you will come across and provided you stick to main roads and do not venture off road; you will have a very safe driving experience
You will also be able to see much more of this beautiful country and get to experience the authentic side of Serbia, at its very best.
Are there any other driving in Serbia or car rental tips we missed? Let us know in the comments below.
Other Ideas For Your Serbia Travel

Share