4 Best Tourist Destinations In Queensland, Australia
Australia, aside from being one of the seven continents, is a huge country as well. It is a perfect tourist destination for business travelers, students, families, and newlyweds. It is full of beautiful and historic sites, including the state of Queensland. Queensland, the sunshine state, is one of the largest states in Australia. It is also one of the fancied destinations of local and international tourists. 
Top 4 Tourist Destinations In Queensland, Australia
1: Caloundra on Queensland's Sunshine Coast
When you look at an aerial view of Caloundra on Queensland's Sunshine Coast, the first thing you will notice is the beaches. While the whole of the Sunshine Coast is lined with beaches, Caloundra has more than its fair share. In fact, a rundown of all Caloundra beaches forces you to categorize them. In Caloundra, you can find family beaches, sports beaches, and romantic beaches.
There is more than one of each category of the beach, too. For example, four different Caloundra beaches are classified as family-friendly beaches. They are all different, but they all protected from the brunt of the waves that pound the surf beaches in the area. Bulcock Beach, for example, is a small beach not far from the Caloundra town center. Families love to go there for picnics and to stroll out onto the boardwalk. The other three family beaches, Golden (the largest), Currimundi, and Dicky Beach, are all equally family-friendly.
Moffat Beach is another kettle of fish altogether. Surfers from all over Australia know that when they are on the Sunshine Coast, they will head straight for Moffat Beach in Caloundra. Moffat isn't just for surfers though. The coastal walk out to Moffat Headland is something everyone will enjoy and the wonderful alfresco cafes in Moffat cater to everyone's appetite.
South of Moffatt is a long stretch of isolated beaches and tidal pools known as Shelly Beach. Romantic couples stroll hand-in-hand out to the more isolated parts of the beach to enjoy being together in a marvelously tranquil natural environment. The currents are very strong on this exposed part of the headland, so it's not recommended for children, but it does have a wonderful undeveloped wilderness feel to it.
Also classified as a "romantic beach," but really enjoyed by everyone in the long stretch of beach known as Kawana Beach. You can stroll for miles on Kawana Beach, keeping your feet cool by walking on the hard-packed low tide sand. If you prefer, rent a bicycle in town and take the wonderful coastal bike path, stopping off for a dip in the sea when the spirit moves you.
Of course, no matter how much you love the beach, you will want to get away from it from time to time and see what else Caloundra has to offer. You may be surprised to discover that there are over a dozen great art and craft galleries in Caloundra and its neighboring towns. The Sunshine Coast attracts creative types, and the galleries feature the works of many local artists and craftspeople, as well as national and international artists.
Caloundra was officially recognised as the tidiest town in Queensland in 2008. The pride the Caloundra locals take in their community is evident everywhere, including Caloundra accommodation options. Whether you stay at a campground, a backpackers lodge, a family motel, or a fully appointed 4 1/2 Star Caloundra resort, you will be taken care of in style and comfort. If you're looking for a great Sunshine Coast getaway, stay in Caloundra – the city of beaches.
2: Magnetic Island in West Point, Australia
Magnetic Island, A Good Location When Staying On The Great Barrier Reef. 
When Captain Cook sailed past Magnetic Island in 1770, he noted that his compass seemed to malfunction and attributed it to the unnamed island, believing it to contain a mysterious magnetic force. Although his theory has since been proved wrong, the name "Magnetic Island" has stuck ever since.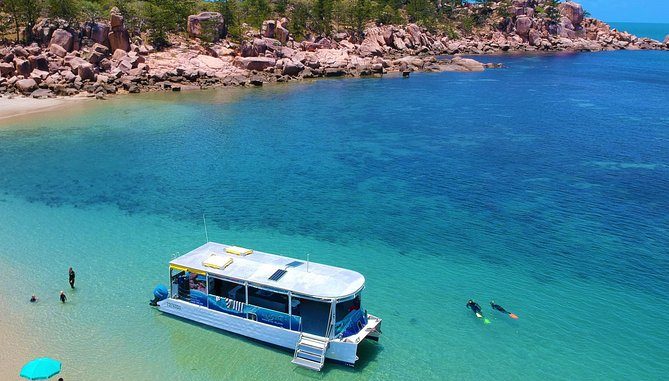 Maybe a better name for Magnetic Island would be Magic Island. Neither a compass nor any other instrument can measure the "force" of this magic, but you definitely feel it when you're in the vicinity of the island. What is magic?
Yes, the fact that Magnetic Island is on the Great Barrier Reef is part of its attraction, but that's not the whole story. When you see its verdant, hilly slopes just off the shores of Townsville, it looks like you could almost walk or easily swim to it, it is so close. Those with adventurous spirits look at its verdant hills and hidden coves and want to discover them for themselves. Since half of the island is a National Park, the potential for exploration is enormous.
If you like roughing it, you can explore much of the island on foot, on a mountain bike, or even in a sea kayak. If motorized transportation is more to your liking, then rent a dirt bike, a 4WD vehicle, or even a Harley-Davidson motorcycle. On the water, you have your choice between exploring beneath the surface with snorkel or scuba gear or enjoying the water by sea kayak, jet ski, or even aboard a luxury yacht.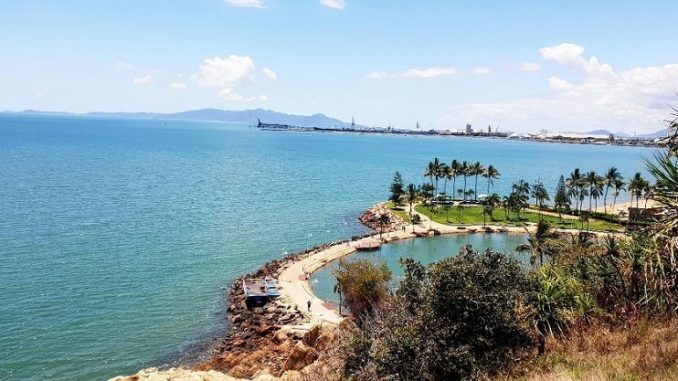 Many people get the mistaken impression that Magnetic Island is one of those Great Barrier Reef islands that only millionaires can afford to visit. Nothing could be further from the truth. One of the attractions of the island is the numerous budget accommodations and backpackers lodges that are available. As for dining, you can find whatever you want, no matter what your budget is, in any of the island's four main residential districts.
If it's luxury you're after, you can find that, too, on Magnetic Island. Recent years have seen an upsurge in more luxurious accommodations and amenities on the island. You can treat yourself to a massage at a day spa, wine and dine at a fine restaurant or sip champagne on the seashore as the sunsets.
Magnetic Island's major attraction maybe its authentic village atmosphere. When you visit this island, you don't feel like you are visiting a Great Barrier Reef island that has been developed solely for tourists. The locals are a special breed. While they love to share their island, they are down-to-earth Australians you can sit down and "have a yarn" with.
Don't worry about what time of year it is when you visit Magnetic Island. It is warm and sunny throughout the year. A word of caution, though: because Magnetic Island is so popular, you should probably book your Magnetic Island accommodation in advance of your visit. Once you've set foot on its shores, you'll discover for yourself the real reason they call it "Magnetic Island."
3: Noosa, Sunshine Coast Has It All
If the Sunshine Coast is one of Queensland's coastal treasure troves, then Noosa, on the northern end of the Sunshine Coast is where you will strike it rich. Noosa has it all. Luxury and sophistication combine with a laid back beach lifestyle in a natural setting that leaves nothing to be desired.
Queensland's Gold Coast has its attractions. There's no denying that. However, the highrises, traffic, and urban atmosphere of the Gold Coast aren't to everybody's liking. When they hear that just a couple of hours up the road is a quieter resort town that still has everything you could possibly want, they take their first trip to Noosa. Sometimes, they think they will just spend a couple of days there, but usually, they're wrong. Once you arrive in Noosa, you relax. Leaving is not an option because it is just too beautiful.
Your first day in Noosa might be spent on Hastings Street in Noosa Heads. This short road runs parallel to Noosa Beach and it's not hard to find a wonderful spot to dine alfresco at a wonderful café on the beachside of the road. After a refreshing meal, you will be ready to do some serious shopping in the upscale Hastings Street boutiques, galleries, and gift shops.
The following day is a good day to get outside and get some exercise. Noosa and Noosa Heads are divided by the beautiful Noosa National Park. The main walking trail in the park is suitable for all levels of fitness, and the overhanging branches of the trees mean that you will be enjoying your walk in the cool of the shade. If you want to, though, you can take a detour and bask in the sun and take a dip in the azure waters in one of the sheltered coves along the way.
You will still have all afternoon to continue to get to know Noosa and environs. Nearby Noosaville is nestled next to the Noosa River and is a great place to explore. Relax and enjoy the scenery as you take a river tour aboard a riverboat or houseboat and spend some time at beautiful Pelican Beach.
If all of this sounds too sedate for your adventurous spirit, then there are plenty of adventures awaiting you in Noosa – on land or at sea. How does a camelback safari sound to you? If you are a keen surfer, you shouldn't have to be told about the legendary waves in and around Noosa. Right out in front of the National Park parking area is one of the best point breaks in the world. Further afield, towards Cooloola National Park, are some secret spots that on their day rank with some of the world's best.
If you are looking for highrises and mega-developments, then Noosa may disappoint you. If you are looking for luxurious boutique hotels, resorts and spas, though, then you will absolutely love it. Even the inexpensive backpackers lodges in Noosa are a cut above the rest. When you stay in Noosa, your Noosa accommodation will be something special, no matter what your budget is or preferences are. Next time you are in Queensland, step away from the pack and get to know Noosa. You will love it.
4: Maleny on the Sunshine Coast A Place To Relax, Unwind, And Recharge
For those looking to find tranquillity, Maleny forms the perfect holiday location. This Queensland town overlooks the Sunshine Coast and attracts numerous artistic individuals creating a wide variety of items. Take part in eco-friendly activities here and just beyond Maleny along the Blackall Mountain Range or just gaze out of your window at the beautiful Glasshouse Mountains.
Being a tourist can make you very hungry, so scope out your eating options right off the bat. Restaurants in town serve fine food and snacks including Italian and German menus. Then again, thirsty tourists can always find a place for a glass of beer or wine. For more private dining, purchase supplies at the local butcher, supermarket, and shops that sell unusual items such as chocolate cheese. With bags full of goodies you need not leave your apartment or cottage at suppertime and will still have extras for a picnic the next day.
One set of local artists works with gold, hand-crafting unique pieces of jewelry worthy of display. Admire their work, featuring exquisite natural gemstones. Tour their Bold in Gold gallery where bracelets and necklaces are displayed for sale beneath paintings hung above their cases for your perusal.
Cairncross Park wildlife reserve offers the chance to consider how important an environmentally friendly approach to lifestyle is to Australian animal and plant species. A guide can help you spot various examples living and growing in the Blackall Mountain Range. Other area tours take guests to a winery or through the many art galleries of Maleny and surrounding locations. Continue with your cultural enrichment thanks to the local film society. Though their focus is a film, they combine this first love with food and wine-related events.
More wine awaits the discriminating palate. Settlers Ridge makes and sells award-winning varieties. Consider buying a bottle of Shiraz, Tawny Port, or Pinot Grigio.
Maleny provides a gorgeous backdrop for weddings, while Maleny Manor makes an elegant facility for holding the ceremony and staying the night. Their wrap-around veranda, pavilion on the hill, and vast green lawns give scope for beautiful photos after an idyllic ceremony. A wedding package booked here will ensure privacy for the bride, groom, and a few special guests. Tuck into continental breakfast to fortify yourself of a busy day of being beautiful.
If this venue already contains a wedding party or all rooms are filled with other visitors, never fear: you can try one of the other outstanding Maleny accommodation options. All of them provide breathtaking views into the rain forest, mountains, or down to the coast. Ensure privacy and tranquillity with self-contained apartments. Select a cottage and light a fire each night to relax by. 
Available romance packages provide guests with wine, goodies, and a massage. You might even consider wowing a business client by hosting a meeting or conference where delightful surroundings will soften them to your ideas.
Take your family for an exciting day out featuring wild rides and amusing diversions. Aussie World promises to fulfill the need for thrills. Australia Zoo continues the work of the late Steve Irwin to highlight the importance of conservation. Here you can admire and learn about creatures such as the cheetah, echidna, even big snakes.
There are endless tourist destinations in Queensland, only a few of them are mentioned here. Suggest our readers, your favorite tourist destinations in Queensland, Australia in the comment box. 
Please like and share this with your friends and family members.