50 Things to Do For Christmas in Georgia
[
Updated November 19, 2020
]  
Everyone knows that we're passionate about ecotourism and nature conservation. But unless you're a long-time reader, you might not know that our family is equally wild about spending Christmas in Georgia.
From mid-November right up through Christmas Eve, we make a point of attending as many different Atlanta Christmas events as we possibly can. We won't even travel in the weeks before the holidays, just to make sure we have ample quality time to celebrate the season!
These 2020 Christmas events will be especially special for us, as this is my daughter's first year home for the holidays since she went to college. Fortunately, her budding independence seems to be making her nostalgic for her childhood, and reliving those holiday memories she holds most dear.
What follows is a list of our favorite Christmas things to do in Atlanta in December, from concerts and theatrical performances to Christmas light displays, fundraising parties, and parades.
READ MORE: 40 Fun Facts about Thanksgiving Around the World
Atlanta Christmas Events (by Activity)
CHRISTMAS LIGHTS IN ATLANTA
(Callaway Gardens, Nov 15 Bike Night, Nov 20-Jan 4)
Rated by National Geographic as one of the Top 10 Christmas Light Displays in the World, Callaway Gardens' Fantasy In Lights is truly a wondrous sight to behold.
The centerpiece is a 5-mile drive lined with 8 million holiday lights, divided thematically into 14 sections that include "Snowflake Valley" and "Magical Christmas Garden," with festive Christmas music playing throughout.
There are also narrated scenes of 'Twas the Night Before Christmas and The Nativity; a Christmas Village offering holiday gifts and collectibles, food and photo ops with Santa and Rudolph; and a "Jolly Trolley" tour for those who'd prefer not to drive their own cars. 
On November 15th,  there will be a special family-friendly bike ride (with helmet & light) through this Christmas wonderland!  There is even a tricycle hour for younger children and beginner cyclists. There will be no Jolly Trolleys or personal vehicles operating on this night to ensure the riders safety.
READ MORE: The 20+ Best Christmas Displays in Georgia (with Map!)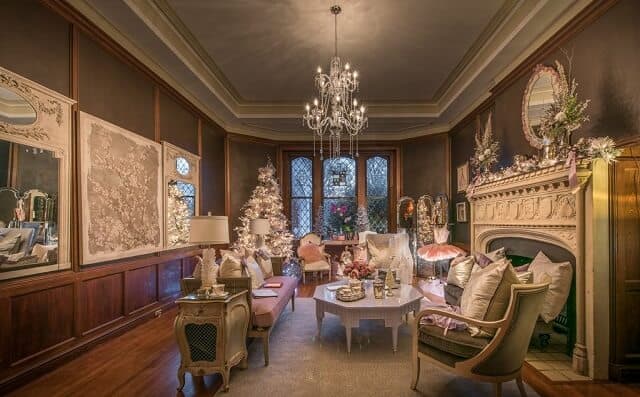 (Callanwolde Fine Arts Center, Nov 29-Dec 7)
One of the most upscale places to see Christmas lights in Atlanta, Callanwolde Fine Arts Center's annual celebration of the season centers around their Designer Show House.
For over 4o years, this beloved tradition welcomes visitors to a 27,000 square foot mansion where each room is elaborately decorated by some of the city's top floral and interior designers.
At night, the Fine Art Center's 12-acre campus is all aglow, with the buildings and trees festively decorated by the pros at Illuminating Design. Daily holiday events include: Tours, Live Entertainment, Holiday Shopping, and Family Christmas Activities.
Tickets are available for $10 online or at the door. Parking is free and on-site, please be sure to bring a donation for Toys for Tots.
READ MORE: 20 Symbols of Christmas: History & Meaning of Christmas Decorations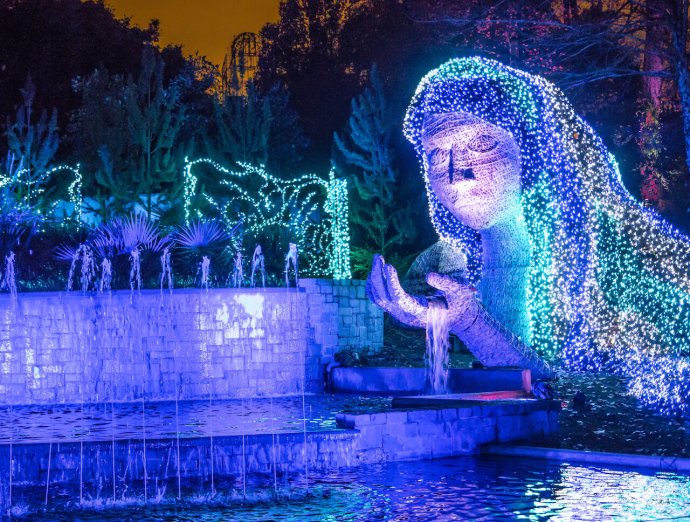 (Atlanta Botanical Garden, Nov 14-Jan 16)
This annual celebration of the season brightens the Atlanta Botanical Garden's 30 acres with millions of colorful low energy-consuming LED lights.
All of the garden's pathways will be lit up, with stars shining down from the canopies of hardwood trees, teal and blue lights illuminating a stretch of crepe myrtles, and a 27-foot-tall tree next to a fountain that reflects the twinkling lights in enchanting patterns.
The Atlanta Botanical Garden has some of our favorite Atlanta Christmas Lights including the Ice Goddess; the Tunnel of Light; and the glowing Orchestral Orbs, which dance with color and light to the sounds of festive holiday tunes.
New music and motion will be featured in the Nature's Wonders display, the largest curtain of synchronized lights, which showcases our planet's natural phenomena through countless strands of dancing Christmas lights choreographed to music and sound effects strung high over Storza Woods.
To avoid Midtown traffic and limited onsite parking, take advantage of the new shuttle system that will run from the Peachtree Pointe deck to the Garden so you can get easier access to the show.
READ MORE: 30 Recycled Christmas Decorations & Homemade Gifts Anyone Can Make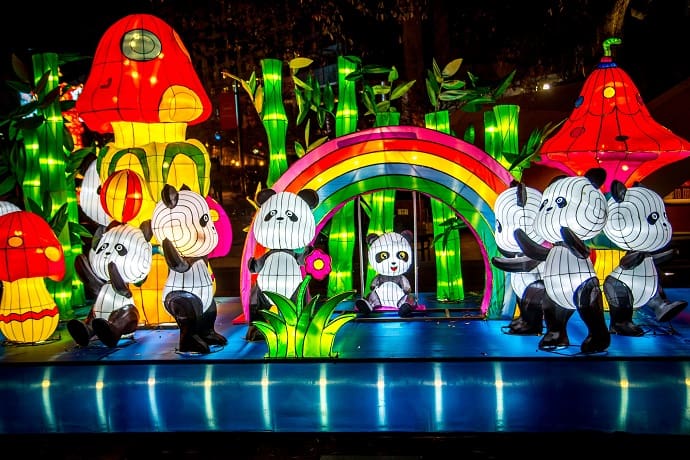 TEMPORARILY CLOSED FOR 2020 DUE TO COVID CONCERNS
International Winter Wonderland will return to Centennial Olympic Park to bring about holiday cheer through nightly live entertainment, interactive activities, acrobatics, dancers, and delicious cultural food.
Home to the Chinese Lantern Festival, this event will showcase over 25 handcrafted lanterns constructed by artisans from China. With a theme of "INTO THE WILD" the lanterns will depict endangered species of land and sea animals to highlight the importance of animal protection.
This year visitors will be able to experience the beauty in a different way with interactive lanterns that can be touched and viewed up close.
READ MORE: Countries that Do Not Celebrate Christmas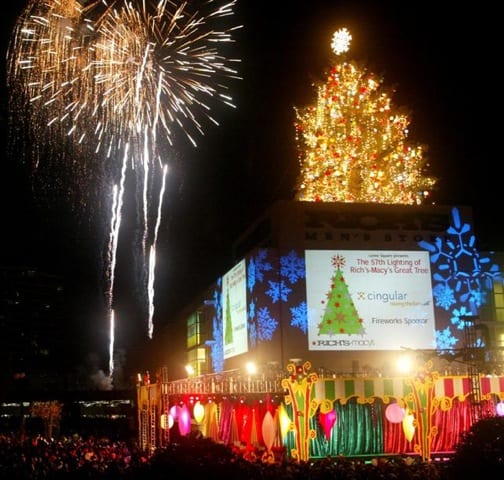 (Macy's Lenox Square, TBD)
Though the name and location of the store have changed over the years, this annual celebration of the beginning of the Christmas season has otherwise been the same for over 70 years now.
It all began in 1948, when Rich's department store put a large pine tree atop its flagship downtown Atlanta location, lighting it on Thanksgiving night. I have fond memories of performing there back in 1980, as a member of the Atlanta Boy Choir.
Though Rich's and Macy's merged in 2006, the annual Atlanta lighting of the Great Tree remains one of  the city's most beloved and historic holiday traditions.
READ MORE: 20 Ways to Celebrate the New Year Around the World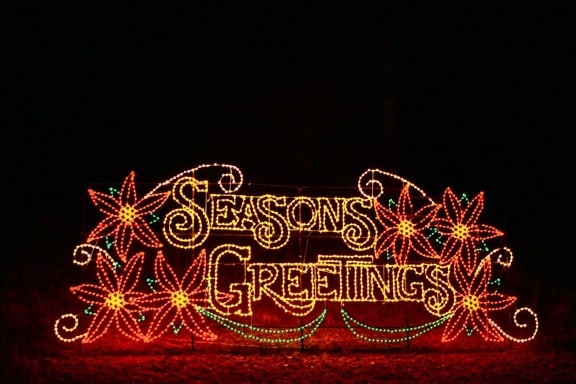 (Lake Lanier Islands, Nov 20-Jan 5)
One of our favorite ways to celebrate Christmas in Georgia, this winter wonderland holds a special place in our hearts because it's where Mary and I shared our first kiss on our second date!
Unfortunately, the beloved drive-through Christmas light display has officially been retired after almost 30 years.
But new this year is the Lake Lanier Christmas Lights display which will now be called the Lakeside Lights Spectacular! It will be a walk-through light show featuring holiday music and hot cocoa and cocktails available along the way.
Along with the sparkling lights there will be holiday games, carnival rides, and visits with Santa (socially-distanced of course). This attraction will run nightly from Nov 20 through Jan 5 and then will be weekend-only nights until Feb 21.
READ MORE: 75 Christmas Traditions Around the World (with Fun Facts)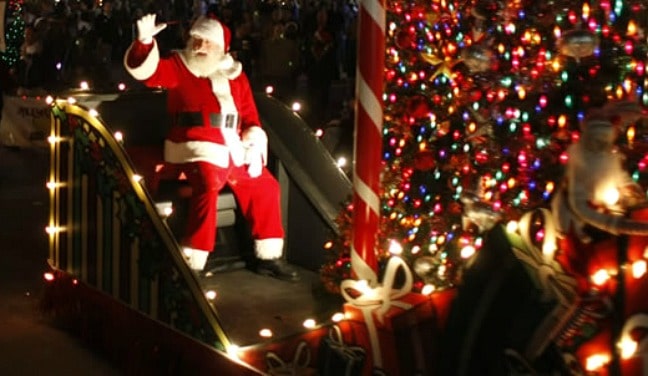 (Stone Mountain Park, Nov 14-Jan 3)
This annual celebration at Stone Mountain Park is one of our family's favorite holiday traditions.
For 6 weeks the Crossroads village is lit up by 2 million lights, and the mountain's famous carving is illuminated by a Christmas-themed laser show (hot chocolate and roasted marshmallows optional).
There are also nightly Christmas parades featuring Santa and Mrs. Claus, sing-along train rides, photo ops with a beautiful Snow Angel, Rudolph, and the Abominable Snow Monster costumed characters.
The park is taking a number of measures under guidance from the CDC related to COVID-19. These include touch less temperature screenings prior to being admitted onto the property, mandatory social distancing of at least six feet from any individual not a part of your household, and guests are required to wear face coverings while on the property.
READ MORE: The History & Names of Santa Claus Around the World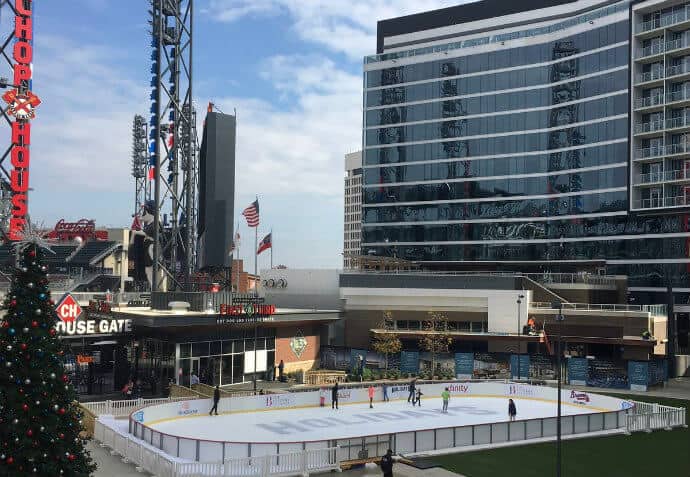 (Battery Atlanta, Dec 1- 25)
One of the newer ways to celebrate Christmas in Georgia, this annual holiday event takes place at the Battery Atlanta, the 1.5 million square foot mixed-use development adjacent to SunTrust Park.
Visitors will get the  chance to experience the Battery's immersive Holiday Light Show featuring sound and light displays throughout the Plaza each evening at 6, 7, 8, and 9 p.m.
READ MORE: Real Christmas Trees vs Fake Christmas Trees: Which is Better?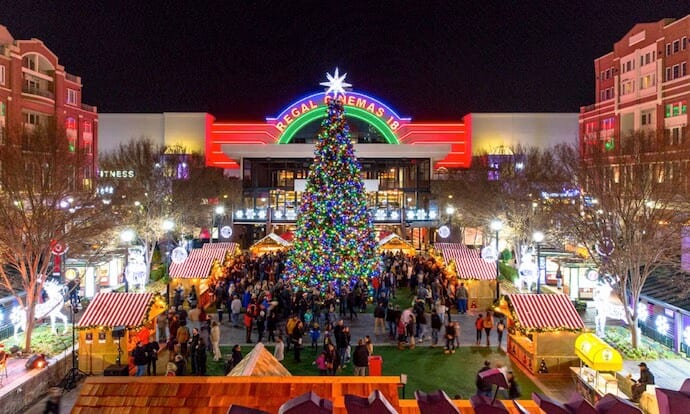 (Atlantic Station, Nov 21)
The Midtown hotspot's annual holiday celebration will be able to be experienced from the comfort of your own home as it is moving to a virtual celebration!
On Saturday, November 21st at 7 p.m. the first of the season tree lighting, parade of lights, and fireworks show will be broadcast on an episode of ATL & Co. on 11Alive. 
Some in person celebrations can still be experienced as well (with social distancing and masks) starting on November 21st at the Atlantic Station!
READ MORE: 125+ Best Gifts for Travelers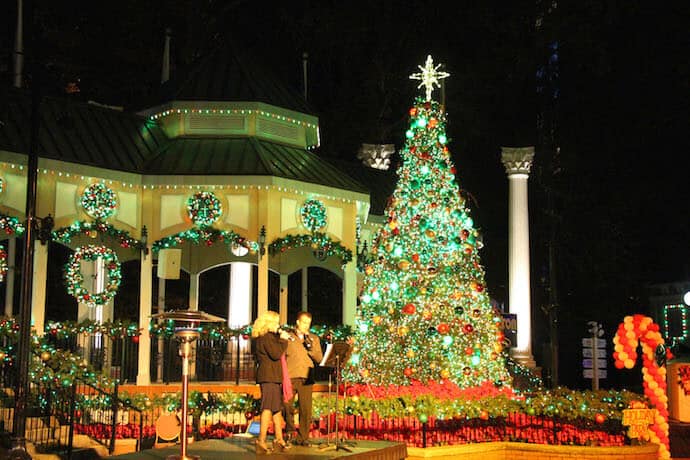 (Six Flags Over Georgia, Select Days: Nov 14-Jan 1)
Stroll through Six Flags Holiday in the Park is back for the 6th year in a row.
Santa will welcome guests coming to see the 30 thrilling rides decked out in Christmas decor, 16 different holiday-themed sections, and more than one million twinkling LED lights.
The winter wonderland features interactive activities to fill you with with holiday spirit.
Their newest addition, Pandemonium, is the tallest pendulum ride in the southeast and assures a dazzling view of the lights.
READ MORE: The 25 Best Places to Spend Christmas in Europe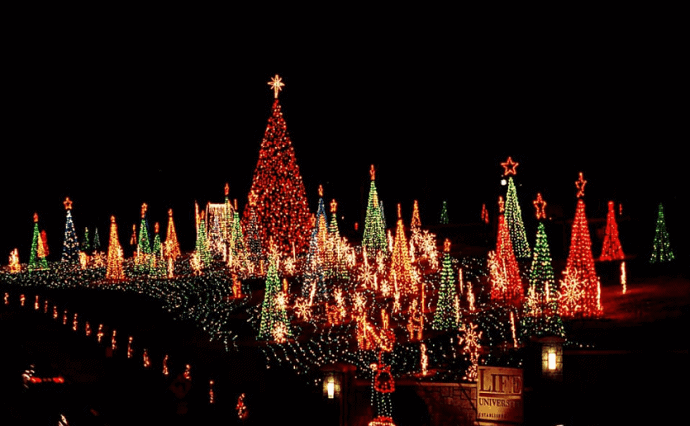 (Life University, Marietta Nov 26- Dec 31)
One of Atlanta's oldest and most underrated Christmas light displays, Lights of Life nevertheless draws huge local crowds thanks largely to word-of-mouth.
At  just $10 for cars/trucks on weekend nights, it is a bargain for an expansive display that includes over 100 pieces (including a 65-foot Santa/sleigh display, the tallest in the Southeast) on the 1.5 mile drive through the college's campus.
There is also a petting zoo, pony rides, train rides. and opportunities to have your photo taken with Santa for an additional fees.
READ MORE: The 20 Best Places to Spend Christmas in the USA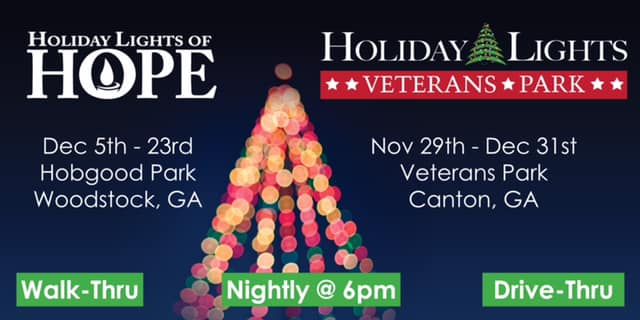 (Hobgood Park, Woodstock Dec 3-23)
The Holiday Lights of Hope is HUGE, with more than two million twinkling lights, traditional and animated displays and a mile-long Christmas maze!
Enjoy roasting S'mores over a roaring bonfire, and getting pictures taken with Santa. Grown-ups can enjoy shopping at the General Store, strolling down Main Street, and listening to Christmas carolers. Lights in Hobgood Park are walk through, and the Veterans Park lights are drive through. 
Best of all, your $10 adult ticket (free for children 14 and under) for Hobgood Park benefits the Anna Crawford Children's Center.
READ MORE: 15 Simple Recycled Christmas Cards Crafts for Kids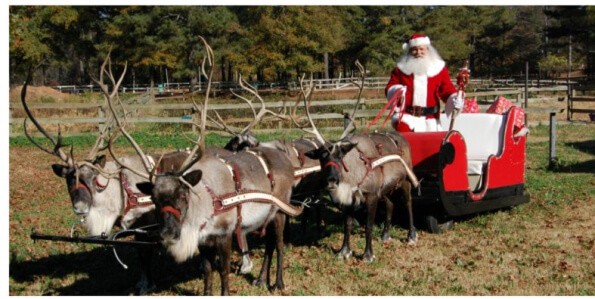 (Cartersville, Nov 26 – Dec 30)
If you're looking for some true Southern charm mixed in with your Christmas spirit, you're not going to want to miss all the festivities at Pettit Creek Farms.
There is more than a mile of beautiful Christmas lights to experience either in a car for $20 or a hayride for $10 per person.
Both choices will include a visit to the petting zoo where you can meet two of the farm's live reindeer, Comet and Cupid. Also, on the weekends there will be a full live nativity.
Make sure to stop by the concession stands and treat yourself to s'mores, hot cocoa, warm cider, funnel cakes and other delicious treats you can enjoy while warming up by the fire.
You can also take a piece of the fun back with you by picking out the perfect fresh-cut tree to fill your home with Christmas joy.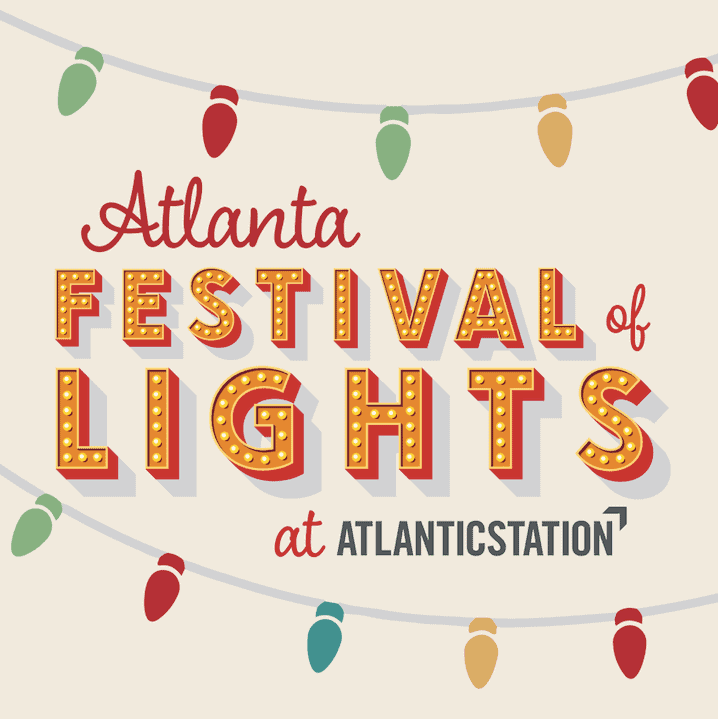 (Atlantic Station, Dec 1 -Jan 18; Closed Dec 31 & Jan 1)
The 1st annual Atlanta Festival of Lights is coming to Atlantic station providing a fun way to experience the holidays from the safety and comfort of your own car!
Thousands of twinkling holiday lights will be displayed over six acres of land for you to drive through nightly from 6pm to 11pm.
Tickets must be purchased in advance and are designated for 30 minute time slots. For optimal safety you don't even have to get out of your car to give your ticket, you can just hold your ticket up to the window when you arrive and staff will scan the QR code through the glass!
As an added bonus, after driving through the beautiful lights, you can stop across the street at the ice skating rink if you want some hot cocoa and snacks (available for purchase)!
CHRISTMAS EVENTS FOR KIDS IN ATLANTA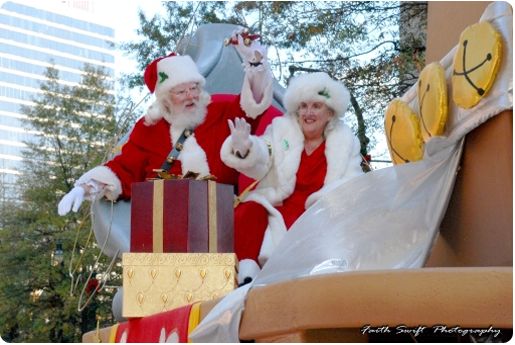 (Parade Start: Peachtree St. at 16th St., Dec 5)
If you can't make it to the Big Apple for NYC's legendary Macy's Thanksgiving Day Parade, this annual event benefiting Children's Healthcare of Atlanta is a scaled-down, free alternative although this year it will be a little different. 
In previous years Peachtree St has been magically transformed into "Santa Claus Lane," with dozens of floats, giant balloon characters, and marching bands, making this Atlanta Christmas parade the largest in the Southeast.
But of course the main attraction is the arrival of Jolly Ol' St Nick himself, ringing in the heart of Atlanta's holiday season.
This year due to COVID restrictions the parade will be replaced by a showing of clips from some of the most fantastic moments from past parades spanning over 40 years.
The viewing will air on WSB-TV on Saturday, December 5 at 1:00 PM.
READ MORE: Macy's Thanksgiving Day Parade (Photo Gallery)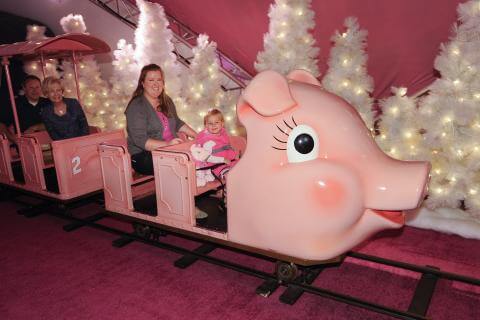 16. MACY'S PINK PIG
(Macy's Lenox Square TBD)
This is a great taste of Christmas in Atlanta the way it was 60+ years ago. In 1953, the Rich's department store downtown debuted a suspended monorail ride for children.
The original Pink Pig flew from the ceiling of the toy department, but was eventually moved to a rooftop Christmas village surrounding the Great Tree. At the end, riders got a sticker that read, "I Rode the Pink Pig."
In 2004 Priscilla the Pink Pig returned, this time re-imagined as a conventional train ride pulled by a miniature locomotive.
Priscilla continues to carry children of all ages through a life-sized storybook filled with friends and fun beneath the signature 170-foot, 1950s-themed Pink Pig tent.
READ MORE: Top 5 Autumn Activities Around Atlanta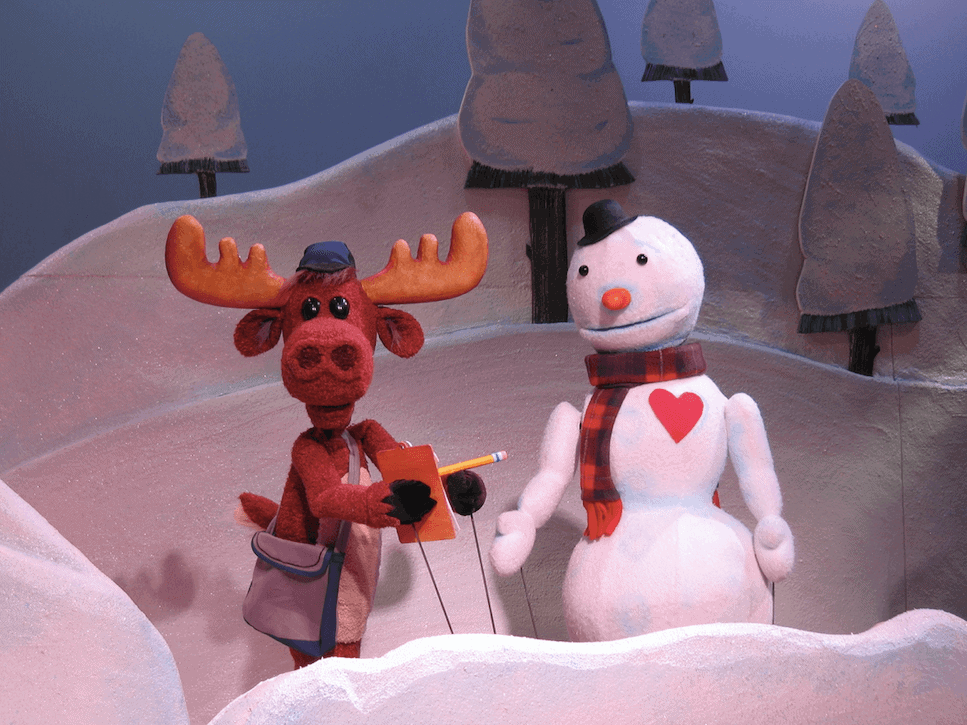 (Center for Puppetry Arts, Nov 25-Jan 3: no shows 11/26, 12/25, 1/1)
Based on the beloved Hans Christian Anderson short story "The Snow Man," Stan the Lovesick Snowman is a funny adaptation that is sure to melt your heart.
The story follows Stan the Snowman as he embarks on a journey of looking for love in all the wrong places but eventually finding his way.
Portrayed by the husband and wife puppeteer-duo Tim and Amy Sweeny, the show has 13 captivating characters including Alice the Dog, Abigail the Snowwoman, and Moose Mailman.
The center is following guidelines from the CDC to ensure guests safety including reduced capacity inside of the theater to allow for social distancing and sanitizing the theater between performances.  Guests will also be required to wear a mask during their visit.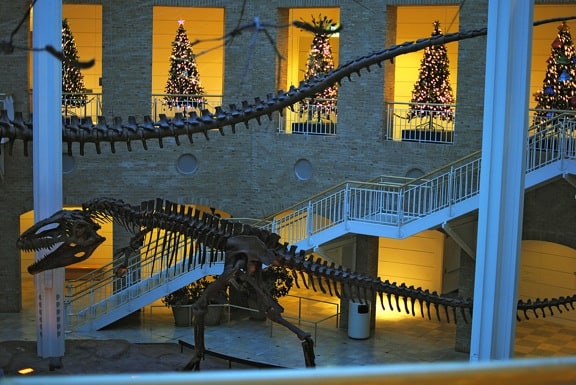 (Fernbank Museum of Natural History, Nov 20-Jan 8)
Fernbank's Winter Wonderland is one of the best Atlanta Christmas events for families and is bringing even more excitement this year.
The exhibition features more than 30 festive displays and trees decorated by a diverse array of cultural partners to reflect holiday traditions from Africa, the Caribbean, Europe, the Mediterranean, the Middle East, North America and South America.
When you step outdoors, the fun continues as themed giant snow globes up to seven feet tall will be on display as well as a giant sock skating rink. 
Check the website for special holiday-themed activities such as performances, storytelling, scavenger hunts, and more. Admission to Winter Wonderland is included with Museum admission.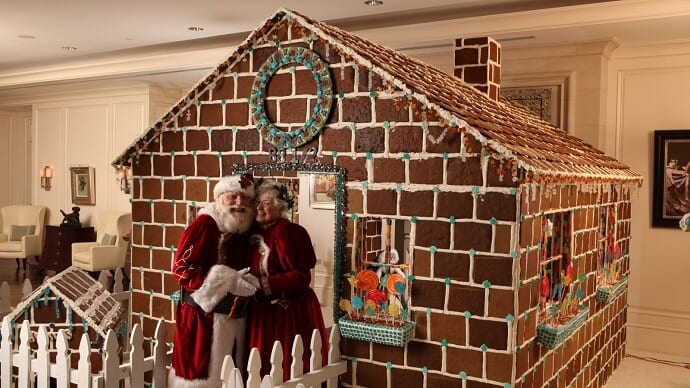 (The St. Regis Atlanta, TBD)
The name says it all, but the stats are impressive. Atlanta's largest Gingerbread House will take 500 hours of construction.
It will involve 300 pounds of flour, 100 pounds of sugar, 10 pounds of spice, 70 pounds of shortening, 45 pounds of corn syrup, and 16 pounds of molasses. It will be decorated with over 300 pounds of icing, gingerbread figurines, poinsettias, and candy.
The ginormous result will be unveiled at the St. Regis in Buckhead on Friday, November 24 (to be confirmed). That day's festivities will also include a ceremonial lighting of the hotel's Christmas Tree; the opening of their Astor Holiday Ice Rink (which is protected from the elements by a tent); and a special appearance by Santa Claus himself!
Other Christmas events at the St. Regis Atlanta include the Winter Wonderland Holiday Tea (starts Nov 24) (to be confirmed, Bedtime Story With Santa  (nightly Dec 14-24) (to be confirmed), and a special Christmas Brunch with Santa on December 25 (to be confirmed).
READ MORE: Lebkuchen Recipe (German Christmas Cookies aka German Gingerbread)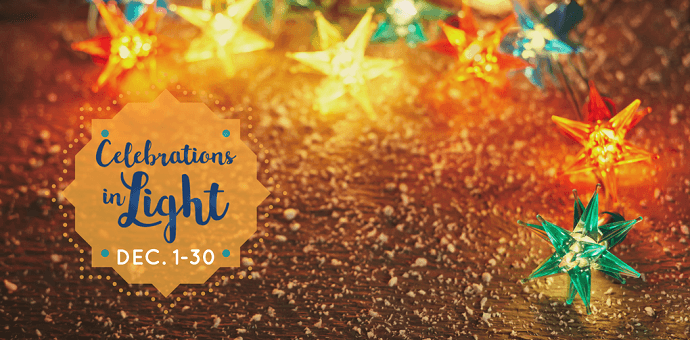 (Children's Museum of Atlanta, Nov 20-Dec 31)
Celebrated in more than 160 countries around the world, Christmas ranks high among the planet's most popular holidays. But it's not the only major holiday observed in December. Kudos to the Children's Museum of Atlanta for reminding kids of that fact.
All through the merriest month of the year, families will have a chance to experience Celebrations in Lights. The event explores numerous cultural holidays from around the world, with music, dancing, and crafts projects honoring Las Posadas, Hanukkah, Kwanzaa, and Christmas.
The museum offers "Sockefeller Plaza", a sock-skating rink built especially for little ones… meaning no skates required! There will also be a range of winter-themed science activities for kids to experience hands-on.
On December 31 the museum will close out the year with their New Year's Bubble Bash, featuring a family-friendly DJ, dancing, party favors and, of course, bubbles!
Due to COVID-19 no cash transactions will take place in the museum and no re-entry is allowed once you leave the property. For guests safety, team members are required to wear face masks and will clean high tough points in exhibits throughout the sessions.
For more information regarding COVID-19 you can visit the full safety, health, and museum policies page on their website.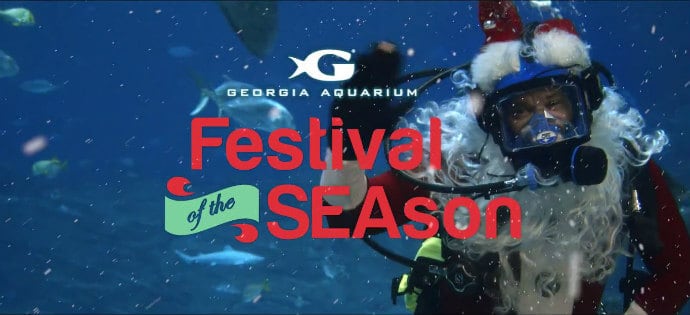 (Georgia Aquarium, Nov 29 Tree Lighting)
The Georgia Aquarium's annual Christmas event returns, transforming Atlanta's favorite aquatic attraction into a winter wonderland designed to delight attendees of all ages.
The specific activities for this year's Festival of the SEAson had not been announced as of our publishing deadline.
But last year's highlights included a Breakfast With Santa with food provided by Wolfgang Puck Catering; a Toddler Time day complete with story time, holiday crafts, and costumed characters; dive shows featuring "Scuba Claus" in the Ocean Voyager Built habitat; and the hourly Holidazzle light and music show.
Every weekend during the holiday season, they also offer "A Symphony of Snow," which includes live entertainment, classic Christmas music, caroling, and special assets from Santa Claus himself!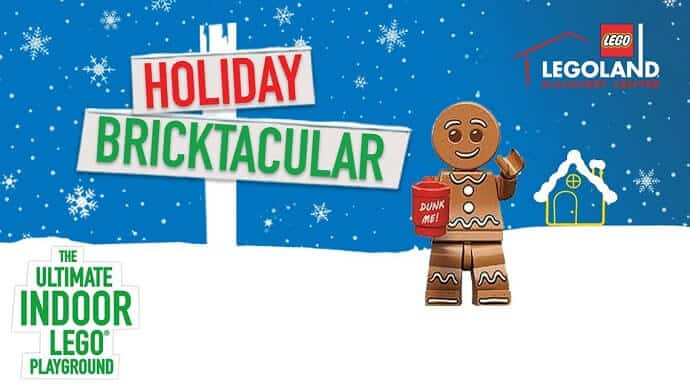 (LEGOLAND Discovery Center, Dec 1-24)
Growing up in the 1970s-1980s, Christmas and LEGOs went together hand-in-hand. My 8-year-old inner child is jealous that today's kids can celebrate the season at LEGOLAND Discovery Center, whose Holiday Bricktacular is a winter wonderland of creative construction possibilities.
The event kicks off Dec 1-2 with the annual Big Tree Build, led by the center's Creative Crew. Guests can learn how to create LEGO holiday trees of their own, participate in Holiday Build Challenges, and snap selfies with Rudolph (his nose even glows).
The winter takeover of MINILAND happens every weekend in December. There's also a scavenger hunt game, so keep your eyes peeled for mischievous elves, Santa's workshop, wreaths, and more!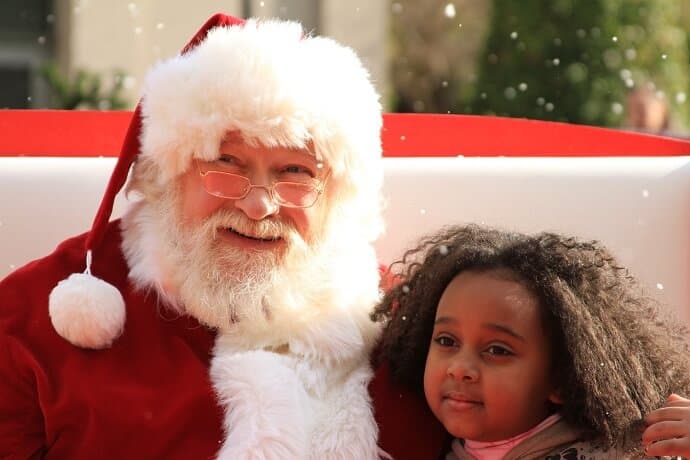 (Southern Art @ InterContinental Buckhead Hotel, Dec 6)
Helmed by world-renowned chef Art Smith (a.k.a. Oprah's personal chef until 2007), Southern Art ranks among our favorite restaurants in Atlanta.
But on December 6 it will be completely transformed with wintry decor (snow included!) in order to welcome Santa Claus and his reindeer for their annual Children's Holiday Brunch.
Of course, you don't have to be a child in order to attend. Kids and grown-ups alike are invited to decorate Christmas cookies, drink at the hot chocolate bar, get their face painted, and take fab photos with St. Nick and his hoofed friends.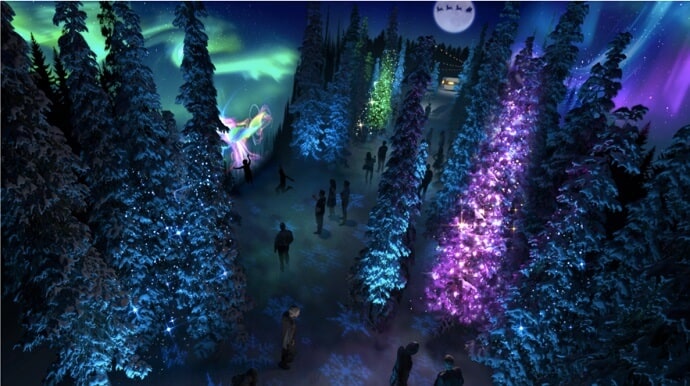 TEMPORARILY CLOSED FOR 2020 DUE TO COVID CONCERNS
(While the indoor wonderland is closed, personalized virtual visits with Santa can be purchased on the website!)
With fun for the whole family, this indoor wonderland is back for its second year featuring all new activities and live performances by The Fantasticals.
Whether you are walking through the new Fantastical Forest, playing games in Yondo's Yeti Yard or having a special meet-and-greet visit with Santa in his Chateau, you are sure to find holiday magic around every turn.
Don't forget to snap photos at The Unicorn Dreams and Candy Cane Vortex photo spots – this is a memory you won't want to forget!
(Blue Ridge, Nov 27-Dec 23)
Hop on the Santa Express and take a train ride with the Blue Ridge Scenic Railway while getting the chance to hear "Twas The Night Before Christmas," sing along to Christmas songs, and visit with Santa and Mrs. Clause.
The Santa Express departs at 10 AM, 12 PM, 2 PM, or 4 PM dependent on the date and lasts for 1-hour.
This fun holiday ride is not something you are going to want to miss and is sure to bring out holiday cheer in all those aboard!
TEMPORARILY CLOSED FOR 2020 DUE TO COVID CONCERNS
At this fun holiday event kids get the chance to be treated like royalty as they join hosts Princess Joy and Prince Goodtidings for yummy snacks, dancing, and more.
Guests will get to watch an excerpt of The Nutcracker performed by the sugarplum dancers as well as a story read by Sir Randall of Symphony of Toys.
The event will end with a bang as kids get to join in on a dance party and photos with the royal hosts.
Along with the fun, tickets include a gift bag full of goodies from the Symphony of Toys.
CHRISTMAS SHOWS IN ATLANTA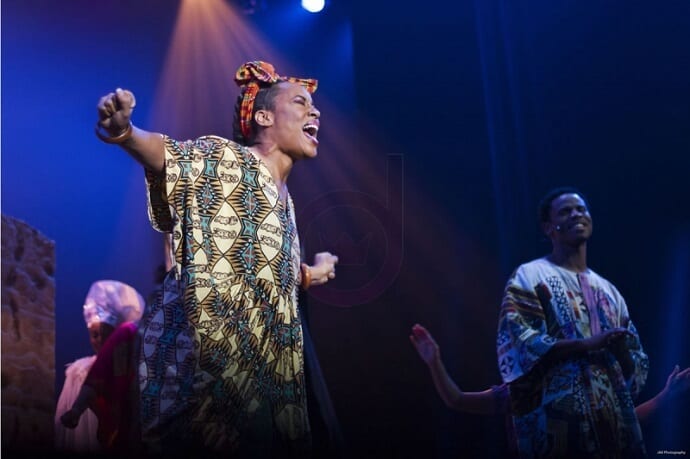 (TBD)
Written by the legendary poet Langston Hughes, Black Nativity is a potent retelling of the most famous Bible story from an African-American perspective.
The play was originally performed Off-Broadway in 1961, and was one of the first productions written by a black playwright ever to be staged there.
The Christmas Play in Atlanta features an African-American cast, gospel-style music (the opening number is the classic spiritual "Go Tell It On The Mountain"), and a Mary and Joseph who never actually speak.
This one-act version takes the audience on a journey from a traditional black church to an Africanized Jerusalem, with African-influenced drums and dancing sprinkled throughout.  It's a soulful, stirring take on the oldest of all Christmas stories.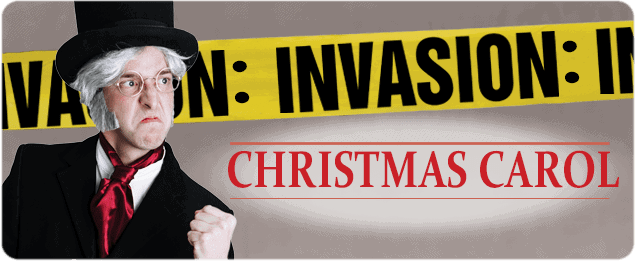 TEMPORARILY CLOSED FOR 2020 DUE TO COVID CONCERNS
Charles Dickens' timeless Christmas classic gets a major makeover in this irreverent production from the comedy masterminds of Dad's Garage, which was recently voted Best Play in Creative Loafing's annual readers poll.
Director Amber Nash portrays a darker version of the usually cheerful tale providing the audience with a more realistic take on what people living in London in the 1800s would really be like.
The show is performed with a unique mixture of scripted drama and hilarious improv. The main cast rehearses the traditional script and portrays classic characters such as Ebenezer Scrooge, Bob Cratchit, and Tiny Tim.
But each night they'll be visited by different ghosts (which have, in the past, ranged from The Incredible Hulk and Ted Nugent to a T Rex), all of which are a complete surprise to the cast.
Regardless of who shows up, one thing's for sure: You'll never again view this hoary holiday chestnut in quite the same way!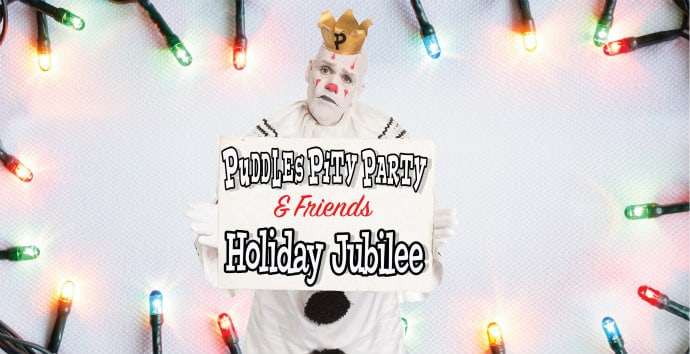 Puddles Pity Party & Friends Holiday Jubilee at the Fox Theatre
(Center Stage Theater, TBD)
Full disclosure: I've been a fan and friend of Mike Geier (a.k.a. Big Mike, a.k.a. Puddles) for around 20 years now.
As the frontman for Atlanta bands Greasepaint, Kingsized, and Tongo Hiti (not to mention a constant feature in his wife Shannon Newton's burlesque act, Dames Aflame), he paid his dues long before he made Simon Cowell cry on America's Got Talent in 2017.
After years of selling out the Variety Playhouse with the Kingsized Holiday Jubilee, AGT (not to mention his 120 million YouTube views) allowed Geier to graduate to the big leagues.
Hence we find Puddles Pity Party & Friends Holiday Jubilee at the Center Stage, a venue suited to the big man's (6'8" tall, to be precise) larger-than-life stage presence.
With performances that range from sad to silly, the silent-except-when-singing clown will be joined by Lucky Yates, Santa, Mighty Mo the Pipe Organ played by Atlanta Braves Organist Matthew Kaminski, Krampus, Mezzo Soprano Heather Witt-Owens, The Krewe of Grateful Gluttons, and others yet to be announced special guests.
If I could attend only one Atlanta Christmas event in 2019, this would be it.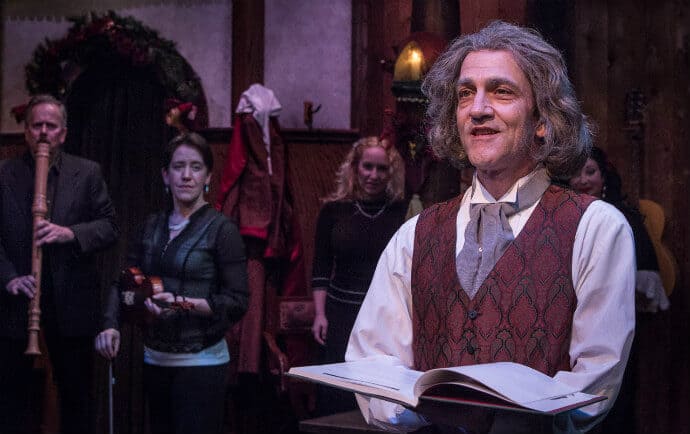 TEMPORARILY CLOSED FOR 2020 DUE TO COVID CONCERNS
Though it may not be the biggest production of the Charles Dickens classic in Atlanta this Christmas, for over 20-years the Atlanta Shakespeare Company's A Christmas Carol has been a tradition that deserves more attention.
For one, the Shakespeare Tavern is one of the few places in Atlanta where you can still enjoy "dinner and a show." Seating begins at 6:15 PM most nights, and at 5:15 PM on Sundays, with food and drinks available for purchase until 10 minutes before the show starts and desserts and drinks available at intermission.
For matinee performances on Dec 14, 18, 21, and 23,  a lunch menu will be available starting at 12:45 PM.
There will be a Q&A session with cast and crew members after the Dec 15 show. And they're offering a special sensory-friendly matinee for people with autism spectrum disorder on Dec 7, with lowered sound levels, no black outs, room to move around the theatre, and a separate "quiet room" available for those who need it.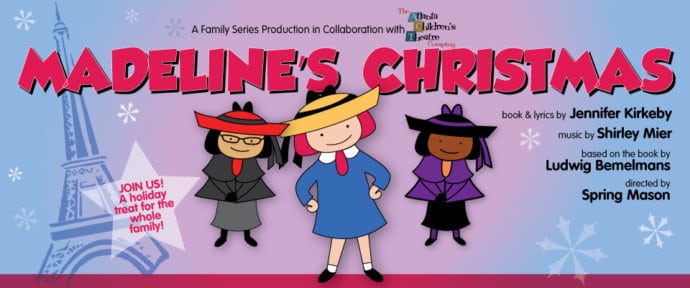 (Horizon Theatre, TBD)
"In an old house in Paris that was covered with vines lived twelve little girls in two straight lines." Thus begins the story of Madeline, a young girl at a Catholic boarding school.
Now in its 12th year, this musical adaption of Ludwig Bemelmans' children's book is a magical Christmas classic.
The story finds young Madeline and her friends taking a morning walk with their teacher, Miss Clavel. When the girls wind up confined to their beds after coming down with the flu, they worry whether or not they'll be able to travel home in time for Christmas.
But thanks to a mysterious stranger, they wind up having a holiday adventure they'll never forget.
Produced in collaboration with The Atlanta Children's Theatre Company, the show features 24 local girls performing alongside professional actors. The result is a charming Christmas treat sure to be enjoyed by kids of all ages.
READ MORE: NYC Christmas Window Displays: A Free Walking Tour in New York

(Fox Theatre, Dec 2-6)
The Atlanta Ballet's annual production of Tchaikovsky's masterpiece played by a live orchestra has been an integral part of the city's holiday season for over 40+ years now.
The show tells the timeless tale of young Clara Stahlbaum, who awakes at midnight on Christmas Eve to find her prized Nutcracker toy has come to life to do battle with the Mouse King's army.
From dancing snowflakes to lively Russian nesting dolls, the extravagant production is sure to prove a hit with youthful spirits ages 8 to 80.  
This year the Atlanta Ballet will be showcasing the story in a slightly different format. For five nights the Cobb Energy Performing Arts Centre's surface lot will be turned into a drive-in movie theatre where you can watch a filmed version of the ballet from your car!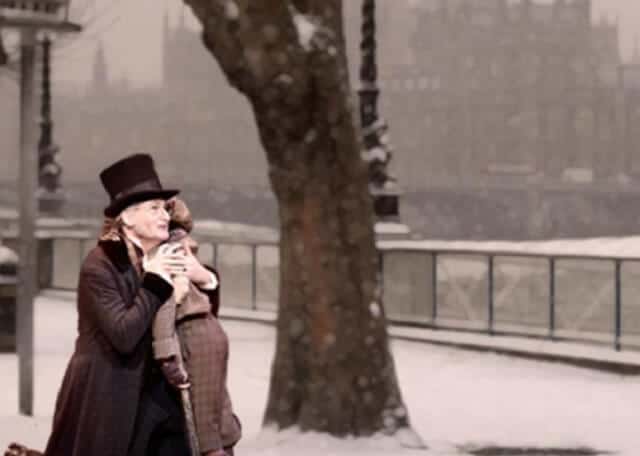 (Alliance Theatre, Dec 4-Dec 23)
The Alliance's production of Dickens' timeless classic features Broadway-style stage design, beloved Christmas carols, and some of Atlanta's finest thespians, but this year the performance will be done with a bit of a modern twist.
The performance will be able to be experienced as a drive-in production in Atlanta's Summerhill neighborhood where you can pull up and experience the magic of live theater from the comfort of your own car!
Tickets are sold per car, not per individual, and cars can hold up to 6 passengers per ticket.
With an all-Atlanta cast and beautiful live music, this Broadway-scale production remains an impressive rendering of this perennial holiday favorite.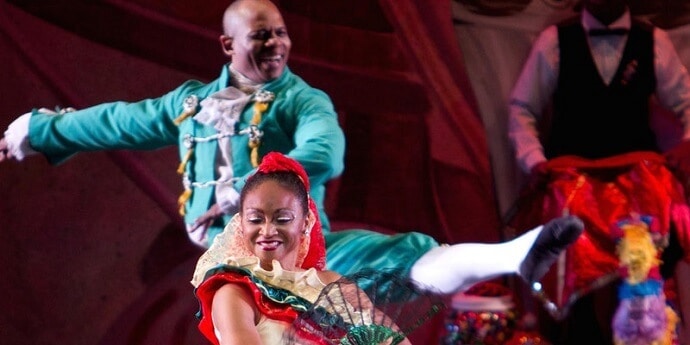 (Morehouse King Chapel, TBD)
Originally adapted in 1892, with music by classical music titan Pyotr Tchaikovsky, The Nutcracker is arguably the most popular Christmas production this side of Charles Dickens. For most people, it's probably the only ballet they've ever seen.
The Urban Nutcracker puts an African-American twist on the timeless tale. Rather than 19th century Russia, the story is set in the 1940s on Atlanta's Sweet Auburn Avenue.
There, the smooth Chocolatier sweeps a young lady off her feet and away to a wonderland filled with leaping Reggae Rag Dolls and a spinning Black Russian.
Now in its 29th year, the Ballethnic production features a mixture of professional dancers and urban minority youth. With music adapted to modern-day sensibilities, it's a hip, happening take on the familiar holiday chestnut.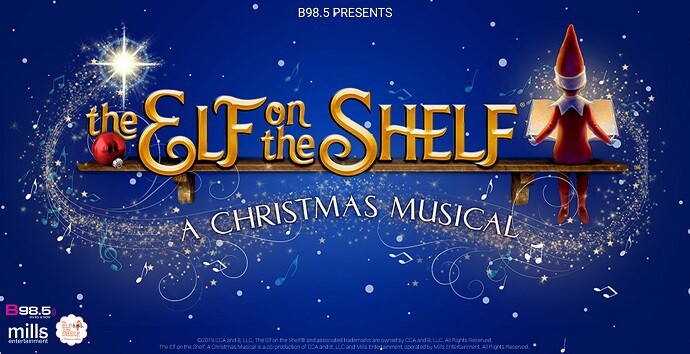 (Cobb Energy Performing Arts Centre, TBD)
Making its holiday debut, The Elf on the Shelf: A Christmas Musical is an original story following the life of one Elf and his journey in helping his new human family overcome personal loss and regain their Christmas joy.
Inspired by the box set The Elf on the Shelf®: A Christmas Tradition, the tale showcases the true power of the Christmas spirit and is sure to tug at the heartstrings of all those who are watching.
With dazzling dance numbers, eye-catching sets, and a festive score sure to have you humming along, this live musical is not a show you want to miss!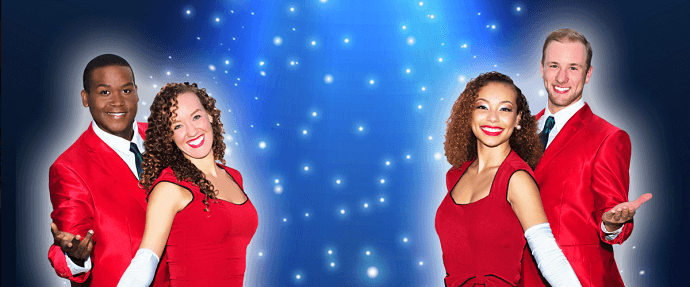 TEMPORARILY CLOSED FOR 2020 DUE TO COVID CONCERNS
The song-and-dance revue might seem a bit old fashioned to today's tech-obsessed Millennials, but it's a storied theatrical tradition that pre-dates Vaudeville. Fortunately, this annual holiday show at Marietta's Earl Stand Theatre keeps that tradition alive.
The family-friendly production features a little something for everyone, from Christmas classics to funky new favorites.
There are dramatic divas singing their you-know-whats off, the sort of high-energy dance numbers Broadway buffs live for, and elaborate sets and effects to give it all a dash of flashy pizzazz.
Is it groundbreaking? Well, maybe not. But originality is not the point.
This is a rare Christmas production that family members of all ages can sing, clap, and dance to. And hopefully everyone leaves with just a little more holiday spirit in their hearts.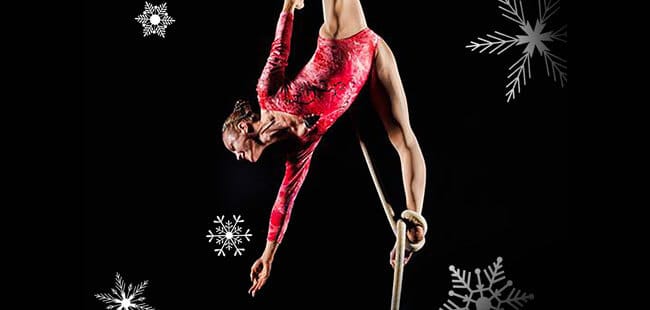 (Atlanta Symphony Hall, TBD)
The Cirque de la Symphonie is sure to take your breath away showcasing some of the most impressive artists from around the world including aerial flyers, contortionists, acrobats, jugglers, strongmen, dancers and more.
This star-studded cast contains Olympians, world record holders, and gold-medal winners who are sure to keep you on your toes and marveling at their almost unbelievable physical performances.
Aiming to bring the magic of cirque to the music hall, the exciting performances are meticulously choreographed to match the musical arrangement performed live by the Atlanta Symphony Orchestra. 
Promising to be a wow worthy performance, this is definitely one of the Christmas Shows in Atlanta you will want to check off your holiday bucket list!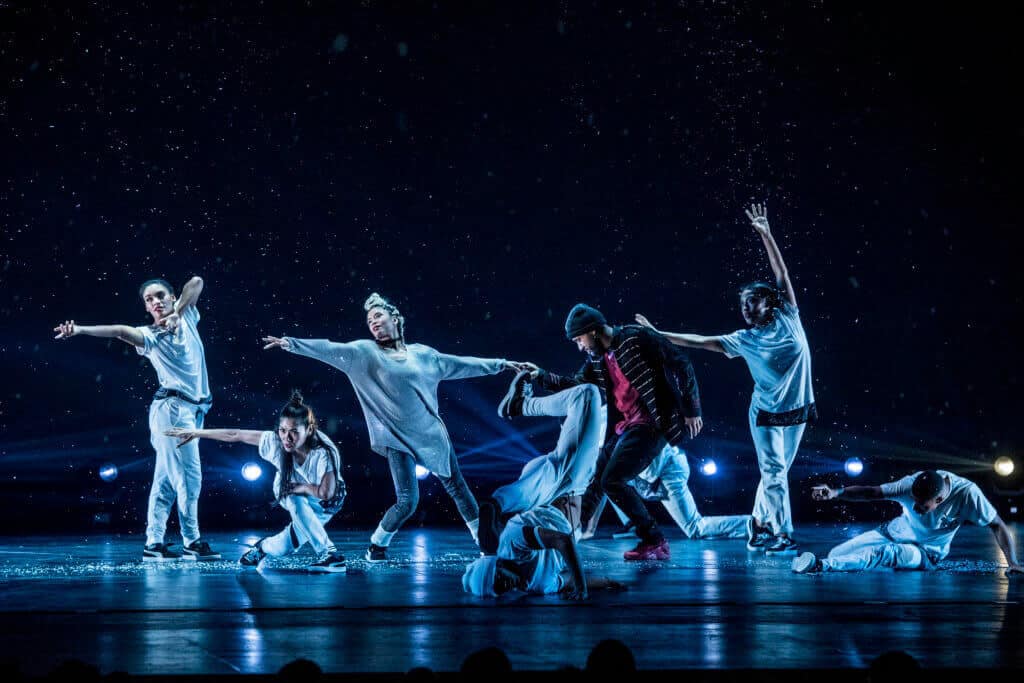 (Cobb Energy Performing Arts Centre, Select dates Nov 26 – Dec 25)
Putting a unique twist on the classical ballet, The Hip Hop Nutcracker showcases a contemporary style of dance performed by a cast of all-star dancers as well as Kurtis Blow who will be opening the show with a short set.
Like the original, it will be performed to Tchaikovsky's timeless music and follow the story of Clara, a young girl who awakes to find her beloved Nutcracker has come to life to guide her through battling an army of mice, visiting the land of sweets and other adventures.
Part of what makes this version unique from the original is instead of the traditional 19th Century Germany setting the story transforms into contemporary New York City through innovative digital graffiti and visual graphics.
This re-mixed version is packed full of Holiday magic and is sure to impress even the most die-hard fans of the original as well as bringing a whole new crowd of people to the theater. 

(Horizon Theatre, TBD)
For 19 seasons, Horizon Theatre's production of David Sedaris' The Santaland Diaries was one of the most beloved Atlanta Christmas shows.
But once longtime star Harold M. Leaver stepped down and the publishers insisted on it being a one-man show, the sarcastic holiday classic lost a bit of its luster.
So last year they replaced it with a sequel to another local favorite, The Waffle Palace. Written by Larry Larson and Eddie Levi Lee, Waffle Palace Christmas features the return of the characters that made the 2012 original such a hit, still scattered, smothered, and covered in sassy Southern humor.
The original show was inspired by real life events at the Waffle House, including births, marriages, funerals, shootings and lottery wins.
The Christmas show will obviously explore holiday themes, focusing on manager John Pickett and his colorful staff at a late-night Midtown diner.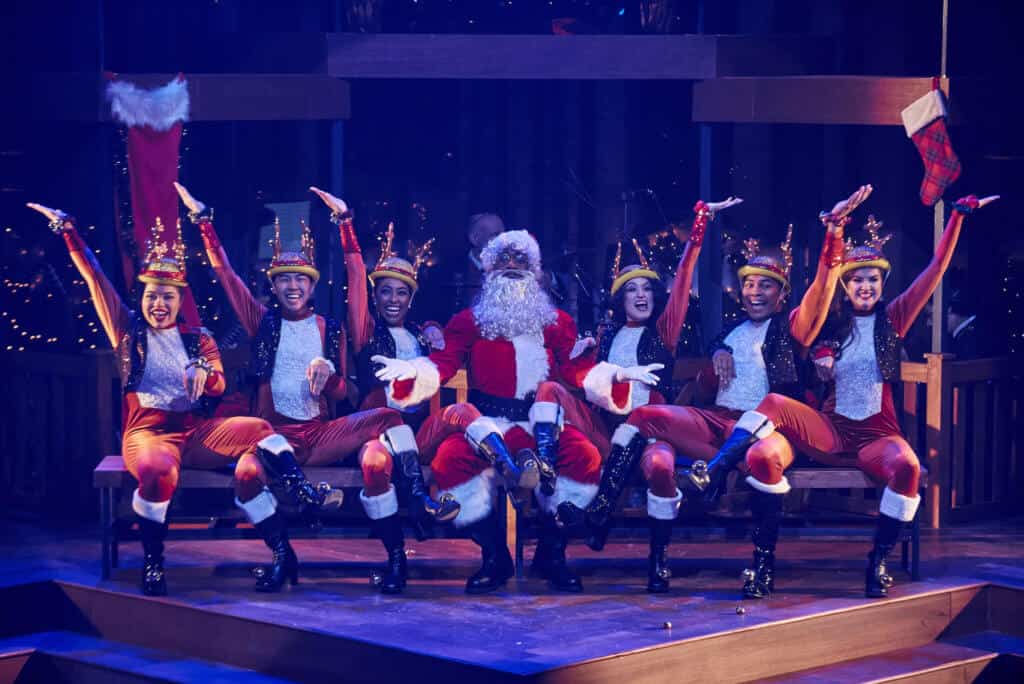 (The Bowl at Sugar Hill, Dec 4-6)
The Christmas Canteen is the longest-running theatrical holiday tradition in Gwinnett and this year it is moving outside for a socially distant show!
The show is directed and choreographed by Broadway veteran David Rossetti and will feature an exciting mix of comedy, tradition, and holiday melodies sure to have you in the Christmas Spirit.
For just one weekend this dazzling performance will take place outside at The Bowl at Sugar Hill to ensure guests safety while still allowing you to experience all the incredibly dancing and singing. 
There will be limited seating capacity and other safety precautions as well including touch less transactions, readily available hand sanitizer, and all staff and guests will be required to wear masks when not eating or drinking.
READ MORE: The Colors of Autumn in North Georgia's Mountains
ATLANTA CHRISTMAS CONCERTS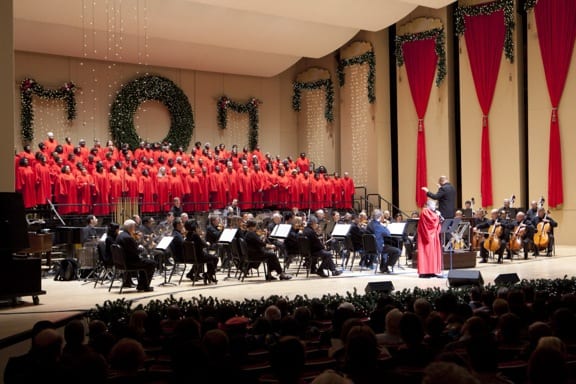 TEMPORARILY CLOSED FOR 2020 DUE TO COVID CONCERNS
Robert Shaw was a titan in the classical world, winning 14 Grammys, 1991 Kennedy Center Honors, and the first Guggenheim Fellowship ever awarded to a conductor.
"Christmas With The ASO" was the holiday-loving legend's gift to Atlanta, and this year marks the show's 50th anniversary.
Conductor Norman Mackenzie will lead the ASO Chorus, Morehouse College Glee Club, and Gwinnett Young Singers through Shaw's 4-part musical take on the story of Christmas.
If the sound of 400+ singers and musicians working in tandem doesn't invigorate your holiday spirit, you may want to check your pulse.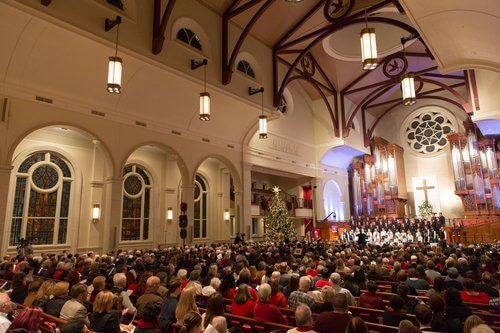 TEMPORARILY CLOSED FOR 2020 DUE TO COVID CONCERNS
One of my favorite Atlanta Christmas memories was performing holiday concerts with the Atlanta Boy Choir in the early '80s, under the direction of maestro Fletcher Wolfe.
The Georgia Boy Choir was founded in 2009 by David White, who led the ABC for 8 years after Wolfe's retirement (he returned after White's departure).
Their annual Christmas concert in Atlanta features all five levels of the choir, accompanied by a full orchestra and the Peachtree Road UMC's Mighty Mander Organ.
The performance will include a lively mixture of sacred classics, beloved Christmas carols, and modern holiday favorites. For me, it's sure to bring back memories of my time in one of the world's most respected choirs.
READ MORE: How I fell in Love with Travel (& Got Blessed by the Pope with the Atlanta Boy Choir)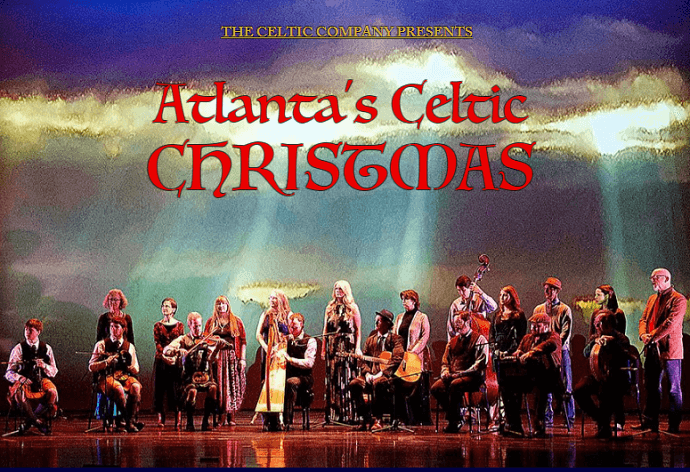 (Rialto Center for the Arts, TBD)
From rousing jigs and reels to mournful laments, I've always had a great appreciation for Celtic music.
But it's grown even stronger after our recent trip to trace my family's origins in Scotland and Ireland. So I look forward to seeing this annual concert, which has been an Atlanta holiday tradition for over 25 years.
The show incorporates music and dancing, with a mixture of regional and international performers from the Irish, Scottish, and Welsh traditions. Paul Gleason, Consul General of Ireland, called it "a beautiful, evocative occasion… the must-see event in Atlanta each Christmas."
If you listen closely, you'll hear striking similarities between Celtic and Appalachian musical traditions, because many immigrants from the Celtic countries eventually settled in the southeastern U.S. hills.
Many of the immigrants were supporters of King William, which is how they came to be nicknamed "hillbillies!"
READ MORE: One Week in Ireland (The Perfect Ireland Road Trip Itinerary)
TEMPORARILY CLOSED FOR 2020 DUE TO COVID CONCERNS
Directed by John Dickson, the professor of Choral Music at the Louisiana State University School of Music, Coro Vocati is a group of professional singers based in Atlanta.
Many of their members work as music directors or conductors at local schools and churches, and several also sing with the Atlanta Symphony Chorus and Chamber Chorus. In short, these are some of the city's most elite performers of classical choral music.
Their annual Atlanta Christmas concert at All Saints Episcopal Church has become a perennial holiday favorite. You can expect a repertoire steeped in classical choral artistry, with beloved Christmas carols and perhaps even a popular favorite or two thrown in for festive fun.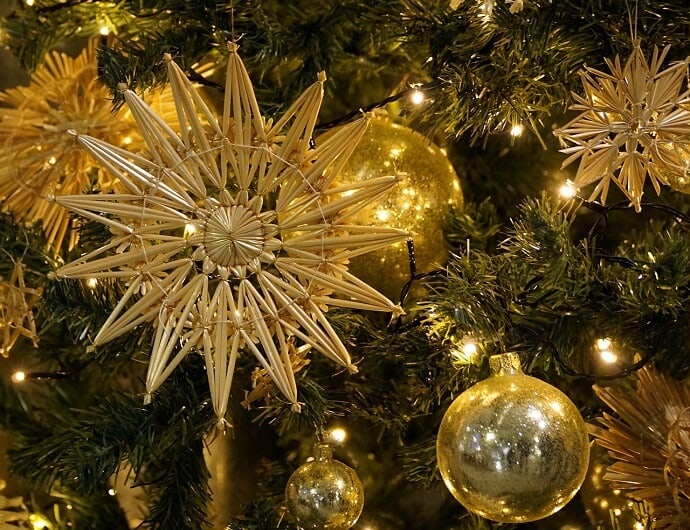 TEMPORARILY CLOSED FOR 2020 DUE TO COVID CONCERNS
The musical masterpiece Handel's Messiah is back to tell the classic Christmas story in its own unique and joyous way nearly 300 years after it was written.
Featuring the Atlanta Symphony Orchestra and Chamber Chorus performing pieces such as the iconic "Hallelujah Chorus" and works by Mozart and George Frideric Handel you're sure to be mesmerized by the sheer musical talent of those performing.
There will only be two shows, one on Dec 12th and another on Dec 13th so be sure to get your tickets soon!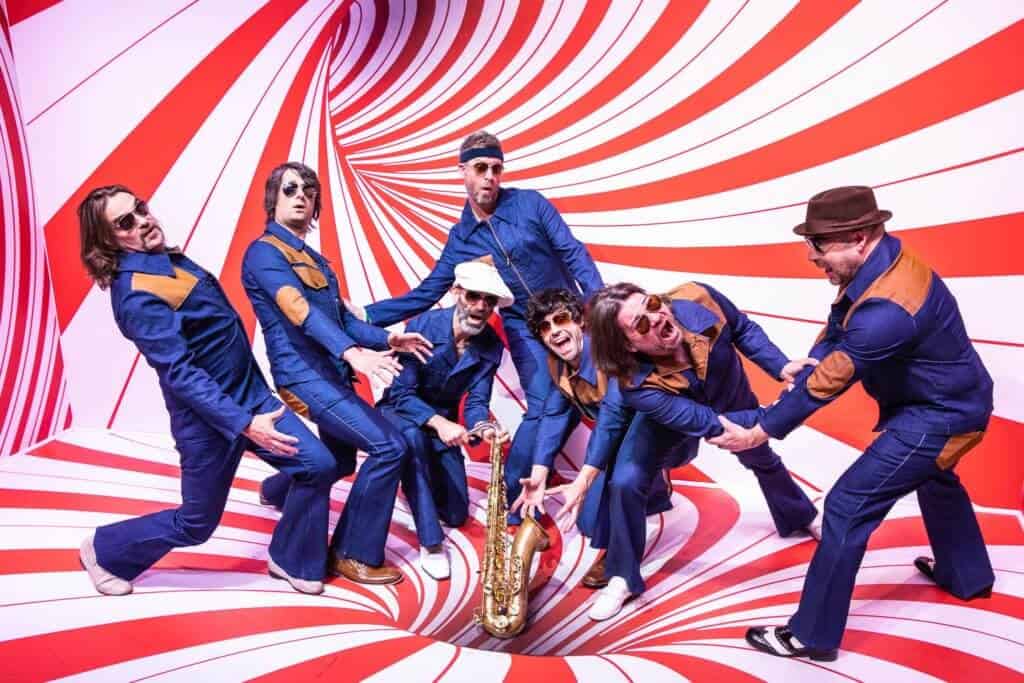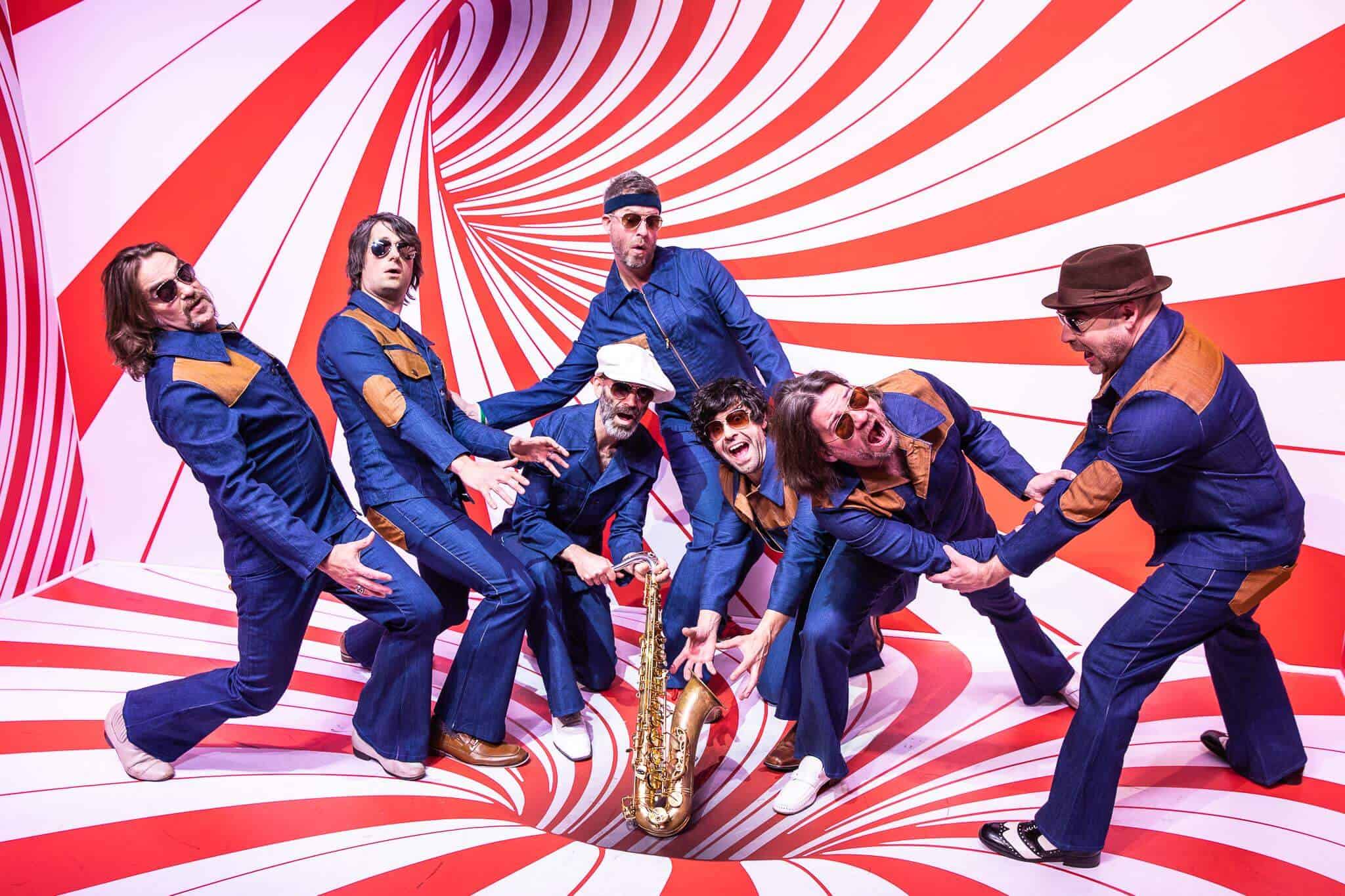 (Coca-Cola Roxy, Dec 21)
Take a trip down memory lane in this holiday themed rock concert featuring iconic songs from the late 70's and early '80s along with a few Holiday classics.
The performers, Yacht Rock Revue, are a cover band that formed here in Atlanta, Georgia and have gone on to win accolades such as "Best Overall Music Act in Atlanta" and have been featured in the New York Times, MTV.com and the Wall Street Journal.
A concert for all ages, this holiday event is sure to have you on your feet!
This year there will be reduced capacity and implemented social distancing, hand sanitizer available throughout the venue, contactless payment, and all employees will be wearing masks and gloves for your safety.
ATLANTA CHARITY EVENTS FOR CHRISTMAS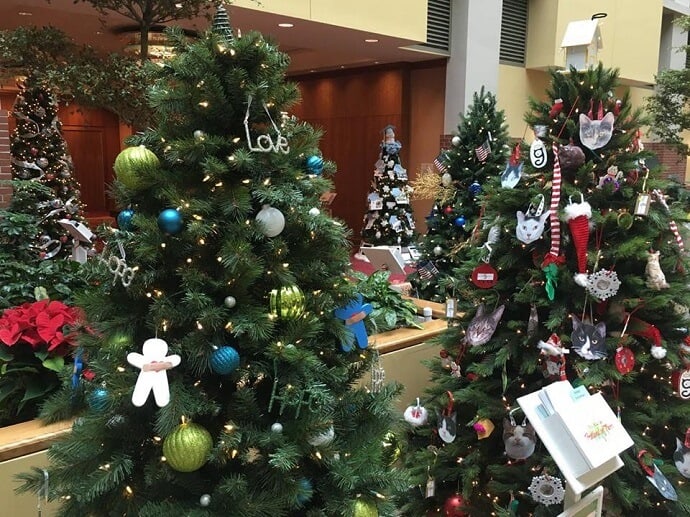 TEMPORARILY CLOSED FOR 2020 DUE TO COVID CONCERNS
For most of its 30+ years, the original Atlanta Festival of Trees was held in the Georgia World Congress Center, with proceeds benefiting Children's Healthcare of Atlanta.
This scaled-down version was launched at the Embassy Suites in Centennial Olympic Park in 2015, and continues to grow each year.
In 2019 there will be 40 local charitable organizations putting up their festive themed Christmas Tree displays in the hotel lobby. Admission (and parking) is free, and visitors and hotel guests are encouraged to make donation to their charity of choice.
The tree with the biggest donations will receive an additional $1,000 gift.
Though it's a much smaller version of the classic Xmas event I grew up with, this is a great way to honor the giving spirit of the holiday season.
Given the fact that it raised over $30,000 in its first year, here's hoping this will continue to grow as an Atlanta Christmas tradition!
READ MORE: The 20 Best Environmental Charities & Animal Charities for Holiday Donations
UNIQUE CHRISTMAS THINGS TO DO IN ATLANTA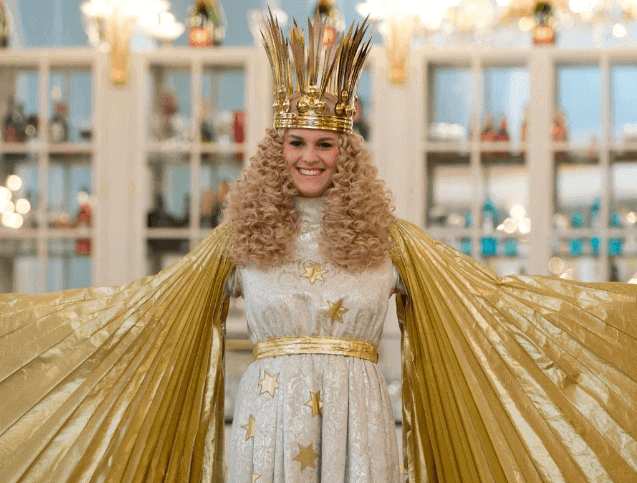 TEMPORARILY CLOSED FOR 2020 DUE TO COVID CONCERNS
Be sure to check out the Atlanta Christkindl Market in Centennial Olympic Park. The festive Christmas market in Atlanta is a celebration of German culture and dates back to the late Middle Ages.
In an effort to rid Christmas of all Catholic Customs (including the German Santa Clause) during the Protestant Reformation Martin Luther introduced das Christkindl, an angelic child who gave gifts to good children. Eventually that figure was replaced by Father Christmas and then evolved into Kris Kringle.
Keeping this history alive, at the Christmas market you'll hear traditional singing and find dancing, food, drink, and seasonal items in open-air booths.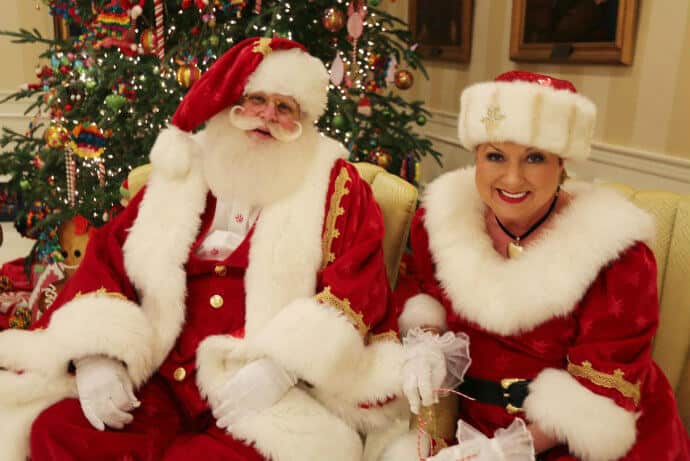 TEMPORARILY CLOSED FOR 2020 DUE TO COVID CONCERNS
One of my favorite memories of Atlanta at Christmas time is 1980, when I was a touring member of the Atlanta Boy Choir. We performed at the Great Tree Lighting Ceremony and the Governor's Mansion Tree Lighting Ceremony (George Busbee was in office then), then had a sold-out run performing with the Robert Shaw and the Atlanta Symphony Orchestra and ASO Chorus.
Less well-known and more intimate than most Christmas events in Atlanta, this annual tree lighting ceremony will find Governor Brian Kemp opening the doors of the Greek revival-style Bulkhead mansion to visitors for the first time since he took office.
The event will include festive music, tasty treats, and "The People's House" all decked out for the Atlanta holidays.
The mansion also offers Christmas Tours from December 2nd through 10th, and all parking and admissions are free. But they do encourage visitors to bring new unwrapped Toys for Tots, and they have drop boxes located at the front entrance.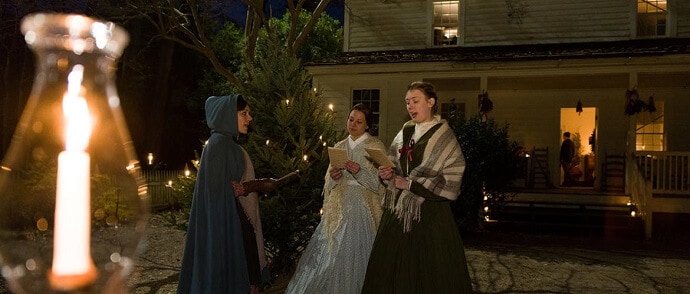 TEMPORARILY CLOSED FOR 2020 DUE TO COVID CONCERNS
(While Candlelight Nights is closed for 2020, the Swan House is open and festively decorated for you to enjoy at their History After Hours Event on December 10th from 5 to 8 p.m.) 
Speaking of history, the Atlanta History Center is one of those gem attractions that is probably more well known by tourists to the city than it is among local residents.
Whether you're a regular or a first-time visitor, Candlelight Nights is a great example of what makes the center so special.
It begins with a nighttime candlelit stroll through their beautifully decorated gardens, where guests are welcomed to a warm Atlanta Christmas market full of local arts and crafts.
There are three historic Southern homes to explore– one from the pioneer days, the Civil War, and the Great Depression– each decorated for the holidays in the style of that era.
The center's experienced interpreters help bring these different periods in Southern history to life. There's also live music, food available for purchase, a cash bar, and numerous Christmas activities.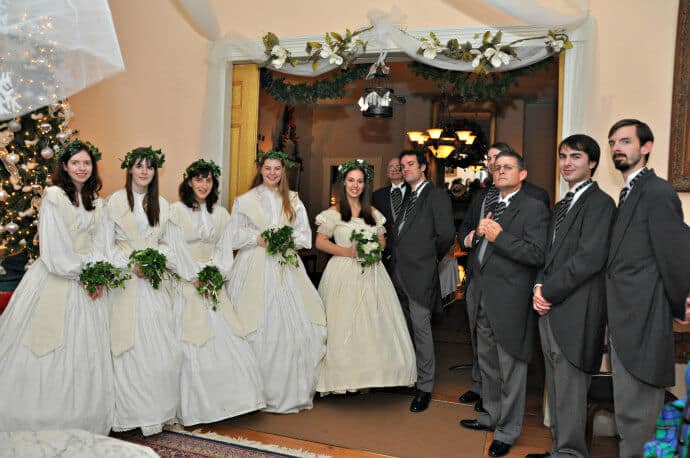 Reenactment Mittie Bulloch & Theodore Roosevelt, Sr' wedding  at Roswell's Bulloch by Visit Historic Roswell
(Roswell's Bulloch Hall, Dec 19)
Want to experience an old fashioned Georgia Christmas with a slice of 19th century history? For one night only, you can, at Roswell's Bulloch Hall.
The elegant Greek Revival-style home, which is listed on the National Register of Historic Places, was originally built in 1939 for Major James S. Bulloch, one of the city's earliest settlers. At this point, Roswell was still just a sleepy little village located 21 miles north of Atlanta.
The house became famous in 1853, when Bulloch's daughter, Mittie, married Theodore Roosevelt Sr. The pair later became proud parents to future U.S. President Teddy Roosevelt, who visited his mother's childhood home in 1905.
This event is a historical reenactment of their Christmastime wedding, complete with period costumes, a lantern-lit tour of the home, storytelling, and a special dessert. Each of the six sessions lasts about 75 minutes, and reservations are required.

(Whitlock Avenue District, Dec 4-18)
For those seeking decidedly more sedate and refined holiday pleasures, there's the 34th annual Marietta Pilgrimage Christmas Home Tour.
Featured in Southern Living and named a Top 100 Event in North America, this tour features historic homes located in the Church-Cherokee Historic District.
In light of COVID-19 concerns, the tours will be self-guided and can be taken any time in December but on December 4th through 18th you will be able to cast votes for various contests like "Best Traditional Decor," and "Best Light Display." 
Organized by the Marietta Visitors Bureau and Cobb Landmarks & Historical Society, the tours are a great way to get a taste of the city's famed historic district.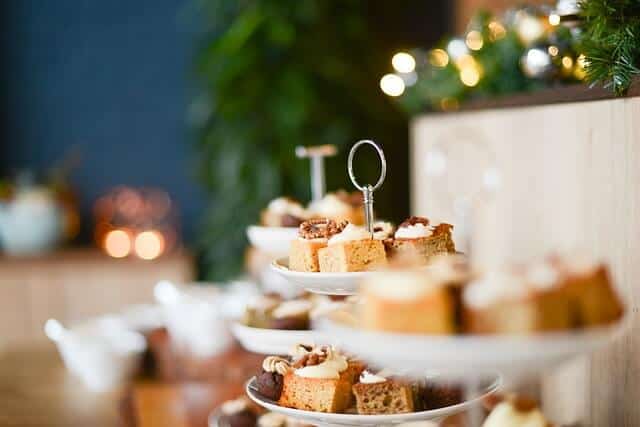 (Ritz-Carlton Atlanta, Dec 4, 11 & 18)
Offering a more titillating twist on the holiday tea concept, the Ritz-Carlton Atlanta gives it guests a chance to choose which of Santa's lists they prefer to be on.
For kids (and adults who want to keep it PG), the Nice Tea features seasonally appropriate teas and apple cider for sipping, served with traditional afternoon tea fare such as Egg Salad with truffle, tea cookies, and warm scones.
For adults who prefer a more indulgent menu, the Naughty Tea offers Champagne, strawberries, whipped cream, and Grand Marnier.
The hotel's Lumen Lobby Bar offers a posh setting for the event. But the luxe experience doesn't come cheap: Adults pay $45 for the Nice Tea, and $60 for the Naughty.
There will be limited seating available to due social distancing so make sure to hurry and get your reservation! Masks will also be required at all times indoors except when eating or drinking.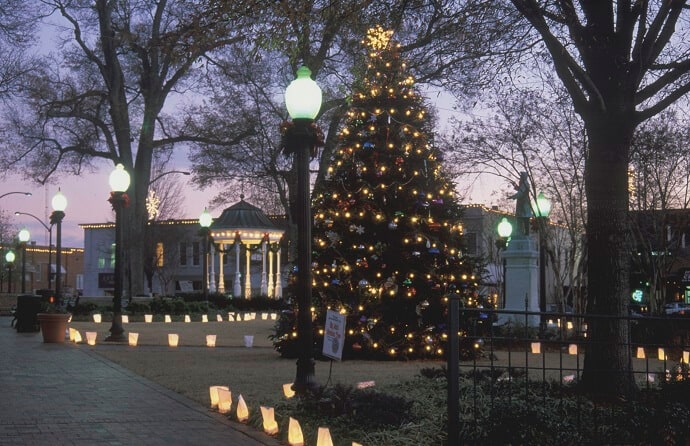 (Dec 3-Dec 24)
This  event puts a hip, modern suburban twist on traditional small-town holiday celebrations.
The Marietta Square is the center of the action, festive holiday music, thousands of twinkling lights, and visits with Santa at his workshop. The festivities kick off with the official lighting of the Christmas Tree Dec 3th in Glover Park. 
This year there will be even more focus on children, with games and interactive holiday events, an enhanced house for Santa Claus, and a kids' story time where kids can write letters to Santa.
But there is still plenty of holiday fun for adults such as stopping in shops such as Dakota Boutique and Marina Marina Antiques, getting sweet treats from Sugar Cakes Patisserie or Sarah Jean's Ice Cream, and winding down with a delicious Italian dinner from Piastra Restaurant (try the Gamberi Picatini and Lasagna Quatro Formaggi).
We enjoyed our first visit so much, we're going back to celebrate New Year's Eve!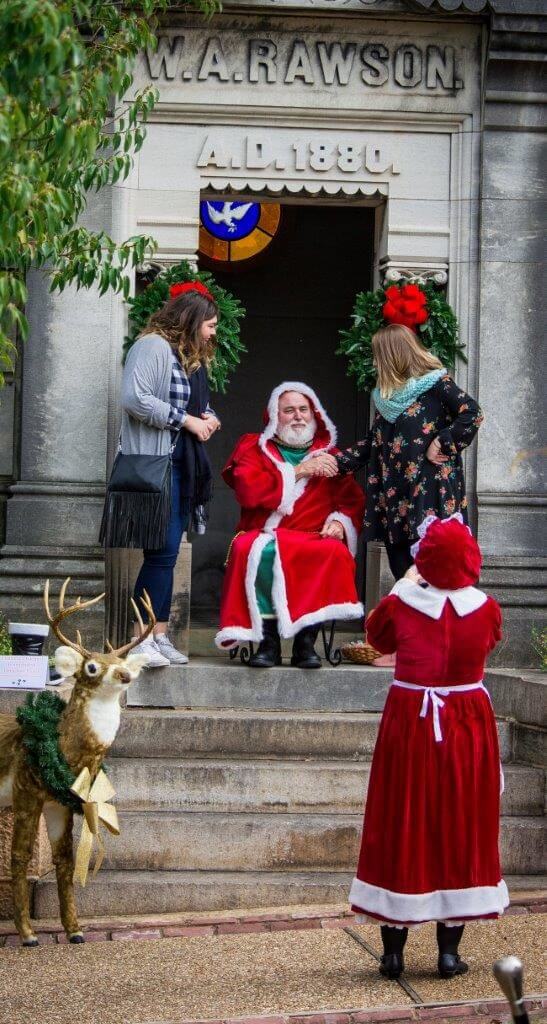 (Oakland Cemetery, Dec 5)
One of the more unique ways to celebrate Christmas in Atlanta, this event returns to the historic Oakland Cemetery for its sixth consecutive year.
A gorgeous example of the 19th century's "rural garden" cemetery movement, Oakland is renowned for its eclectic mixture of art and architectural styles, including Egyptian, Exotic Revival, Gothic, Greek Revival, Neo-classical, and Victorian.
Its graves and elaborate mausoleums are filled with a who's who in the city's history, including 3,000 Confederate soldiers, author Margaret Mitchell, golf legend Bobby Jones, Morris Brown College founder Bishop Wesley John Gaines, and Mayors Ivan Allen Jr. and Maynard Jackson.
Victorian Holiday features a Holiday Tour of Eternal Homes, with guides in period costume leading guests on a behind-the-scenes walking tour to see some of the cemetery's most magnificent mausoleums.
There's lots of Atlanta history in their stories, and all of the sites are decorated by local artists and designers. Advance ticket purchases are HIGHLY recommended.
There will also be free Christmas activities, including a children's craft area and photos with Saint Nicholas, that are free and open to the public.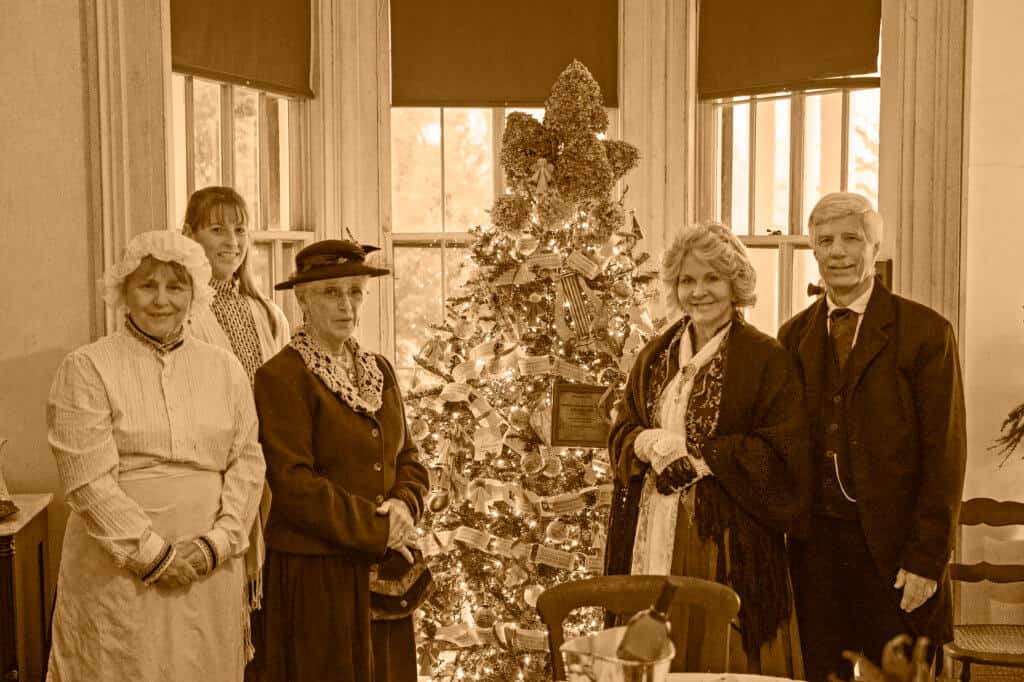 (Hardman Farm State Historical Site, Dec 4, 5, 11, 12, 18, 19)
Experience Victorian Christmas traditions and learn about Christmas' past from knowledgeable speakers dressed in classic 1870's attire at Hardman Farm State Historical Site.
The Mansion at West End will be decorated for the holidays featuring beautiful candle lights, Christmas music, hot apple cider and hot chocolate as well as a gift shop.
There will be a horse drawn wagon to take you on a historical ride down Unicoi Turnpike and Santa himself will be available for visits on the property.
While you're there, you will also have to opportunity to support local charitable causes by voting for your favorite decorated Christmas tree in the Mansion. The community group who decorated the winning tree will receive a donation from the Friends of Hardman Farm.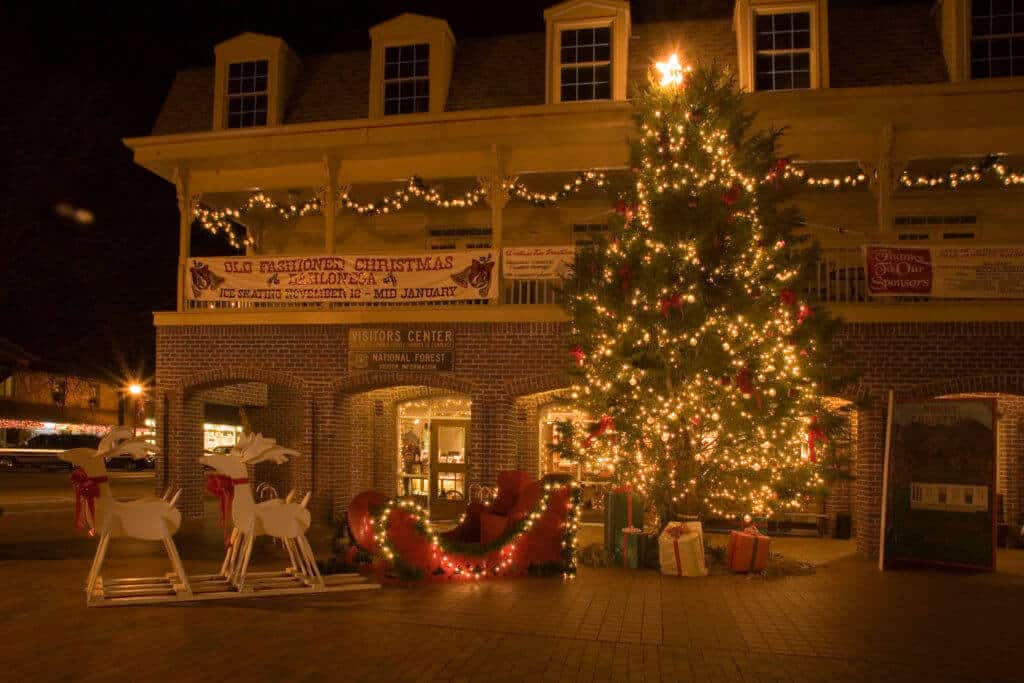 (Dahlonega, Nov 27 – Jan 18)
Experience the timeless magic of Christmas in a small town with Dahlonega's Old Fashioned Christmas. 
The celebration is packed full of festivities including horse drawn carriage rides, tours of the decorated inns, street performers, and shopping at the Christmas Market on Candy Cane Lane.
Each day promises exciting holiday fun whether you are outside strolling through town on a carriage ride, enjoying a Christmas Wine Walk or holiday shopping at the annual Christmas Market.
This year the fun will continue through an extended season giving guests an extra two weeks to enjoy the magic and spread out visits keeping crowds to a minimum.
For your safety, restaurants, lodging accommodations and shops will be following cleaning and sanitizing guidelines in accordance with CDC protocols.
GEORGIA CHRISTMAS DAY TRIPS
(Lookout Mountain, Nov 20 – Jan 2; Closed Dec 24)
Just a quick drive from downtown Chattanooga or a 2 hr drive from Atlanta, this award-winning light show is celebrating its 25th anniversary and will feature more than a million LED lights across four uniquely themed realms of wonder.
From the Magic Forest that includes one of the world's largest walk-through electronic Christmas trees to the Arctic Kingdom where Jack Frost and Inara the Ice Queen will guide you through a stunning display of ice crystals and aurora borealis themed lights there is no shortage of magical things to do.
Don't forget to visit the North Pole Village where you can get pictures with Santa, decorate gingerbread cookies with Mrs. Claus, and warm up by the fire with some hot cocoa while you enjoy the nightly live entertainment!
READ MORE: The 15 Best Day Trips From Atlanta (For Nature Lovers)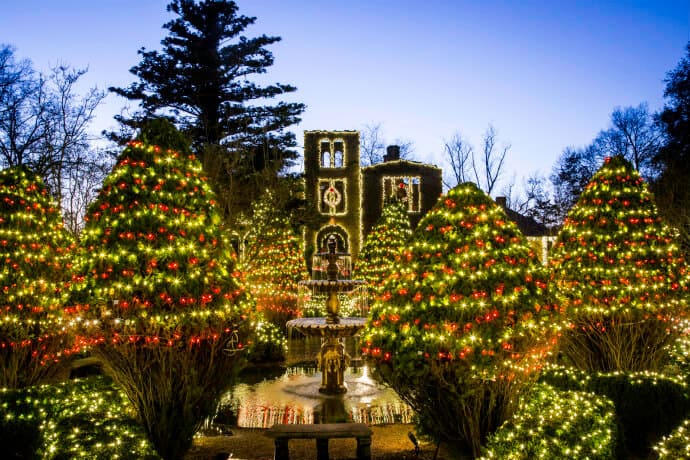 (Barnsley Resort, Nov 22 – Jan 1)
Barnsley Resort (formerly known as Barnsley Gardens) holds a special place in our hearts, because it was the first place Mary and I traveled together.
That romantic getaway– Valentine's Day weekend in 2009– was our first big indication that our relationship was something truly special. 
Ten years later, the resort (which is located in the foothills of the Blue Ridge Mountains) has been upgraded considerably, but the traditional Southern charm remains much the same.
Their north Georgia Christmas celebration will feature the English-style garden and historic Manor House Ruins all lit up with colorful holiday lights.
There will be numerous holiday events held throughout the season, including campfire storytelling, cookie decorating, gingerbread house crafting, harvest hayrides, and wreath-making classes.
Unfortunately, this year the event will be limited to only guests and members so to get in on the fun be sure to book a room soon!–Bret Love
READ MORE: Barnsley Resort: A Southern Gothic Love Story