Best Hotels In Albania (2021 Albania Accommodation)
Some posts contain compensated links. Please read this disclaimer
for more info.
As Croatia and Slovenia continue their rise through the ranks of European tourist hotspots, Albania follows shortly behind. Its combination of deep-rooted culture, an amazingly long history, art and architecture, wonderful beach life, and stunning mountain scenery has made it one of the hottest up-and-coming destinations on the continent.
The country's number one city is Tirana, the capital and center of commerce and culture. That said, however, numerous other places, scattered along the coast and across the countryside, have more than their fair share of attractions as well. An Albania road trip is certainly a worthwhile way to spend a summer vacation.
Whether you limit your visit to Tirana or want to head out into less-explored regions, looking to spend time on the beach, or have an active holiday, Albania has got you covered. If you're wondering where to go in Albania and where to stay in Albania, we've listed some of the best Albania accommodations below, from Albania beach resorts to accommodation in historic buildings.
Top Hotels In Albania Map

Hotels In Tirana

Xheko Imperial Hotel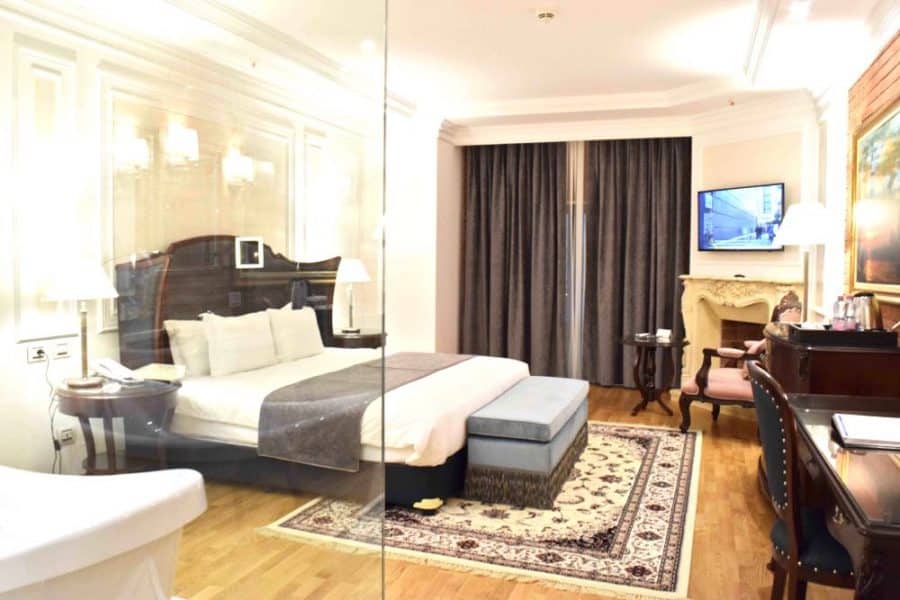 The four-star Xheko Imperial Hotel is a gorgeous building in the heart of Tirana, the capital and one of the best places to visit in Albania. It prides itself on its exceptional combination of tradition and luxury, offering its guests an architectural and high-end experience unlike anything else in Albania. You can choose from a wide variety of rooms, from deluxe single rooms to imperial double rooms to premium rooms and junior suites.
Two restaurants serve all kinds of cuisine, while its two bars—a lobby bar and a rooftop bar—are ideal places to unwind after a fun day of urban exploration. Nightly rates depend on the room type you prefer, but you should be able to find a double room for around €100.
See The Rates For All The Best Hotels in Albania Here
The Rooms Hotel & Residence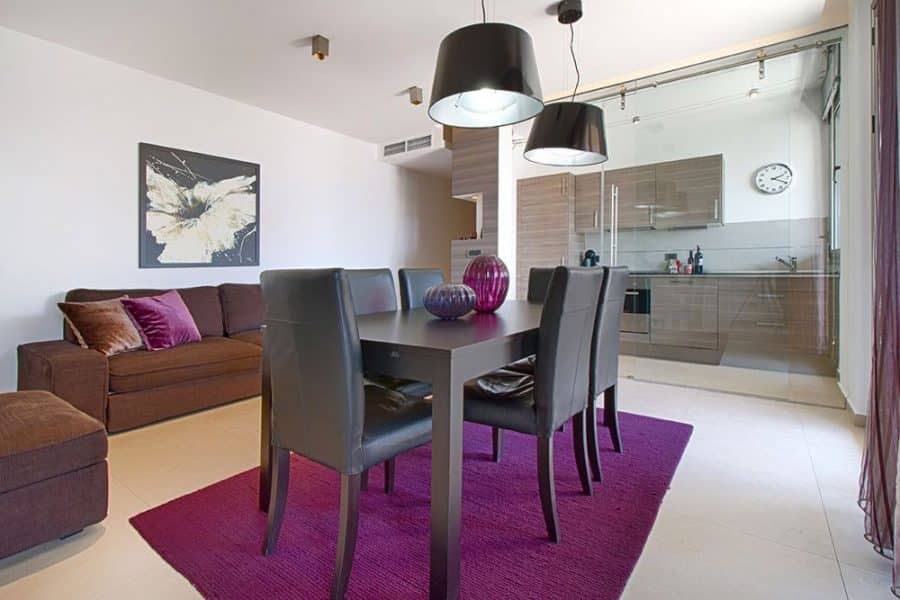 The Rooms Hotel & Residence is one of the most popular hotels in Tirana. Guests can expect superior service, excellent hospitality, and simply fantastic accommodation within striking distance from many of Tirana's major attractions.
This one is especially interesting for independent travelers looking for some additional privacy, which is offered in one-, two- and three-bedroom apartments. In addition to a plethora of accommodation options, there are also numerous facilities to make your stay even more comfortable, including five restaurants, a full-service spa, an indoor pool, and free Wi-Fi and continental breakfast. Prices vary but typically start at about €110.
Check Rates or Find More Albania Accommodation Here
The Plaza Tirana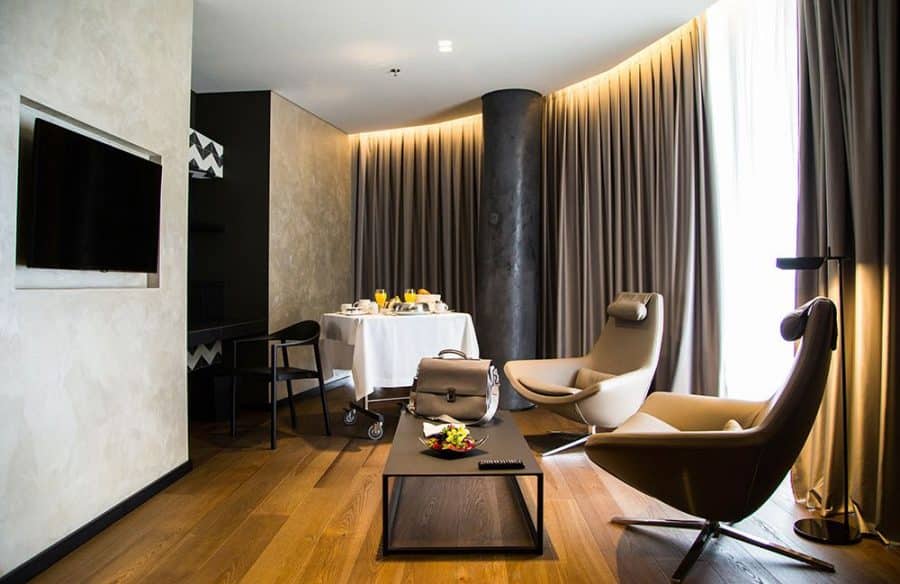 One of Tirana's most visually striking hotels is one of the best hotels in Albania for 2019. The Plaza Tirana sets itself apart from the competition with its excellent amenities, phenomenal location in the city center, and wonderful cleanliness and hospitality. There are no fewer than 190 beautifully designed rooms, three restaurants, a spa and fitness center, a lounge bar, and eight event and meeting rooms.
It's a great hotel for both vacationers and business travelers. Moreover, considering all its unique services and facilities, rooms are very affordable. Prices are as low as €86 per night.
Check Rates or Find More Albania Accommodation Here
Theranda Hotel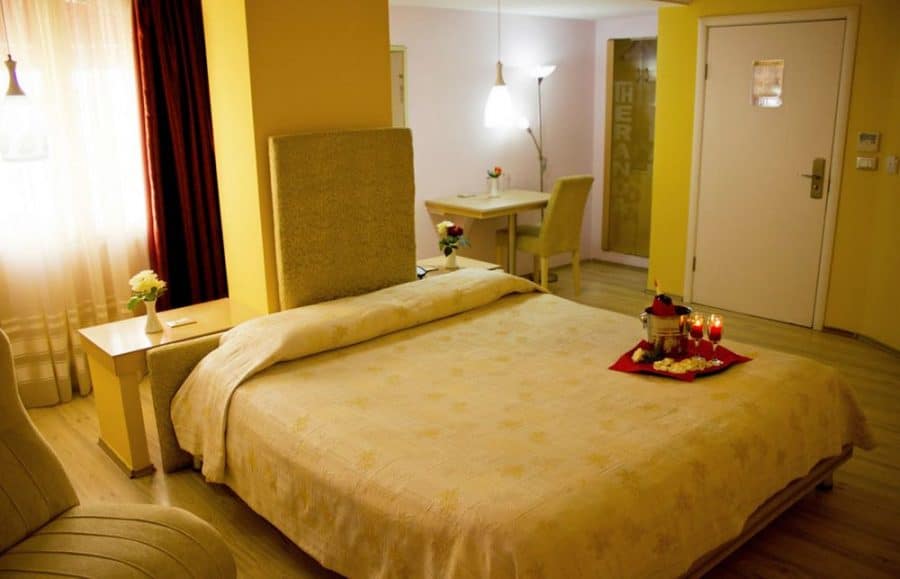 Theranda Hotel lies fifteen minutes or less on foot from Tirana's main highlights, such as the National Art Gallery, the Pyramid, and the historic city center, all among the greatest Albania tourist attractions. The Blloka district, the city's center of entertainment, lies a stone's throw away, yet the hotel offers peace and quiet. Free Wi-Fi is available to all guests, while the atmospheric outdoor garden is a great spot to kick back with a book or a cup of coffee.
With its fourteen guestrooms, Theranda Hotel manages to keep things friendly and personal without sacrificing any comfort or luxury. When it comes to value for money, this is one of your best options in Tirana, nightly rates starting as low as €60.
See The Rates For All The Best Hotels in Albania Here
Hotels In Berat

White City Hotel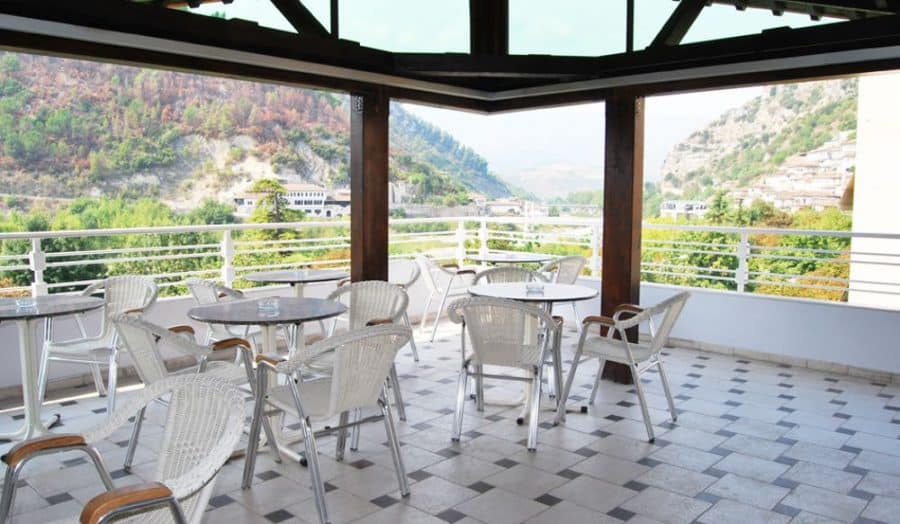 Strategically located on a quiet section of Berat's main boulevard, White City Hotel is popular among business travelers and holiday-makers alike. The hotel has thirteen rooms, all equipped with a bathroom, mini-bar, flat-screen satellite TV, desk and chairs, air conditioning, a telephone, and a safe—all you need in a hotel room, in other words.
Guests can relax at the terrace, where breakfast is also served in the morning while enjoying the garden scenery or admiring the river views, use the free Wi-Fi, or enjoy a drink at the on-site bar. Free parking is available as well. You can usually book a room for €40 to €45.
Check Rates or Find More Albania Accommodation Here
Hotel Osumi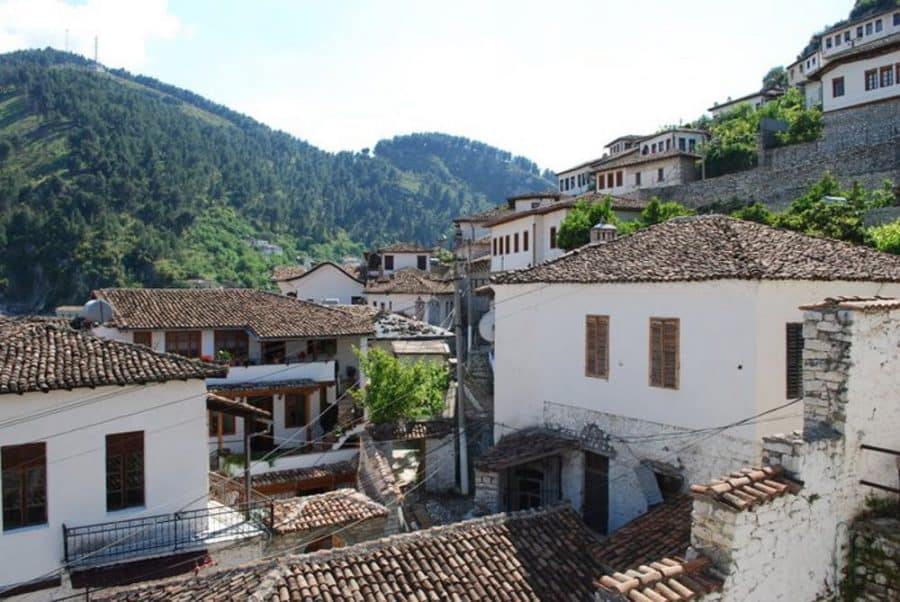 Housed in a typical Berati house in the old town's quiet Mangalem neighborhood, Hotel Osumi has successfully combined old and new. One of the most popular and highly-rated hotels in Berat, this accommodation overflows with historic character yet has all the modern conveniences and amenities you could want from a hotel.
Guests tend to rave about the breakfast served each morning, and they can also enjoy free Wi-Fi and free parking. An on-site bar is a popular hangout after a well-filled day of sightseeing in one of the most beautiful places in Albania. You can often score a superior double, twin, or triple room for the equivalent of €30-40.
Check Rates or Find More Albania Accommodation Here
Hotel Mangalemi


Rated as one of the best Berat hotels for couples, Hotel Mangalemi is also among the oldest modern hotels in one of the best places to visit in Albania. You'll find this historic hotel, constructed on the ruins of mansions that once belonged to the Pasha of Berat, in the Mangalem Quarter in the old town center. Because of its rich history, the building has lots of character.
There are two types of rooms—standard and superior double rooms—and all of them come with free Wi-Fi, cable TV, a fridge, bathroom, mini-bar, room service, and a safe. Once again, there's incredible value for money in this hotel as well, with prices starting at €35 for a standard double room.
See The Rates For All The Best Hotels in Albania Here
Hotels In Gjirokastra

Hotel Kalemi 2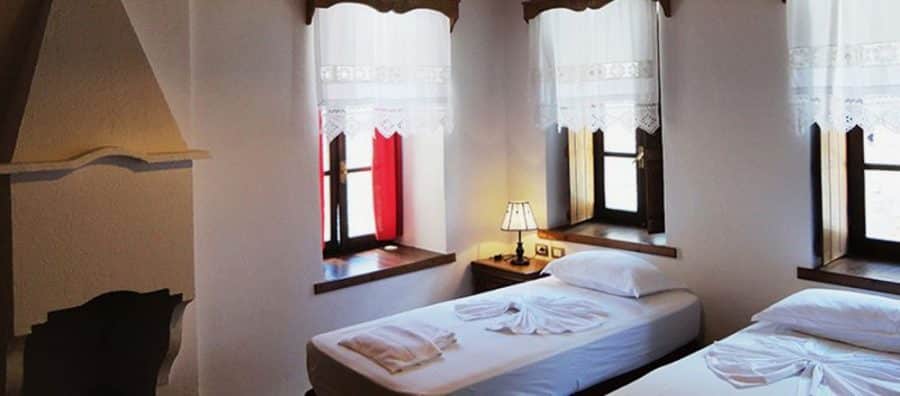 Boasting a fantastic location in the middle of Gjirokastra, yet another of the many gorgeous Albania destinations, Hotel Kalemi 2 is a cozy and welcoming retreat overlooking the surrounding mountains. The building itself is a beautifully renovated historic house, a place "where stone and wood, old and new, are combined together with maximum care to give you a unique feeling." You can park your car for free and enjoy free Wi-Fi as well.
There are seven different room types for you to choose from, from twins, doubles, and triples to junior and superior suites. For a regular double room, you pay about €40-50.
Check Rates or Find More Albania Accommodation Here
Hotel Cajupi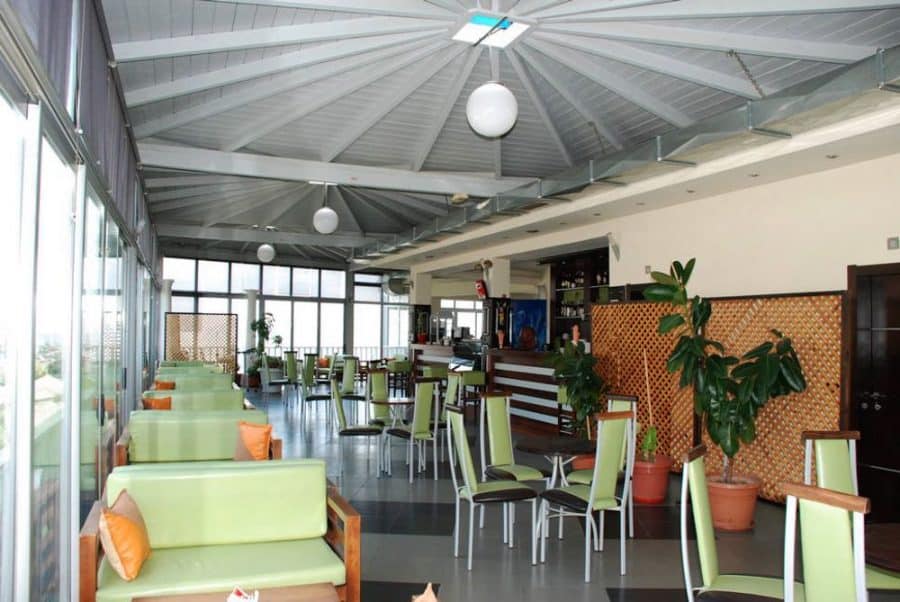 Hotel Cajupi lies in the very heart of Gjirokastra, a UNESCO World Heritage Site, at the feet of the town's famous castle and within easy walking distance from pretty much all shops, museums, restaurants, and the tourist office. In terms of history and culture, this is unquestionably among the best of Albania's destinations.
You can choose between a variety of rooms, from single and double to triple and suites. Each room is priced differently—singles are €35 per night, doubles are €45, triples are €65, and suites are €80.
All rates include free Wi-Fi and breakfast.
Check Rates or Find More Albania Accommodation Here
Hotel Gjirokastra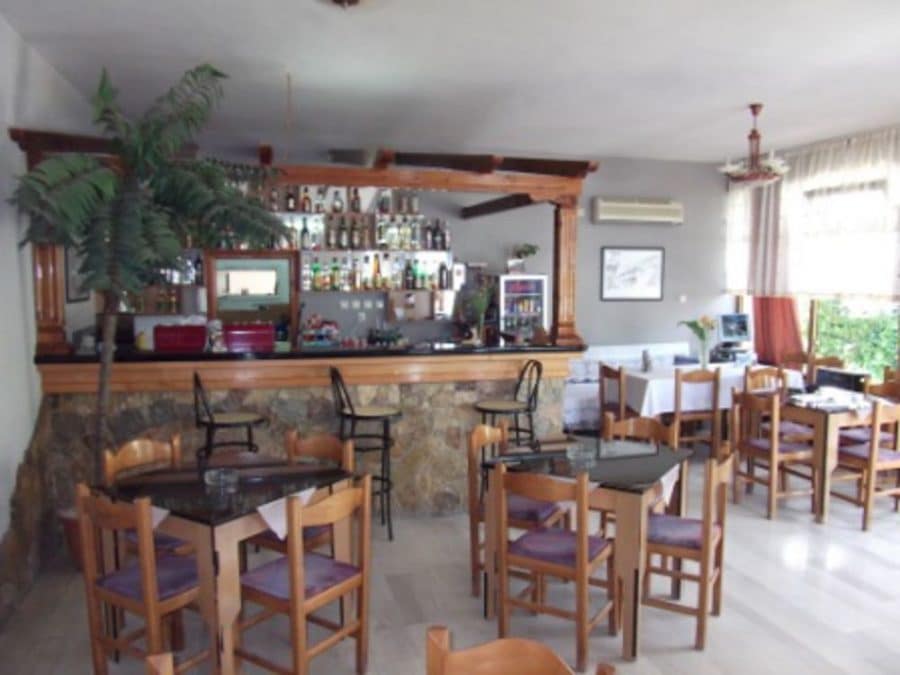 Located in the city's Museum Quarter, Hotel Gjirokastra is housed in an old building and sets itself apart with its traditional home atmosphere. There are only four rooms in this welcoming, cozy boutique hotel—three single rooms and one double. All rooms have a private bathroom. There is free Wi-Fi, free parking, and a complimentary breakfast.
The rooms are priced at €25 per night, which is incredible value for money.
See The Rates For All The Best Hotels in Albania Here
Hotels In Saranda

Hotel Brilant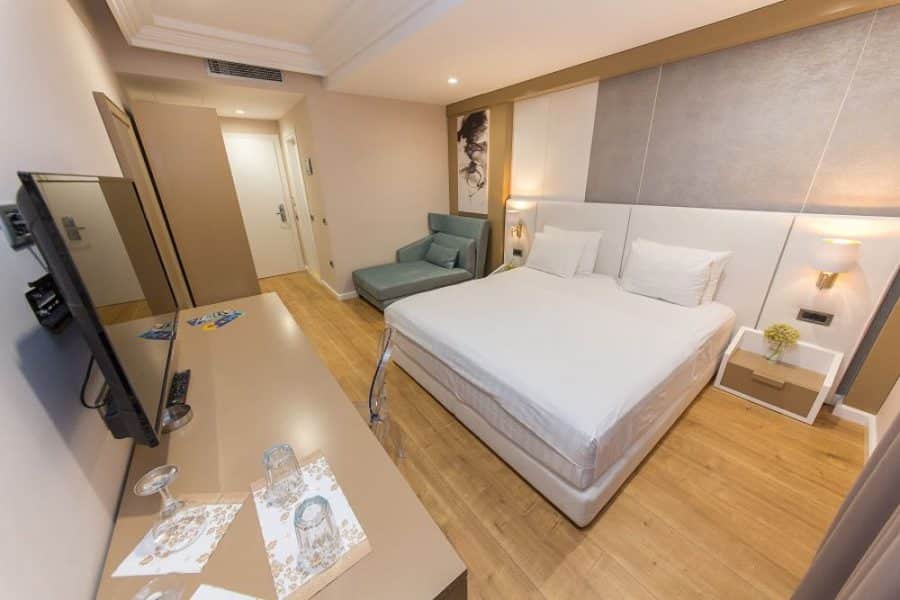 The modern, four-star Hotel Brilant lies only about 100 meters from Saranda's main boulevard and within striking distance from grocery stores, restaurants, and nightclubs. This is easily one of the best locations in the entire city, overlooking the Albanian Riviera's waterfront and a stone's throw from the port and bus station.
There are various types of double rooms available, as well as junior and family suites. Guests can enjoy free parking and free Wi-Fi, wind down with a drink at the bar and kickstart their day with an elaborate breakfast in the morning.
Prices typically start at about €40 for a double room.
Check Rates or Find More Albania Accommodation Here
Titania Hotel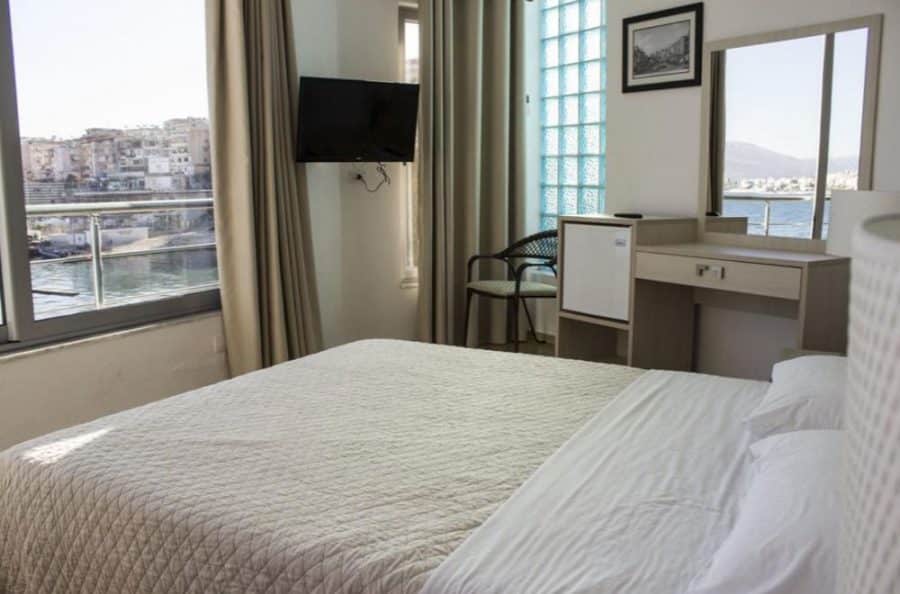 Boasting a superb location in the heart of Saranda, ten minutes on foot from the city center, Titania Hotel is one of the most popular hotels in Saranda and rates one of the best hotels in Albania.
A plethora of restaurants, cafes, and bars surround this three-star hotel. The UNESCO World Heritage Site of Butrint, one of Albania's most famous places, lies only fifteen kilometers away. At the same time, other parts of the city are easily reached via the nearby port. The hotel has twelve rooms, all equipped with cable TV, a PC, a fridge, a bathroom, and a wardrobe.
Other amenities and services include Wi-Fi, in-room breakfast, bicycle rentals, and laundry facilities.
You can sometimes get a room in this very affordable hotel for as low as €30, although most rates are a bit higher than that.
Check Rates or Find More Albania Accommodation Here
Hotels In Shokdra

Hotel Colosseo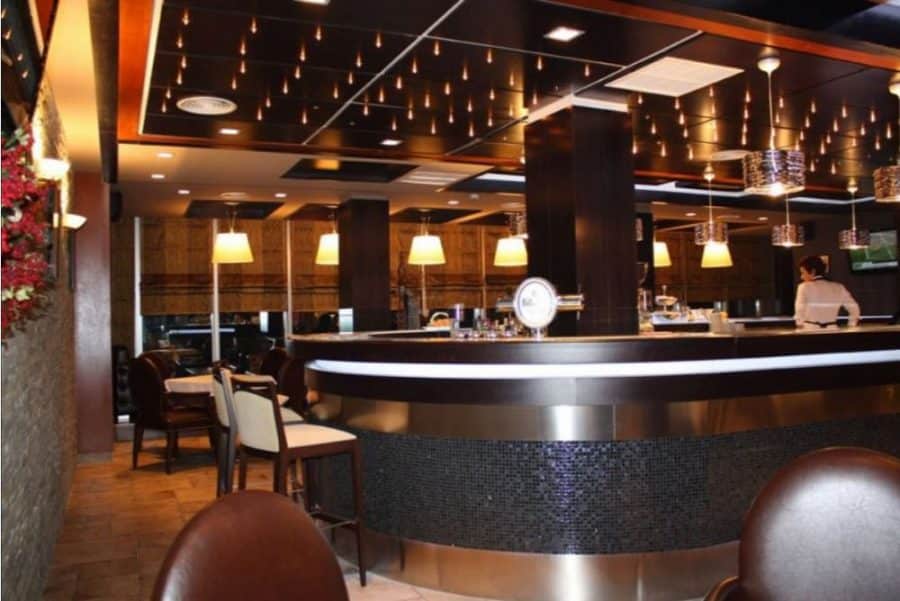 Hotel Colosseo is a well-designed hotel in the heart of Shkodra. You really couldn't find a better location than this. Additionally, this four-star hotel has its fair share of facilities, including a beautiful restaurant, a gym, and swimming pool, and a well-stocked bar. Accommodation is provided in various rooms, from suites and apartments to single, double, triple, and family rooms. Each type of room has its own rate, but you should be able to find a double room for about €60.
See The Rates For All The Best Hotels in Albania Here
Grand Hotel Europa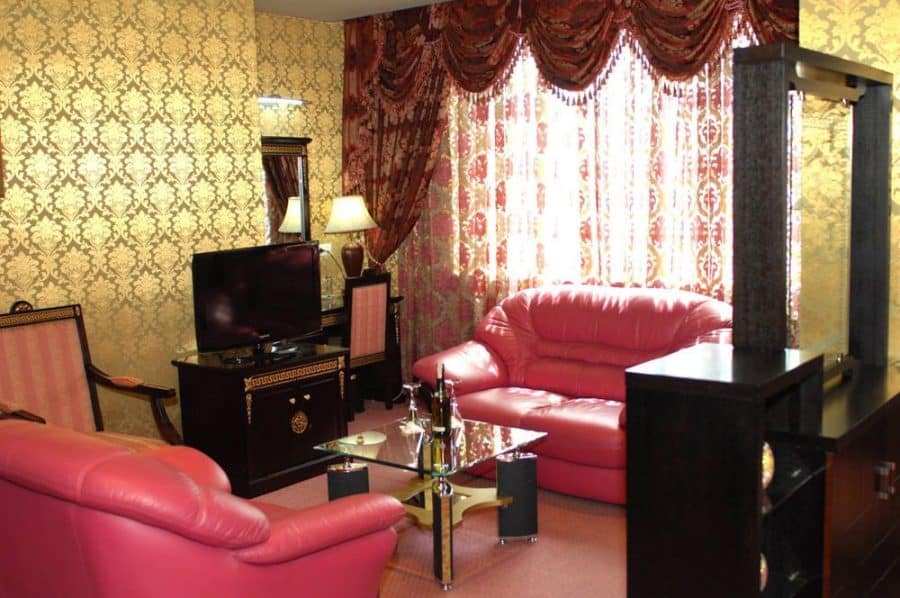 The five-star, multi-floor Grand Hotel Europa lies in the center of Shkodra, only a few minutes' walk from the Shkodra Cathedral and 1.3 kilometers from the shore of Lake Shkodra and some of the best Albania beaches. Right next door, you'll find a bus station and a market.
This is one of the city's premier hotels. Its facilities range from a spa, fitness center, and pool to a restaurant serving Albanian and international cuisine and an 8th-floor bar with panoramic views. Prices vary with the seasons but typically fluctuate around about €100 per room.
Check Rates or Find More Albania Accommodation Here
Hotel Luani Arte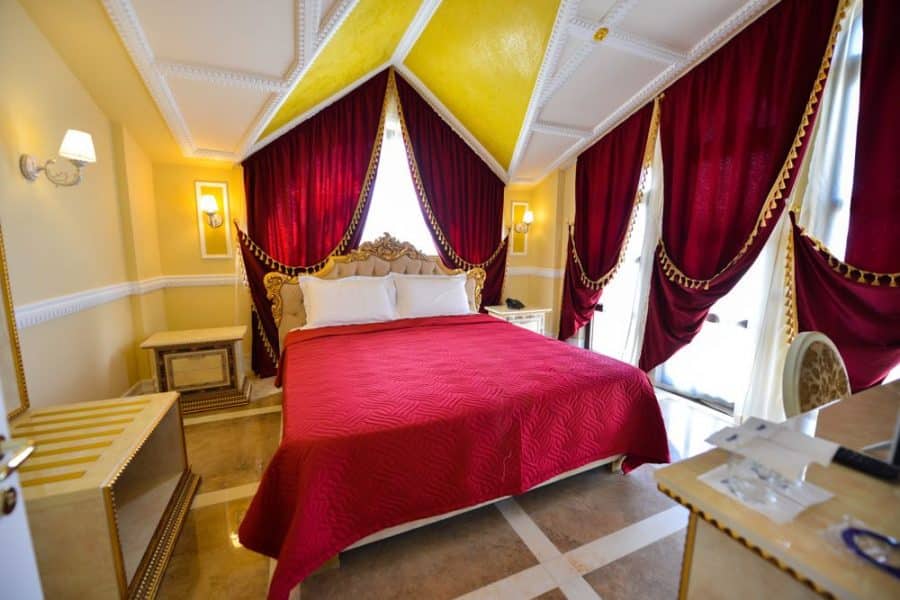 The gorgeously designed Hotel Luani Arte is one of the best hotels in Shkodra, one of the most popular Albania vacation spots. It offers four-star accommodation and has ten double and ten twin rooms, all of which feature beautiful decorations and elegant furniture. A fitness studio allows you to stay in shape during your vacation, while the jacuzzi offers pure relaxation.
The hotel also has its own Italian restaurant as well as a great bar. It even has its own gas station next door. Prices range around €90 per room, but you can usually find fantastic discounts on various booking websites.
Check Rates or Find More Albania Accommodation Here
Hostels In Tirana

Destil Hostel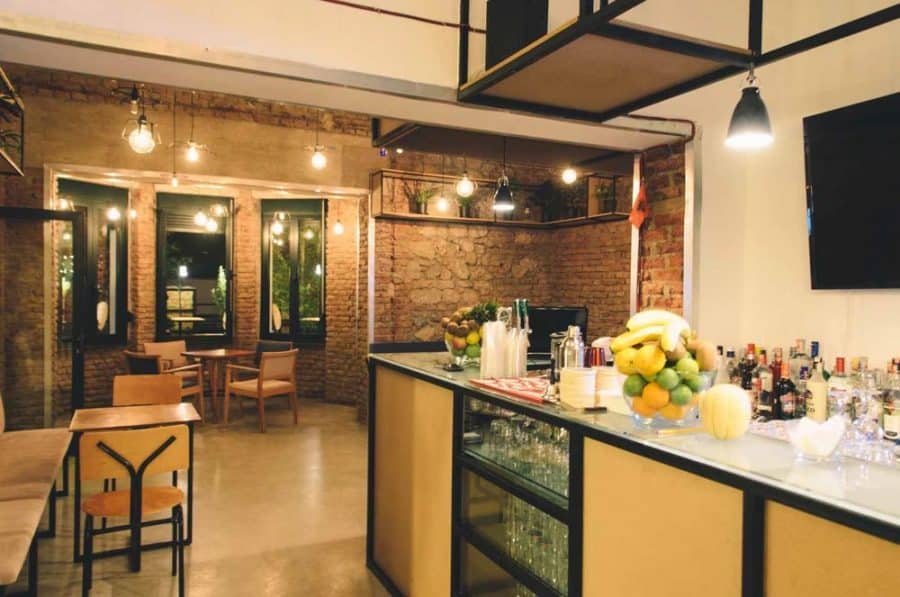 A modern, well-equipped hostel in the historic heart of Tirana, Destil Hostel lies mere minutes from Skanderberg Square. This is arguably Tirana's hippest hostel. You can grab some excellent food at its café/restaurant/bar, lounge in the garden, or relax in the library. There are four different dorm rooms, with nine beds, eight beds, and two with five beds. Each room has A/C, a private bathroom, and lockers. Rates are €8 per person—or €10 if you'd like breakfast and coffee.
See The Rates For All The Best Hotels in Albania Here
Tirana Backpacker Hostel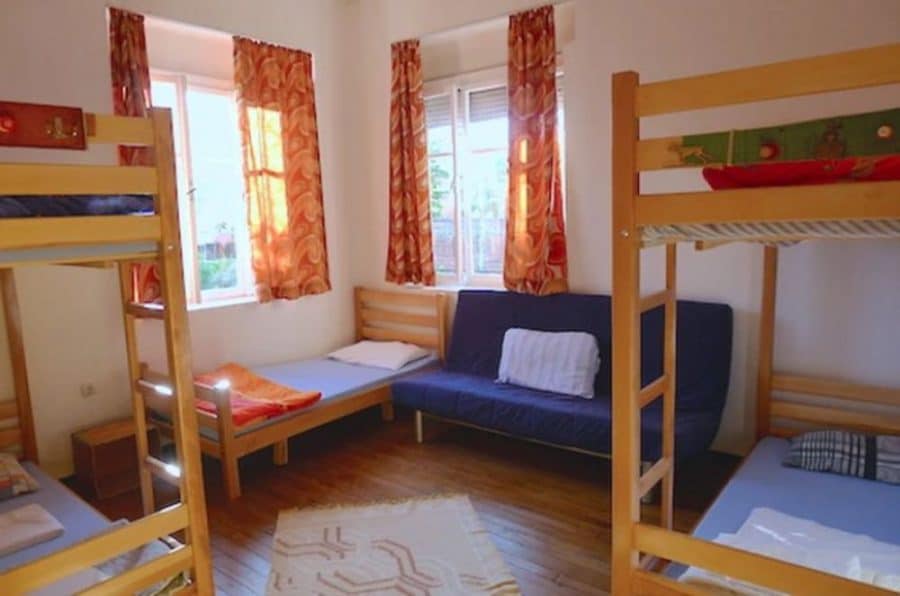 Opened in 2005, Tirana Backpacker Hostel is the oldest hostel in Albania. This pioneering hostel paved the way for all other hostels and remains one of the best. When it comes to value for money, you'll have difficulty finding a better place than this.
The hostel is housed in an old villa in the middle of the old town, surrounded by great eateries and cafes, and within an easy walking distance from the bus station and Skanderberg Square. Facilities range from a large, fully equipped kitchen and a cozy living room to a spacious green backyard with hammocks and even a small pool. You can get a bed in a dorm for as cheap as €8 per person.
Check Rates or Find More Albania Accommodation Here
Milingona Hostel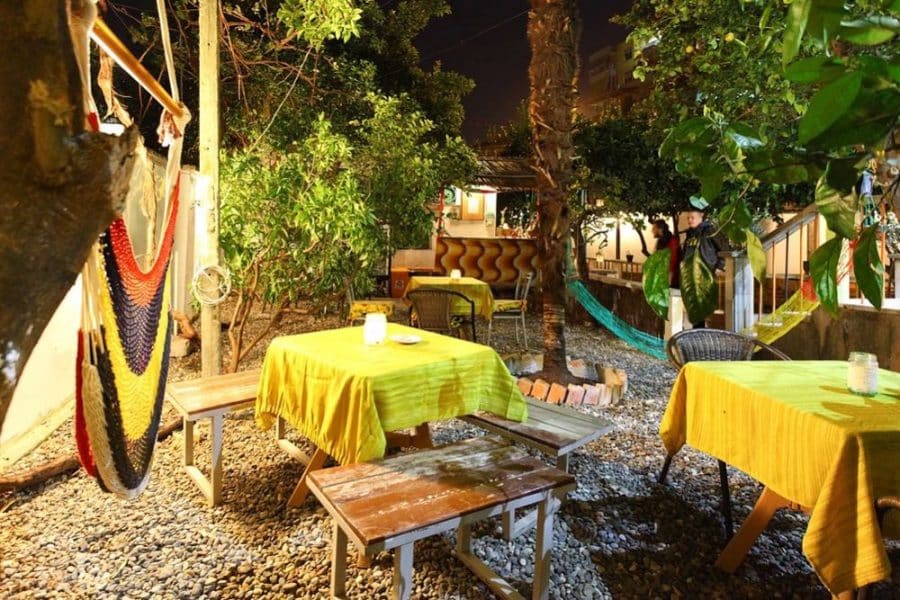 Located on a quiet side street in the heart of Tirana's historic center, Milingona Hostel is run by an Albanian family. It welcomes travelers of all ages and walks of life. Accommodation is available in four-bed, six-bed, and ten-bed dorms as well as a private two-person room. Communal areas include a kitchen, a terrace on the second floor, and an outside bar with hammocks. They also provide free Wi-Fi and free parking. Prices start as low as €9 per person.
There is a nearly unlimited offer of 2019 Albania accommodations. You'll be able to find a nice place to stay in both the smaller towns and the big tourist cities. There's everything from cheap hostels to fancy hotels, so whatever type of accommodation in Albania you choose depends entirely on your own budget, wants, and needs.
Check Rates or Find More Albania Accommodation Here
Have you traveled to Albania before? Where did you stay? What were the best hotels in Albania you'd recommend?
Other Accommodations In Europe And The Balkans

Albania Travel Blogs

Share