Croatian Wine Regions: The Best Croatian Wines And Wineries
Some posts contain compensated links. Please read this disclaimer
for more info.
Written by Anca, the founder of One Day Itinerary, a travel blog dedicated to people who don't have a lot of time but would still love to travel.
If there's one part of the world that can be considered foodie heaven, it's definitely the Mediterranean.
A warm (but not too hot) climate, loads of sun, and the azure sea provides absolutely everything you need to cook up a feast.
However, even in the Mediterranean gastronomy, one thing holds a very privileged status. This is a drink that can improve your health in several ways if you drink it moderately, and an inescapable feature of every summer dinner out in the open in this part of the world.
Of course, we're talking about wine.
But while French and Italian wines will probably come to your mind first, followed by perhaps those from the Iberian Peninsula, we are here to tell you that there is one other country you need to be aware of when discussing this elixir of gods – Croatia.
Yes, this small but beautiful country will shock you with its wines' quality and always leave you wanting for more. With its long winemaking tradition and plenty of unique grape varieties, it will provide you with a unique wine tasting experience. These are the wineries and varietal wines you should look out for when in the country.
A Little Bit Of Croatian History And Geography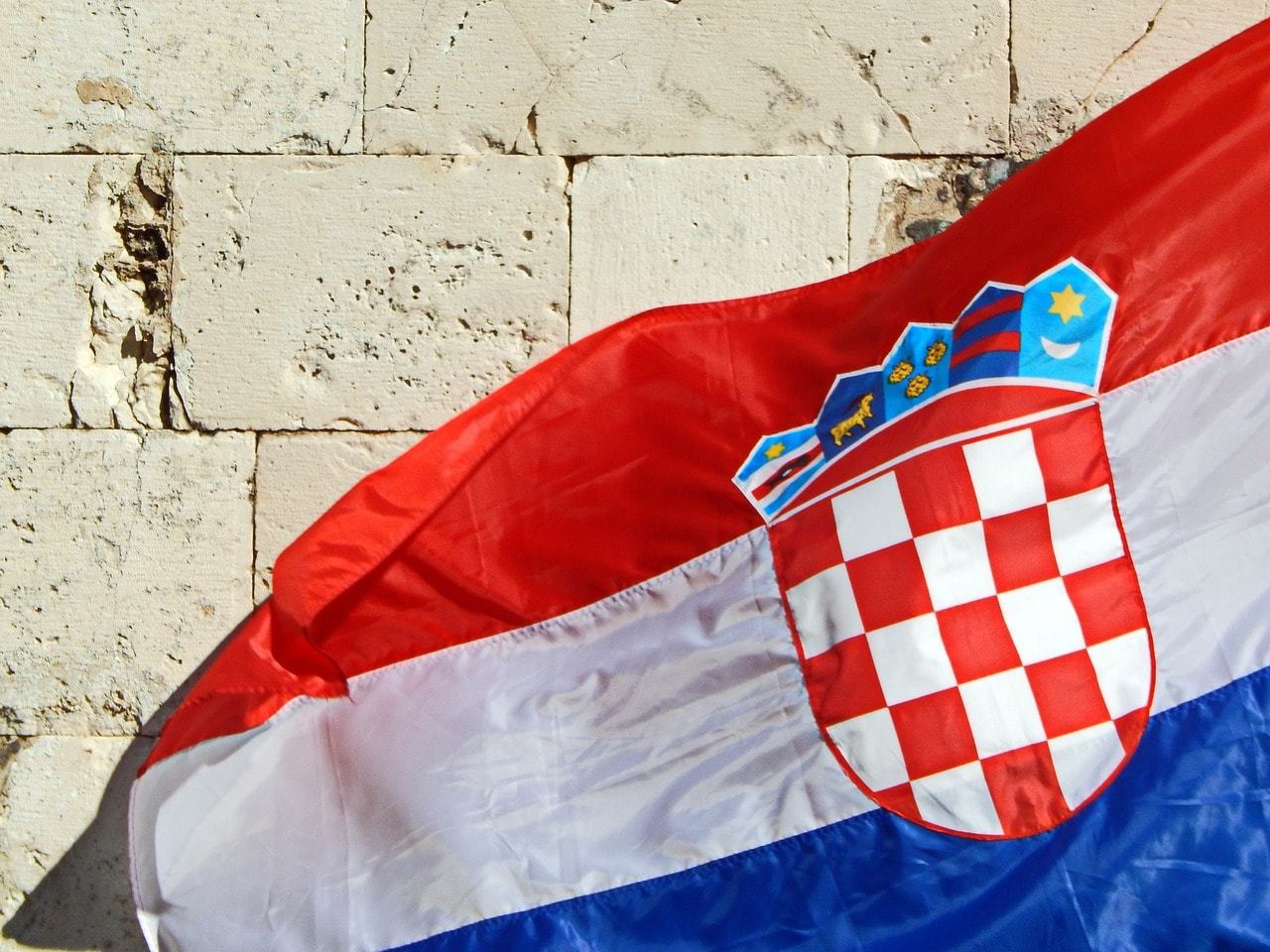 Before we start discussing wines, though, we need to look at the regions they will be coming from (in this article, at least). Two regions in Croatia stand out in this respect: Istria and Dalmatia. They both have nearly the perfect climate for growing grapes, and wine has been created in this part of the world since the time of ancient Romans and even Greeks.
When you look at Croatia's map, Istria (also known as Istra) is that triangular-shaped peninsula all the way up north. The Italian influence is clearly felt here, and it is full of quaint little towns with a lot of history, perfect for a summer wine tour because good wineries are really not very hard to find.
On the other hand, Dalmatia is a region further south, past the Velebit mountain, with a host of beautiful islands. It is these islands that hide some beautiful vineyards from which some truly spectacular wines are made.
The oenologist in you will have a field day no matter which part of the country you choose to visit, but let's now get a bit deeper into the issue of the best Croatian wines. There is plenty to choose from, so get ready.
Istria & Kvarner

Where to go, and what to drink in Istria?
Start Your Tour In Poreč: Damjanić Winery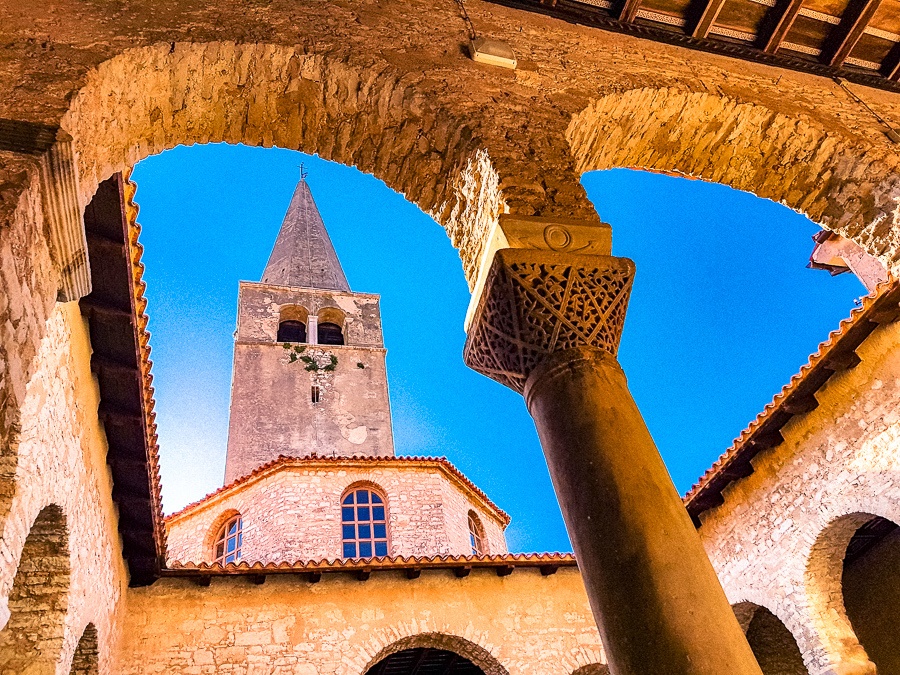 Our trip through Istria will start in Poreč. On the outskirts of that town, you can find the Damjanić winery.
This is a great place to start this tour of Istrian wines. You see, not only has the Damjanić family been producing wine since the 18th century, but they also produce some of the best wines around today.
This was confirmed with two gold medals from the International Wine Challenge – one for their Malvasia from 2016 and one for their Clemente Blanc from 2015.
It should be mentioned that Malvasia is the grape variety characteristic of this part of Croatia, so if you really want something authentic, this is the wine you will want to get your hands on.
Without a doubt, Damjanić's product is among the very best you can find, but there are more great wineries worthy of your attention, so let's move on.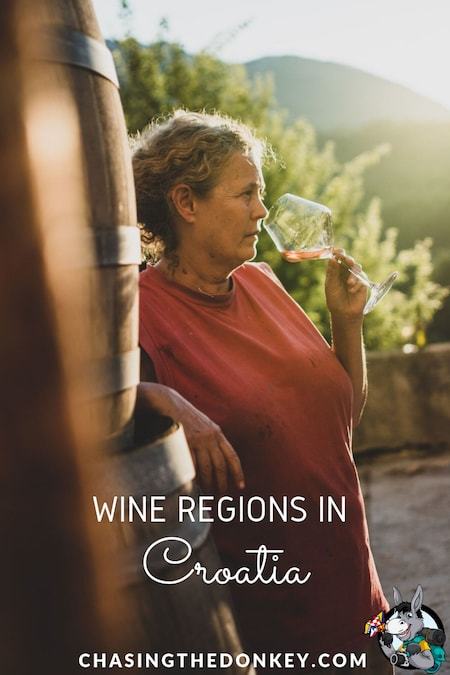 And Now For Something Slightly Different: Agrolaguna

Poreč is also where the headquarters of Agrolaguna, a company dedicated to creating olive oils, wines, and other similar products.
This entry on our list stands out in that it is not a small family-owned winery, but their wines nevertheless deserve to be mentioned. Their Laguna brand comes in three different categories, with Festigia Riserva being the very best of them, so pay attention to it.
Malvasia Vižinada 2016 is a part of that label, and it has recently won a gold medal at 2019 Mundus Vini. Cabernet Sauvignon from that same label has also received a lot of praise.
So, if you're not close to a winery but would still like to get yourself something good from the local supermarket, Laguna wines should be your choice.
The Cossetto's And Their Spectacular Malvasia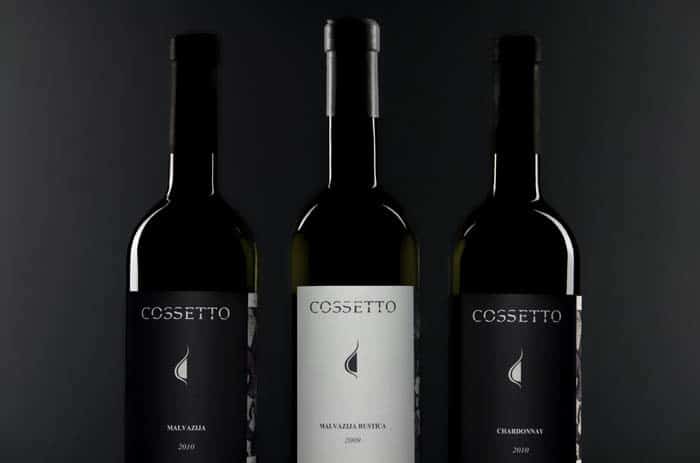 Since we have already broached the subject of Malvasia, we really need to point you to the tiny village of Broskvari near the town of Višnjan (home of Brist Olive Oil).
Yes, we're going back to small wineries now – you will find the Cossetto winery there, and their Prima Luce from 2017 has won so many awards that some Croatian media have already christened it as "the best Malvasia in the world."
Indeed, this wine has won numerous recognitions in Croatia and worldwide, but the Cossetto family also produces their own Chardonnay. As for red wines, they offer a robust Cabernet Sauvignon and Mozaik, a blend of that same Cabernet Sauvignon, Merlot, and the variety known as Borgonja.
The latter is very similar to the French Gamay. Still, it is considered an authentic Istrian variety, which means Mozaik Cossetto will give you a great idea of what Istria is all about.
The Best Orange Wine In The World: Clai winery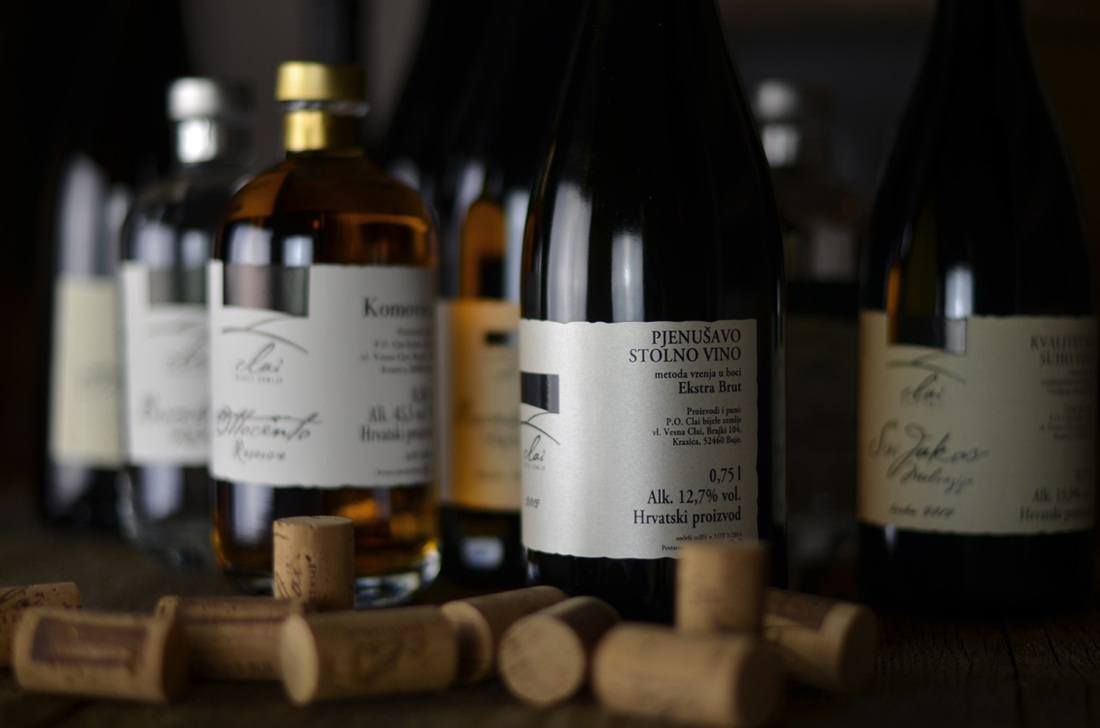 The Clai winery also has to be mentioned here. This is primarily because of its Sveti Jakov wine, an orange wine made of Malvasia, which has been recognized as one of the world's best orange wines.
However, this winery has a lot of other excellent products: their Brombonero is an absolutely sensational red wine (100% refosco), and red and white Ottocentos combine an array of varieties for some outstanding results, too. So, come for Sveti Jakov, stay for everything else.
The hosts are extremely welcoming and are always willing to discuss wine with their guests, so if you want to get to know the people behind the wines from this part of the world, just come here. Of course, tasting includes some great bites perfectly paired with every single wine, but what you get will depend on the season. You will find this winery near Grožnjan, to the northwest of Istria.
Fakin Good Wines: Vina Fakin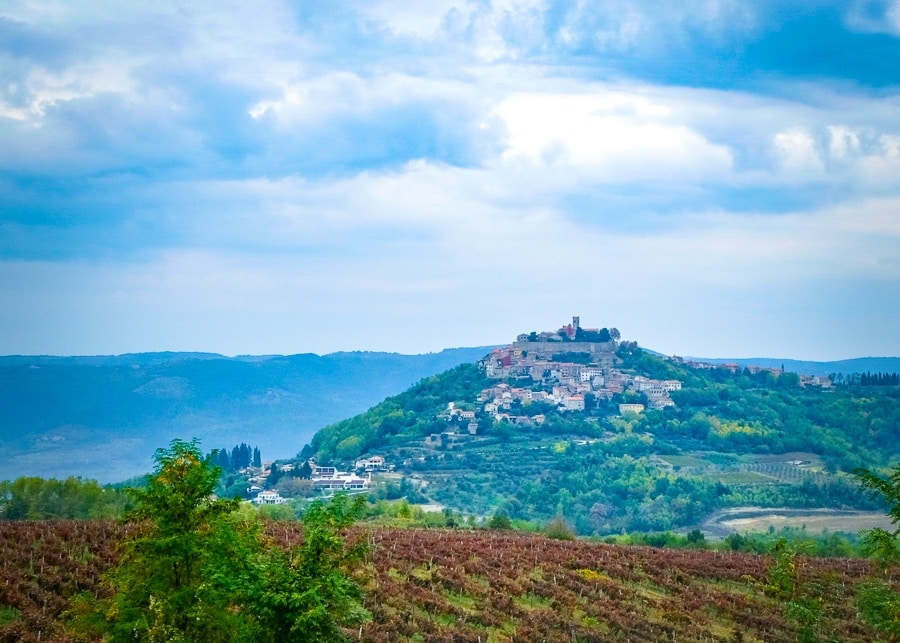 Marko Fakin is a young winemaker from Motovun who seems to be destined for greatness in the Croatian wine world and beyond. He has already won numerous awards and recognition and gold and silver medals at the Decanter Awards.
More than half of his production of 75,000 bottles is Malvasia, and his Malvasia La Prima from 2016 and especially 2015 were a huge hit, with the latter winning Decanter's gold medal.
The other big thing from this winery are their Terranos, under the label Il Primo. Rich and macerated for at least three months, they will pleasantly surprise you with their freshness and purity.
Not a big surprise there, given that Fakin's vineyards' location is considered to be among the best in the country.
Add to that the fact that the prices are extremely affordable, and you get the ultimate value when it comes to Istrian wines. You will find this winery in Motovun, a wonderful little town, so combine the two for an unforgettable day trip. Or even a vacation, why not?
Don't Forget About The Local Muscat: Benvenuti Winery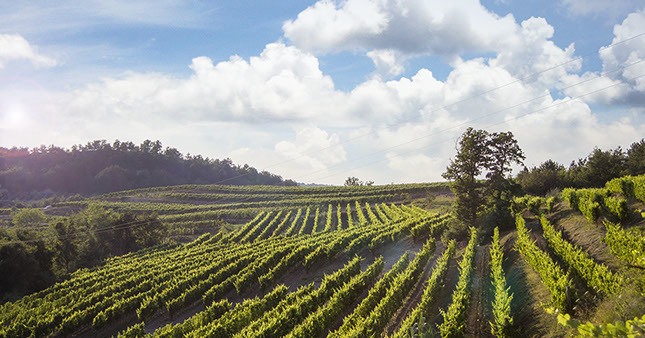 Still in Motovun, Istria and still focusing on white wines. However, this time, we are not talking about Malvasia – no, what you also want to be on the lookout for is Istrian Muscat.
The semi-sweet wine made from this variety has a mild but full and long-lasting taste, and there are a few wineries in Istria that excel at extracting the very best from every grape.
The Benvenuti winery is certainly one of them since their San Salvatore 2011 won gold at London's International Wine Challenge (their other varieties include Malvasia and Teran), so look them up if you find yourself anywhere near Motovun.
The Kozlović winery has also received recognition for their work with Istrian Muscat, so you can't go wrong with them, either. They are located near Umag, to the very north of the peninsula, very close to the Slovenian border.
Before we move on to Dalmatia, allow us to say that apart from some truly excellent wines, wine tours of Istria are very much worth it because of the beautiful and serene landscape all around you.
This part of Croatia is primarily focused on tourism, so you can easily combine beaches and food & wine tasting for the ultimate vacation.
The Mediterranean at its finest, no doubt about that. The same can pretty much be said for the second region in this article. Keep reading to find out why.
Dalmatia

Further south along the coast, what wine should you drink and why?
Talented Wine Fanatics – Degarra Winery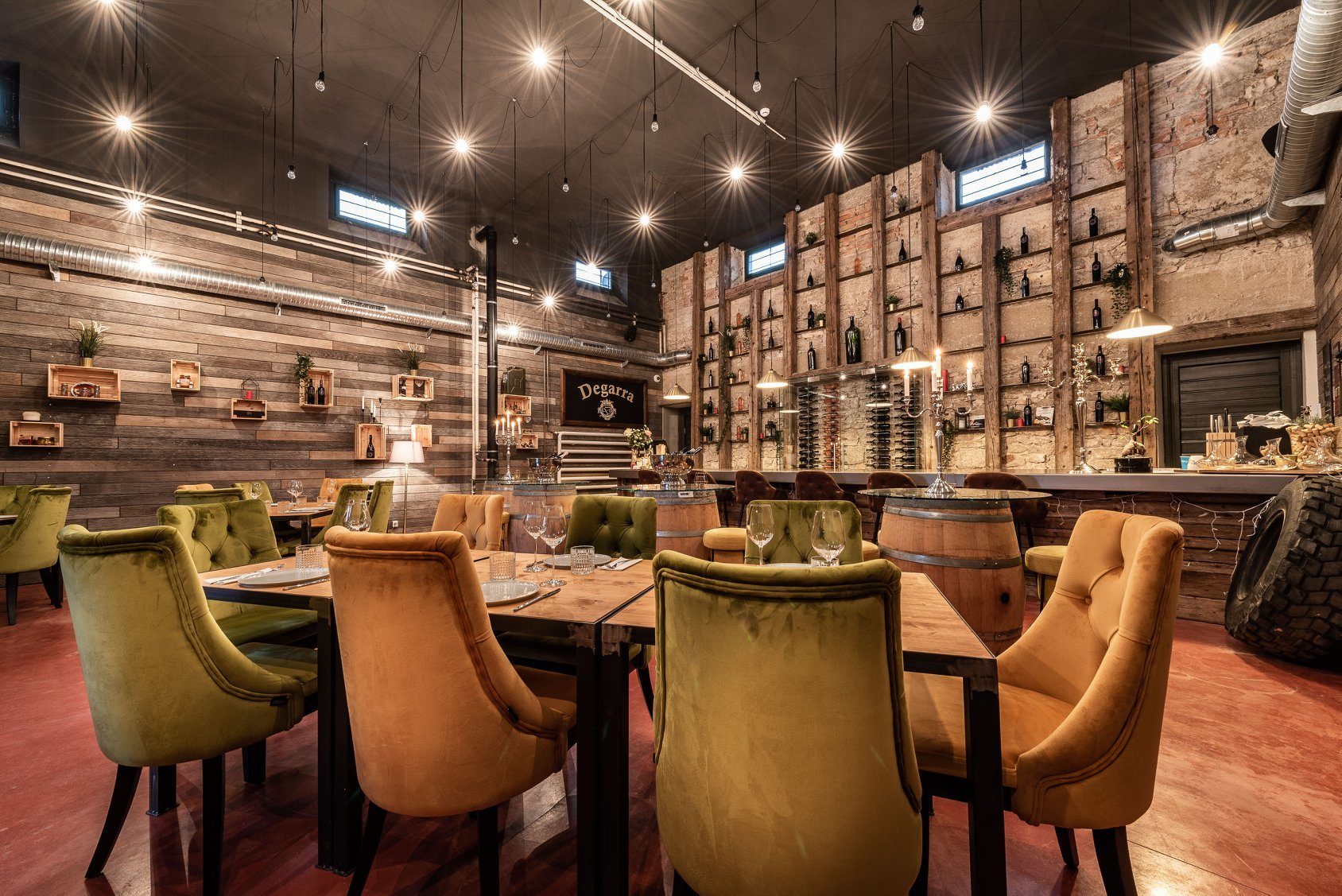 Our wine tour of Dalmatia starts on its northern end. The Degarra winery is a small but exquisite winery located in the city of Zadar.
Although white wines are their specialty, they also make rosé wines and red ones too. Mind you, this is a tiny winery, a project started by just a few enthusiasts that yielded only about 8000 bottles at first.
However, their wines soon became a huge hit, and the demand multiplied several times. Today, they produce 30,000 bottles a year and are very reluctant to increase that any further.
It would diminish the quality, they say, which is of the highest order. So, when in Zadar, look this very intriguing establishment up, and if they have any bottles available, you're in for a serious treat.
Please pay special attention to their Pošip (a variety of white grape indigenous to Croatia) and Bomary, an exceptional and very exciting blend of several varieties of red grapes, which has caused quite a stir on the local oenological scene.
Without question, this is a great way to start your vacation in Dalmatia.
A Master Of Wine – Aherane Vino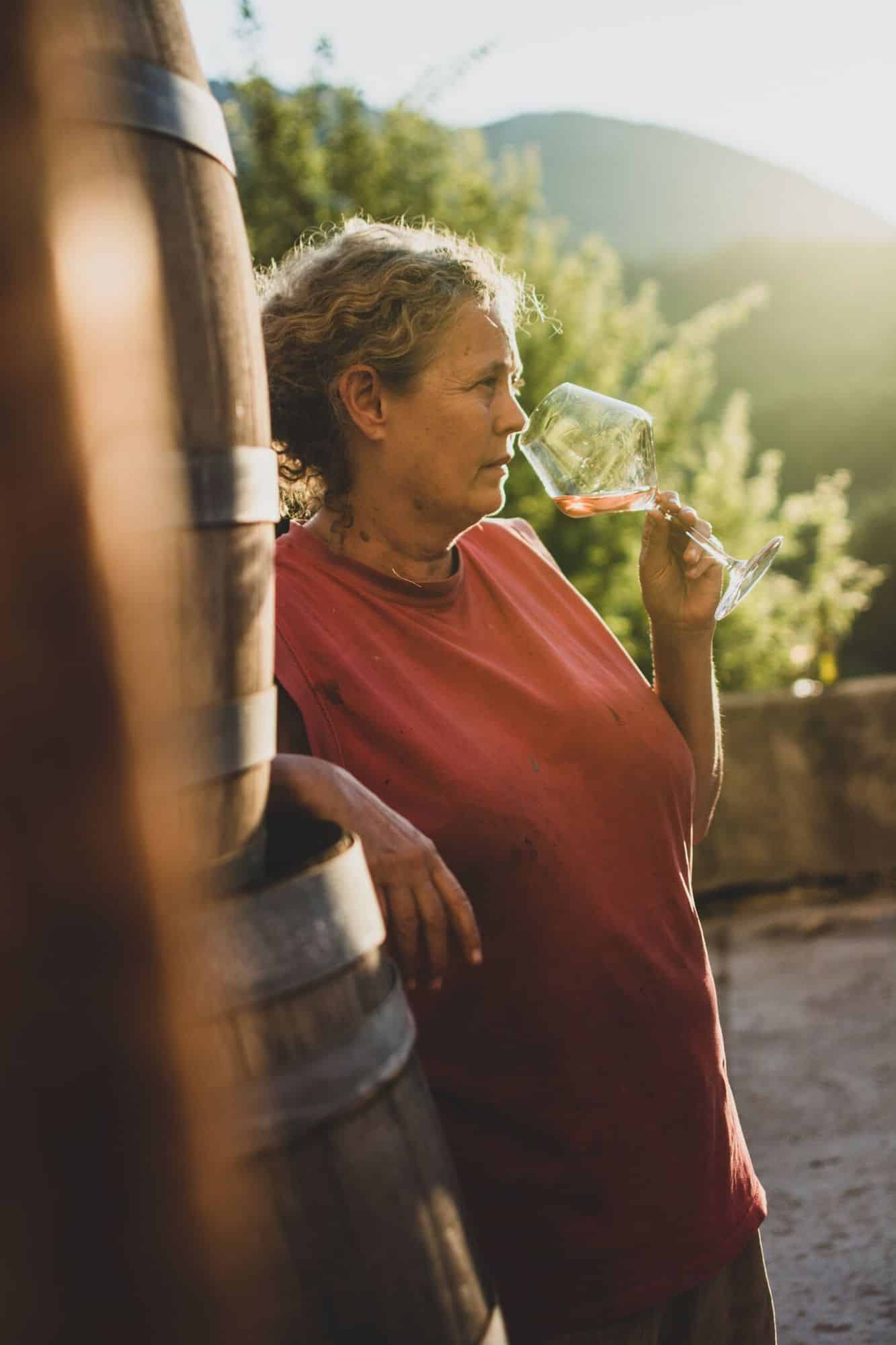 If you're visiting the islands around Split, make sure you pop over to Hvar. That's where Joanna Ahearne has set up her base of operations, which has resulted in some truly extraordinary products.
First and foremost, her Wild Skins is a macerated white wine composed of three local grape varieties. This has resulted in a complex and very intriguing aroma you won't find anywhere else in this part of the world (and we seriously doubt anywhere else, for that matter).
Furthermore, she also makes a rosé of drnekuša, an exceptionally rare grape variety – drnekuša can be found ONLY on just over one hectare of land on Hvar if you want to taste something that literally cannot be found anywhere else in the world, this is it.
Apart from these two, Ahearne also produces excellent Plavac Mali wines, which are also of the highest quality. Given Joanna's long carrier in the world of oenology and the fact that she has the prestigious title of Master of Wine (the only person in Croatia with one!), a visit to her base of operations on Hvar is something no wine lover will want to miss.
Plavac Mali – The Dalmatian Red Wine

It's only fair to warn you that Plavac Mali is the absolute king in Dalmatia when it comes to red wines.
That especially goes for the central and southern part of the region. This is another grape variety unique to Croatia, but its popularity in this part of the country may very well shock you.
You can really find it EVERYWHERE.
Wines made of this type of grapes are characterized by high alcohol content (it can reach as much as 17%), a lot of tannin, and rich color.
However, because of that and because of the fact that so many people are making wine out of this grape variety, you need to be extra careful when choosing what to drink.
Here's a tip: Dingač and Postup Plavac Mali wines are widely considered to be the best, so you really can't go wrong with them. They are always a safe bet if you're not feeling adventurous. As for other examples of this wine, we've already mentioned Ahearne's great product, but Grgić's Plavac Mali and Miloš Stagnum (2007 in particular) also deserve to be on the list.
Pelješac Is A Wine Lover's Heaven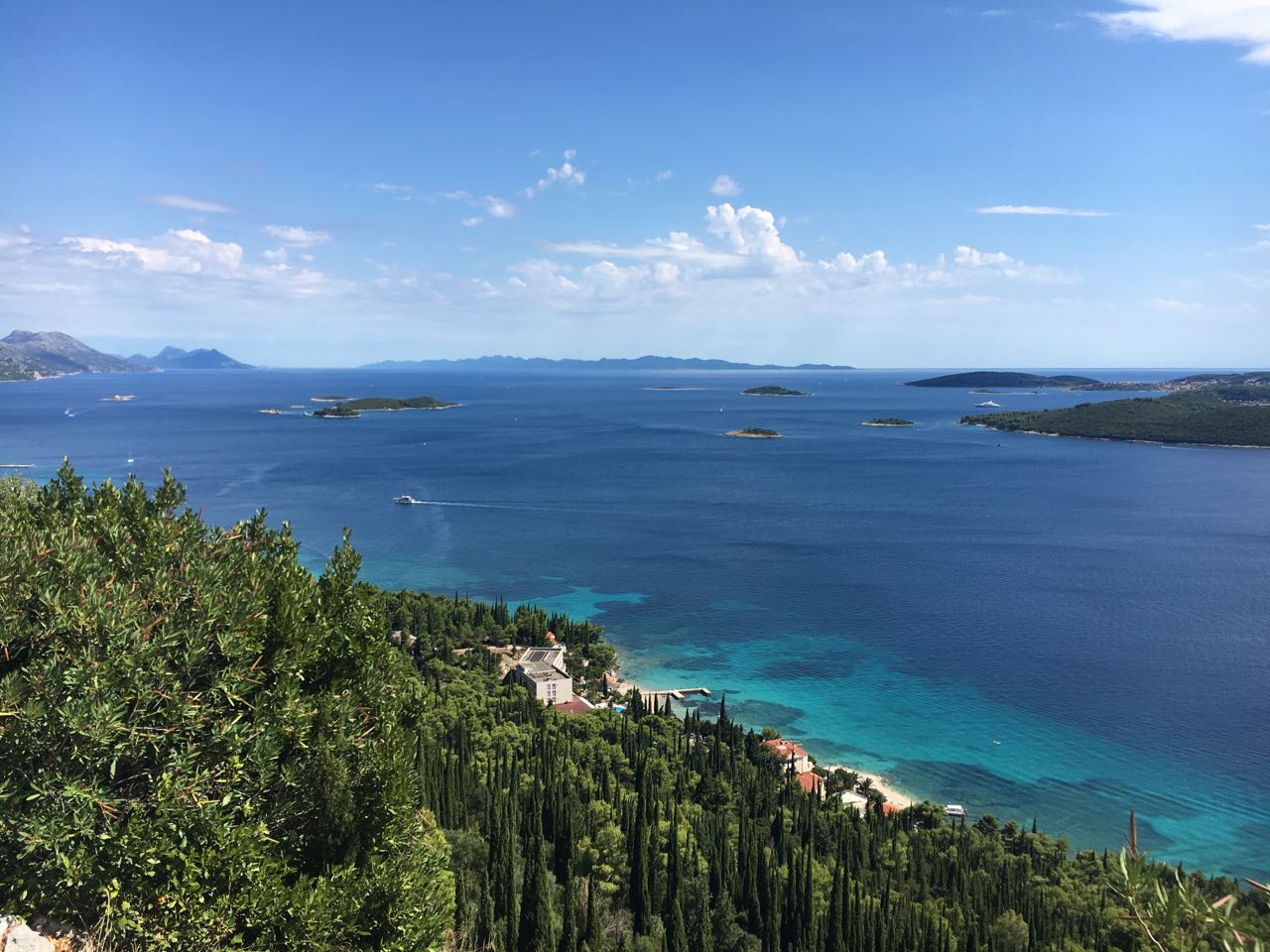 Many of the names mentioned in the last paragraph are closely related to the peninsula known as Pelješac. This is THE place for excellent wine in Dalmatia (and beyond) and a great stop if you're traveling to the Croatian jewel of Dubrovnik, for example.
The aforementioned Dingač and Postup are appellations on this very peninsula. The red wines produced in the area are considered to be the best not just in the country but also in the region.
Considering this area's reputation, it would really be a shame not to stop for a tour of the local wineries if you're in the neighborhood.
There are about 250 wineries on Pelješac alone, and this fact can give you a pretty good idea of how much wine is important to the people living here. This also means that you need to know which ones you should visit, so here's a short overview of the best and most interesting wineries on Pelješac:
Vicelić Winery
Although not very big, this winery produces some incredibly impressive wines. The best proof of that is that their Dingač from 2011 was the first Croatian wine to be chosen by Berry Bros & Rudd, the British Royal Family's official supplier.
You can't get a much better recommendation than that.
Miloš Winery
We have already mentioned their Stagnum, but this winery deserves the utmost respect because of the tradition they bring to the table (no pun intended).
You see, the Miloš family has been in the winemaking business for generations, and during that time, little has changed in terms of how they produce wine. Oh, and they also make some excellent olive oil, so if you get a chance to taste some of their products, for heaven's sake, don't say no.
Maruško Winery
There are several reasons to visit this winery. Number one is the fact that they have some great wine, obviously, but they also have a wide array of different products. Furthermore, the winery itself is exceptionally beautiful, with an awesome underground wine cellar and an awe-inspiring tasting room. Visiting this place will pay off in so many different ways.
Eastern Croatia & Continental Croatia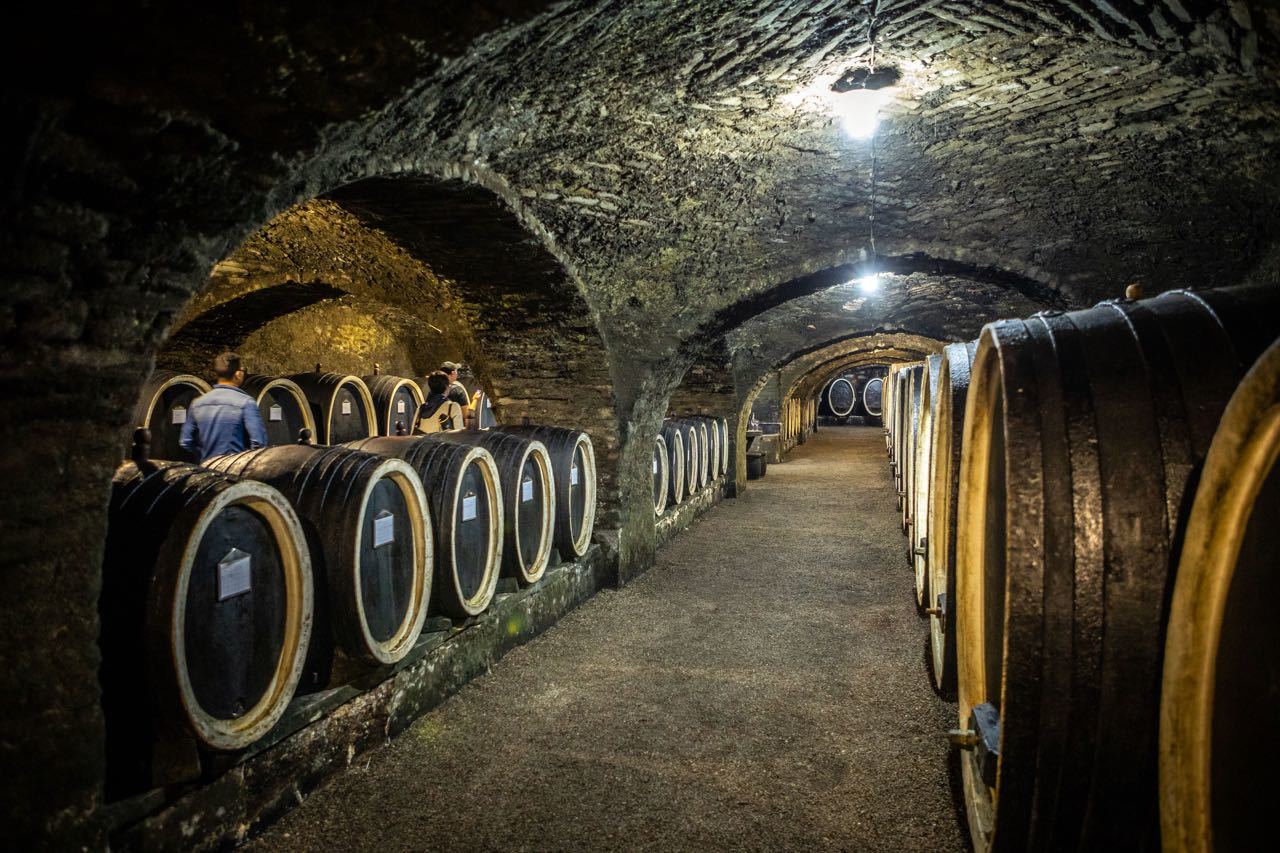 Stay tuned as we write about those two regions next!
All in all…

As you can see, no matter where on the coast you go, great Croatian wines can easily be found. White wines, red wines, rosé wines… an excellent example of each type will always be nearby. What is particularly interesting is the fact that Croatia has a bunch of grape varieties that appear solely on this part of the Mediterranean, so if you're going on a wine tasting tour, you can try some truly unique products.
We reiterate, winemaking has been going on here since ancient times, primarily due to almost perfect conditions, and today it is both a profession and hobby for many people.
Don't worry, though; serious oenologists work here as well (even Jo, the Master of Wine), which means you can buy meticulously crafted wines worthy of the best restaurants and tables in the world.
So, in conclusion, a wine tasting trip to Croatia is a perfect choice for adults for their summer vacation because it will give you a glimpse into the very essence of the Mediterranean – picturesque towns and villages, beautiful turquoise sea, excellent food and, of course, great wine.
Don't hesitate, visit Croatia and prepare to enjoy premium wines.
More Croatian Wine & Food Blogs

Share