Dubai Reopening Guide | Everything You Need to Know About Traveling to Dubai Again
Dubai has officially reopened its borders to international tourists recently. Measures are been taken care by Dubai's authorities by following all guidelines to ensure that health remains top priority. You can check Dubai's Coronavirus Advisory by clicking this link.
Below is the details of everything you need to know for traveling to Dubai
A. Before You Start your Travel
B. At Mumbai Airport
C. Hotel Sanitization Process
D. Before You Travel back to India
E. At Mumbai Airport
A. Before you travel
Download Aarogya Setu App on your mobile phones before reaching the airport.
Take a COVID-19 PCR test
If Dubai is your final destination, for all passengers 12 years old and above you must take a negative COVID-19 PCR test 96 hours before departure and bring the certificate to check-in.
The certificate must be for a polymerase chain reaction (PCR) test. Other test certificates including antibody tests and home testing kits are not accepted in Dubai.
Bring an official, printed certificate to check-in. SMS and digital certificates are not accepted. Without a printed negative test certificate, you will not be accepted on the flight.
B. At Mumbai Airport
At Gate 1 for International flight, airline staff checks your ticket and Covid certificate. Collect Health declaration form from the staff.
Pass Thermal screening is done by CISF where you can show your passport.
All travellers going to Dubai must complete this Health declaration form and give it to the staff at check-in. You can download it from Ek website and bring it to the airport with you, or you can complete it at check-in.
Passengers travelling to Dubai on USA visa have to proceed first to the service desk and submit your passport. Ek staff sends passport details to Dubai and once it gets ok from Dubai authority you can proceed for check-in. (Approx time 20 mins)
At check-in counter, show passport and covid certificate. Handover Health declaration form. Immigration process same as early.
Limited Retail and F&B outlets are operational. Starbuck and One cafe and one Indian snack counter is open. All necessary precautions for safety and hygiene are taken. Duty-free shops are open.
Before boarding your flight Airline staff will handover Faceshield which passenger has to wear during flight along with face mask.
If Dubai is your final destination, you will need to complete the Quarantine undertaking form given to you on board.
Give your Quarantine undertaking form to the Dubai Health Authority staff on arrival.
You need to take another COVID-19 PCR test on arrival. There are a total of 16 counters for registration. Separate Six counter for passenger travelling with family. First, you have to submit a passport and covid certificate and collect a sample tube. Then take a test at the airport, you must remain in your hotel or residence until you receive the test result.
You must also download the COVID19 –DXBapp.
If the test result is positive, you will be required to undergo isolation and follow the Dubai Health Authority guidelines.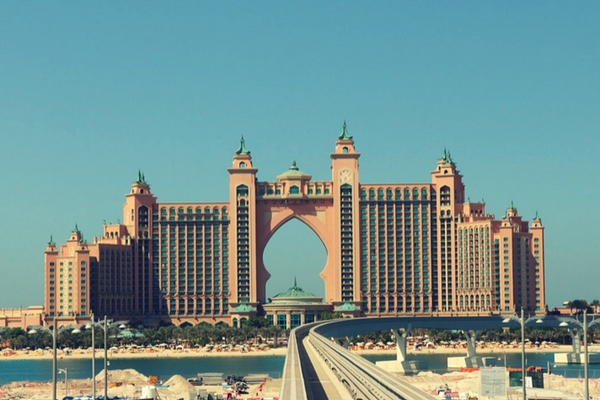 C. Hotel Sanitization Process
The hotels chosen are branded hotels, where the hotels are constantly being sanitized and cleaned.
Check-in procedure and key touchpoints are converted to e Check-in, to try and reduce contact.
Meals are served with a single person serving the dishes / a sit-down menu, which avoids multiple touches on the utensils.
Temperature checks of all staff and all guests are done regularly to avoid any risk.
While you are in Dubai, you need follow strict protocols and local governments has asked them to abide few rules:
Strictly follow physical distancing guidelines
Use face masks
Wash hands frequently
Observe precautionary measures and monitor for COVID 19 symptoms and report immediately.
Top Activities to do in Dubai
Visit Burj Khalifa
Dubai Frame
La Mer Beach
Desert Safari
Yatch Cruise / Dhow cruise
The Pointe Fountain
La Pearle
Kite Beach
Motion Gate Theme Park
Here are the top packages on Thomas Cook.
Magical Dubai with La Pita – Includes A digital image per family at an iconic location (For Diwali Departures), Fountain Show at Dubai Mall, Private Yacht Experience at Marina, Dubai Aquarium and Underwater Zoo, Desert Safari – dune bashing followed by the BBQ dinner, Full Day To Explore Dubai Parks – 2 Parks Included, Visit Global Village, A Diwali Snack Hamper ( For Diwali Departures), Half day City tour of Dubai, Burj Khalifa – 124th Floor (Non Prime Slot)
Magical Dubai with Atlantis – Includes Half day City tour of Dubai, Visit Global Village, Full day at Atlantis with unlimited access to Lost world and Aqua venture, Fountain Show at Dubai Mall, Desert Safari – dune bashing followed by the BBQ dinner, Private Yacht Experience at Marina, Dubai Aquarium and Underwater Zoo, Burj Khalifa – 124th Floor (Non Prime Slot)
Explore other Dubai Packages here
Arrival process at Mumbai Airport
D. Before you travel to India
Air Suvidha login for Self Reporting Form
Follow https://www.newdelhiairport.in/airsuvidha/apho-registration Air Suvidha. Self Reporting Form needs to be mandatorily filled by all passengers arriving from abroad irrespective of their airport of arrival in India. Accordingly, all International arriving passengers should submit Air Suvidha Self Reporting Formon the AirSuvidhaonlineportal(hosted on www.newdelhiairport.in, at least 72 hours before the scheduled travel. Please take printout for the same from the country we are departing. While filling Self-reporting form online on Air Suvidha we have to attach our passport copy.
Air Suvidha login for Apply For Exemption
Travelers may seek exemption from institutional quarantine by applying on Air Suvidha online portal and by submitting a negative RT-PCR test report on arrival. This test should have been conducted within 96 hours prior to undertaking the journey. An authentic test report should be uploaded on the Air Suvidha online portal for consideration.
Follow https://www.newdelhiairport.in/airsuvidha/apho-registration
Click on the Airport Suvidha drop down on the right upper corner of the home page.
Select Applyfor Exemption.
Fill the entire form and we have to upload two documents (passport and Covid test report).
Submit the form online and you will have your ER numberon mail.
We have to submit ER number, only then we will be allowed for Home Quarantine.
E. At Mumbai Airport
Once you are out from the aircraft Airport official will check your Self-reporting form with a boarding card.
Then you clear immigration.
After immigration security check Aarogya setu app.
Once clear customs outside arrival hall BMC has counter and follow airline code and show your boarding card and fill form and its compulsion to mentioned both SR(Self-reporting form number) and ER(Apply for exemption number) number which we received on our email.
BMC official puts stamp on the boarding card mentioning 14 days Quarantine on hand.
Air Suvidha:– is a contactless solution by Ministry of Civil Aviation and Delhi Airport for all international passengers coming to India. It is a Self Reporting and Exemption Form Portal for International arriving passengers.
Self Reporting Form:– All International arriving passengers are required to fill the self-reporting form as mandated by the Ministry of Health & Family Welfare. Air Suvidhais an online system for International passengers to submit mandatory Self-Reporting Form to declare their current health status. This form is mandatory and should be filled anytime before boarding flight to india.
Aarogya Setu:- It is mandatory for everyone including personnel working at the airport and passengers, to have the Aarogya Setu app installed on their mobile before entering the airport premises.