Entering Croatia & The Balkans Rules During Coronavirus
Some posts contain compensated links. Please read this disclaimer for more info.
First published February 25th, and now updated daily, or as new information comes to hand. 
The below outlines details on entering Croatia, what rules there are to follow as set by the Civil Protection Authority, and our current epidemiological situation.  
The Coronavirus Cases In Croatia

Update 17 September
In the last 24 hours, 250 new cases have been reported from this 5948 tests.
14279 coronavirus cases in Croatia since Feb 25
11933 people recovered from the virus in Croatia
238 COVID-19 deaths in Croatia
2108 active virus cases
242,886 COVID-19 tests performed (59,244 per million population)
See the map of where the virus cases are in Croatia here
Can I Travel To Croatia During The Pandemic?

Yes. Well, mostly yes..keep reading…
Movement is no longer restricted and public transport has resumed (air, land, ferry, and rail).
EU & EEA Nationals (including the UK) are permitted to travel to Croatia from July 1 without any restrictions. This includes Croatians who have duel citizenship. 
Please fill in the details on this site https://entercroatia.mup.hr/ in order to reduce the waiting time at border crossings. This form is valid for 90 days once completed. If you do not have this done when you cross, you will need to wait in a separate lane and a member of the border crossing team will do it for you (expect longer delays).
UK Travelers

As of 10 July, Croatia is on the list of green light countries for the UK. That means that when you will no longer need to quarantine when you return home from Croatia.
Travelers From Non-EU/EEA Countries

If you are not from an EU/EEA country then, you are required to have pre-booked accommodation and fill in the form at https://entercroatia.mup.hr/ as well as one of the following:
Show a negative PCR test, not older than 48 hours, or 
Have a place to self-isolate for 14 days – fines apply for non-compliance.  (This can be shortened to seven days if a passenger does an oropharyngeal swab at his/her expenses seven days after entering Croatia, and gets a negative result for SARS-CoV-2. The intention to cross the state border as such has to be communicated in advance via e-mail to

[email protected]

and requests will be addressed in the shortest possible timeframe).
EU Safe List

You may notice that on July 16, the EU Council updated the list of the epidemiologically safe third countries based on data collected throughout the previous two weeks, and how the situation related to the pandemic developed in these countries – though Croatia has decided to not accept this list. So, while you may be able to travel the EU, you will need to prove a negative PCR test (not rapid test) to cross over into Croatia (or undertake 14 days isolation). 
Algeria
Canada
Japan
Morocco
New Zealand
Rwanda
South Korea
Thailand
Tunisia
Uruguay
Residents of Andorra, Monaco, San Marino and the Vatican should be considered as EU residents for the purpose of this recommendation.
Use this website to stay up-to-date on the EU border changes. 
COVID-19 Test In Croatia & Isolation

There is no need to show proof of a negative PCR test for COVID-19 to enter if you are from the EU or EEA. 
Note: Border police do have the authority to impose quarantine on individuals for whom it is determined during border checks that they have been in contact with a person infected with COVID-19.
Test Results Older Than 48 Hours

Travelers who arrive to Croatia with a negative PCR test that is older than 48 hours will be allowed to enter Croatia, but they will be issued a self-isolation order and will have to be tested again locally, at their own expense. Having an expired PCR test upon arrival will allow for a shortened period of time in self-isolation pending a negative result of a local PCR test. 
If you arrive and do not provide a negative PCR test upon arrival will be ordered to quarantine/self-isolate for at least 7 days prior to taking a local PCR test. Travelers who fail to present a PCR test upon arrival and refuse to take a test locally will be ordered to self-isolate or quarantine for 14 days.
Tests cots are $300 or more, depending upon the location, which can be done at the following locations: COVID-19 Testing Locations in Croatia. 
Croatian Passport Holders

Which documents are Croatian nationals required to show on a border crossing point when entering the Republic of Croatia if they do not have permanent or temporary residence in the Republic of Croatia?
Croatian nationals and their family members who do not have Croatian citizenship do not have to provide proof that they meet the conditions for entering the Republic of Croatia. It is sufficient that they hold a passport or an identity card.
Still Have Questions?

If you have questions about if you are eligible to cross the border you can email: [email protected] and ask for clarification or this page here has an official online form to help you figure out if you can enter. Available in English and German (more languages to be added).
Wearing A Mask In Croatia – Do You Need To?

This is currently mandatory when using any form of public transport and in closed spaces such as shopping malls and getting your haircut. Masks are now also mandatory for all staff at cafes and restaurants – but not for cafe patrons.
As you know, the use of a medical mask is advised if you have any respiratory symptoms (coughing or sneezing) to protect others. Masks should be disposed of properly to ensure their effectiveness and to avoid any increased risk of transmitting the virus. 
Transport In Croatia During The Pandemic

Full details to come. So far we know: 
Flights To Croatia

Lots of emails land in my inbox daily asking "can I fly to Croatia?" or "when will Croatia open its borders to air travel". The answers are yes, you can – and we are open now!
There are several flights ready to book, ask your travel agent or look it up on your favorite booking site now!
Private Transport


Operational. We recommend you use our own transport company for this. Contact Octopus Transfers Croatia here. Local drivers, safety measures in place, and guaranteed satisfaction.
Public Buses & Taxis

Operational.
Domestic Flights

Croatian airlines are operational. Masks are required to be worn by all passengers. At this stage, there are two daily flights:
Zagreb – Split – Zagreb
Zagreb – Dubrovnik – Zagreb
More are expected to be announced for the summer season soon.
Health Insurance If You Get Sick

EU, EEA, UK and Swiss nationals and are covered by youe national health insurance provider for any COVID-19-related services in Croatia just as they would be in their home country if the policy is current. Be sure to check the validity of your European Health Insurance Card (EHIC) and/or have a new one issued prior to your trip. 
Nationals of countries with who Croatia have a bilateral agreement with such as Bosnia & Hercegovina, Serbia, Montenegro, Macedonia, and Turkey are entitled to coverage. You will need a certificate from your national healthcare providers (which must be obtained prior to travel).
Gatherings & Events In Croatia

Gatherings and festivals across Croatia may happen. Let's see what happens close to summer
Tisno music festivals have been canceled
Zrce music festivals have been canceled
Ultra Music Festival has been canceled
Border Crossing Into Croatia & Driving

The rules for driving in Croatia have not changed, all the roads are now open (police blocks have been removed), though you should check which borders are open – you can do that here. 
Pandemic Rules and Regulations For Hotels In Croatia 

Hotels, campsites, and private accommodations can open at any time they choose (they are not banned), pending the implementation of the directed health and safety measures listed by the Croatian Civil Protection Authority.
Hotels and camps have already started making their own opening announcements. Try here for our favorite ones.
Exact detail on any restrictions that get announced for hotels will be added here. Some we know of are:
Physical distance. During their stay at the hotel, visitors must adhere to a measure of physical distance of 2 meters in relation to other visitors, unless they are members of the same family or group
Disinfectant. At the entrances of hotel premises, it is necessary to install dispensers with disinfectant
Lifts. Social distancing and a set number of guests in the lift at any one time
Nautical Tourism

We'll update this soon. In the meantime, this helps (just use Google translate).
Cafes & Restaurants during COVID-19

Restaurants and cafes in Croatia were able to open on 11 May, under certain rules.
These include (but not limited to):
Only those with outdoor seating/terraces
They must implement the prescribed health and safety measures. Eg hand sanitizer on entry, no menus on the tables
National Parks In Croatia During COVID-19

All of these are now open in Croatia. It has been said that Croatia expects all national parks and beaches to be operational for summer tourism.
There are measures set in place for Croatia's national parks to keep you safe. The main one that you should know is that it is recommended that visitors maintain a physical distance of 1.5 meters unless they are members of the same group.
Beaches In Croatia During COVID-19

Beaches in Croatia are open, though there are some measures you should know about:
Social Distancing Rules For Beaches, Lakes & Waterparks:

For both the sea and for freshwater swimming areas, the maximum number of people allowed to stay at the same time is determined according to the principle of 15 persons per 100 square meters
All visitors and employees are advised to adhere to a distance of 1.5 meters between each other
Deckchairs, need to be separated to ensure the 1.5-meter distance rule, and these are to disinfected several times a day
Hand disinfectant should be available 
Persons must adhere to the 1.5-meter rule when swimming
Cleaning and disinfection of sanitary facilities every two hours
Where To Get Information Of COVID-19 About Croatia

As you already know, COVID-2019 (also known as SARS-CoV-2) was first reported in Wuhan, China, and has now been reported in dozens of countries globally. You can see up to date worldwide stats here and in Europe here thanks to the European Centre for Disease Prevention and Control. So far 90%+ people have been reported as recovered (some cases still being treated and sadly some 2% deaths).
If you plan to travel to Croatia (once borders open of course), you must follow the travel advice from your home country about travel to Croatia (and the Balkans). You can also stay up-to-date with information from RELIABLE sources*.
For example: As an Australian, I love to look at the Australian Smarttraveller website. The Smartraveller is provided by the Australian Department of Foreign Affairs and Trade and has all the latest information, and they will update the information on that site if travel restrictions for any country are required.  This website also allows you to sign up to travel alerts for the countries you plan to visit.
My American friends use this site which has similar information to the Australian site and also this one from the CDC. 
Canadian colleagues, have told me this site is where they look.
* Only reliable sources have been used for this post, mostly from the World Health Organisation (WHO) and Australian and Croatian government sites.
Be Informed, & Do Not Take Advice From Random Social Media Posts  

Kind of ironic to say, given I am writing about the topic, though it's important to note that you should rely only on credible sources – like the government websites I mentioned. Here are a few from Croatia:
The Croatian authorities have published the following information and contact details:
For urgent queries call the 24-hour on-call epidemiologist: +385 98 227753
The Clinic for Infectious Diseases "Fran Mihaljevic" advises those WITH symptoms as described for COVID-19 to contact: +385 91 4012 784 or +385 91 4012 790
Public inquiries related to Coronavirus can be sent to the Civil Protection Crisis Committee: [email protected]
You can also find daily (updated at 15:00h) information about Croatia here on this link about Coronavirus in Croatia.
Is Croatia Taking Coronavirus Seriously?

100%, yes they are. Once borders open, you'll see that for yourself.
Croatia Virus And The Balkans

I will update this section as I find new information. 
Restrictions For Balkans Countries

Please check with your airline and the country you plan to travel to directly for the latest most up-to-date information (links below). As a guide here is what I know so far…
Turkey Covid-19 Border Regulations

The Turkish Government has largely reopened its international land, sea and air borders, and some scheduled international flights have resumed. All arrivals into Turkey will be subject to medical checks.
Montenegro Covid-19 Border Regulations

Montenegro has begun to ease COVID-19 restrictions, including entry requirements. Depending on which country you are a resident in, you may need to quarantine or need a negative COVID-19 test before you are allowed to enter.
You must wear a face mask or scarf in all enclosed public spaces, such as shops and banks. 
Beaches are required to set our chairs 2 meters apart and shower facilities on the beach must also install disinfectants. 
Serbia Covid-19 Border Regulations

Serbia's borders are open. A state of emergency exists in many towns and cities, including Belgrade. You must wear a mask indoors and on public transport. Local authorities advise people to observe social distancing and wear masks outdoors where social distancing cannot be maintained. Some areas have additional measures.
Some countries do not permit entry of travelers who have been in Serbia, regardless of nationality so check this if you have additional travel plans.
Romania Covid-19 Border Regulations

There are several rules and restrictions in place in Romania, you can find the latest here on this Government website. Some rules to note are:
The State of Alert in Romania has been extended for 30 days until at least mid-August. Many airlines have suspended flights and some airports are still closed. Restrictive measures are being eased gradually. Forms are no longer required to leave your house or home town. Public parks are open but not the children's playgrounds within the parks. Wearing face masks in indoor public spaces and on public transport is still mandatory in Romania. Social distancing of 1.5 metres is mandatory. Only Romanian and EU citizens, their family members, and those with valid residency permits can enter Romania.
Bosnia-Hercegovina Covid-19 Border Regulations

International airports are open. Check with individual airlines for the latest information on available flights. Borders with neighboring countries are open, however, entry to Bosnia and Herzegovina is limited to nationals of those countries and EU nationals. EU nationals have to present a medical certificate confirming COVID-19 negative status not older than 48 hours. 
Slovenia Covid-19 Border Regulations

Information can be obtained on the Government site here. Many restrictions are in place and face masks must be worn in indoor public places and may be required in other situations.
Borders are open to those from the EU, no quarantine is required.
As of 18 June passengers from BiH, Serbia, and Kosovo can not enter Slovenia unless they adhere to a mandatory 14-day quarantine or a negative test for COVID-19.
Macedonia Covid-19 Border Regulations

The State of Emergency has been lifted. Land borders are fully open as of 26 June. There are some bans on certain countries.  You must wear a mask if you are in a public space where social distancing cannot be maintained, you can be fined for non-compliance. 
Greece Covid-19 Border Regulations

New health and hygiene protocols have been announced for air, road, train, and sea travel in Greece. Social distancing rules of 1.5m are in place for all indoor and outdoor public spaces. Masks are mandatory when traveling on transport and when in shops, malls, medical centers, and some restaurants/cafes and tourist sites.
Travel within mainland Greece, Crete and Evia is allowed. 
Greece will open borders on June 1. With airports opening slowly over the following 6 weeks.
Greece will open for the following countries soon:  Albania, Australia, Austria, North Macedonia, Bulgaria, Germany, Denmark, Switzerland, Estonia, Japan, Israel, China, Croatia, Cyprus, Latvia, Lebanon, New Zealand, Lithuania, Malta, Montenegro, Norway, South Korea, Hungary, Romania, Serbia, Slovakia, Slovenia, Czech Republic, and Finland.
The UK & Ireland are not allowed entry at this time.
Bulgaria Covid-19 Border Regulations

There are no longer any restrictions on regional travel within Bulgaria. Outdoor areas of cafes, restaurants, and bars may now open to the public, with social distancing rules in place. You must wear protective masks while you are in public, and must maintain a distance of 1.5 meters from other people.
Entry to Bulgaria for non-EU citizens and travelers from high-risk countries remains suspended 
Quarantine for up to 14 days may be mandatory depending on your country of departure. If you transit through Bulgaria, you'll be required to complete a declaration on arrival confirming you're COVID free, you aren't under quarantine and will follow Bulgarian health measures. You'll also need to declare you'll depart Bulgaria quickly. 
Albania Covid-19 Border Regulations

Albania has reopened its borders and you're free to move around within the country.
Some neighboring countries still have travel restrictions in place.
Commercial flights to and from Albania remain suspended and sea borders closed. 
Kosovo

The Kosovo Government has brought back curfews to limit the spread of COVID-19. If you're in Pristina, Prizren, Ferizaj or Vushtrri, you're not permitted to be outside your place of residence between 9pm and 5am.
Pristina airport is open. Check with airlines or the airport and border authorities for current updates. Land borders are open, but make sure you can enter Kosovo or the country you're planning to travel to before or after you enter Kosovo.
You may have to do a health check at the border. Follow the advice of local authorities and monitor local media.
Balkan Website Links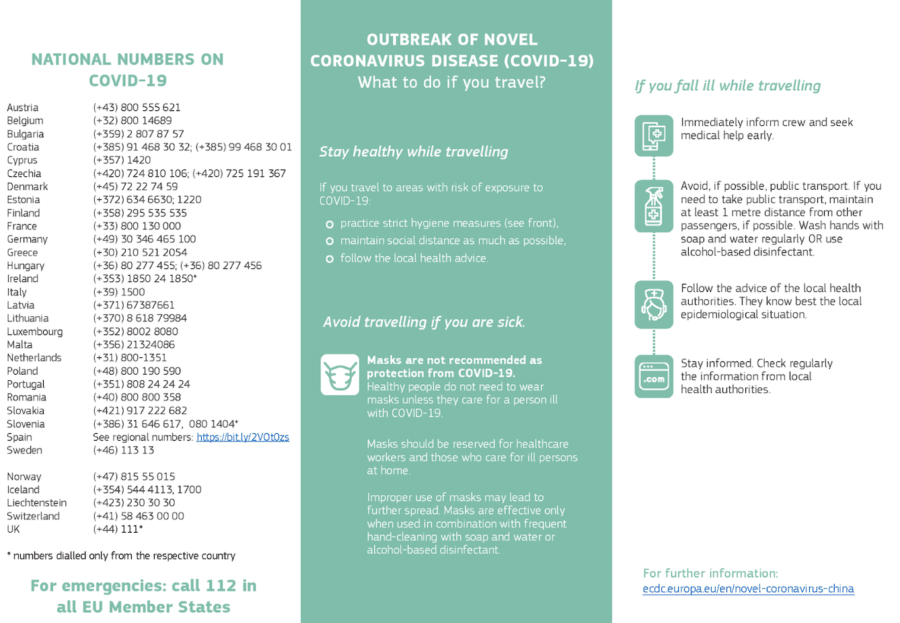 Here are other government links for the Balkans that you may find helpful:
So far, the best advice has been to follow the local government rules and to follow basic hygiene rules as a way of protection. Those are:  
Basic Protective Measures Against The New Coronavirus

Most people who become infected experience mild illness and recover, but it can be more severe for others.
All the government websites say there is no need to stop traveling, and you must take care of your health and protect others by doing the following simple steps:
Wash Your Hands Frequently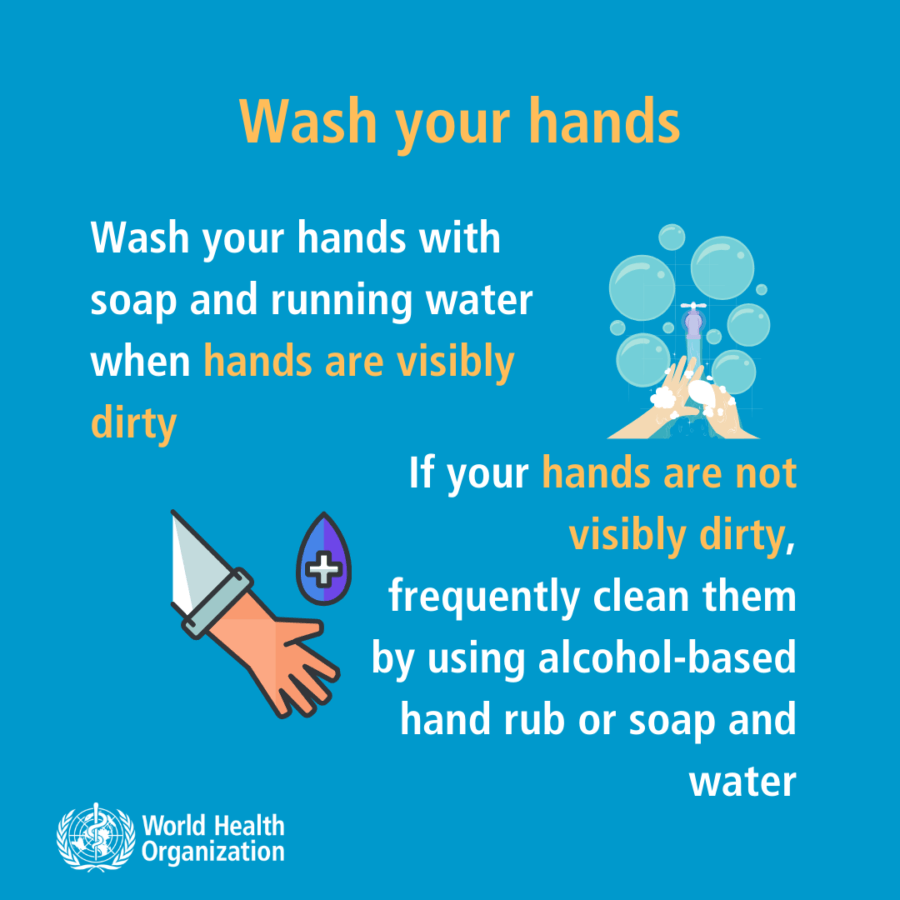 Regularly and thoroughly clean your hands with an alcohol-based hand rub or wash them with soap and water for a minimum time of 20 seconds.
What is the best way to wash your hands properly?

Step 1: Wet hands with running water
Step 2: Apply enough soap to cover wet hands
Step 3: Scrub all surfaces of the hands – including the back of hands, between fingers and under nails – for at least 20 seconds.
Step 4: Rinse thoroughly with running water
Step 5: Dry hands with a clean cloth or single-use towel
Wash your hands often, especially before eating; after blowing your nose, coughing, or sneezing; and going to the bathroom. 
If soap and water are not readily available, use an alcohol-based hand sanitizer with at least 60% alcohol. Always wash hands with soap and water, if hands are visibly dirty.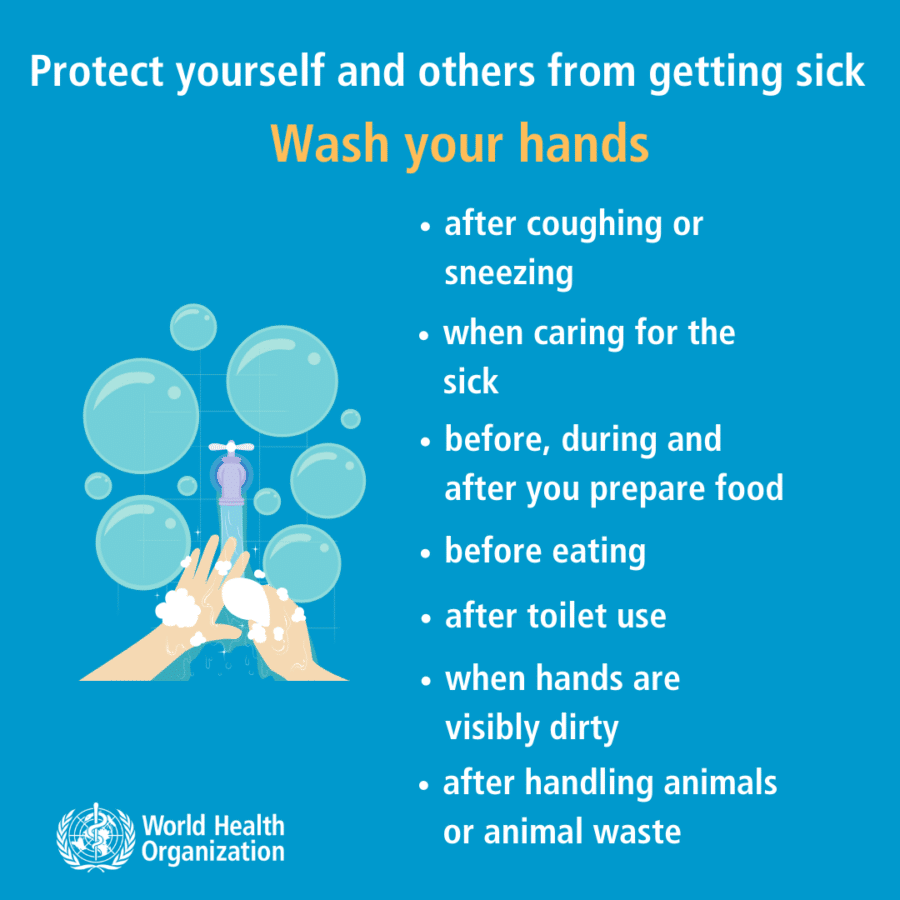 Maintain Social Distancing

Maintain at least 1 meter (3 feet) distance between yourself and anyone who is coughing or sneezing.
Why? When someone coughs or sneezes, they spray small liquid droplets from their nose or mouth, which may contain the virus. If you are too close, you can breathe in the droplets, including the COVID-19 virus if the person coughing has the disease.
Avoid Touching Eyes, Nose And Mouth

Hands touch many surfaces and can pick up viruses. Once contaminated, hands can transfer the virus to your eyes, nose, or mouth. From there, the virus can enter your body and can make you sick.
Practice Respiratory Hygiene

Make sure you, and the people around you, follow good respiratory hygiene. This means covering your mouth and nose with your bent elbow or tissue when you cough or sneeze. Then dispose of the used tissue immediately.
Droplets spread the virus. By following good respiratory hygiene, you protect the people around you from viruses such as cold, flu, and COVID-19.
If You Have Fever, Cough And Difficulty Breathing, Seek Medical Care Early

Stay home if you feel unwell. If you have a fever, cough and difficulty breathing, seek medical attention, and call in advance. Follow the directions of your local health authority on how to report suspected cases of having Covid-19.
National and local authorities will have the most up to date information on the situation in your area. Calling in advance will allow your health care provider to direct you to the right health facility quickly. This will also protect you and help prevent the spread of viruses and other infections.
What Are The Symptoms Of Covid-19?

The most common symptoms of COVID-19 are:
Some patients may have:
aches and pains
nasal congestion
runny nose
sore throat or
diarrhea.
These symptoms are usually mild and begin gradually. Some people become infected but don't develop any symptoms and don't feel unwell.
Once infected with the virus, symptoms can take up to 14 days to show. You can still spread the virus to others during this period. A person is most contagious when they are exhibiting symptoms of the virus.
Is Coronavirus Fatal?

Most people (about 80%) recover from the disease without needing special treatment. Around 1 out of every six people who get COVID-19 becomes seriously ill and develops difficulty breathing. Older people, and those with underlying medical problems like high blood pressure, heart problems or diabetes, are more likely to develop serious illness. About 2% of people with the disease have died. People with fever, cough, and difficulty breathing should seek medical attention.
One thing to note is that as this is a new virus, there is not yet enough known how it affects children or pregnant women. We know it is possible for people of any age to be infected with the virus, but so far there have been relatively few cases of COVID-19 reported among children. The virus is fatal in rare cases, so far mainly among older people with pre-existing medical conditions.
How Is Coronavirus Diagnosed?

Coronavirus is diagnosed by a polymerase chain reaction test. A sample of a person's nose or mouth secretions is collected and tested. The swaps are then checked for genetic markers for the virus.
Before You Go Home

If you do travel to Croatia (or other places that have confirmed Coronavirus cases), you should check in with your local authorities in what is expected (if anything) of you before returning home. 
As an example, Australia has these rules for returning home –  and Canada has this advice for Canadians.
So tell us, what are your thoughts on travel plans for Croatia and the Balkans in 2020.
COVID-19 And The Balkans

Share