Gorilla Trekking In Uganda, A Wonderful Experience
Before boarding the plane for a fantastic gorilla trekking in Uganda, plan if there is no tomorrow. You will thank yourself for preventing unfortunate mishaps.
We reached the starting point of our Gorilla Tour early in the morning at the Bwindi Impenetrable Forest NP in Uganda. We were going to trek the Nkuringo Gorilla Group today, and after a small briefing, we all jumped in the cars to drive to the starting point of our trek into the jungle. I was seated in the back of a pick-up truck, already quite the adventure.
After about 15 minutes we arrived at the place where we started the hike. Going to the Gorillas wasn't that difficult as we only had to slope down the mountain. Our guide was informed that the other guides found the group of Gorillas we would be seeing. My heart pounded in my body. I would finally see the Gorillas, a dream coming true.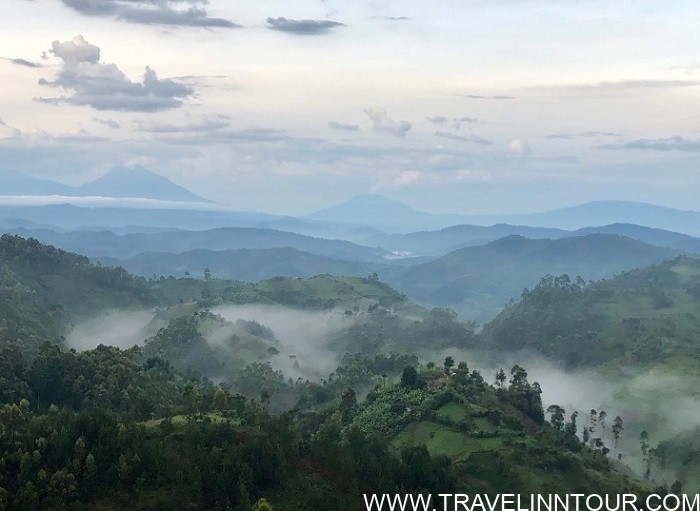 After seeing 'Gorillas in the Mist' for many times I would finally be able to see them for myself in their natural habitat. I was so nervous and excited that I almost ran down the mountain. Before we were entering the rain forest the guides informed us to put our socks over our trousers due to the insects which might crawl up our trousers. Of course, I followed right behind our guides until we reached a somewhat open place.
I could see immediately that there had been a group of Gorillas here due to the broken branches and the flat plants on which they had sat. The other guides who were already there told us that the Gorillas were around the corner. We had to follow them. After only a couple of meters, I stood eye-in-eye with a Gorilla. I couldn't move anymore, I just stared at it. The Gorilla didn't even notice me, she just continued eating. We walked a bit further, and more and more were visible.
This group existed of about 16 Gorillas including 4 Silverbacks. Nevertheless, it was soon clear which of the Silverbacks was the leader. An older Silverback stayed at the back of the group, eating, relaxing, and watching us. They walked away as we followed them and I even got to see a little baby Gorilla – too sweet! There are no words that can describe the feeling I had but some tears ran down my cheeks, of happiness. I was so amazed by this view of these incredible creatures that I have loved my whole life, just incredible.
It felt a bit like we were chasing them away or were interrupting their relaxing time, however, the guide informed me that they move all the time and are not really impressed by our presence. That became clear when a Gorilla passed me about one-meter distance and others just continued eating without even looking in our direction.
There are about 720 Mountain Gorillas left in Central Africa, half of them are found in Bwindi Impenetrable Forest NP in Uganda. The Nkuringo Group habituated this area since 1996 and since 2004 Gorilla tourism came to this area. Due to the tours they offer and the money they gain from it, Uganda invests in the jungle, the Gorillas are protected and people gain insight into these magnificent animals. There was a time however when the rangers had to chase the Gorillas back into the jungle so as not to destroy the banana crops of the farmers in this area.
I would never forget this day and if I could do it over again I would without hesitation. I recommend everyone who is near this area, don't hesitate to buy that ticket and go. Everything is worth it.
Things to know before you go for gorilla trekking in Uganda.
Buy a Gorilla permit beforehand in Kampala (about 600 USD in high season and 350 USD in low season – check actual prices online -)

Take the bus to Buhoma and go for a 14KM walk through the rain forest to end up at Nkuringo. It's about 7 hours walk and at the end quite tough but so amazing. (make sure to be fit enough)

Always listen to your guides, whatever happens. Gorillas are wild animals, thus be respectful and careful.

Make sure to book a couple of days in the area. In case you cannot trek down the Gorillas at day one you might try again on day two. The area is beautiful enough to stay a couple of days.

Never touch, nor approach the Gorillas. Looking a Silverback in the eyes can also be provoking – just don't do it.

It can take up to 5 hours before finding the Gorillas make sure you have water with you and good hiking shoes.

Know what you can afford.
Budget restrictions should not be ignored when choosing a trip. Choose a price range you can do. To improve your budget, consider the luxury of your safari trip, the duration of the trip, activities, accommodation preferences, food, and the weather.
Do you like your safari to be more luxurious, moderate, or rustic? Are you traveling with a group or will you be one strong, independent tourist? Will you travel by air or roadway?
Answering these questions more or less will improve your dream safari.
Have a good time!