How To Get From Zagreb To Dubrovnik (And Dubrovnik To Zagreb) In 2021
Some posts contain compensated links. Please read this disclaimer
for more info.
Zagreb is Croatia's capital and has had somewhat of a tourism boom as people have discovered this city over the past five years. Zagreb is cool and quirky, with plenty of museums, bars, and restaurants to keep you entertained all year long, as well as an excellent base for fun day trips.
Zagreb als0 won the award for best European Christmas market over the past few years, meaning the city is truly magical during the Christmas holiday.
Many Croatian holidaymakers arrive at Zagreb Airport, which happens to be the biggest and busiest airport in Croatia. They often choose to spend some time in Zagreb, exploring what the city offers before continuing their holiday in Croatia.
On the other hand, Dubrovnik is a global tourism superstar on most people's bucket list and an absolute must-see destination in Croatia. You will be amazed at the Dubrovnik Old Town and the jaw-dropping view from the Dubrovnik Cable Car, while the famous Dubrovnik beaches will tempt you with their azure waters, and the restaurant scene will delight any foodie.
Getting from Zagreb to Dubrovnik has never been easier, so it begs the question;
How To Get From Zagreb To Dubrovnik Or From Dubrovnik To Zagreb In 2021?

Many Croatian travelers are tackling this travel dilemma by building a one-way Zagreb to Dubrovnik itinerary and capturing all the major Croatian destinations between Dubrovnik and Zagreb. In fact, you could call it their own Zagreb to Dubrovnik tour.
Savvy travelers are saving their bucks and ditching their travel agents. They book their Croatian holiday on their own, which has never been easier with travel sites and (of course) travel blogs providing insight, reviews, and advice on Croatia.
Couple that with how easily you can book accommodation, tours, and transfers through the likes of Booking.com and Get your Guide, and organizing your Zagreb to Dubrovnik road trip is simple.
The distance between Zagreb and Dubrovnik is 600 kilometers, so unless you're flying, traveling to Dubrovnik will take a bit of time.
Book your Dubrovnik accommodations here!
Zagreb To Dubrovnik Drive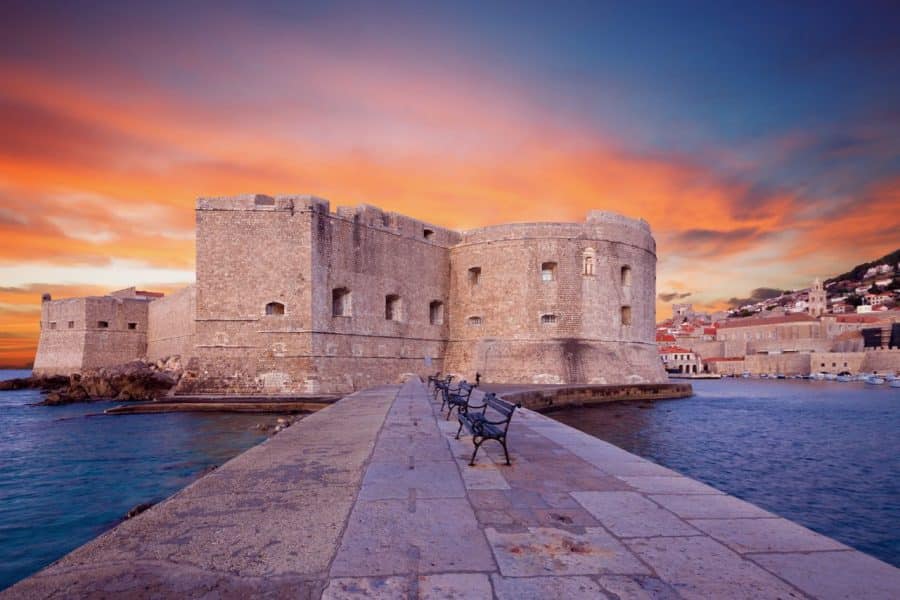 Whether you are looking for Zagreb car rental or Dubrovnik car rental, you will need a car if you plan on driving from Zagreb to Dubrovnik. All the major car rental companies are located at both Zagreb Airport and Dubrovnik Airport, but it's essential to book your car in advance. You don't want to be left without a vehicle.
If you decide to travel from Zagreb to Dubrovnik by car, your best bet is to jump on the A1 motorway. This will get you to Ploce, 100 kilometers short of Dubrovnik and about five hours' drive.
The A1 motorway has tolls, and it will cost you around 30 Euro for this journey. From there, you'll take the scenic coastal road all the way to Dubrovnik. This absolutely splendid drive will take you another 1.5 hours, depending on whether you get held up at the Bosnia and Herzegovina border in Neum.
The border crossings at Klek and Zaton Doli can get quite busy during summer and particularly on weekends. So, your best bet is to aim to cross really early or late when traveling in the summer season. Also, Bosnia & Herzegovina is not an EU member state, so be sure to check whether you have any visa requirements.
You will also need to ensure you have all the required documentation and insurances for your rental car, which the customs guys may ask for at the border. Plus, it will pay to confirm whether your insurance provides coverage in Bosnia & Herzegovina with your car rental company. Otherwise, you could be up for some big bucks if something goes wrong!
Once you've got through the border, it's also well worth considering making a pit stop in Ston along this last little stretch of road. Perhaps indulge in a few of the famous oysters even!
Zagreb To Dubrovnik Private Transfer


When on holiday in Croatia, some of us like to travel in style, comfort, and most importantly, just sit back and let a professional take care of the logistics. Hello, private transfer!
Driving in a foreign country can be stressful. So, why not hire a professional driver to pick you up from the airport or hotel and take care of the bags?
A Zagreb to Dubrovnik transfer is a superb way to travel. And, best of all, it takes away the stress of worrying about border crossings, insurances, and navigating foreign roads. A Zagreb to Dubrovnik private transfer will pick you up from your accommodation. No need to hunt down taxis or hike to the bus station. Then, you just sit back and enjoy the ride.
You also have the freedom to make any stops you'd like along the way. Heck, it's a private transfer; that's what you're paying for! These days, most people are taking private transfers from Zagreb to Dubrovnik in segments.
For instance, they will break up the trip from Zagreb to Dubrovnik and take a private transfer from Zagreb to Plitvice Lakes National Park. They will then head from Plitvice Lakes to Zadar, followed by Zadar to Split, and then Split to Dubrovnik with various stops in between and spend varying amounts of time in each city.
Zagreb To Dubrovnik Bus

The Dubrovnik to Zagreb bus is a long bus trip with numerous services operating daily. A Zagreb to Dubrovnik bus trip will take you about 11-12 hours, with lots of stops along the way. They may include Karlovac, Plitvice Lakes, Zadar and Split, and others depending on the Croatian bus company you travel with.
The bus from Zagreb to Dubrovnik departs from the Zagreb bus station (Autobusni Kolodvor Zagreb). You will arrive at the Dubrovnik bus station 12 hours later.
If you'd prefer to sleep through the journey, there is a Zagreb to Dubrovnik night bus, which may better suit you. Fortunately, most buses in Croatia have free Wi-Fi and USB points to charge your devices, so you can at least stay somewhat entertained along the way.
Zagreb to Dubrovnik bus ticket prices range from 180HRK – 240HRK, as do the timetables from season to season. Therefore, you'll need to check out the bus timetable for your specific travel date before purchasing your ticket. You can do this online.
Zagreb To Dubrovnik Flight

If you want to get to Dubrovnik quickly, a Zagreb to Dubrovnik flight or Dubrovnik to Zagreb flight is your best option.
There are several flights per day from Zagreb to Dubrovnik, operated by Croatia Airlines. Prices vary depending on the season and start at 250 HRK up to 1000HRK in the peak of summer. If you are looking for cheap flights from Zagreb to Dubrovnik, aim to travel in the shoulder seasons.
The trip from the city center to Zagreb Airport takes about 25 minutes. You can catch a Zagreb Airport shuttle bus from the Zagreb bus station. It is about a 20-minute trip from Dubrovnik Airport to Dubrovnik, and you can catch a bus, taxi, or pre-arrange a private transfer.
Zagreb To Dubrovnik Train

If you would like to spend half your holiday traveling, taking the Dubrovnik to Zagreb train is perfect for you! There is currently no train service that can get you all the way to Dubrovnik. However, you can jump on the Zagreb to Dubrovnik train and get to Ploce 13 hours later after several stops and train changes.
After the 13 hour journey, you'll need to jump into a Dubrovnik taxi, bus, or private transfer and endure another 2 hours of travel! Travel from Dubrovnik to Zagreb by train, hmmm, I think not!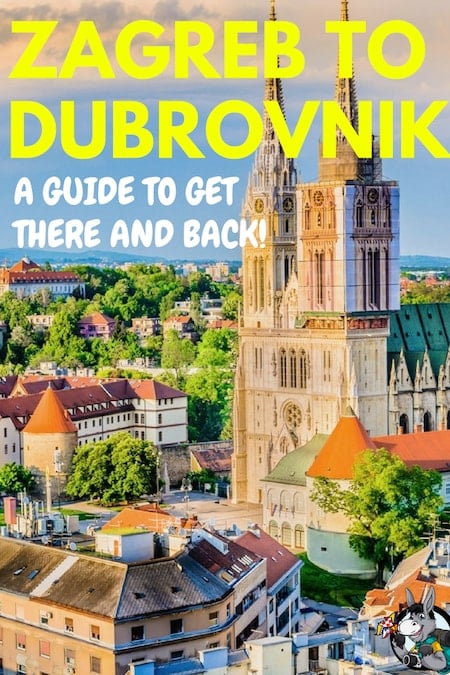 More 2021 Croatia Travel tips
Share