Places to Visit & Tourist Attractions in Banglore
When you hear Bangalore, the Silicon Valley of India, the mind automatically passes on a generic judgement about the city being filled with nerds, start-up hubs, IT enabling city, etc. But that's not true about this city. Personally, sharing my experience, if you're planning to head out to a place wherein you want to enjoy food, the natural landscape, green spaces and striking historic architectures, Bangalore is that city. Even the locals are so warm, thoughtful and welcoming that you wouldn't feel like being somewhere far away from your hometown. Probably that's why this city is celebrated as the most visited tourist destinations in India. Now assuming that this is intriguing enough for you to plan a trip to Bangalore here's a mini-guide on the whole city covering different attractions and places to visit in Bangalore and much more.
Starting with places to visit in Bangalore, I'll be covering up a few which I visited on a bike rented from Royal Brothers.
Best Places to Visit near Bangalore
1. Ramanagara
Located at a distance of 48 kms from Bangalore, Ramanagara is a perfect getaway to comfort your mind with some peace and adventure. As a matter of fact, this hill is none other than the famous Sholay hills where our own reel villain Gabbar used to hideout. The hills around are a treasure for the rock climbers. Apart from this, you can also enjoy trekking in the night at Sholay hills or can relax down near the Arkavati River. It's by far one of the most famous places in Bangalore and a perfect destination to explore during the night time.
2. Bheemeshwari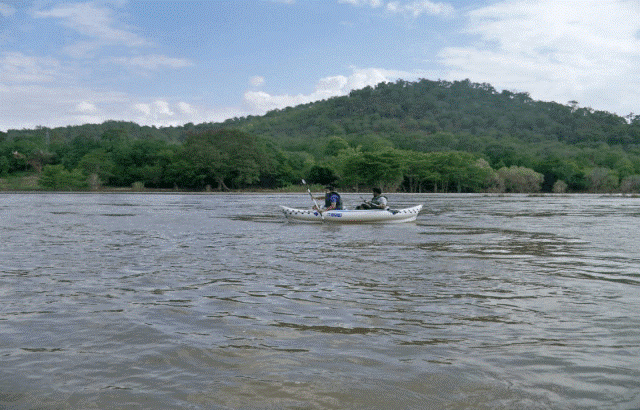 A small town, Bheemeshwari, located in Mandya District is quite known for short bike trips from Bangalore. This place is known for being an ecotourism spot as the River Kaveri forms a natural habitat here for Mahseer fish, known as one of the finest fishes around the world. Bheemeshwari is a perfect spot for numerous adventurous activities such as white-water rafting, trekking, kayaking and not to miss but fish-camping too. It's undoubtedly one of the finest places to roam in Bangalore.
3. Savandurga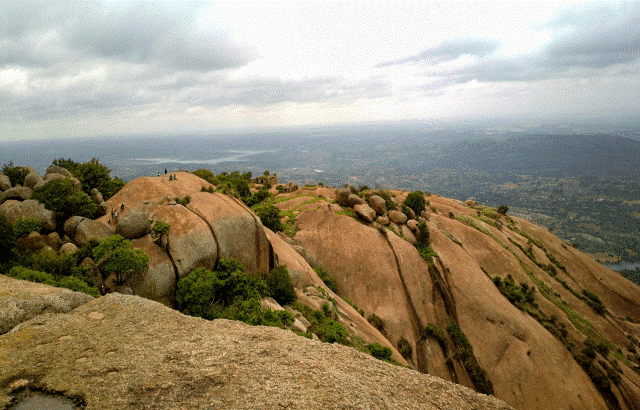 Distance- 50km (approx.)
Another tourist place in Bangalore is Savandurga, a place with a fort on a lofty mountain. The hill entails two sandstone cliffs, one called Bilibetta and the other as Karibetta peak. It's a paradise on Earth for those who love climbing and then enjoy the picturesque panoramic view from the hilltop. A trek to Savandurga hill-top is an experience not to miss out on.
4. Nandi Hills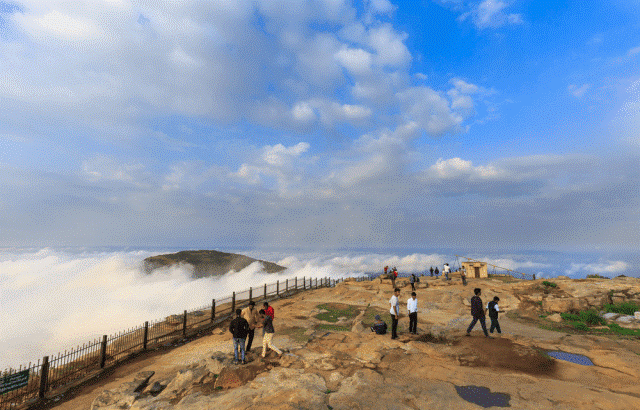 Here comes my personal favourite, Nandi Hills. Mesmerizing landscape, breath-taking view, cool breeze, making this place a perfect relaxation spot to head out to for some peace of mind. Nandi Hills sees favourable weather throughout the year thus making this place a perfect destination to head to for a break from all the city chaos. You can indulge in different activities like cycling, paragliding, wandering alone while on a walk and much more. A trip to Nandi Hills is worth all your time and efforts as this tourist place in Bangalore is a natural package for a fun-filled day.
While I conclude the list of places to visit in Bangalore here are a few top sightseeing places to explore while in this city.
Must-Visit Tourist Attractions in Bangalore
1. Lal Bagh Botanical Garden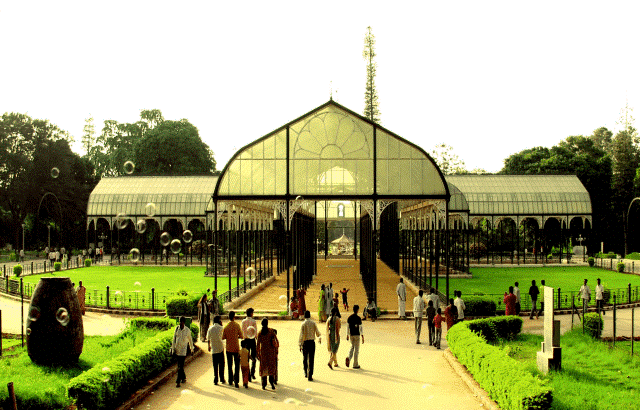 One of the oldest botanical gardens in India, Lal Bagh is a major tourist attraction in Bangalore. It's not only one of the largest botanical gardens in India, but also uniquely designed with planned routes, glasshouses and ornamental flowers living throughout the property. Lal Bagh hosts exotic flowers that were imported by the Tipu Sultan from different countries like France, Arabia, Persia, etc. You can also catch sight of some rare species of birds like Myna, Pond Heron, Purple Moorhen, Parakeets and much more. This botanical garden is also known for the famous Lalbagh rock which is said to be over 3000 years old.
2. Bangalore Palace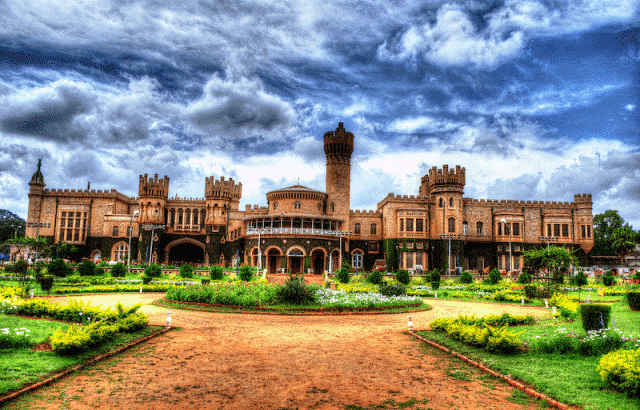 Bangalore Palace represents the historical significance of the city, showcasing the glorious past and heritage of this place. Tudor style Palace flawlessly depicts the lavishness and splendour with which India's most resistant dynasties ruled. Known for its luxurious architecture, the Palace is visited by tourists from round the world. If classic architecture and artistry intrigue you Bangalore Palace is an attraction not to miss on. The Palace is home to some of the most amusing paintings of the 19th century, which even includes the works of one of the most celebrated artists, Raja Ravi Verma. To dive deep into the history and the world of architectural masterpieces do give a visit to Bangalore Palace on your trip to this city.
3. Tipu Sultan's Summer Palace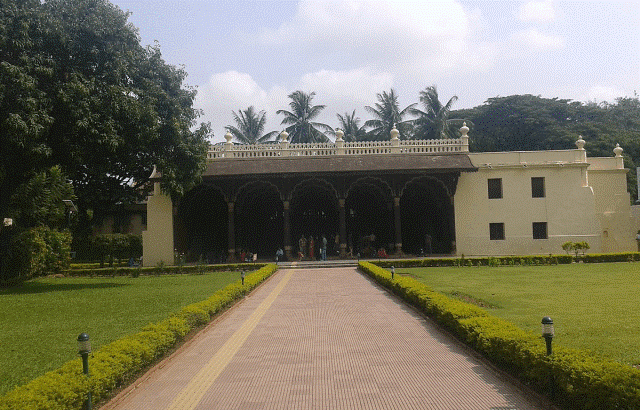 Built-in the year 1971, this summer resistance is a masterpiece of art. The ceilings and walls of the Palace have a floral touch with Islamic carvings and artifacts. What makes this two-storey building unique is the fact that the Palace is entirely made of teak wood with wooden pillars being the support for the whole structural foundation. The complexly carved wooden balcony and the royal staircases depict the right meaning of architectural marveling. It is one of the tourist places which is by default a part of all the visitors' plans.
There are never-ending attractions and places to explore in and around Bangalore but words would seem less to describe the unique beauty of this city. Moving on, let me spill some beans about the local life, market and food, probably the much-needed one for every reader.
Famous Streets in Bangalore that You Must Visit
1. VV Puram Food Street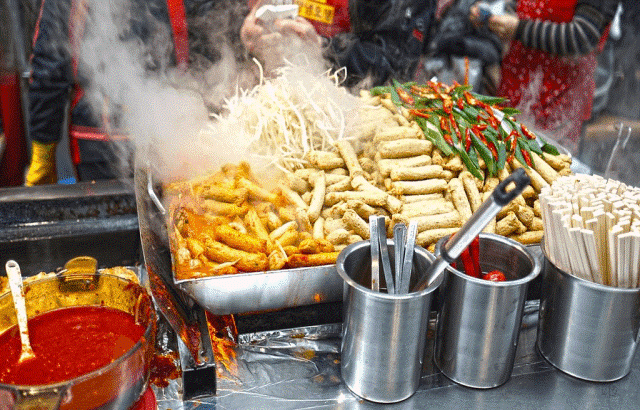 This stretch of a lane is a heaven on Earth for all the foodies out there. Located close to Lalbagh at Sajjan Rao circle in Bangalore the street is known for some authentic food dishes such as Ragi Roti, Akki Roti, Kodu bale, Paniyaram, Idli-Vadas, Pav Bhaji, Uttapams, Vermicelli Upma, and much more. The list is really a never-ending one. From North Indian chaat items to South Indian healthy delicacies, this food street caters to the whole of diverse India. A point to note, all the food items served here are vegetarian. If you love sampling out Food Street every now and then I highly recommend visiting this place in Bangalore to enjoy the steaming, relishing the taste of diversified Indian street food.
2. Avenue Street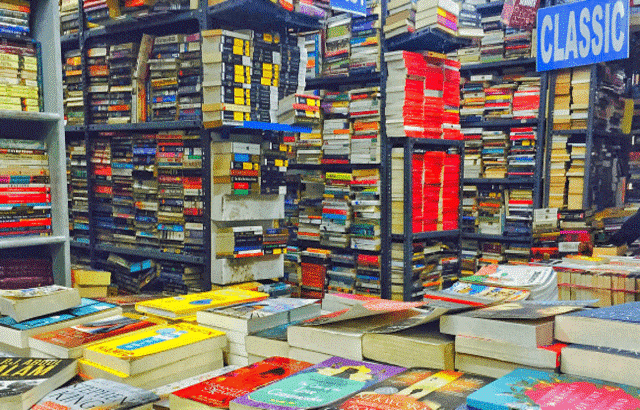 If you're a book lover and love exploring for new stuff to read then head to Avenue street in Bangalore. It has a variety of shops, street-side bookstalls to even bookshops. You can easily find the book of your interest and your choice as this street is literally home to books across all the languages and genres. Do look out for old, rare finds while being here. At some shops, you might end up finding that one novel you couldn't find anywhere. I'm not a reader but I can say this place in Bangalore is a paradise for readers and writers.
I can literally go on writing as it would never be enough to capture the essence of Bangalore with words. But the idea here is to just give out the information so that it builds an interest in you to visit Bangalore at least once. A visit to Bangalore would definitely end up in your good memories book as this place is a mix of smart heads, culture, tourism, history, and even amazing food.
Author: Anuj Seksaria
Follow him on Linkedin and Instagram @_anuj_seksaria_