Plitvice Lakes National Park Vs Krka National Park? How To Choose Between Krka Vs Plitvice
Some posts contain compensated links. Please read this disclaimer
for more info.
Spring is the best time to see all of Croatia's eight stunning national parks. This means it's the time of the year that one of the most common questions I'm always asked lands in my inbox – over and over again.
Which of the national parks to visit? Readers are always asking me to help them choose between Plitvice Lakes National Park or Krka National Park.
Yikes, decisions, decisions!
The best answer to that question is this – if you have the time, then you should visit them both, because they are equally as beautiful, in different ways.
If you don't have time, however, and you do have to choose between Krka or Plitvice, then it all comes down to where you'll be based, your interests, and how much time you actually have.
Plitvice Lakes is bigger and has more to see, but it is further inland and takes longer to get to than Krka Lakes does if you are staying in Dubrovnik or Split.
Krka Park is much more accessible from Zadar and Split but is smaller, so if you're short on time that helps loads.
See what I mean? It is already getting confusing. There are just so many factors. It all depends on your situation.
Let's put the two against each other and see what decision you make at the end.
Plitvice Lakes National Park

The Plitvice Lakes are around two hours from Zagreb and approximately 1.5 hours from Zadar by road.
Obviously, this will depend on traffic also, as, during the summer season, it seems like everyone is trying to get to this park! You'll find lots of tours and buses that head here. You can also get to Plitvice Lakes from the coast, but because it is further away from the coast, you'll pay more for these than you would from Zagreb. However, this shouldn't put you off because it doesn't have a UNESCO World Heritage status for nothing!
Plitvice Lakes has a series of 16 interconnected lakes, which spans a much larger area than Krka does, at around 8km when the lakes run together, and 300 square kilometers in area.
It takes around 20 minutes to reach the park entrance from the parking lot, but the size is a blessing because it does get so crowded. If you have a weekend spare, you should definitely dedicate it to exploring Plitvice, because a day, including the travel time, probably wouldn't leave you with enough to really explore.
Check out these great accommodation options near Plitvice Lakes for every budget.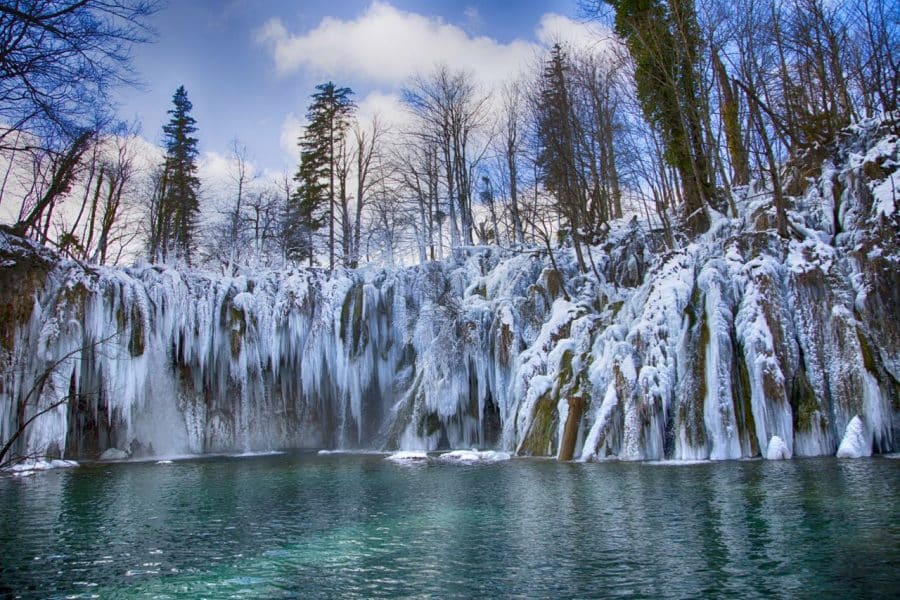 Swimming & Walking

You can't swim in the park; it's prohibited. On the other hand, there are countless walking trails around the park, which take you around the lakes and the natural landscape.
If you want to take a million stunning photos, Plitvice is the best bet, as some of the sights you'll see are truly amazing. If you're into wildlife spotting, you'll also be able to see wolves, bears, birds, and all manner of other species of flora and fauna if you stay longer – and head off the main walking trail being pounded by the busloads.


Plitvice Lakes Entry Costs

Entry into the park depends on the season and is subject to change – so please do a double check before making your way there. Check the park website for the latest fees.
Adult winter ticket – 55 Kuna
Adult ticket, April to June & September to October – 150 Kuna
Adult ticket, July & August – 250 Kuna
Child tickets are free up to 7years of age, plus you can buy multiple day entry tickets, depending on how long you're planning on staying for.
Reasons To Avoid Plitvice Lakes

If you have small children in a pram. This park is not pram friendly. Even if you have a travel pram, with the number of people, narrow tracks, or no trails, you simply can not push a pram about the park
Equally, if you require a wheelchair, sorry, but It would be really difficult to push a wheelchair around
If you don't like crowds, do not go to Plitvice in summer. Not even early can you escape the thousands of day-trippers. One summer I was there, it was wall-to-wall bodies, I could not even see the main falls without dozens of people pushing and bumping into me. Gross.
You want to swim. You can't and will be fined a pretty penny if you even try.
Krka National Park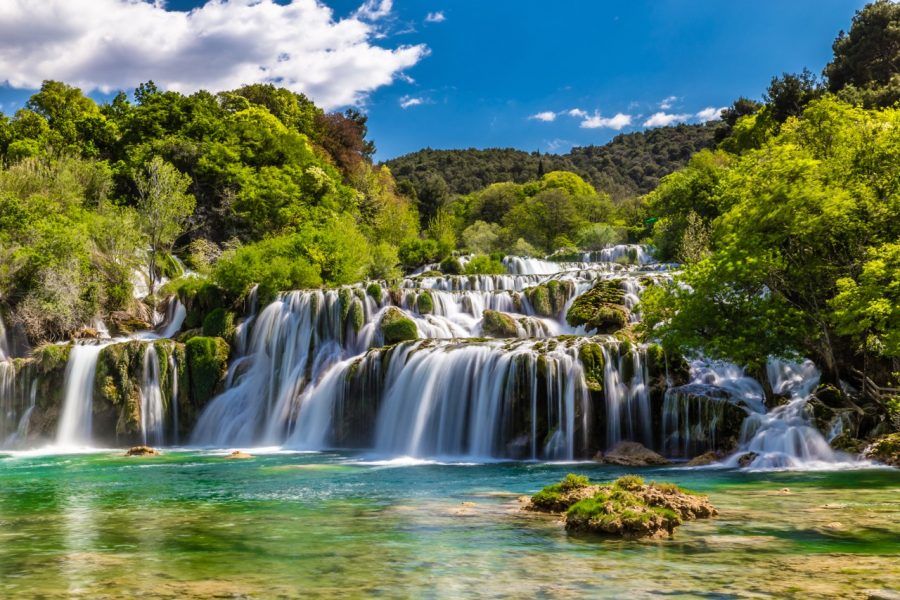 The smaller of the two parks is Krka, but this has its advantages over its bigger neighbor. For starters, Krka might be smaller, at around 142 square kilometers, but it is closer to the main coastal resorts, at just an hour from Zadar by road, in Sibenik-Knin County. As the biggest major town near Krka, Sibenik now offers travelers plentiful options for accommodation.
Exact times depend upon traffic, especially during the summer season. You won't struggle to find day trips being sold from excursion offices either.
Krka falls encompass the biggest section of the Krka River and is home to 12 stunning waterfalls, including the largest one, Skradinski Buk waterfall. The smaller size of the park also means it is ideal for families who want a day out in nature but who don't want to travel too far and don't want to exert themselves too much.
However, Krka Park isn't all about nature, as there are a few nods to history within its borders too. There is a working loom and blacksmith within the small village, and you can see how life used to be before the dawn of the Industrial Revolution.
So, while Plitvice might be ideal for a weekend away in nature, Krka is undoubtedly the best bet for those who just have a day spare.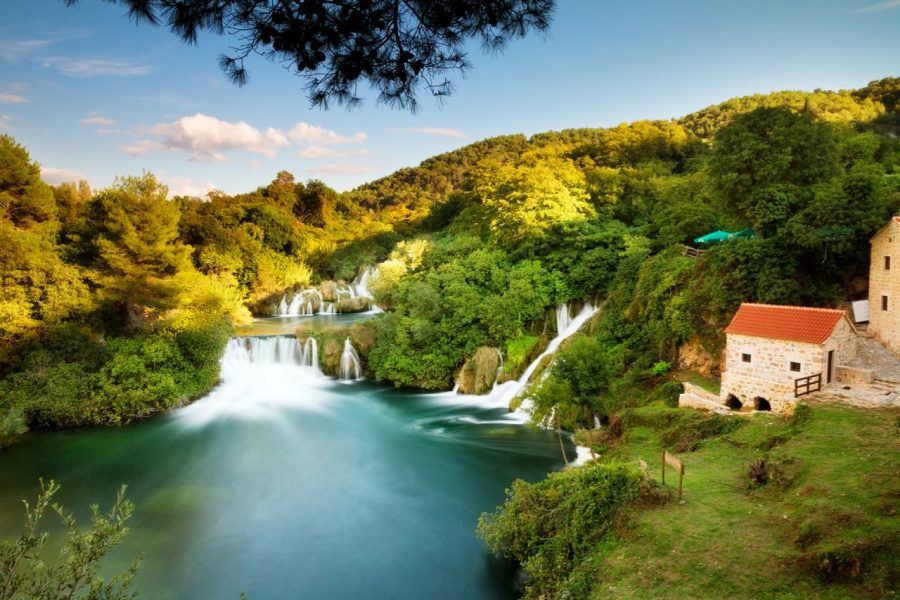 Swimming & Walking

We mentioned that you couldn't swim in the lakes of Plitvice, and as of 2021, you can no longer swim at Krka either. You used to be able to swim in front of the biggest waterfall, Skradinski Buk, but now you'll just have to hope to catch some spray as you pass to cool off. 
The downside is that there is only one walking trail, compared to the many you'll find at Plitvice. However, you won't miss out on nature as this one trail has some beautiful scenery to pass through; plus, during the summer months, when the trees are really blooming, you'll notice a pleasant scent in the air.
Krka National Park Entrance Fee

There are five entrances to the park, with most people catching the boat ride from Skradin, or they use the Lozovac entrance. If traveling by car, there is free parking at the Lozovac entrance. You can also enter at, Visovac, Slapove Krka, and Burnum
Entry costs depend upon the season, and there are discounted entry for children.
Adult ticket, November to February – 30 Kuna
Adult ticket, March to May, & October – 110 Kuna
Adult ticket, June to September – 200 Kuna
Reasons to Avoid Krka National Park

You want to hike for days. Krka is a day-trippers paradise. If you want to get lost in the woods, it is not for you
You have small kids who need to be in a travel stroller – this is totally impossible (trust me, we had to carry ours)
How To Get To Krka Waterfalls Or How To Get To Plitvice Lakes

I will add more info on this as we write it, but for now, you can get to either national park as follows:
Don't Take Just My Word For It

I asked this question on my Facebook page last week – and you can see just what everyone had to say – and read the comments to see why.
So, Which Should You Visit? Plitvice Or Krka?

The best answer I can give to how to pick between Krka vs. Plitvice is simple. Don't.
I urge you to try to find the time, go to both. Okay, I know most of you short on time, so here goes, if you're mostly staying on the coast, head to Krka waterfalls. If you land in Zagreb, go to Plitvice on the way to the coast.
Both parks are truly stunning, and while Plitvice is much larger, and some say more beautiful, that is not the only factor.
Share