Socailly Distant Things to Do in Goa Post Lockdown
For anyone living in Mumbai, Goa is probably a favorite getaway for most. Well, it's certainly one of mine, especially being a beach bum, I can never tire of Goa. Thus, post lockdown deserved a visit to this fun beach haven. Usually, my trips to Goa have lasted for a maximum of 5-6 days but last month, I took that up a notch and made it a whole two weeks! And it was so worth it, to say the least! The 14 days just seemed to disappear in a blink of an eye and, needless to say, I DID NOT want to leave.
And since I had full two-weeks at my disposal and that too in the pandemic, I explored a lot of fun things to do in Goa!
Having said that, I believe this pandemic has made us all a lot more appreciative of everything we have more than we did before, it has led us to introspect a great deal and has compelled us to relook at our lives and what truly makes them worth living. Besides my family and friends, travel is one of the things that make me whole and since I had not really been on a trip for 7 months, this was complete bliss and we engaged in a lot of fun things.
Our Experiential list of must-do things in Goa
Since it was a socially distant vacay, we mostly stayed indoors and spent quality time with family which included the two fluff ball-played and cuddled with them like no tomorrow, read heaps and of course, there were days when I just did nothing. Here are some pictures of them.
For those of you who want to be totally pampered and have an expert plan your entire trip for you, do look at the range of Goa Tour Packages that Thomas Cook has to offer. They have some wonderful deals.
And while the lockdown did curb a lot of our enthusiasm, we still have a full-fledged list of attractions to see and things to do in Goa- even if you plan a trip like right now! So, onwards we go!
Places to Eat in Goa
Well, this is technically not one of the attractions in Goa but I would highly recommend Baba Au Ruhm – the food is fantastic and so are the views of the paddy fields from where we sat. Some other restaurants you might want to explore are (we ordered in from these places as well): Jamun Goa – great for cocktails, Mojigao is perfect for breakfast, Artjuna Café has great desserts, Sakuna has delicious Japanese food and The Spice Traders in the W Hotel is the perfect place to go for a sundowner where Sohrab and Abhishek will pamper and spoil you. And of course, Purple Martini for its awesome view which I have mentioned earlier (this was a part of our villa).
Go Trekking & Explore the Terrains
While trekking to Chapora Fort we discovered a walking track behind the walls of the fort, and it made for an unbelievably beautiful trek and had some of the most stupendous views. The sunsets there with the beaches below were indescribable. On a different day, we went to this heart-shaped lake in Conchalin, although the lake is a little overrated, the views from there were just amazing.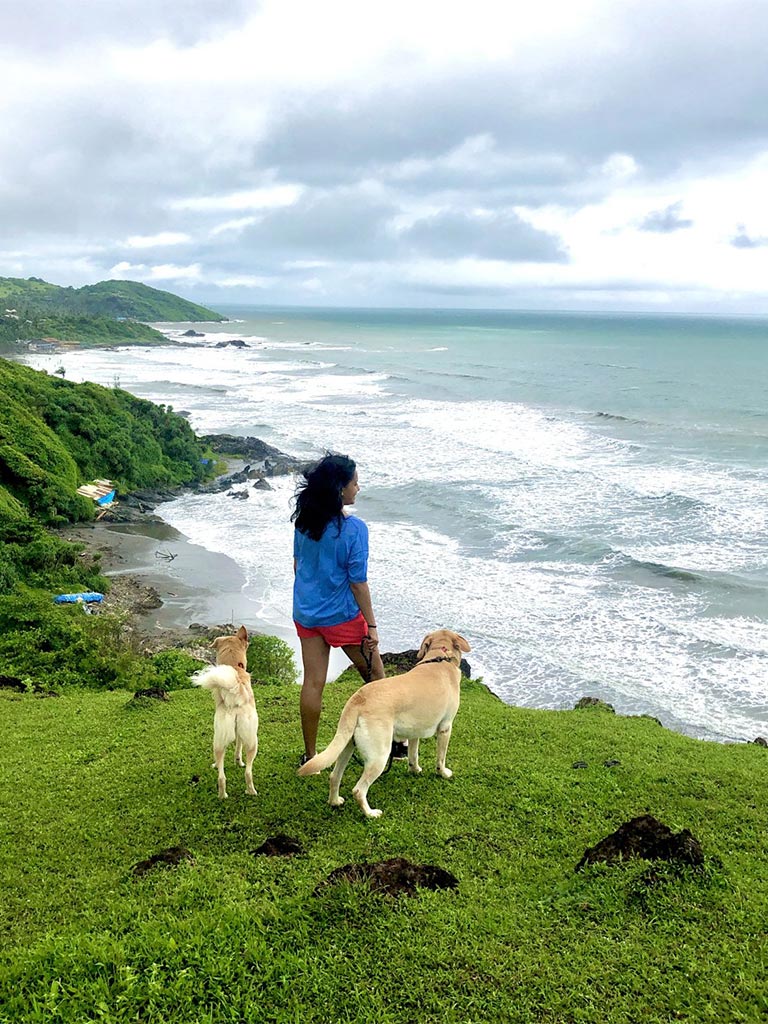 Explore Panjim
It might sound surprising but Panjim is one of the best things to see in Goa. In the heart of Goa, we went to a place called Fountain has which is the old Portuguese district of Goa known for its beautiful and very colourful houses: all different colours. I am totally a 'bright colours' person and thus, I instantly took to this place. Do pick up Goan snacks from 31 January Café when you are there.
As I mentioned we all need to be safe but at the same time, we also need to get out there and support Goa Tourism in whatever way we can.
This pretty much sums up my 2 weeks Goa trip after the lockdown and though we did not do much of the usual stuff, it was nothing short of brilliant! Whether lockdown or no lockdown, staying indoors is not that bad after all especially when the villas are peaceful, beautiful and homely.
Read the blog here – Travel Chatter