The Best Food Gifts From Around the World (The Ultimate Gourmet Guide)
I grew up in a lower middle class family and worked my way through college. So I couldn't afford to travel internationally much until I was in my thirties.
For me, eating exotic food from around the world served as my first introduction to the culture of India, Morocco, the Middle East, Latin America, the Caribbean, etc.
As I fell in love with traditional dishes from around the world, I became more interested in the music, art, and history of these places.
That ever-expanding interest in cultural exploration is what ultimately led me to become a travel writer, which gave me a chance to try all sorts of weird and wonderful food around the world.
Over 20+ years, I got to break bread in local communities, interview local and internationally-known chefs (including Anthony Bourdain), and explore traditional cultures on a much deeper level.
In 2020, international travel is borderline impossible for most Americans, not to mention unwise for anyone with immune-compromised conditions.
For now, dining on traditional food from around the world is arguably the best way we can reconnect with the flavors of the places we've traveled in the past.
It's also a great way to get a taste of the cultures of places we dream of traveling in the future.
So check out our ultimate gourmet's guide to the Best Food Gifts From Around the World, from monthly food subscription boxes and foodie gift baskets to holiday food gifts and more!
READ MORE: 5 Weird Foods the French Consider Delicacies
BEST FOOD GIFTS GUIDE
Baked Goods Gift Baskets
Chocolate Gift Boxes
Coffee Gift Sets
Food Gift Boxes & Baskets
Meat Gifts
Prepared Food Gifts
Tea Gift Sets
Vegetarian/Vegan Food Gifts
BAKED GOODS GIFT BASKETS
Cookies Con Amore Gift Basket
If you're looking for great foodie gifts for Christmas, you could do a lot worse than this beautiful basket of old-fashioned Italian cookies from Cookies Con Amore.
This family-owned company's baking traditions (and recipes) date back five generations, and their Christmas Tree-shaped gift basket is loaded with 3 pounds of delicious Christmas cookies.
The heart-shaped jelly cookie is their signature item. But classics like the Amaretti, Biscotti, and Italian wedding cookies took me back to my 3-week tour of Italy with the Atlanta Boy Choir, where we sang for Pope John Paul II in the Vatican a few days after I turned 12.
It's a delectable and gorgeous gourmet food gift for anyone who loves Italy.
READ MORE: The 25 Best Places to Spend Christmas in Europe
Maya's Cookies Deluxe Holiday Tin & Ultimate Cookie Lovers Collection
Where some of the best sweets from around the world have the power to transport you to a different place, others touch your heart by reminding you of a different time.
Take these two great gourmet food gifts from Maya's Cookies, the black-owned, vegan-friendly cookie company based in San Diego.
One bite of the fresh-baked cookies from her Deluxe Holiday Tin took me back to making Christmas cookies with my mom. But there's no comparison to the decadent flavors of Maya's Classic Gingerbread, Chocolate Peppermint S'mores, and White Chocolate Cranberry (one of the best cookies I've tasted).
After the Holidays, try their Ultimate Cookie Lovers Colection, which includes White Chocolate Macadamia, Brown Sugar Butterscotch, Espresso White Chocolate, and more!
READ MORE: Lebkuchen Recipe for Homemade German Christmas Cookies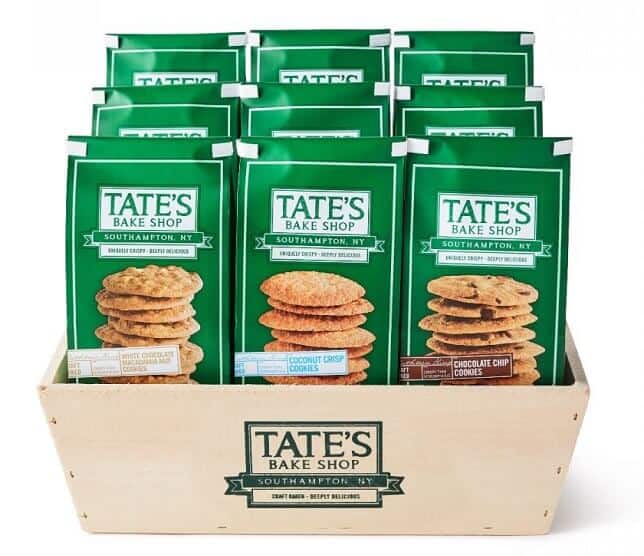 Tate's Bake Shop 
Signature Variety Cookie Basket Deluxe
Mary grew up in New York City, and it has always been one of my favorite places to spend Christmas in the USA. So a gift basket from Tate's Bake Shop is like giving (or receiving) a taste of the Big Apple.
The Long Island shop was founded by Kathleen King in 1980, when she was just 21. Now, 40 years later, this Hamptons staple has been hailed by The NY Times as ""worth putting miles on the odometer."
Their Signature Variety Cookie Basket Deluxe is a great foodie gift basket for families or small offices, including 9 bags of their trademark thin, crispy cookies.
Flavors included are 2 bags of Chocolate Chip, 2 bags of Walnut Chocolate Chip, and 1 bag each of Butter Crunch, Oatmeal Raisin, White Chocolate Macadamia Nut, Double Chocolate Chip, and Coconut Crisp.
READ MORE: NYC Christmas Window Displays (A Free DIY Walking Tour)

Goode Co Brazos Bottom Pecan Pie in a Wooden Box
Warm Pecan Pie for dessert has been a Christmas tradition in my family for as long as I can remember. And my home state of Georgia has been the top pecan-producing state since the late 1800s.
So how come the best damn Pecan Pie I've ever tasted comes from Texas?!
We first tried the Goode Company's Brazos Bottom Pecan Pie a few years ago, when we were given the gourmet foodie gift at a meeting with Texas Tourism.
We've since sampled countless desserts from around the world, and after trying the pie again this year I feel condifent in saying it is one of the best we've tasted.
Measuring 9″, it is the richest, gooiest pie I've eaten, thick with Brazos River pecans and packed in a custom branded box that's perfect for gifting.
READ MORE: The Best North Georgia Christmas Events
CHOCOLATE GIFT BOXES

Coco Gusto Chocolate Gift Set
Chocolate is arguably among the most traditional food presents you can give. Cacao has been cultivated for at least 4000 years, and chocolate was being used by ancient Mayans by the year 600 AD.
So if you want a chocolate gift set that will make an impression on your favorite foodie, you'll want something that puts an artistic flair on this 1400-year-old dessert.
Coco Gusto Chocolates are hand-painted in Denver, with an artisanal style that extends from the 3D optical illusion on their Bacon Crunch Chocolate Bars to the colorful craftsmanship of their indulgent 8-piece and 4-piece chocolate truffles.
Their Chocolate Gift Set makes an impressive statement for the serious chocoholic in your life. But smaller items such as their Raspberry Caramel Bars and Double Chocolate-Dipped Brownies also make great stocking stuffers!
Another
NYC
-based brand,
MarieBelle
is a decidedly upscale chocolatier whose chic, chandelier-lit boutique in Soho also boasts a lovely little European cafe.
They specialize in artisan bean-to-bar chocolates made with the finest quality cacao beans, with lots of great luxury food gifts for chocolate connoisseurs.
Our favorite of their 2020 offers is their Holiday Ganache Gift Box, which features 15 gourmet flavors ranging from the traditional (Caramel Sea Salt, Toffee, Dulce de Leche) to the unusual (Champagne, Whiskey, Passion Fruit).
All are topped with glamorous retro artwork that recalls a New York of days gone by, including classic symbols of Christmas such as ornaments, presents, sleds, and Santa Claus.
Phillip Ashley 24-pc Signature Chocolates
Dubbed by Forbes as "the real life Willy Wonka," Chef Phillip Ashley Rix is an award-winning chocolatier from Memphis, Tennessee.
Best known as a finalist on the Food Network show Chopped Sweets, this world-renowned African-American chef has also curated dinners at the James Beard House and catered desserts for the Emmys, Grammys, and Oscars.
So it's no surprise that Phillip Ashley's 24-piece Signature Chocolates rank among the best gourmet food gifts of 2020. From the beautiful black box and the elegant, artful design of each individual piece of chocolate, it's an impressive collection to say the least.
The inspired flavors change with the seasons. Ours included Bangkok (Thai Curry Cashew), Savoy (French Bleu Cheese), Patois (Caribbean Hot Sauce), and a tribute to our hometown, ATL (Amaretto Peach). Each was like an eye-opening explosion of flavor rooted in a deep sense of place.
READ MORE: 50+ Atlanta Christmas Events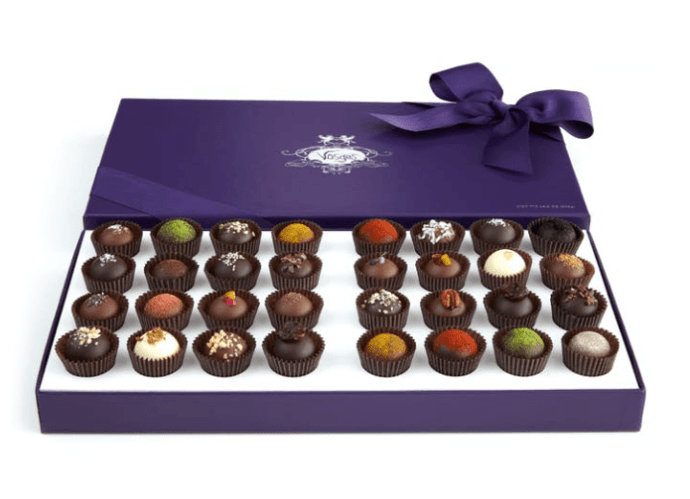 Vosges
Haut

–

Chocolat

's 32-pc 

Exotic Truffle Collection




We first fell in love with Vosges Haut-Chocolat back in 2018 after sampling their exquisitely designed 20-truffle Vault Collection.

The Chicago-based brand was founded by Katrina Markoff (one of National Geographic's 10 Best Chocolatiers in the World), who studied at Le Cordon Bleu in Paris before traveling the globe to study the food of various cultures.

Like that exceptional gift box, the remarkable flavors of the 32-piece Exotic Truffle Collection were inspired by Markoff's experience with exotic foods around the world.

From Oaxaca (with guajillo y pasilla chillies) and Budapest (with sweet Hungarian paprika) to Black Pearl (with ginger and wasabi) and Naga (with sweet Indian curry and coconut), every delicious bite offers a taste of Markoff's inventive take on global cuisine.

READ MORE: The 15 Best Places to Visit in India for Nature Lovers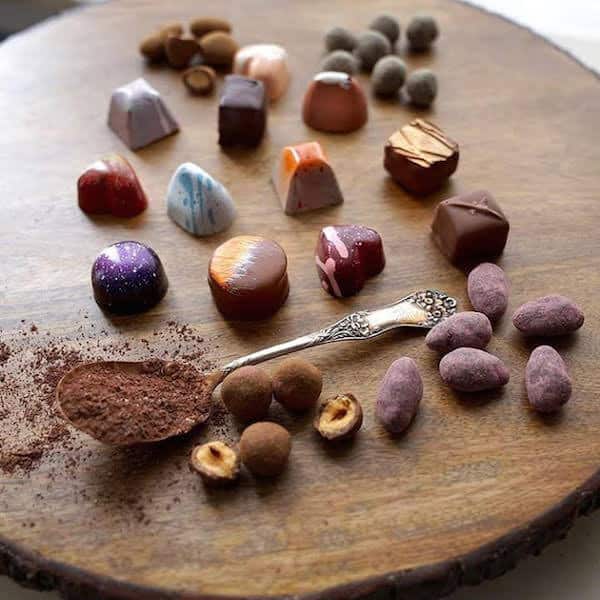 J Patrice Chocolate Studio 24-piece BonBon Box
J Patrice Chocolate Studio was the brainchild of Jamie LeBoeuf. She grew up in Michigan, but spent many years living and traveling in the Middle East before opening her own shop in Beirut, Lebanon.
After spending time learning large-scale chocolate production in Kuwait, she eventually returned to the USA. She began combining classic European chocolate techniques with the flavors of the Middle East.
Now her family-owned business crafts artful pieces of edible art, with colorful jewel-tone designs that evoke images of her time abroad.
Her 24-piece Bon Bon Box makes a gorgeous gift, and is available as a "Chocolatier's Choice" or "Build Your Own Box." The latter allows you to choose from unique flavors such as Earl Grey, Raspberry Ghost Pepper Mango, Crispy Caramel Gianduja, and Agrumato Orange.
READ MORE: The Ultimate Ecotourism Guide to Travel in Jordan
COFFEE GIFT SETS
DoubleShot Coffee Company Subscription
We're not big fans of foodie subscriptions, but we are huge fans of coffee. We've been fortunate to visit coffee farms all around the world, from Costa Rica and Hawaii to the Galapagos and Guatemala.
Brian Franklin, the owner and roastmaster of DoubleShot Coffee Company, has spent the last 16 years traveling to the world's finest coffee-growing regions. He's gotten to know local farmers personally, and selected only the best varietals to roast for his Tulsa-based shop and subscription service.
We tried three from Central & South America. Our favorite, the Maduro 20 from Hacienda El Boton in Colombia, boasts a bold, almost fruity flavor that comes from using only the ripest, most mature beans.
We also enjoyed the nutty cocoa notes of the Guatemala El Tambor and the dark chocolate berry flavor of  the Panama Hartmann Natural #4. Both benefit greatly from the freshness of the beans and the sweetness of Franklin's roasting style.
READ MORE: Fighting La Roya, Central American Coffee's State of Emergency

Kahawa 1893 Coffee Flight
My favorite coffee tour we've ever done was during our 2015 trip to Tanzania, when we visited a farm in the foothills of Mt Kilimanjaro run by the local Chagga people.
It was there that we first learned about the principles of permaculture gardening; picked, dried, ground, and roasted fresh beans by hand on an open fire; and tasted the most intensely flavorful cup of coffee you can imagine.
Tasting the luscious African coffees from Kahawa 1893– a black female-owned business that works directly with female farmers in East Africa– instantly transported me back to that experience.
Their Coffee Flight consists of three 12oz bags. We really enjoyed light citrusy notes of the Kenyan Peaberry and the fruity chocolate sweetness of the Ethiopian Natural process.
But our favorite was the bold, rich, dark chocolate nuttiness of their 1893 Espresso, one of the best African coffees we've tasted.
READ MORE: Maasai Mara Conservancies: Community Conservation in Kenya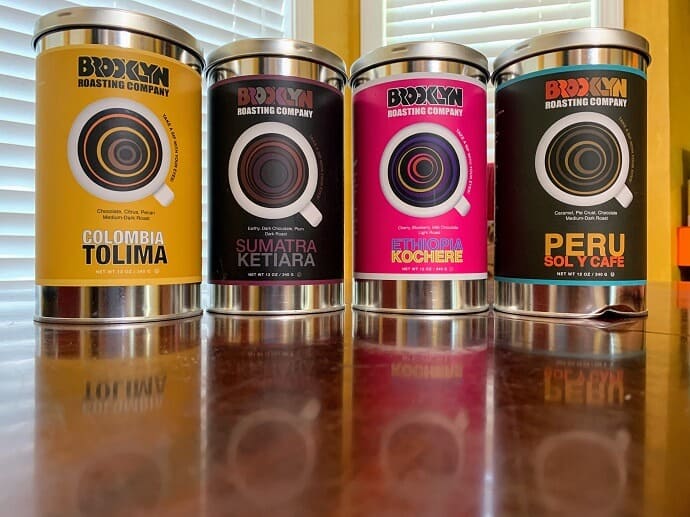 Brooklyn Roasting Company Samplers
Founded by longtime coffee executive Jim Munson in 2009, the Brooklyn Roasting Company has gradually grown into New York City's #1 homegrown coffee business.
Their timely focus on sustainably sourced Fair Trade coffee led to booming business for its flagship roastery and retail store in Williamsburg, as well as its cafes and wholesale clients in NYC's 5 boroughs.
The company offers a number of different samplers, ranging from 3 to 6 artfully designed tins. All are third-party-certified in order to help guarantee a livable wage for the coffee farmers.
One of our favorite varietals, the cherry-and-chocolatey Ethiopia Kochere, is currently sold out. But the nutty, citrusy Colombia Tolima; the dark chocolate and plum flavors of Sumatra Ketiara; and the chocolatey caramel notes of Peru Sol Y Cafe are all immensely flavorful cups.
READ MORE: The Best Coffee in the World (A Gourmet's Guide)
FOOD GIFT BOXES & BASKETS
Masala My Life's Holiday Extravaganza & Indian Flavor Adventure Box
We're not normally big fans of food subscription boxes, but they are a great way to give your favorite foodie a chance to savor snacks from around the world.
Mary & I are huge fans of Indian Culture, and typically try to make Indian food at home 2-3 times a month. These two boxes from Masala My Life offer a sensational sampling of Indian cuisine, from snacks and seasoning mixes to chai, chocolate, and more.
Their colorful Holiday Extravaganza Box features two packs of popped water lily seed snacks, Golden Tumeric roasted cashews, a masala chai blend, two Ayurveda-inspired dark chocolate bars, and incredibly rich roasted almond dark hot cocoa.
Their seasonal Indian Flavor Adventure subscription box for Fall included Golden Tumeric and Cinnamon cashews, Vanilla Fennel bean-to-bar chocolate, Chai Spice tea drops, and Gobi Masala and Tandoori-Style Baked Chicken Masala spice blends that make cooking great Indian dishes easy.
READ MORE: Indian Animals: A Guide to 40 Incredible Species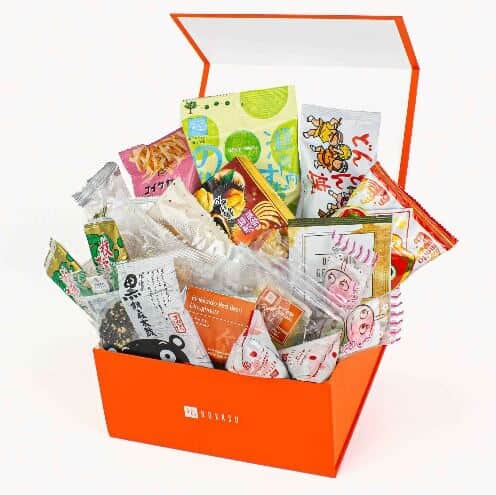 Bokksu Japanese Snack Subscription
Over the years we've been fortunate to try a variety of food boxes from around the world. But none have offered the curious culinary adventure you'll get from Bokksu's Japanese snack subscription box.
Founded by Danny Taing, a longtime American expat in Japan, Bokksu sources hard-to-find gourmet Japanese snacks from local manufacturers (some of which have been around 200+ years).
These are not mass-produced snacks from your Asian market, but curated artisanal fare. Flavors range from savory (Seaweed Tempura, Edamame Senbei crackers, Uni Rice Crackers with real sea urchin) to sweet (Mocchan Dango Mochi, Hokkaido Red Bean Doughnuts, Matcha Chocolate Stick Cake).
This great snack gift box also comes with a lavishly illustrated culture guide, including descriptions of each item, where they're from, and bios on some of their makers.
READ MORE:  40 Ways to Celebrate New Year Traditions Around the World
Sugar Plum Nuts & Beef Box & Manly Gourmet Nuts Giftset

Food gifts for men aren't as easy to find as you might expect, given the whole "way to a man's heart is through his stomach" cliché.
But the folks at Sugar Plum Chocolates are clearly targeting the fellas with their latest snack gift boxes.
Their Nuts & Beef Box aims for their inner caveman, with four Spicy Beef Sticks, four Mild Beef Sticks, and four Black Pepper Beef Sticks (ours included exotic flavors like Cajun Alligator and Wild Boar). There's also Memphis BBQ Almonds and Texas BBQ Peanuts.
The Manly Gourmet Nuts Giftset offers more of a "snacks around the world" vibe. It includes six 4oz bags of nuts, including a Taproom Nut Mix, Coconut Curry Peanuts, Mexican Cocoa Pecans, and Thai-style Chili Peanuts.
Both are great gift ideas for foodies of the male persuasion.

Women's Bean Project Sampler Gift Box
If you're looking for fantastic food gifts for women, look no further than the Sampler Gift Box from the Denver-based Women's Bean Project.
This excellent non-profit organization works with women who are struggling with addiction, homelessness, and incarceration. It offers them a second chance at life by earning a decent living while learning about gourmet food production.
The Sampler Gift Box comes with 11 of their most popular food products, including 3 soup and chili mixes, 3 spice blends, cornbread and scone mixes, gourmet popcorn, jelly beans, and raspberry lemongrass tea mix.
It all comes arranged in a lovely gift box, making this one of the year's best gifts for foodies and home chefs who want to give back.
MEAT GIFTS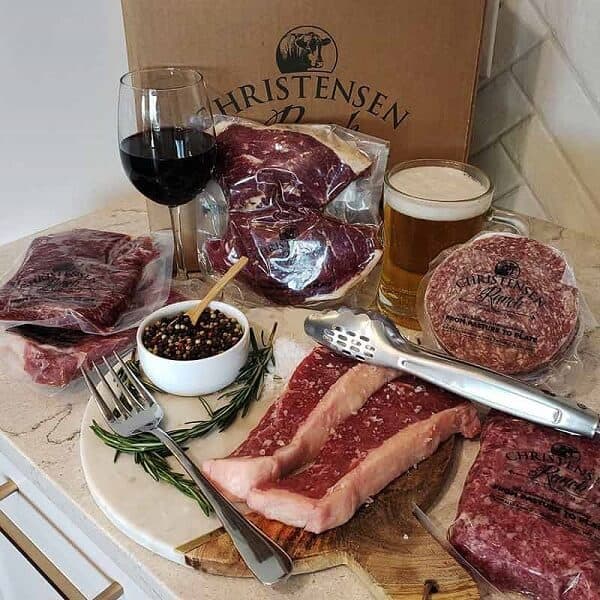 Christensen Ranch Let's Grill Gift Box
A box of steaks may not be the most unique food gift you can send. But when it comes from a fourth generation family-owned company like Christensen Ranch, it's a gift you can be sure they'll savor.
Located in Weldona, Colorado, the ranch's Red Angus cattle is antibiotic- and growth hormone-free, pasture raised in accordance with the Global Animal Partnership's 5-Step Animal Welfare Rating Program, and fed a corn-based diet.
The company offers lots of 8 to 10-pound boxed assortments. We recommend the Let's Grill Gift Box, which comes with 2 NY Strip Steaks, 2 Flatiron Steaks, 2 Denver Steaks, 4 Western Grillers, 6 1/3-lb Dry Aged Patties, and a 4-oz Jacobsen Salt Co. Pure Flake Finishing Salt.
The ones we sampled tasted great grilled on our outdoor fire pit, with Christensen's 14 days of dry aging leading to potent flavors you rarely get from your local grocery store beef.
READ MORE: Is Will Harris the Future of Sustainable Agriculture? 

Dorothy Lane Market Italian Job Meat & Cheese Board
Ever since our trips to
Spain
and
Greece
in 2014 and 2015, Mediterranean foods have been a regular staple of our diets.
Every time we eat charcuterie, it reminds us of picnics we had in a beachside park and by the rooftop pool of our condo in Barcelona. So while this excellent meat and cheese board from
Dorothy Lane Market
may be called "The Italian Job," those are the memories it brings back.
The curated gift box comes with 3 kinds of meat– Niman Ranch Capicola and Genoa Salami, plus Zoe's Meat's Pepperoni. It also includes 3 Italian cheeses– aged Parmigiano-Reggiano, sharp Provolone, and the delightfully nutty and creamy Crucolo.
The package also includes imported Mini Toasts to serve with them, as well as a tangy orange and tomato jam whose sweetness  really brings out the depth of flavor in the cheeses.
 Bone-In Butcher Shop
Based in Dallas/Ft Worth, Bone-In Butcher Shop offers artisanal cuts of meat, all wet-aged for 28 days and sealed for freshness, delivered directly to your door.
They offer 5 different cuts of wagyu beef (ribeye, NY strip, brisket, tomahawk and tenderloin), plus burgers made from a flavorful ground brisket/ground chuck mixture. All can be purchased singularly or as a 2-pack, as long as the total order equals 5 pounds.
Sure, the prices are a bit higher than you'd pay at a local butcher shop (around $65 for two 80z filet mignon). But you're paying for quality wagyu beef from cattle raised without antibiotics or hormones.
All of the cuts we tried were exquisite, but the Cowboy Cut 20oz Prime Bone-In Ribeye was arguably one of the most tender and flavorful pieces of meat I've ever eaten. It's one hell of a foodie gift for the unabashed carnivore in your life.
READ MORE: Sea Turtle Rescue in South Padre Island, Texas
PREPARED FOOD GIFTS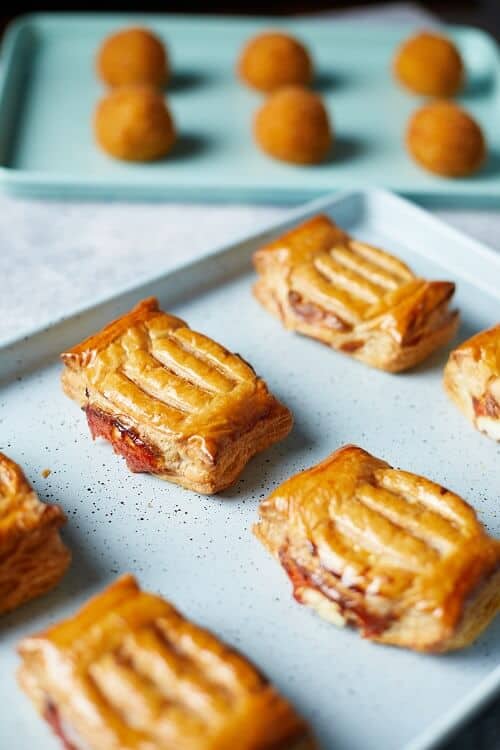 Porto's Bakery & Cafe
Cuba is a country we've wanted to visit for years. And as anyone who's read our stories on Buena Vista Social Club or the Afro-Cuban All-Stars can attest, we are HUGE fans of Cuban culture.
So when we got a chance to sample some of the scrumptious Cuban culinary delights from Porto's Bakery & Cafe, we literally popped them into the oven almost immediately upon arrival.
Manzanillo-born chef Rosa Porto (who passed away in 2019) founded her LA-based brand back in the '70s. You can taste generations of Cuban tradition in every bite of her Chicken Empanadas, Pastel de Carne (meat pies), and picadillo-stuffed Potato Balls.
All were better than most dishes we've had in our favorite Cuban restaurants in Atlanta. But her Refugiados– a remarkably light and tangy guava and cheese strudel– are truly addictive, making it easy to understand why Porto has become a Southern Cali legend.
READ MORE: Rum Cake Lady Cuban Restaurant in Blue Ridge GA

Talla Di Napoli Classic Pack Pizza
During my 3-week tour of Italy as a boy, I remember being terribly unimpressed with the pizza. "Where are all the toppings? Where's the extra cheese?! What are these big leaves?!?!"
Ironically, I ended up becoming a pizza chef and managing Italian restaurants to pay my way through college. I eventually became a snob for hand-tossed Neapolitan pizza.
Talia di Napoli offers an extraordinary taste of Napoli's traditional classic that's hand-made in Italy using fresh local ingredients and cooked in a beechwood-fired oven. Then it's flash-frozen in a cryogenic chamber, preserving the flavors of EVOO, smoked provola cheese, basil, and tomatoes.
Their Classic Pack features 4 Margherita and 3 Provolina pizzas you can heat and eat in 10 minutes flat. Customize your own (we added Capicola, red peppers and wine cap mushrooms from our garden), and I guarantee it'll taste better than 90% of the pizza you've had in American restaurants!
READ MORE: A Local's Favorite Places to Visit in Le Marche, Italy
Balkan Bites' Bureks
Balkan Bites
is a female-owned NYC-based company founded by Ariana Malushi and her aunt, Alida. Its mission is to preserve the traditional Albanian recipes that had been passed down through generations and taught to her by her late grandmother, Magbule.
Their critically-acclaimed specialty is the Burek, a popular southeast 
European
comfort food. This light, flaky phyllo pie can be stuffed with a variety of different ingredients.
With local pop-up markets shut down temporarily, they've turned to selling them online, frozen and ready to bake.
From the creamy ricotta and tangy feta of their Spinach & Cheese Bureks to the decadent hazelnut of their seasonal Nutella Bureks, both flavors we tried were fantastic.
TEA GIFT SETS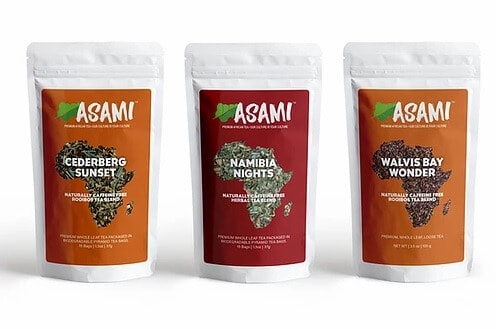 Asami Premium African Teas' Afrikan Solstice Box
I never understood the British obsession with tea time until I started traveling to Africa.
The robust Rooibos teas I sampled in South Africa and the spicy Chais we drank in Tanzania and Kenya opened my eyes to flavors that were a world away from Earl Grey and PG Tips.
The Afrikan Solstice Box from Asami Premium African Teas is one of the best foodie gifts we've seen for tea lovers. It offers three unique, caffeine free herbal tea blends using ingredients sourced directly from artisan farmers in Africa.
Cederberg Sunset mixes Rooibos with refreshing lemon and zesty ginger, while Namibia Nights spices up moringa tea with cinnamon, ginger, sage, and spearmint. But our favorite was Walvis Bay Wonder, a rich, smooth honeybush tea with a delightful dose of hazelnut.
READ MORE: Embracing the Culture of the Maasai People in Tanzania

Goboba Green DIY Bubble Tea Kit
Japan is one of those places we've never had a chance to visit, but whose history I've been fascinated by since I was a teenager.
From Manga and martial arts movies to Taiko drumming and sushi, the Asian island offers a wealth ancient and modern cultural traditions worthy of deeper exploration.
The DIY Bubble Tea Kit from Boba Green – which comes in Classic and Taro & Milk Tea flavors– is a tasty gift idea that will indulge your favorite Japanophiliac's obsession.
The kit comes with everything you need to make Bubble Tea at home, including bags of Earl Grey Black and Jasmine Green Tea, Tapioca Pearls, a metal straw, and Taro Powder (if you order that flavor).
READ MORE: 15 Stunning Japan Photos (From a Dream Come True)
VEGETARIAN/VEGAN FOOD GIFTS
Misfits Market's Mischief & Madness Box
Arguably the best foodie subscription boxes of 2020, Misfits Market offers weekly or bi-weekly shipments of 100% organic foods– fruits, veggies, and even pantry staples.
"Misfits" refer to the myriad types of produce that aren't perfect enough for grocery store shelves, whether they're slightly misshapen or bruised.
The Mischief Box is the smaller of the two, with 1-2 servings of 12 types of produce. At just $22 a box, it's about $13 less than what you'd pay at a typical store, and makes a great vegan food gift.
The Madness Box seems HUGE (see photo above), with 2-4 portions of 14 different kinds of fruits and veggies. It costs $35 for $65 worth of food, and you can add essential items like granola, gourmet chocolate, coffee, or bread.
We loved getting to try things we wouldn't usually buy, like broccolini and frisée (a.k.a. curled endive). These bountiful boxes not only serve to reduce wastein our food system, but they can also inspire new dishes and save you up to 40% on your weekly grocery bill!
READ MORE: How to Reduce Your Carbon Footprint with Carbon Offsets & More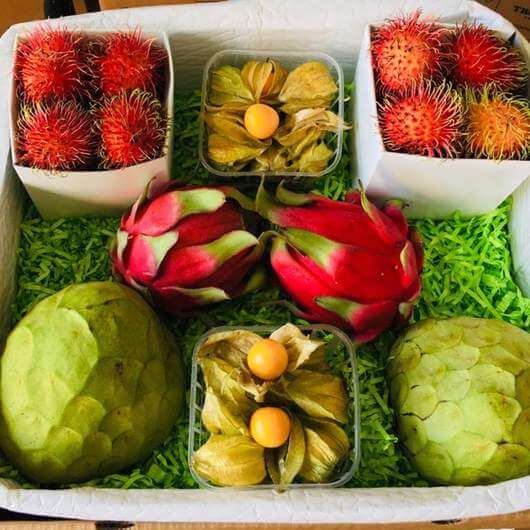 Tropical Fruit Box- Taste the Exotics Fruit Box
Know someone who loves trying weird food from around the world?
The Taste the Exotics Fruit Box from Tropical Fruit Box is a fantastic way to explore flavors you've never tasted before, with different options for curated variety boxes or "Create Your Own" boxes of fruits from around the world.
Our Taste the Exotics Fruit Box came with tart Gooseberry grown in Colombia, the lychee-like Rambutan from Costa Rica and Guatemala, and two kinds of Dragon Fruit from Florida and Ecuador.
But our favorite new discovery from this Cuban-American-owned company was the green Cherimoya from Chile. Known as the "ice cream fruit" for its sweet, creamy flavor when fully ripe, it was a decadent delight we never had a chance to sample during our travels in the country.
READ MORE: 70 Weird Animals From Around the World
Cascadia Mushroom Growing Kits
After 5 years of experiments in permaculture gardening, this year we started learning how to grow mushrooms at home. In fact, I literally just harvested our first Wine Cap mushrooms today!
As hardcore foodies we love gourmet mushrooms. But the DIY process was intense, from chopping and drilling Maple logs to hammering in mushroom pegs and sealing them with wax.
Growing kits from Cascadia Mushrooms are unique food gifts for the gourmand in your life, and considerably easier. All they have to do is cut holes in the mushroom bags, insert chopsticks, use a plastic bag to create a "tent" for moisture, and spray them with water a couple times a day.
Within a week they'll have organic mushrooms growing: Ours are Oyster and Lion's Mane, but they also have Shiitake and Wine Cap kits available. At $30, it's one of the best foodie gifts we've seen this year for the fungis (and gals) in your life.  –by Bret Love