The Story Of Block Prints Of India And A Shopping Guide
Finally, the package arrived. And just in time we say. Raksha Bandhan is around the corner and we had ordered some Raksha Bandhan gifts from the online portal Fabcurate. They sell a wide range of fabrics and saris. We had reached the Fabcurate portal while researching on another post that we were writing. We loved the block-printed fabrics that they carried and ordered different combinations of yardage as gifts to family, friends and self.
Fabcurate sells many other fabrics then why buy block prints?
Block prints of India
Block printing is a manual process as opposed to digital machine prints which are mechanized. The history of block prints in India dates back to the Indus Valley era. India had developed a monopoly in this art form and block printed cotton fabrics from India were treasured internationally. The complexity of the design and the number of colors used were the marks of the price of the fabric.
What is block printed fabric?
Block print is the process of dyeing fabric with designs carved on a block of wood. Traditionally, teak wood blocks are used to give the designed block durability. Once the design is carved out, a dye is applied to the designed block which is then stamped on the fabric by hand. The block-cutters are a separate set of artisans than the block-printers.
The block print process requires enormous coordination between the eyes and hands and calls for a lot of patience. Given the accuracy of design that can be measured only by the eye, it is a tedious skill calling for a lot of expertise.
For each colour used on a fabric, a separate block is used. The printing process is repeated for each colour. Needless to say, block-print is a slow process. But a fabric almost comes to life through block-printing and the final product is a simple yet appealing narrative.
Indian block-prints were valued based on the number of designs and dyes used. The fame of Indian block-prints spread far and wide. By the 10th century, these fabrics were sought after in other parts of Asia, Europe, Africa the Middle East. The more complex designs were sold at a high price and were a mark of aristocracy.
What is block print used for?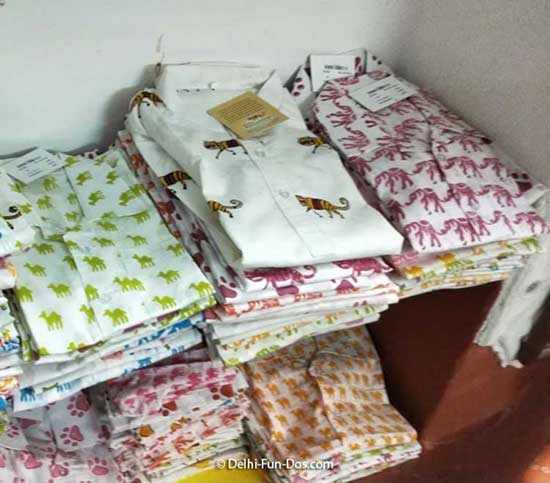 Block print fabrics have a wide range of use. This process was initially administered on cotton. Over time, silk, jute, other handloom and power loom fabrics are printed using this technology. One can use these for just about anything such as clothes, shirts, kurtas, saris, linen, table cloth and mats, wall art, shawls, and stoles, etc. Sometime back we saw some window blinds made of block-printed fabrics. It gave the room a cool Indian chic look.
How many types of block printing are there?
Block-printing has evolved differently in various parts of India. While the process of cutting blocks and creating impression on fabric is common, the difference lies in the patterns, dyes that are used, technical details. The popular varieties of block prints that have survived the test of time are Sanganeri prints from Jaipur in Rajasthan, Bagh print from Madhya Pradesh, Ajrakh from the Kutch region of Gujarat, Kalamkari from Machhalipatam of Andhra Pradesh, Srirampur block printing from West Bengal.
While all block prints look similar to some, the differences can be easily spotted by the discerning eye.
Also Read: Why National Handloom Day is important for us?
Advantages of fabrics with block prints
There were many factors why we chose block print fabrics as gifts.
First, we like the final product that is a happy reflection of life. The designs could be floral, geometry patterns, paisleys, animal prints, modern quirks like umbrellas, cameras, vehicles – this list is endless. A friend had a block made with his son's name for the baby's Annaprashan or rice-eating ceremony. We wanted to bring these designs into the lives of our loved ones.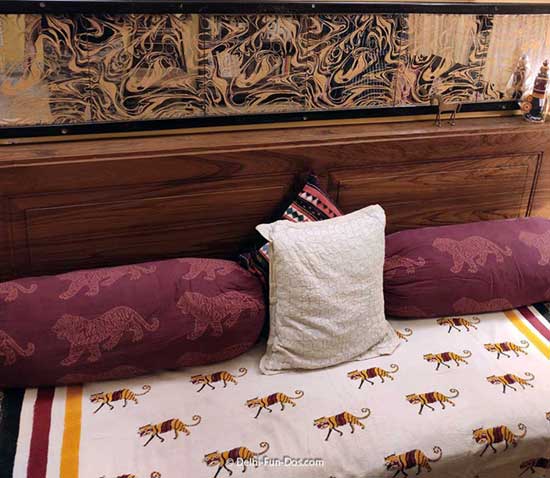 Second, we bought unstitched fabrics as gifts. Consequently, any item of requirement not restricted to clothes could be designed using the material. If one wanted an Indian flavour in their home décor, they could get cushion covers or tablemats made from these fabrics.
Third, drawing from the previous paragraph, we stand for all things made in India. In fact, we have been pleasantly surprised to see that Indian handmade objects still command enormous respect and are sold in bespoke lifestyle stores in the United States of America.  We take pride in all things Indian and want to share our happiness with our folks.
Fourth, by gifting fabrics we evade the issue of gifting clothes with style or size discrepancies.
Is block printing sustainable?
We have interacted with block-printing artists and are of the view that this is one of the most sustainable ways to use a piece of fabric. A simple instance – most traditional block printing art forms have developed beside rivers and water bodies. Most artists use river water and many use natural dyes as opposed to chemicals. This helps in water conservation and reduces carbon footprint.
Block-printed fabrics stand the test of time and if you go to any museum, maybe Sanskrit Museum at Anandgram, you would see 100s of years old block-printed fabrics on display. Without being going into more pedantic details, we are of the view that block printing is sustainable. Moreover, it is a great example of slow fashion, that is creating items with long shelf life, items that stand the test of time.
Indian block-print indeed has stood the test of time. As gifts, they stand testimony to the love we share with our close ones.
Fabrics From Fabcurate
As we mentioned, Raksha Bandhan marks the beginning of the festival season in India. This is followed by Ganesh Chaturthi, Durga Puja, Deepawali so on and so forth till Christmas and New Year. Traditionally people in India would buy new clothes or furnishings for the home.  Unstitched fabrics from Fabcurate indicate loads of potential in terms of how would you want to beautify your life. So we thought the fabrics from here made perfect gifts.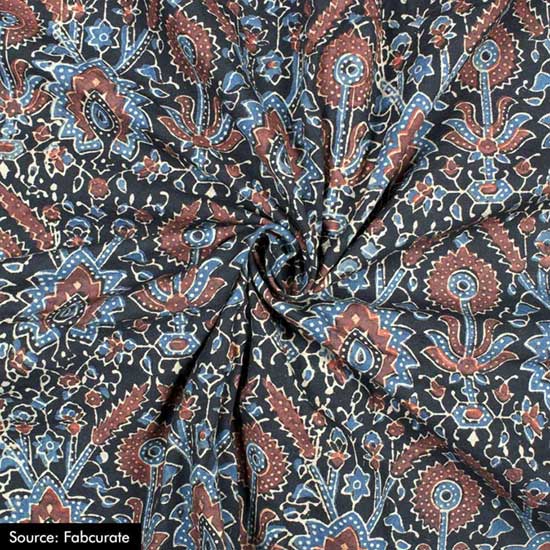 We are partial towards the bright yet subtle charm of block-prints. They have many other types of fabrics on their portal. The choice covers the whole gamut from the traditional handwoven Ikkat to modern quirky digital prints. The wide range assures that there is something for everybody.
Finally, Fabcurate is an e-commerce company. The advantage of that is we could shop from the comfort and safety of our homes. Moreover, given that they deliver all over the country, we could send our gifts to family in other cities as well. It gives us enormous happiness to say that the items were delivered within 2- 3 days of our order.
By shopping from Facurate we ticked many boxes. We could avoid the market crowd and shop from the safety of our homes. We could convey our best wishes through gifts to our loved ones not only in the vicinity but also across the country.
And most important, we could contribute our two bits worth by standing by the traditional block-print artisans of India. Yes, this fact can never be overemphasized, the crafts and the craftsmen need our support to survive.