Timpano – Italian Food Delivery in Delhi
Home delivery of food in Delhi has surged in the last year. But, when we think about Italian food in Delhi, we rarely think of ordering in. Would it taste good if packed? Timpano, The Pasta Shop, is doing Italian food delivery in Delhi NCR, and here is our experience.
How do we select our food? Sometimes it is just the ring!
Italian Food Delivery in Delhi
Recently, we wanted to eat fancy but did not feel like going out. During the course of little research, we came across Timpano, a food delivery service that was yet to complete its first anniversary.  We liked how the word Timpano sounded musical to our ears. But it appears that Timpano is a variation on an Italian pasta dish. Timpano, the food delivery, no points for guessing, had an Italian menu. That was the next thing that made us approach them for a full-blown non-Indian dinner.
We did things with a twist that evening. For the sake of variety, and an ode to all our vegetarian friends, we went vegetarian that evening. As a result, we had the following selection of items:
Vegetarian Italian Food Order
Penne with mushrooms and sundried tomatoes in Arrabbiata sauce
Three mushrooms risotto
Calzone – curried vegetables with jalapeno cheese
Potato wedges
Garlic bread with cheese
Tiramisu
Fudgy brownie with hot chocolate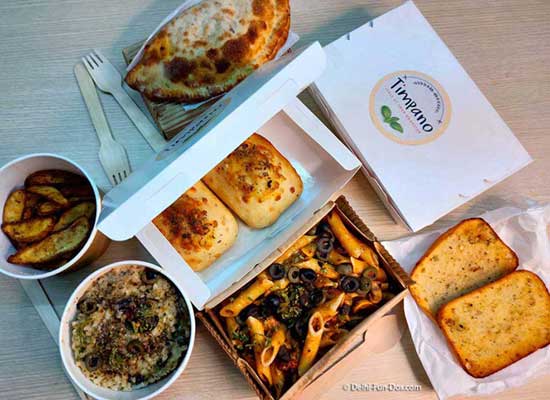 Not to sound overly laudatory, but from Pasta to risotto to Cheesy garlic bread, every dish tasted delicious. There is no way we can reduce any points from this kitchen. As we mentioned, the fare was all vegetarian, but we just did not miss the animal protein. The ingredients were fresh and nothing was overtly cheesy to mask the taste of the dishes. We requested additional green and black olives for our pasta and those were added generously.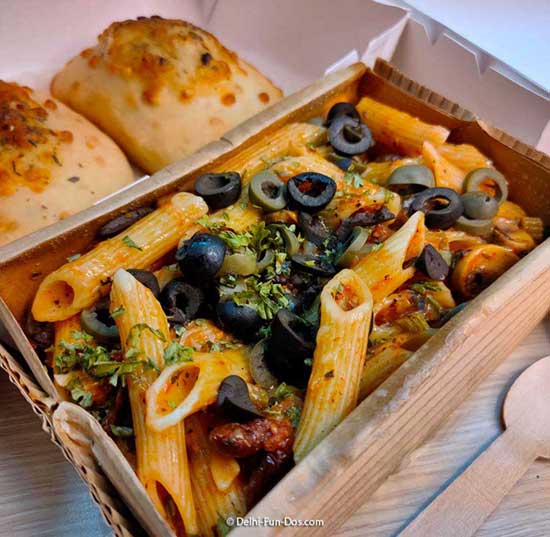 Calzone with curried vegetables can be any vegetarian's delight. Three mushroom risotto was simple, delicious, and cheesy. It was a favorite with kids at home. Potato wedges were just right to satiate our junk food craving on a weekend.
All-Time Favorite Desserts
We tried two desserts. Both were delectable. Tiramisu and brownie fudge were delights for us with sweet-tooth. The brownie looked so good, it almost made us cry.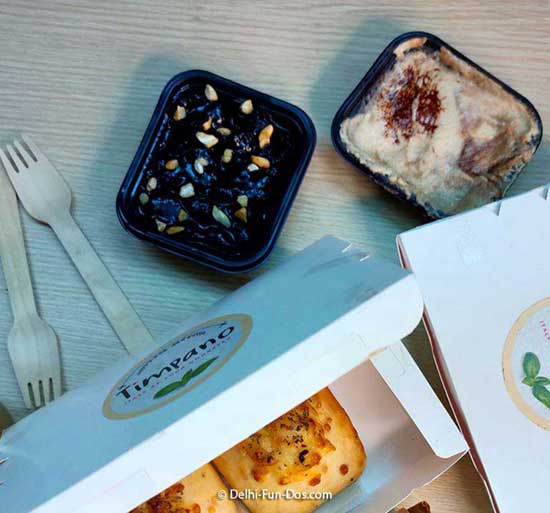 We weren't too sure if the food would taste as great when home delivered as it would taste when had freshly-cooked at the restaurant.  We stand corrected. Everything was mouthwatering even when packed and sent on a bike.
Packaging
This post would be incomplete if we do not mention the packaging. Apart from the desserts, all items were put in compostable packaging so as to minimise the pollution of Mother Nature. The cutlery that came with the food was wood too. The non-plastic approach was the way to go we thought!
And are we ordering again? Hell yeah!!
Also Read: Italian Fine Dining in Delhi 
Videos from around the world