UNESCO World Heritage Sites in Croatia
Some posts contain compensated links. Please read this disclaimer
for more info.
Croatia is among the top tourist destinations in Europe – it's a country rich in history, culture, and has some of the most beautiful islands in the world. Apart from over a thousand islands and islets on its Adriatic coastline, Croatia also boasts ten UNESCO World Heritage Sites that are not to be missed.
There used to be eight Croatia UNESCO World Heritage Sites up until 2017, when two more were added to the list, bringing the total to a round ten. In the meantime, another ten sites are currently being considered for inclusion in the UNESCO World Heritage Croatia list. For now, however, they remain on the "Tentative List."
We did include a handful of the most interesting ones of those at the end of this post, too, as they may well become actual UNESCO World Heritage Sites in Croatia in the near future.
This list of UNESCO World Heritage Sites in Croatia that are protected preserved, and identified as national heritage make great places to visit in fall (autumn) when the summer crowds have dissipated.
1. Stećci – Medieval Tombstones Graveyards

The newest addition to the list are the Stećci, the Medieval Tombstones Graveyards, which are also found in Bosnia and Herzegovina, Montenegro & Serbia. There are 30 sites, located in four countries.
So what are Stećci? They are cemeteries and regionally distinctive medieval tombstones. They date back to the 12th century and are carved from limestone. The Stećci feature a broad range of decorative motifs and inscriptions that represent iconographic continuities within medieval Europe as well as locally distinctive traditions.
Why Visit The Stećci?

In short, the Stećci are a tremendously important part of the local Balkan culture. The oldest ones dating to the 1100s, these monolithic tombstones are utterly unique in the world, only found in the this relatively small corner of Europe (although they are located in four different countries).
There are so special because this type of tombstone was used by all three medieval Christian faiths in the region—the Orthodox and Catholic Churches and the Church of Bosnia. On top that, their sheer volume—more than 70,000 of them—sets them apart from all other historical burial monuments in Europe as well. They're an intrinsic part of the Croatian heritage and culture.
2. The Old City Of Dubrovnik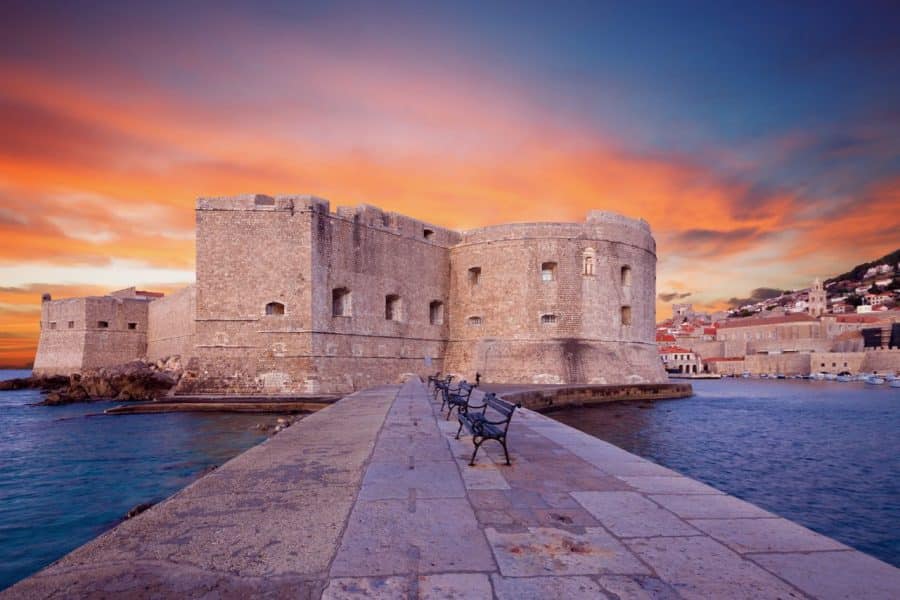 Considered to be the "Pearl of the Adriatic," the old city of Dubrovnik flourished when it became a center for maritime trade in the 15th and 16th centuries. Among the most popular places to visit in Croatia and established as a UNESCO World Heritage Site in 1979, Dubrovnik boasts a number of Gothic, Baroque, and Renaissance architectural monuments such as churches, palaces, and monasteries.
It is among the best-preserved medieval cities in the world, and the old town showcases the beauty of Croatian culture where the city walls can be enjoyed all year round. The Old Town of Dubrovnik is without any doubt one of the absolute top sites in Croatia to visit. Moreover, it's arguably also one of the world's most beautiful UNESCO World Heritage cities, topping any list of cities in Croatia to visit.
Why Visit Dubrovnik?

There are so many things to do in Dubrovnik such as visiting its vast number of Gothic and Renaissance structures such as the Sponza Plaza, and the Rector's Palace are worth the visit, as well as its impressive 2 kilometers of city walls along the coast.
Plus, you can head out of the Old Town Dubrovnik UNESCO site, and discover parts of this coastal city that not everyone sees. Here is a great 3-day Dubrovnik itinerary suggestion to get you started. Dubrovnik is a real gem and is one of those Croatia UNESCO sites you really won't want to miss. Not to mention it's the perfect starting point for a Croatia road trip!
3. Plitvice Lakes National Park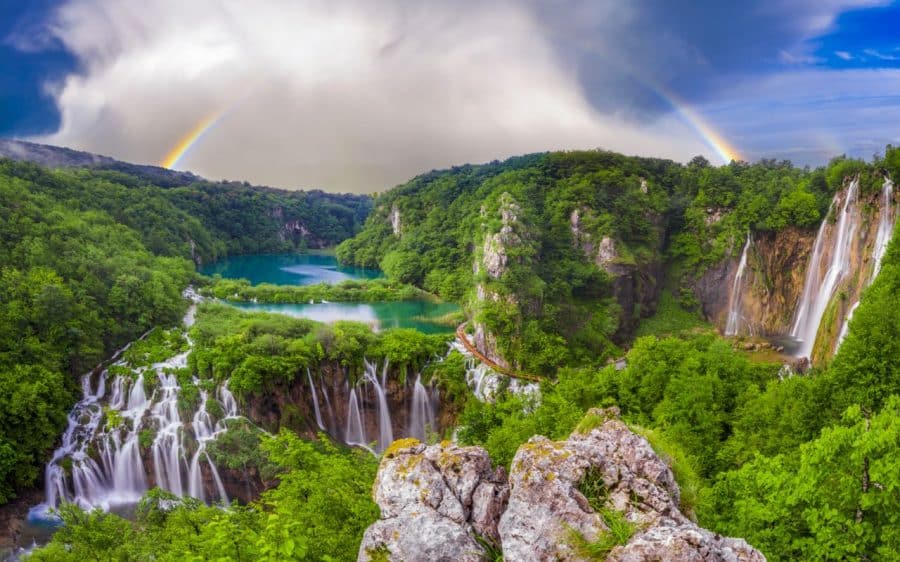 One of the two natural UNESCO World Heritage Sites in Croatia is Plitvice Lakes. The lakes, waterfalls, and formations in this national park were formed over thousands of years on its vast land of limestone and chalk. Enrolled as a UNESCO Heritage Site in 1979, Plitvice Lakes National Park is a beautiful area of lakes, and waterfalls that boast spectacular flora and fauna.
No swimming or water sports are allowed to keep the Plitvice Lakes thoroughly clean. The park is also home to rare species of birds, brown bears, and wolves.
Why Visit Plitvice Lakes National Park?

The 16 blue-green lakes that are separated by natural dams are absolutely breathtaking, with the colors changing along with the seasons. It's truly nature at its finest. This guide to visiting Plitvice Lakes will help you enjoy this extraordinary World Heritage Site.
4. The Historical Complex Of Split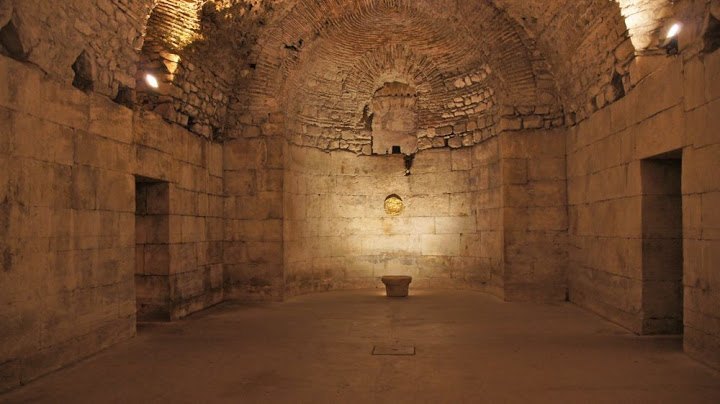 Established as a cultural Croatian heritage in 1979, the Historical Complex of Split is a massive 38,500 square meter area of Roman archaeological monuments. Built by then Roman Emperor Diocletian as his retirement palace in 300AD, its most distinct structure is Diocletian's Palace.
This is now an open-air museum that gets oooooh-and-aaahhs from every visitor who enters its doors. The Palace was built with stone from the island of Brač and is depicted on the back side of the Croatia 500 kuna banknote that was released in 1993.
Why Visit The Historical Complex of Split?

Walking inside the vast complex is like a trip back in time. Marvel in the well-preserved Roman structures that will take you back 2,000 years. Plus you can wander the halls and take in a Game of Thrones tour, and see the Palace as it was in the HBO TV show. This Split UNESCO site is one of the most magnificent historic attractions in Croatia.
5. The Historical City Of Trogir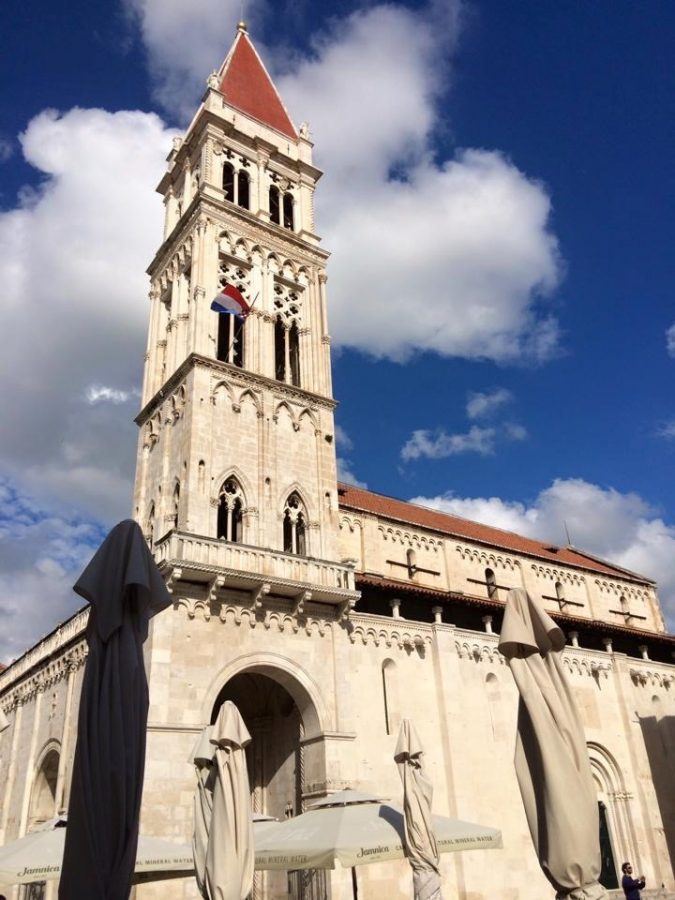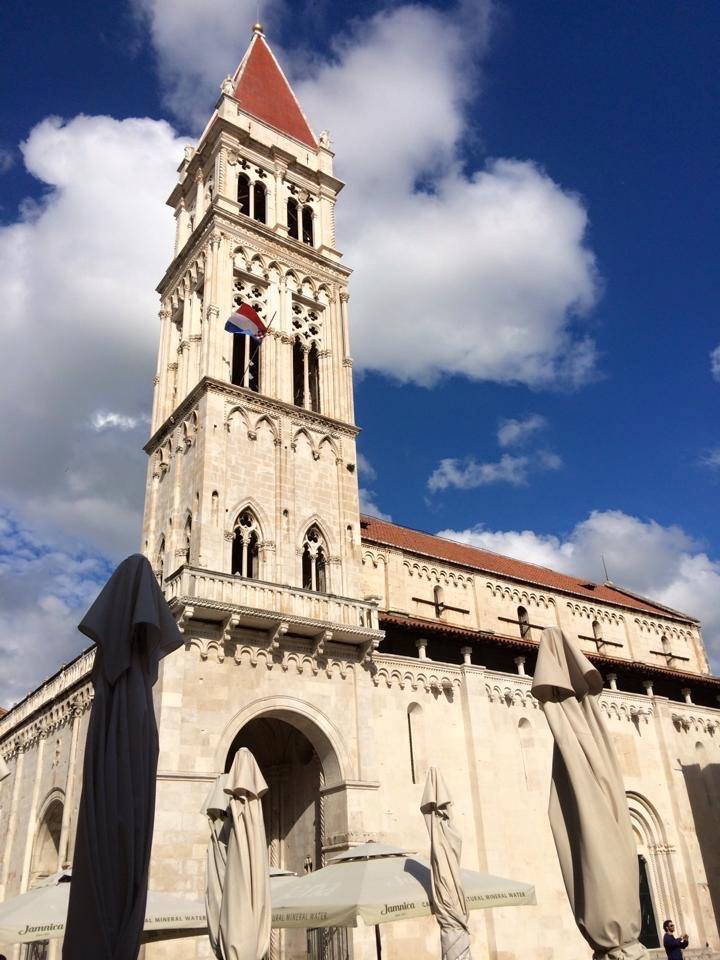 Home to one of the best structures of medieval architecture in Europe, Trogir, situated pretty much next to Split, boasts the best-preserved Roman-Gothic complex in Central Europe. Enrolled as a UNESCO World Heritage Site in 1997 due to its unparalleled beauty and cultural value, the Historical City of Trogir boasts a large number of palaces and churches.
Why Visit Trogir?

It is home to a large number of gorgeous Baroque buildings, Venetian-era Renaissance structures, and Romanesque churches such as the Church of St. Lovro – among the most important architectural buildings in Croatia. And Game of Thrones fans will enjoy the fact that this town is the backdrop of the Trading Harbor of Qarth. Trogir is undoubtedly one of the best heritage sites in Croatia.
6. The Episcopal Complex Of The Euphrasian Basilica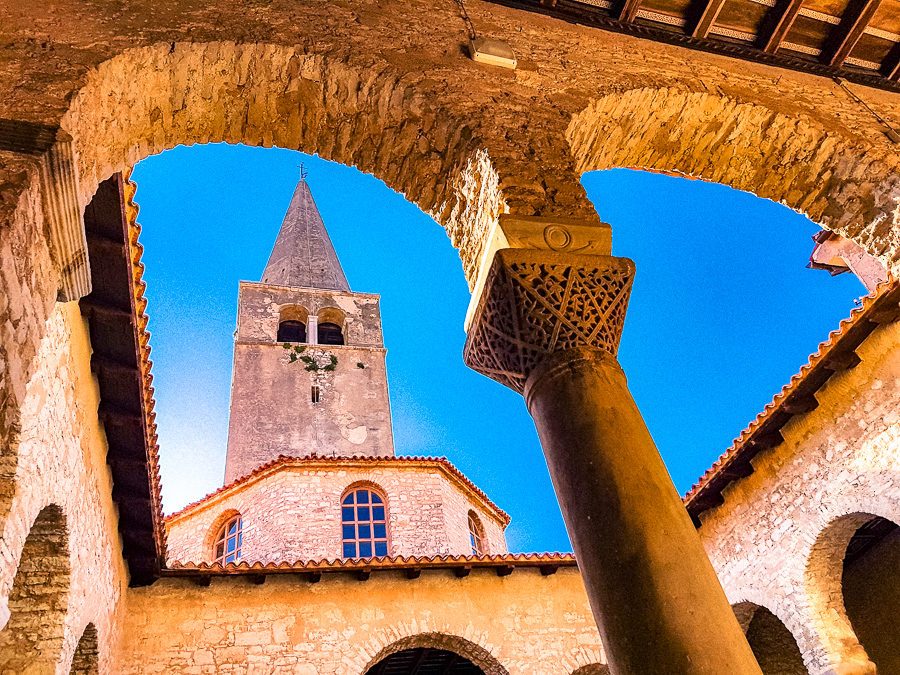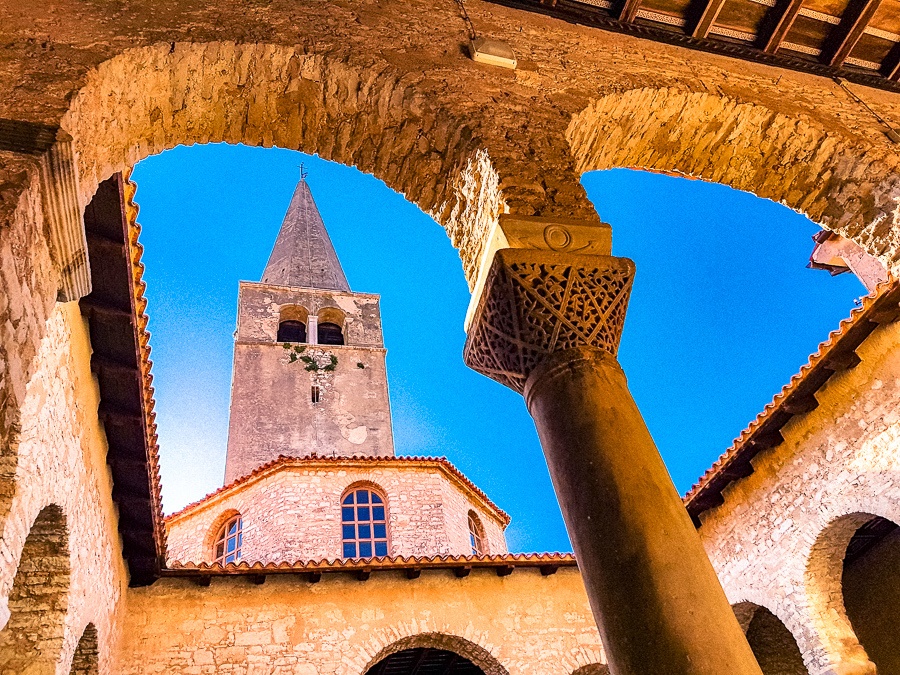 The most complete complex of its kind in the world, the Episcopal Complex was built in 313 and is among the best examples of Byzantine architecture and art in the world. Featuring a church, memorial chapel, atrium, baptistery, and episcopal palace, it's most outstanding feature has to be the beautifully tiled mosaic illustrations that glow like gold in the candlelight.
Why Visit The Episcopal Complex?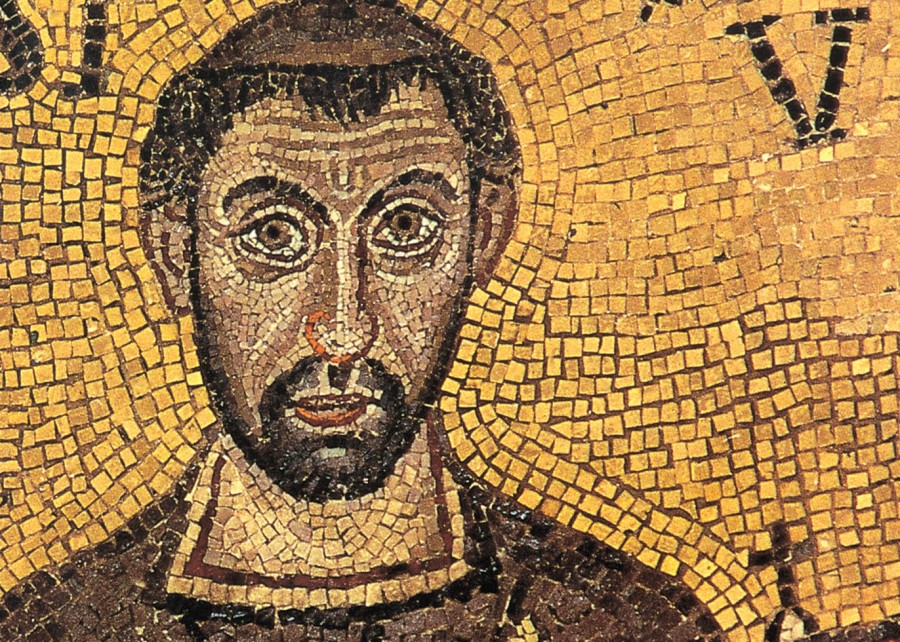 The Episcopal Complex of the Euphrasian Basilica is believed to be one of the founding places of Christianity. It's easily one of the top Croatia holy sites. Now, that's cool! Read more information on the important site of the Episcopal Complex.
7. The Cathedral Of St. James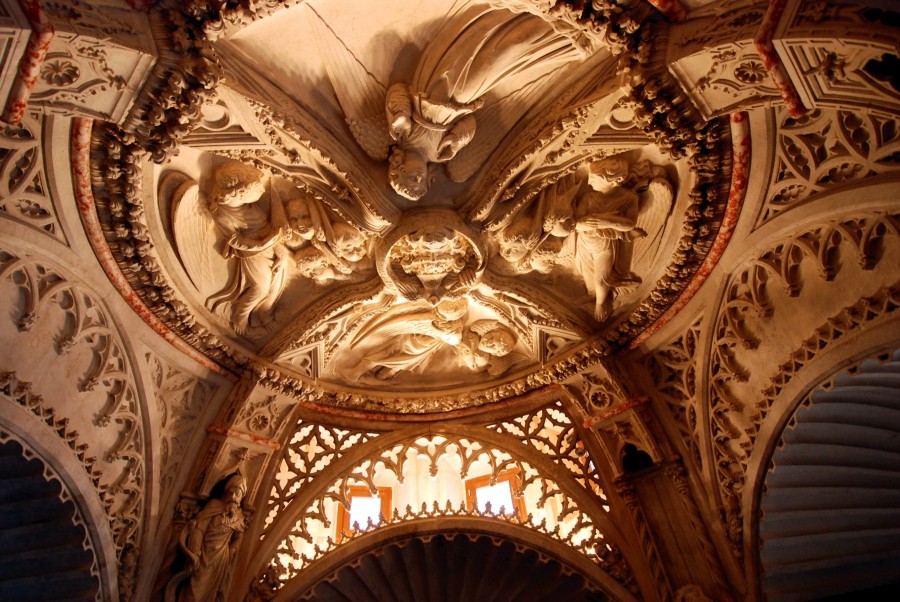 One of the Croatia World Heritage Sites since 2000, this Catholic church lies in the often overlooked town of Šibenik in central Dalmatia. The Cathedral is a magnificent example of a blend of architectural heritage from northern Italy, Tuscany, and Dalmatia. The most significant of architectural Renaissance monuments in Croatia, the Cathedral of St. James stands majestically over its many visitors.
Why Visit The Cathedral Of St. James?

The 71 highly individualized exterior frieze of men, women, and children, with different facial expressions, have never been identified and adds a mysterious air to this magnificent structure.
8. Hvar's Stari Grad Plain

Joining the UNESCO World Heritage list in 2008, Hvar's Stari Grad Plain has one of the best examples of ancient Greek agricultural systems in Croatia. Perhaps in the whole of Central Europe. The grapes and olives being grown on Stari Grad are still used today and remains in its initial form since the 4th century.
Why Visit Stari Grad Plain?

While the tourist hotspots are located in central Hvar, the Plain has often been overlooked but provides the perfect backdrop and educational destination for anyone who wants to discover an ancient agricultural system from thousands of years ago.
9. Ancient And Primeval Beech Forests Of The Carpathians And Other Regions Of Europe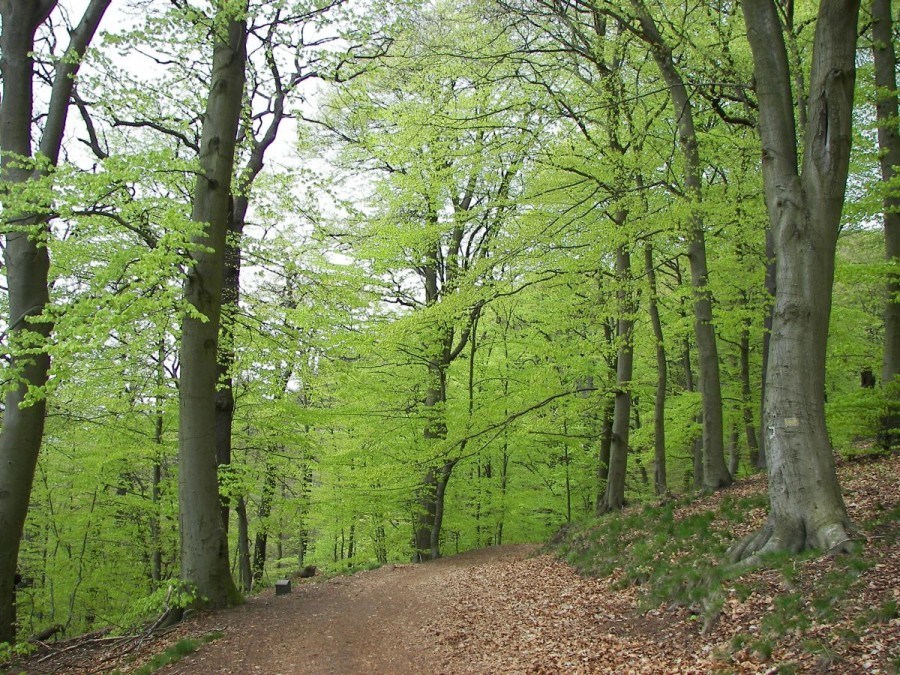 This serial and transboundary world heritage site stretches much of Europe, with sites in no fewer than twelve countries, from Austria and Belgium to Spain and Italy to Bulgaria, the Ukraine, and Croatia. Once covering vast tracts of the European continent, since the last Ice Age, the European beech forests shrunk to the few patches that remain now. This iconic forest type is typical of the continent, its protection more important than ever.
In Croatia, you can still find surviving areas of the once-mighty primeval beech forests of Europe in three places. Those UNESCO Croatia sites are Hajdučki I Rožanski kukovi in the Velebit National Park and two areas in Paklenica National Park (Suva draga-Klimenta and O glavinovac-Javornik).
Why Visit The Ancient And Primeval Beech Forests?

While most of the current forests in Europe are certainly beautiful, tranquil and amazing for casual walks and picnic, they're usually not authentic. They've been carefully managed for decades or centuries, sometimes even replanted.
If you do want to wander through an ancient, primeval forest in Europe, there are few places where you can do that. The sites that make up this critically important UNESCO World Heritage Site still allow you to experience what Europe once looked like.
10. Venetian Works Of Defense Between The 16th And 17th Centuries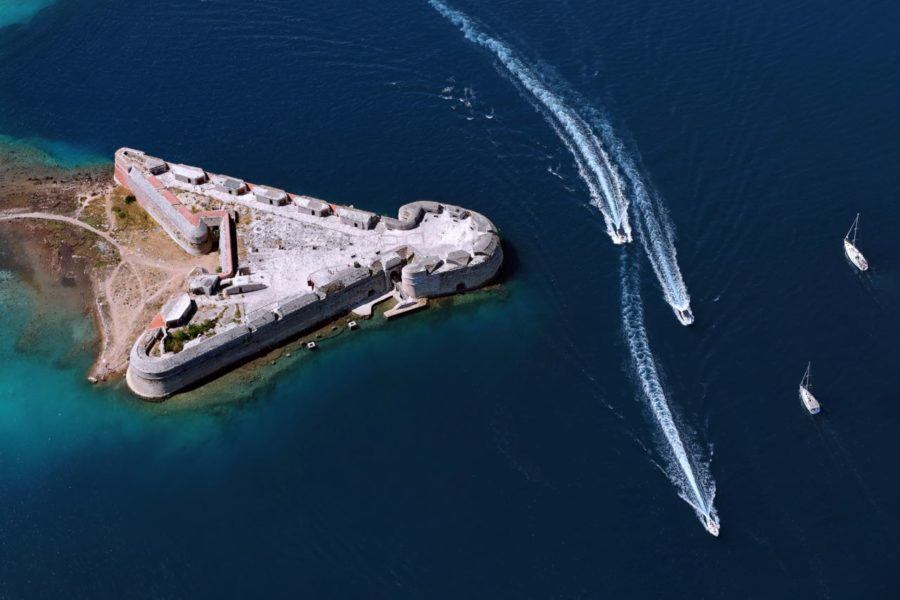 Added to the list of UNESCO World Heritage Sites in Croatia in 2017, the Venetian Works of Defense stretch out across three countries—Croatia, Italy, and Montenegro. The site comprises six different defense works, which extend for over 1,000 kilometers along the eastern Adriatic coast. Together, they made up the so-called 'Serenissima' in the 16th and 17th centuries, which is the most important era in the history of the Venetian Republic.
There are currently two Venetian Works of Defense in Croatia that are considered world heritage by UNESCO. The first one is the Defensive System of Zadar; the second is the Fort of St. Nikola in Šibenik-Knin County.
Why Visit The Venetian Works Of Defense?

To fully understand the might and power of the Venetian Republic in the 1500s and 1600s, it's important to see how they were able to defend themselves against a large number of enemies and invaders. This long series of fortifications, both inland and coastal, shows you how they did it. Some of these UNESCO World Heritage fortresses are among the most imposing buildings in Croatia.
Visit the fortifications of Zadar and/or the Fort of St. Nikola near Šibenik to learn more about maritime war, defensive tactics and what makes a good strategic location.
5 Interesting Tentative UNESCO World Heritage Sites In Croatia

In addition to the ten UNESCO World Heritage Sites in Croatia that already exist, another ten are being considered. This is UNESCO's Tentative List, which is filled with sites from all over the world that are potentially suitable to become world heritage in the (near) future.
Here are five tentative Croatia world heritage sites that are worth visiting. Note they all are popular tourist destinations already!
Velebit Mountain

Croatia's largest mountain, Velebit Mountain is a natural icon in the country. Part of the larger Dinarides mountain chain, which runs south from the Alps across Croatia, Bosnia, and Herzegovina, and Montenegro, this huge mountain is remarkable for its variety. Towering steeply over the landscape on its coastal side, it slopes gradually towards the Lika Plateau on its inland flank.
There are several mountain passes, a multitude of karst phenomena, freshwater reserves and about 90 different habitat areas. The entire mountain is so naturally valuable that was declared an International Biosphere Reserve in 1978. A designation as world heritage by UNESCO would, therefore, be no surprise.
Zadar – Episcopal Complex

The Episcopal Complex area that was proposed to be included in the list of UNESCO World Heritage Sites in Croatia lies in the historic heart of Zadar. This is a popular attraction in Zadar, located within the Old Town.
It comprises a number of historic buildings, including the iconic Roman Forum with its temple ruins; the Archaeological Museum; and the Episcopal Complex itself, which consists of the St. Donatus Church, the Cathedral of St. Anastasia and the Archbishop's Palace, among various other structures.
The history of Zadar dates back to Roman times. In the 1st century B.C., the settlement became a Roman colony, which resulted in a new lay-out according to Roman town planning principles with longitudinal and transversal streets that divided the town into rectangular building blocks and squares. What makes the Episcopal Complex so remarkable is that it offers an architectural timeline of Zadar's history, from Roman times to the Middle Ages and modern times.
Historical-Town Planning Ensemble Of Ston

Ston is a superb day trip from Dubrovnik, a collection of various cultural sites that, together, vie to be recognized as world heritage. And they do have a lot going for them. The area is famous for its extensive fortified town walls, but also its salt pans, historic villages, and natural areas.
Especially Mali Ston is a major attraction in southern Dalmatia, a fortified village at the end of the so-called Great Wall that was designed according to detailed town-planning rules. The construction of everything from the harbor and shipyard to the defensive structures and arsenal was well-planned and thought out.
Inhabited for thousands of years, the Ston area is a great example of how people influence, manage, change and preserve a landscape, all the while co-existing with other natural beings. It's this long history of inhabitation and a wealth of cultural heritage that makes this a strong contender to become one of the newest UNESCO World Heritage Sites in Croatia.
Lubenice

An ancient fortified town on Cres Island, Lubenice's roots lie an amazing 4,000 years in the past. Historically, it used to be a very strategic town, referred to in ancient times as Hibernitia (a winter settlement). Its ancient roots are proven by several archaeological finds, including a sarcophagus, Egyptian inscriptions and several other objects such as amphora, jewelry, and coins. It remained an important village well after the decline of the Roman Empire, into the Middle Ages and modern times.
Nowadays, Lubenice is a small local village with about 40 buildings and no more than 30 permanent inhabitants. It's its millennia-long history and several architectural attractions, however, that make it a great destination and a logical inclusion on the tentative list of UNESCO World Heritage Sites in Croatia.
Varazdin – Historic Nucleus And Old Town (Castle)

Another fascinating place that might one day be world heritage is the historic old town of Varazdin. This gorgeous Old Town is extraordinary in the sense that it features a collection of buildings of various ages, including medieval, renaissance and baroque. The proposed site includes the previously fortified inner town, the wide moat surrounding it and the fortified Old Town, sometimes also referred to as the Castle.
Varazdin is an architectural gem. Even when compared to other, larger and more famous towns and cities in the region, it firmly holds its ground. Particularly the Old Town, originating as a stone fortress in the 12th century and being transformed over and over again during the centuries, is exceptionally well-preserved.
If Varazdin ends up becoming the UNESCO World Heritage Site in Croatia, no one would be surprised.
Have you ever visited one of these UNESCO World Heritage Sites? Which was your favorite site?
Read more information on UNESCO World Heritage Sites around the globe as well as those on the UNESCO Tentative List. Beyond the buildings, there is also an incredible collection of intangible items on the UNESCO's Intangible Cultural Heritage list.
Croatia is more than just its highly popular island destinations; these 8 UNESCO World Heritage Sites highlight that Croatia is a country filled with historical and cultural heritage as well as outdoor activities to keep you busy all-year-round.
More Things To Do In Croatia
Check out these favorite posts to get you started:
Share