I was born in the UK, but I've spent a hefty chunk of my living in Georgia. Most of that time has been in and around Tbilisi, so I know what I am talking about.
I've tackled loads of tours in Tbilisi as well as loads of day trips from the place. So in this adventure-packed guide, I've brought you the best of them… I vetted all the tours in this list to make sure they're highly-rated. So now, all you have to do is book and enjoy!
Expect food, drink, ancient monuments, massive hikes, and even some Armenian adventures. Pack your passport, and come join the fun!
Here are the best Tbilisi tours for you!
Out Top Picks: Best Tours in Tbilisi
13 Best Tours in Tbilisi
1. Central Tbilisi Walking Tour
⭐️ Rating: 4.9 out of 5 Stars | ⏰ Tour Length: 4 hours
🎟️ Check Rates and Availability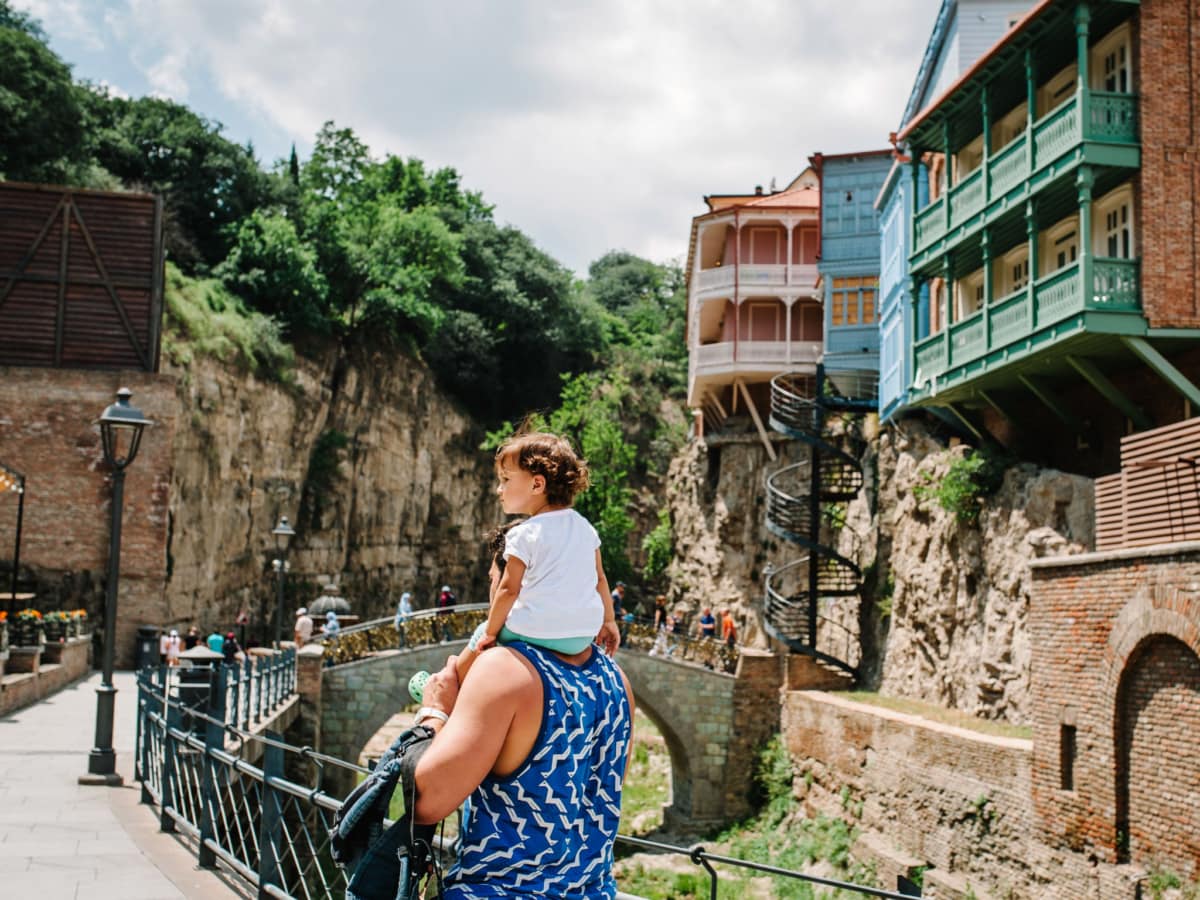 Alright, let's get started with a pretty standard (but also pretty brilliant) walking tour.
Like in any touristy city on the planet, you'll find loads of history-based walking tours in Tbilisi. But don't bother with the rest of them, cos this is the best by far.
Over a jam-packed 4 hours, you'll hit monuments, churches, lofty viewpoints, massive Narikala Fortress, and loads of famous (and not-so-famous) sites. And as you're wandering around, you'll learn loads of stuff from your guide… who'll cover history, heritage, people and places.
For an intro to Tbilisi, its people, its past, and how it is what it is, you won't find better than this tour.
Great walking tour! Tamuna was super knowledgeable, spoke perfect English and was happy to answer all our questions! We saw a lot of Tbilisi and everything was included (cable car tickets, lunch) which was very nice. Overall excellent value for money and we recommend this tour to everyone!

– Eleonora (Read more reviews)
⭐ Tour highlights: The futuristic Bridge of Peace, a weird and wonky clock tower, Narikala Fortress, massive Mother of Georgia, a steep cable car ride, the dome-roofed baths district, and the mosque-ish exteriors of Chreli Abano Spa. This one covers all the major stuff.
🗺️ Itinerary: You hit 19(!) major stops along the way… and you'll also cover some lesser-known places en-route. You start at a metro station, and finish in the baths district.
2. 9 Tastings – The Tbilisi Food and Drink Walking Tour
⭐️ Rating: 4.9 out of 5 Stars | ⏰ Tour Length: 4 hours
🎟️ Check Rates and Availability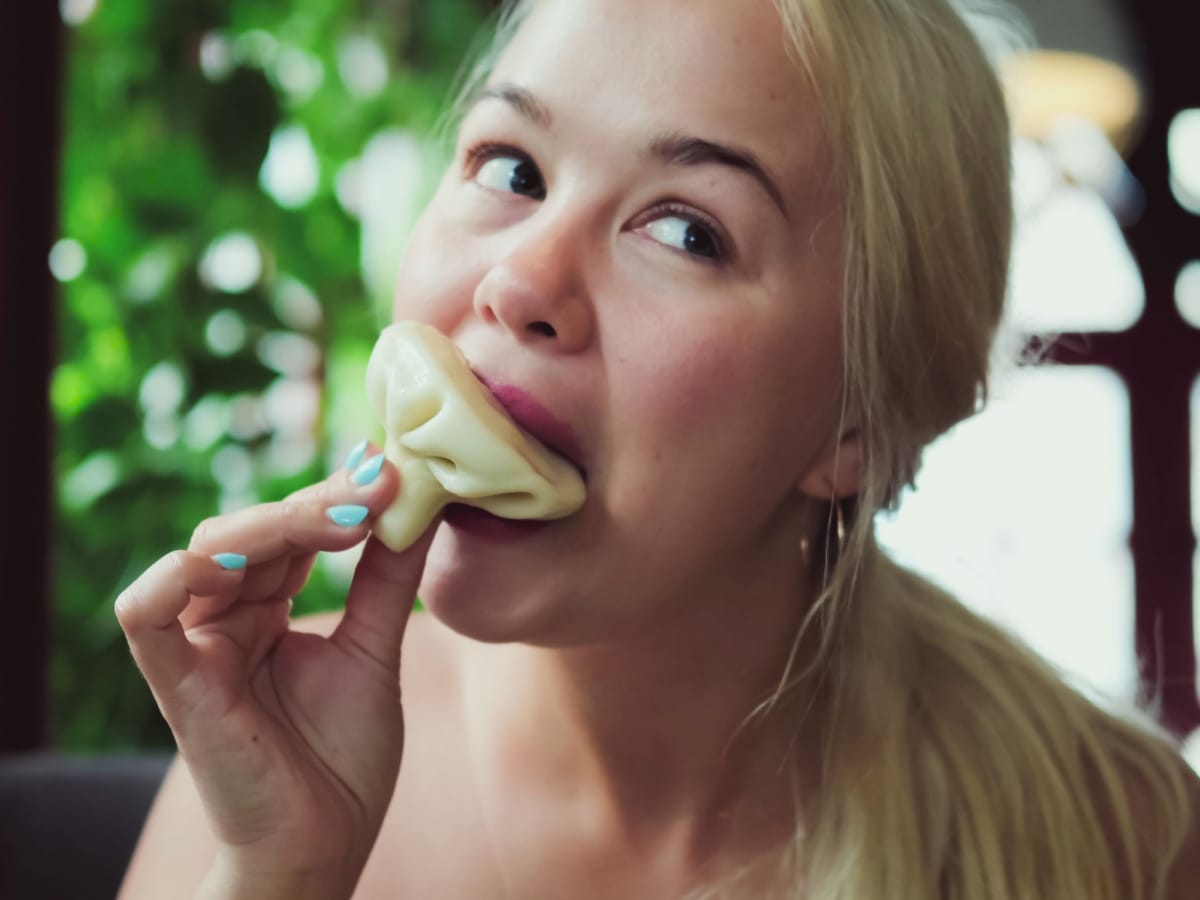 Another walking tour… but centered around food and drink rather than history and heritage.
Naturally, you won't see as much of the city on this tour—but you'll still wander through pockets of the central stretch while you chew and chomp your way around the place.
Here's how this tour works: for half a day, you wander through the city's old town… stopping at various eateries to chow down on snacks, meals and drinks. As you probably guessed from the name of the tour, you'll taste at least 9 different things, and they're all Georgian specialties.
There are loads of food tours throughout the city—but this is the best, the most popular, and the most impressive. I massively recommend it.
What an amazing experiece. Luka our guide was so informative re history,food and culture re Georgian life. Great to try all the diffrent food of Georgia,tradional and with a modern twist.He also explained history of Georgia and its people.If you choose 1 tour in Tbilisi make it this one!!! Fabulous.

– Lynne (Read more reviews)
⭐ Tour highlights: Local food and drink, eating your way around the city center, learning about the stuff you're munching on, and getting your mouth around some khinkali. If you're lucky, you might even see some of the food being made.
🗺️ Itinerary: You meet in the city center, next to a Dunkin' Donuts—and you also finish the tour there. During the tour, you'll hit a varied selection of eclectic eateries, including bakeries, diners, restaurants, and old taverns.
3. Day Trip to Armenia (including a Homemade Lunch)
⭐️ Rating: 4.9 out of 5 Stars | ⏰ Tour Length: 12 hours
🎟️ Check Rates and Availability
Tbilisi is closer to its nearby neighbor than most people expect—it only takes 90 minutes (by car) to reach Armenia from Georgia's capital.
This tour is handy because it lets you see all the highlights on a quick trip, without having to do any planning. And you also get to munch on some Armenian food, which is surprisingly different to Georgian stuff.
Over the course of 12 hours, you'll ride in private transport, hit three different monasteries, stop for some tasty treats, and get some juicy info on Armenian people and culture.
Our guide Catherine was extremely knowledgeable and helpful as we traversed into Armenia and back to Tbilisi for an unforgettable day visiting ancient monasteries, marveling at the ruins of old factories, and enjoying one of the best home-cooked meals I've ever had. Catherine was quite candid in answering every question asked, helping us understand the conflicts and history of the region.

– Steven (Read more reviews)
⭐ Tour highlights: Three monasteries (Akhtala, Sanahin, and Haghpat), a massive Armenian lunch, Debed Canyon, some Soviet sites, and the arid en-route views.
🗺️ Itinerary: You meet at Avlabari Metro Station in Tbilisi (where the tour also ends). Between the beginning and the end, you'll be driven between the three monasteries… and you'll stop at some other sites along the way. Tourists usually get to choose between various stop-off options.
4. Two Days in Armenia
⭐️ Rating: 5 out of 5 Stars | ⏰ Tour Length: 2 days
🎟️ Check Rates and Availability
If you want to get really knee-deep in some Armenian action, this is the tour for you. It hits a load of hotspots in two days of fun, it's a lot more immersive than the one-day option, and it saves you the hassle of having to organize anything.
Yeah, it's a little pricier than doing it yourself. But if you're short on time (which you probably are), it's definitely worth the money.
You hit three monasteries (one of them, Haghpat, is the same as one of the monasteries from the one-day tour), the impressive Sevan Lake, a load of Yerevan sights, and more. Along the way, you'll munch on plenty of local food, and you'll learn about local people, places, and culture.
If you're only in Tbilisi for a short time, this isn't for you. But if you're around for a while, I can't recommend this tour enough.
An excellent trip, and great value! Highly recommend if you want to experience Armenia while you are in Georgia. The stops along the way are interesting. Lake Sevan is incredible. In Yerevan, the cascade is really cool. George is an excellent tour guide, full of information, and very friendly.

– Nicole (Read more reviews)
⭐ Tour highlights: The massive (and massively beautiful) Sevan Lake, seeing all the Yerevan highlights, the old-school spa town of Dilijan, and getting loads of time to ask questions.
🗺️ Itinerary: You get picked up from your hotel to begin, and dropped off at your hotel when you finish. In between, you're driven to all locations by the tour team.
5. One-Day Caucasus Mountains Highlights
⭐️ Rating: 4.9 out of 5 Stars | ⏰ Tour Length: 14 hours
🎟️ Check Rates and Availability
Looking for mountains? This is the tour for you.
But here's a quick note, before we get to the juicy details: this isn't a particularly active tour. So it's a good idea for people who like looking at mountains and snapping photographs. But people who want to go hiking will probably find this a bit boring.
During the 14-hour trip, you'll hit a load of stuff, including tight curves, a big reservoir, ancient buildings, endless viewpoints, and a bunch of reckless drivers. It's a really affordable trip—for value for money, this tour is one of the best on our list.
This road (the Georgian Military Highway) is the most famous in the nation, and it's always a highlight of any Georgian trip.
This tour was worth every penny! George our tour guide was very fun, passionate and communicative and gave us a lot of helpful information. We got to experience some breathtaking views of Georgia and even though the trip is a bit tiring (because of its duration), it is a MUST when you visit Georgia!

– Kyriacos (Read more reviews)
⭐ Tour highlights: All the viewpoints, the Friendship Monument, Jinvali Reservoir, taking loads of photos, and the iconic Gergeti Trinity Church (possibly the most famous sight in all of Georgia).
🗺️ Itinerary: You meet at Rose Revolution Square (in central Tbilisi), you get driven up and down all the peaks and points of interest, then you get driven back to Rose Revolution Square. If you want to overnight in Kazbegi, the tour operators can help you to arrange it.
6. One-Day Kakheti Highlights
⭐️ Rating: 4.9 out of 5 Stars | ⏰ Tour Length: 10 hours
🎟️ Check Rates and Availability
Another rural day trip from Tbilisi. But instead of heading north to the mountains, this one takes you east to Kakheti, one of the most touristy parts of the nation.
While the area north of Georgia is all towering mountains and lofty passes, Kakheti is more about atmospheric towns, narrow streets, labyrinthine lanes, and charming pockets of village fun.
You'll see scenic towns (Sighnaghi, possibly the prettiest settlement in Georgia, is a big highlight), quaint valleys, and ancient buildings. And along the way, you'll chew and slurp on some local specialties. If you're looking for a cozy and romantic trip, you'll absolutely love this 5-stars excursion.
⭐ Tour highlights: The endless charm of Sighnaghi, freshly-baked Georgian bread, Bodbe Monastery, and eating lots of local food.
🗺️ Itinerary: You'll meet in central Tbilisi, and end your tour back at the same place. For the entire tour, you're driven around, and accompanied by your guide.
7. Half-Day Trip to Jvari and Mtskheta
⭐️ Rating: 4.97 out of 5 Stars | ⏰ Tour Length: 4 hours
🎟️ Check Rates and Availability
Sitting close to Tbilisi, it's the popular little city of Mtskheta.
This mega-historic place used to be the nation's capital. Some of its attractions are now official UNESCO sites…
… and on this tour of the city, you'll visit two of them (including the hilltop Jvari Monastery, which is the most famous by far).
This is a good option for people who don't want to spend too much time in a car—Mtskheta is only around 30 minutes away from Tbilisi, and it's the easiest and quickest day trip from the place. It's also a good budget option, cos tickets cost little more than what you'd spend on a mid-range Georgian meal.
Because you're not traveling for very long, you get plenty of time in Mtskheta… so you get some free time to wander around aimlessly and do whatever you fancy.
Our guide Givii was warm-hearted, knowledgeable, fun and with excellent English. The trip was well organised, we saw and experienced a lot – everything that we were promised we would in the literature. We were in a lovely friendly group comprised of international travellers. I would be happy to recommend this tour.

– Sadie (Read more reviews)
⭐ Tour highlights: Jvari Monastery, Svetitskhoveli Cathedral, and getting some free time to explore Mtskheta.
🗺️ Itinerary: You'll be picked up and dropped off in central Tbilisi, and driven to all the en-route locations.
8. Soviet Tbilisi Tour – Off the Beaten Path
⭐️ Rating: 5 out of 5 Stars | ⏰ Tour Length: 5 hours
🎟️ Check Rates and Availability
Another adventure inside the city, another walking tour.
This unique experience is different from most other walking tours. Instead of being centered around the standard touristy stuff, it takes you to some strange and surreal spots.
Tbilisi is brimming with a load of Brutalist architecture, post-Soviet sites, and retro relics. If you want to see the best of them quickly and conveniently (some of them can be hard to find), this is the best way to do it. It's a good choice for anyone interested in post-Soviet architecture, or just people who enjoy exploring alternative parts of a city.
And because it's way less popular than other walking tours, you'll be in a smaller group—so you'll get way more time to ask questions.
We loved our tour of Tbilisi with David. We got to see lots of locations outside of the city centre that we would have otherwise struggled to see, and David really brought them to life with his commentary! We had plenty of time to look around each of the stops and take pictures without feeling rushed, and at lots of the locations we were the only people there. We would 100% recommend this tour to anyone who wants to see a different side to this wonderful city.

– Jess (Read more reviews)
⭐ Tour highlights: Stalin's printing press, the bizarre monolithic viewpoint of the Chronicle of Georgia, and a rickety old bridge in a residential district.
🗺️ Itinerary: You get picked up from (and dropped back off at) your accommodation. You get driven to all three above-mentioned attractions (they're dotted around different parts of the city and its outskirts), along with some other en-route stuff.
9. Day Trip to Vardzia and Borjomi
⭐️ Rating: 4.79 out of 5 Stars | ⏰ Tour Length: 14 hours
🎟️ Check Rates and Availability
Before we get going, here's a quick intro to the two places you'll visit on this tour:
Vardzia is an ancient cave monastery site, which was inhabited between the 11th and 13th centuries. Carved from rock, it's a weird place, and sort of looks like a weird giant beehive.
Borjomi, meanwhile, is a rural resort-style town, famous for its low-level hikes, clean air, and for being the source of Borjomi water.
Over the course of a lengthy 14 hours, you'll hit both spots, see the town of Akhaltsikhe (which translates from Georgian into English as 'New Castle'), and wrap your eyes around the massive Khertvisi Fortress. A nice combo between beauty spots and old-school ones, this is a good pick for history lovers.
The experience was wonderful. Tamuna was our guidea and she did a great job of taking care of everyone in the group, from the most talkative to the lesser ones. She is also a great story teller, which makes the tour even packed with information but still super fun and memorable.

– Suri (Read more reviews)
⭐ Tour highlights: Traditional Georgian food at Akhaltsikhe, tasting Borjomi water from its source (spoiler alert: its eggy overtones are horrible but interesting), and extensively exploring the surprisingly-massive Vardzia.
🗺️ Itinerary: You get picked up and dropped off at Avlabari Metro Station, in central Tbilisi. During the tour, you get driven to all the places we've mentioned.
10. Khinkali and Khachapuri Cooking Class
⭐️ Rating: 4.1 out of 5 Stars | ⏰ Tour Length: 2 hours
🎟️ Check Rates and Availability
For foodies, this is the best Tbilisi tour we've brought you.
Khinkali and khachapuri are the two most famous Georgian eats by far. So just in case you haven't heard of them, here's a speedy (and saliva-inducing) introduction…
Khinkali are knot-topped dumplings filled with various tasty treats (but usually meat), while khachapuri is a heavy and hearty bready-cheese combo. Wherever you are in Georgia, you'll always see local people perpetually munching on them.
And in this cookery-class experience, you get to make (and eat) both of them, while also learning about their history, and their local variations.
Fantastic, truly "hands on" cooking class. Sometimes cooking classes are a lot of watching, whereas this one was a lot of doing. Instruction was so good, will actually try to make Kinkali when I return home.

– Steven (Read more reviews)
⭐ Tour highlights: Getting to taste what you've made, asking questions about local cuisine, and doing something hands-on.
🗺️ Itinerary: You make your own way to the meeting point, you prepare and cook some food, then you leave.
11. Day Trip to Chiatura ('The Georgian Chernobyl')
⭐️ Rating: 4.75 out of 5 Stars | ⏰ Tour Length: 10 hours
🎟️ Check Rates and Availability
Let's get one thing out of the way: calling Chiatura 'the Georgian Chernobyl' is massively misleading.
It's not the home of a massive nuclear disaster. So you're not gonna take some harrowing horror-tour when you're here.
Instead, it's just a weird post-Soviet town. Once a massive mining hub, it's now partially derelict and dilapidated—but it's charming and friendly, and it's still a functioning town.
Built on either side of a deep gorge, the town is most famous for its public-transport cable cars, which locals use to get around the place. Up until recently, these cars were still from the 1950s, and hadn't been modernized or updated since they were built…
… but they've now been updated—which means the place isn't as exciting as it once was. But it also means there's less chance of being hurt here, and that's always nice.
On your tour, you'll ride the new cable cars, nab views of the gorges and valleys, see a load of post-Soviet architecture, and wander around one of the strangest towns in Georgia.
And as a nice bonus, you'll get to visit the iconic Katskhi Pillar. Sitting close to Chiatura, one monk lives alone in this bizarre atop-a-pillar monastery. You've never seen anything like it.
It was really a great experience and I enjoyed the trip to the maximum. The tour guid Alex was super kind, experienced and had great knowledge about the region and history. It was really a memorable day and I would definitely recommend this trip again.

– Shereen (Read more reviews)
⭐ Tour highlights: Cruising in lofty cable cars, exploring one of the oddest places in Georgia, and gawping at the genuinely-unusual Katskhi Pillar.
🗺️ Itinerary: You'll get picked up and dropped off in central Tbilisi (or at your hotel, if you book a private tour). In between, you'll be driven and walked around Katskhi Pillar and Chiatura.
12. David Gareji and the Rainbow Mountain: a 4WD Tour
⭐️ Rating: 4.78 out of 5 Stars | ⏰ Tour Length: 10 hours
🎟️ Check Rates and Availability
David Gareji is another strange ancient cave town, sort of like Vardzia (which you'll remember from a few entries ago). An old monastic complex, it's possibly the most well-known tourist attraction in eastern Georgia, and it sits right on the border with Azerbaijan.
The place sits close to the so-called 'Rainbow Mountains' (also known as the 'Red Mountains'), some stripey behemoths that lie close to a lake.
On your 4WD tour, you'll hit up the mountains and the lake, and ride off-road through some of the most unusual landscapes in eastern Georgia.
Some parts of the David Gareji complex are currently closed, because of a (safe) border dispute between Georgia and Azerbaijan. But there's still plenty to wander around, and it's definitely still worth visiting.
Absolutely loved the trip! Oksana was a perfect guide! Everything was organized so well and I really had a good time. Be ready for a good hike, but the views worth it 100%. I took so many beautiful photos. Overall great experience and I would highly recommend taking the tour with this company.

– Maryna (Read more reviews)
⭐ Tour highlights: lnsights into David Gareji, speeding around in a 4WD, and the little easy hike around the perimeter of Mravaltskaro Lake.
🗺️ Itinerary: You'll get picked up and dropped off in central Tbilisi. The rest of the time, you'll be driving and walking with your guide. And on the way back to Tbilisi, you'll be taken to a great local restaurant.
13. Juta Hiking Tour
⭐️ Rating: 4.6 out of 5 Stars | ⏰ Tour Length: 1 day
🎟️ Check Rates and Availability
Juta is the best and most beautiful hiking area you can feasibly visit in one day from Tbilisi. A village sitting in a valley east of Stepantsminda, it's absolutely tiny… and it's much less touristy than places like Stepantsminda and Gudauri.
And this tour takes you to it (and to lots more great stuff).
The hike itself isn't particularly long—it takes around 3 hours. So hardcore-hiking-lovers might find this one a bit short and dull. But even though the trip is relatively short on walking, there's loads of stuff to enjoy.
On this full-day tour (it clocks in at a total of 14 hours), you'll hit viewpoints, tiny settlements, brilliant snack spots, and some of the most scenic places in northeastern Georgia.
For scenery, this is the best Tbilisi tour on our list—and there's a massive amount of stuff crammed into the day.
This is an excellent tour and Archil was a great and patient tour guide. The scenery is spectacular and well worth taking a break from your visit to Tbilisi.

– Daphne (Read more reviews)
⭐ Tour highlights: Hiking to Gveleti Waterfall, Gveleti Waterfall itself, views of Gergeti Trinity Church, driving along the Georgian Military Highway, and munching on some food at the Rooms Hotel in Kazbegi.
🗺️ Itinerary: You get picked up and dropped off in central Tbilisi. During the day, you'll drive up and down the long road of the Georgian Military Highway, stopping off at Kazbegi, Dariali Gorge, Gveleti village, Juta village, and more.
Final Thoughts on the Best Tours in Tbilisi
Alright, that's us done! Thanks for day-tripping around with us—they're the best tours in (and from) Tbilisi.
For more information on Georgia's lovely lovely capital, check out our guides to all the best places to visit in Tbilisi, the best hotels in Tbilisi for solo travelers, and the best luxury hotels in Tbilisi.