Paragliding, a dangerous adventure sport, is said to inspire a wide range of feelings as you soar through the air. The adventure sport has developed over the last ten to fifteen years from a nominal to a well-liked adventure activity in which everyone wants to partake. In India, Paragliding has only recently gained popularity. India is a country that is fortunate to have a variety of cultures, cuisines, landscapes, pilgrimage sites, historical monuments, and locations where adventurous sports can be enjoyed. The one we are most interested in is paragliding. The best places to do paragliding in India are beautiful.
Paragliding is your best option if you want to soar through the air like a bird and watch as everything shrinks beneath you. It is one of the most well-liked adventure sports and guarantees a safe and enjoyable experience. To top it all off, it is secure and handled by professionals with all necessary safety measures. India is home to many such locations that provide breathtaking paragliding opportunities. There are many best places to do paragliding in India.
Let's explore some of India's best places to do paragliding.
Top best places to do paragliding in India
Nainital

Paragliding is available in Nainital, famous for its lakes, at altitudes up to 2000 meters. You may paraglide in Nainital at places like Naukuchiatal and Bhimtal. This hill station appears to be one of the top paragliding locations in India, with lovely lakes beneath the flyer. You can choose between a low flight for 15 to 45 minutes, a high flight for 15 to 10 minutes, or a regular flight for 3 to 10 minutes. Bhimtal and Naukuchiatal have launch pads. Visit between March and June and between October and December. It is one of the best places in India to go paragliding.
Ranikhet

In recent years, rafting and Rishikesh have come to be synonymous. This sacred hill station is a hotspot for young adventurers because of its world-famous white-water rafting. However, Ranikhet, 120 km away, is ideal for people wishing to paraglide in Rishikesh. Here, a variety of operators provide parasailing and paragliding excursions. Consider staying here for a long weekend to partake in both of these things. Don't worry about the cost, and be ready to experience the best at well-known locations in India because paragliding is relatively inexpensive in India.
Shillong

One of the best places to do paragliding in India is Scotland of the East, Shillong, and Meghalaya. While paragliding, one may take in panoramic views of the lovely city. From a great height in the air, the lush green surroundings provide breathtaking views. Shillong becomes one of India's busiest paragliding locations in the summer when the temperature rises only slightly, the sky is clear, and the wind blows just so. Additionally, a vacation to Shillong would be an unforgettable experience if you enjoyed the adventure! Make travel plans shortly. The top service provider in this area is Meghalaya Paragliding Association. The ideal months are from September to April.
Gangtok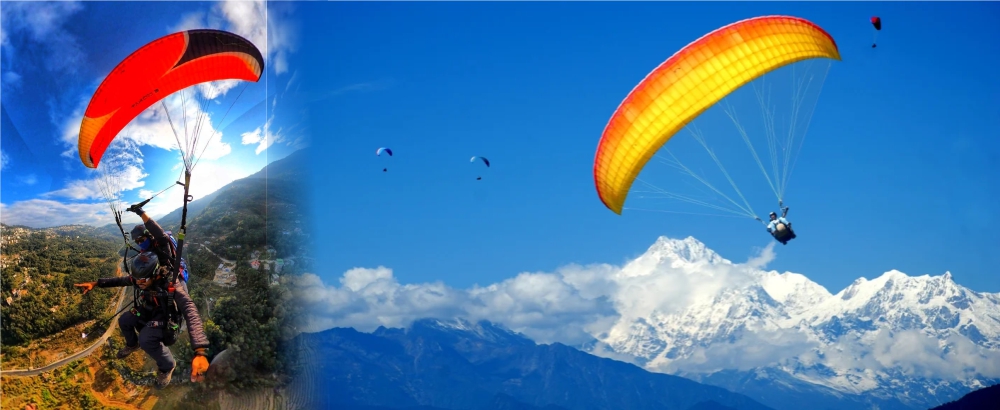 Try paragliding in Gangtok if you're traveling to the northeast and are seeking adventure activities. As you soar high in the air, take in the breathtaking vistas of the Himalayas and the lush surroundings below. Impressive is the view of the hamlet tucked away amid the enormous Himalayas. To ensure you have the best paragliding in India, the operators in Gangtok offer flights and do not need any prior training. Enjoy your flight in the air! On their travels, adventurers often combine paragliding and rafting.
Pavana

The best places to do paragliding in India may be in Pavana, also known as Pawna, which is in Maharashtra. You can travel the paragliding route to discover western India's splendor, including the Pavana Lake, historic forts, and many other unique locations. Countless other daring adventures are also available here.
Manali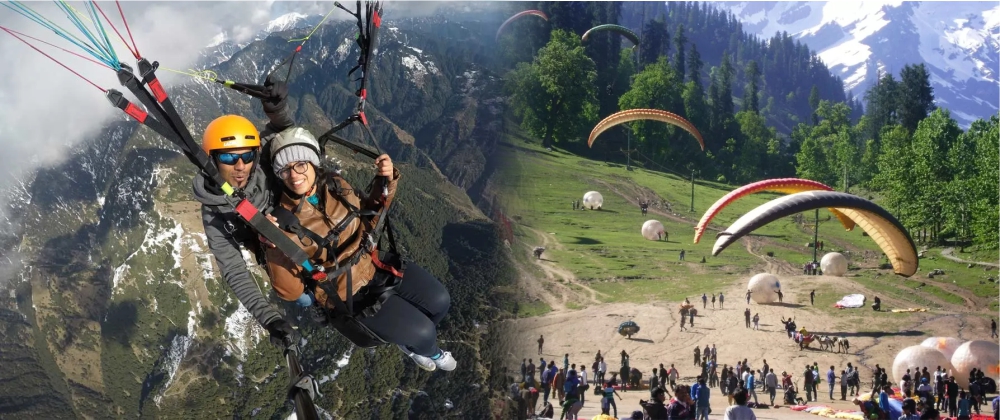 Manali, a stunning valley in the middle of the Himalayas, is one of Himachal Pradesh's top tourist destinations. The village is between 5500 and 6000 feet above sea level, making it the perfect location for paragliding flights. The panoramic splendor is made even more stunning by the area's paragliding thrills. During an hour-long paragliding flight, you can take in the picturesque Himalayan scenery and countless meadows and water bodies. Except during monsoon season, the adventure's finest months are February, March, and May to October. Plan camping, walking, and paragliding in Solang Valley for a complete adventure experience.
Sanasar

Sanasar, a stunning paragliding location in Jammu, has much to offer. One of the most picturesque places for paragliding is located around 19 km from Patnitop and is surrounded by conifers. Flying like a bird surrounded by the snow-covered Himalayas is heavenly. A high-flying ride will give you 20 uninterrupted minutes of pure bliss in the Himalayas, while a low-flying ride will land you in lovely meadows. Packages for paragliding in Jammu and Sanasar include camping, meals, and instruction.
Nandi Hills

The stunning hill station, which is close to Bangalore, is pleasing to the eye. The area has many flat spots for landing around hills and is about 1400 meters above sea level. In this region, paragliding is highly well-known and is a must-do activity. For young adventure seekers from Bangalore and Hyderabad, it has recently grown in popularity as a paragliding location. The best time to paraglide here is all year long, except for monsoon season, and the journey to the take-off points is scenic. It is indeed one of the best places to do paragliding in India.
Vagamon

The stunning hill station in Kerala's Idukki district is a paradise for thrill seekers. This location is perfect for paragliding because summer midday temperatures range from 10 to 23 degrees Celsius. Tandem flights are feasible because trained pilots are readily available.
Mussoorie

Lakhamandal on the Yamunotri is around 60 kilometers (2 hours) from Mussoorie, while the take-off site is 20 km away. If you want a zen-like experience, choose a flight that lasts between two and one hours. Anytime is a good time to paraglide in Mussoorie, barring the monsoon. Mussoorie is one of the best places to do paragliding in India.
Paragliding Do's and Don'ts
Do's
Make sure it is clear before the flight by checking the weather.
Fly on an empty stomach
Wear a helmet, and check your safety gear, including your harness and parachute.
Put on relaxed, breathable attire.
Relax and mentally prepare for a free-flight adventure.
Don'ts
Do not frighten
Avoid flying in rain or severe gusts, and ensure your harness straps are fastened.
Take no less than 18-year-olds with you
Stay within the weight limit.
Is paragliding safe?
Yes, paragliding is a safe activity.
What is the weight limit of a person for paragliding?
The weight limit of a person for paragliding is not more than 120 kg.