This is one more for Kolkata.
A trip to Kolkata, more often than not, is all about soaking in the old world charm. Like the tramcar and the yellow Ambassador taxi. Most of the cafes in Kolkata that we have reviewed are traditional with n number of years of heritage behind them. While walking to one of these cafes, Rao's Udupi, we spotted another smart-looking space from outside. Done in a rather Parisian street-side style, this café looked cool yet unassuming.
Café By The Lane, Southern Avenue
In parity with the first impression, Café By The Lane, or CBTL, is a very matter of fact name for a hospitality establishment. By the look of it, it could not have been very old. We do not recall seeing this café during our last trip to Kolkata when we had passed by this lane. This actually is the southern and more modern part of Kolkata. No wonder this area throws surprises almost every time we are here. In fact, friends from the city tell us that South Kolkata cafes are the latest hangout joints in this metropolis.
The menu at CBTL is thankfully not very long. Moreover, we found the menu to be predominately continental with a host of beverages on the side. We ordered roasted pork as the main dish. The sweetish flavoured pork slices were served with mashed potatoes, boiled peas and corns and garlic bread. The dish was tasty and with a balance of protein, carbohydrate and fibre, a complete meal.  Brownie points to the chef for getting the mashed potatoes just right – without any lump.
We ordered a brownie and coffees Affogato and Americano by way of completing the meal. They also had many fancy tea infusions. The descriptions were exotic and although we did not order, they looked so beautiful while being served on other tables.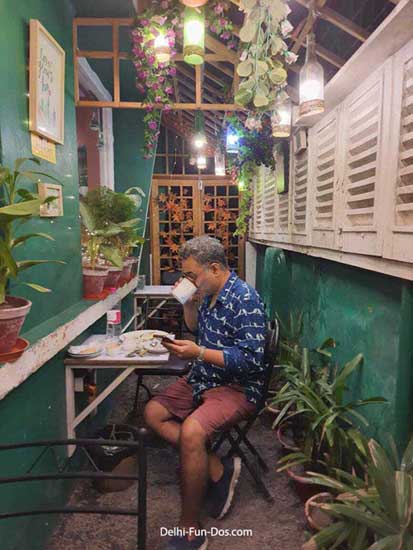 Café by the Lane ambience
The café is not very big. However, the size has lent this café a sense of cosy comfort. The décor comprising a faux London telephone booth, a piano, books and other European memorabilia gives the place a quaint modern kitsch look. They have a few tables in the passage outside and if you want privacy, that's your spot. The indoor space is air-conditioned and the outdoor tables have fans. While the café has a distinct décor style, it does not create a sense of pretence nor interfere with the dining experience. The staff serves with a smile, and that nicely rounds up the experience.
How to reach Café By The Lane
Café By The Lane is located on Lake Terrace, off Southern Avenue. There is a famous Sai Baba Mandir in this area and the café is virtually opposite. India's first metro rail service was introduced in Kolkata and this place is about 10-minute walk from Kalighat station. This place is also serviceable by radio taxi services or Kolkata's iconic yellow taxi.
However, we suggest you can couple your visit to CBTL with a ride on the unique tramcar in Kolkata. You should get down at Deshapriya Park and then it is just a few minutes walk from here. The location of the café is available on Google Maps.
Other attractions near Café By The Lane
Café By The Lane is adjacent to the Rabindra Sarovar. This is a huge waterbody, commonly known as the "lake" in Kolkata. This area has been beautified in the last decade and a walk beside the lake is sheer bliss. There are many benches on the lakeside. This zone is perhaps the most romantic spot in Kolkata.
Birla Academy is located just beside the lake. It is an institution with art galleries and theatre halls. They have a huge monolithic statue of Krishna installed on the lawn. The statue is called Mangal Madhav. It is a very enchanting form where the divine flute is stuck on Krishna's waistband. Mangal Madhav is worth a standalone visit to this area.
If you are here, you are also very near to Gariahat Market, one of the oldest and expansive markets of Kolkata. Be it Bengal cotton saris, kurtas or dhotis or an assortment of Bengali sweets, this market has it all. There are hundreds of shops here and it could take you the whole day. It does make sense to fuel yourself up before or after the shopping expedition.
Good option during Durga Puja in Kolkata
Try this café in between other activities in South Kolkata such as shopping, walk at Rabindra Sarovar and so on. Given that this café is a little isolated, it may be a great option during Durga Puja when every place is overflowing with diners in Kolkata.
Lastly, we realised that this place does not have a lot of seating capacity. However, they have table reservation facilities so go ahead and use that.
Videos from around the world