We may earn commission from affiliate links →

Few places in the world feel as immersive as Ephesus, Turkey. In 2015 Ephesus ancient city was added to the UNESCO World Heritage List – an impressive list to be on!
As lovely as visiting a museum or even walking through a regular open-air museum, not many of them allow you to immerse yourself entirely in history. Ephesus does offer that and more.
At this ancient site, you might feel like ghosts from the past are watching you or that the wind, which occasionally and very randomly whips up out of nowhere, really is the past reminding you that this place is still very important, even today.
Located near Izmir, just outside of the town of Selcuk, Ephesus used to be an ancient port city. You might hear the word 'ancient' and assume it's in bad condition, but upon walking into the excavation zone, I challenge you not to let your jaw drop.
The vast theater is easy to walk around and explore. You can look down at the central "stage" and imagine gladiator fights happening right before you.
This remarkably preserved site is still being discovered and unearthed, showing you a full-scale city that once was the most important in the Greek Empire. Throughout the entire Mediterranean area, Ephesus was the epicenter of everything, and even though many tried to conquer it, the city remained standing.
These days, Ephesus is not only an essential open-air museum, but it's also a pilgrimage destination for Christians. Ephesus is mentioned several times in the Bible, and additionally, it's also the last resting place of St. John.
About Ephesus
First things first, do not be fooled into thinking this is a small site. You will need comfortable shoes, light clothing, sunscreen, a hat, and plenty of water. Ephesus is HUGE.
You could easily wander around the area all day and not get bored. When you turn one corner, you think you've seen it all, only to see another Roman road heading in another direction.
The History Of Ephesus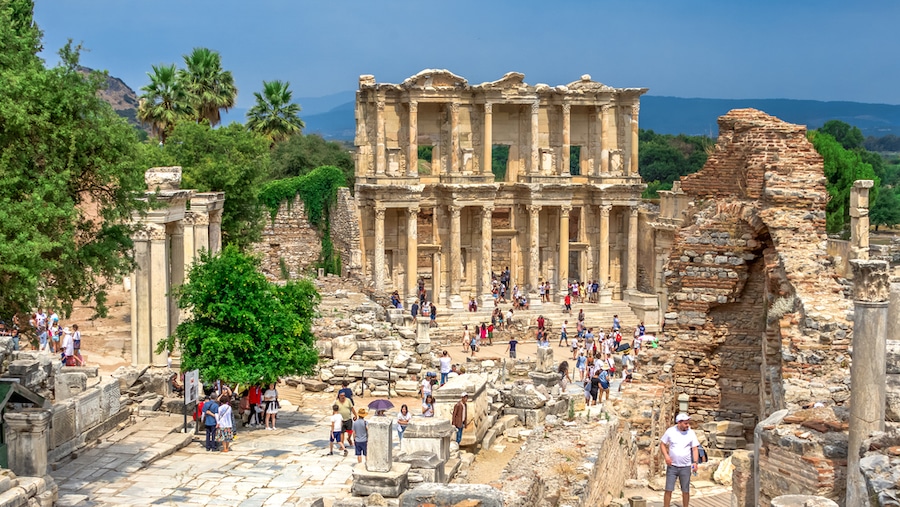 Before you visit Ephesus, it pays to read up on the history so you can truly appreciate what you see. You'll find signposts everywhere, and informational stands where you can find out more but having a bit of knowledge beforehand will take your visit to the next level. 
Although Ephesus is in modern-day Turkey, it was originally an ancient Greek city of enormous importance. The city was founded in the 10th century BC and was later taken control of by the Romans in 129 BC. This is when Ephesus' time really came to fruition as the city grew, becoming a bustling and massive place with strategic importance close to the Aegean. At its peak, it is thought that around 50,000 people lived in Ephesus. 
Much of the architecture you'll see today was built by the Romans, including the famous Temple of Artemis and the vast Ephesos theater, which is in perfect shape, considering its age! In its heyday, the amphitheater could hold around 25,000 people and many gladiator battles took place there and drama shows. The Temple of Hadrian and the Library of Celsus were also prominent buildings constructed by the Romans. 
The city moved into Ottoman Rule between 1304 – 1425, and during this time, the city slowly declined. 
The history of Ephesus is rich and diverse, and there is a lot of religious significance too. Many important figures in religious history are said to have visited Ephesus, and the House of the Virgin Mary is said to be where the Virgin Mary spent her last days. 
Best Time To Visit Ephesus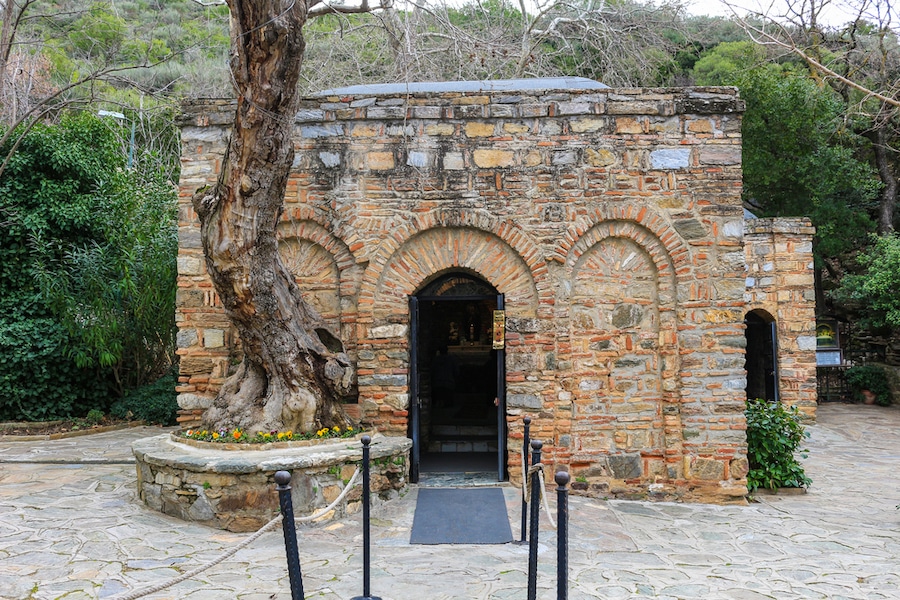 Additionally, it's also worth mentioning that it might be a good idea to try and avoid the peak summer months if at all possible. Ephesus is one of Turkey's most popular sites, and its close proximity to many beach resorts means that day trips are totally doable.
This means large crowds of summer day-trippers. And groups and heat do not make for the most enjoyable day!
May, June, late September, and October are ideal, and if you're visiting during the winter months, head over on a sunny day to enjoy a far quieter experience in this stunning ancient city.
What To See At Ephesus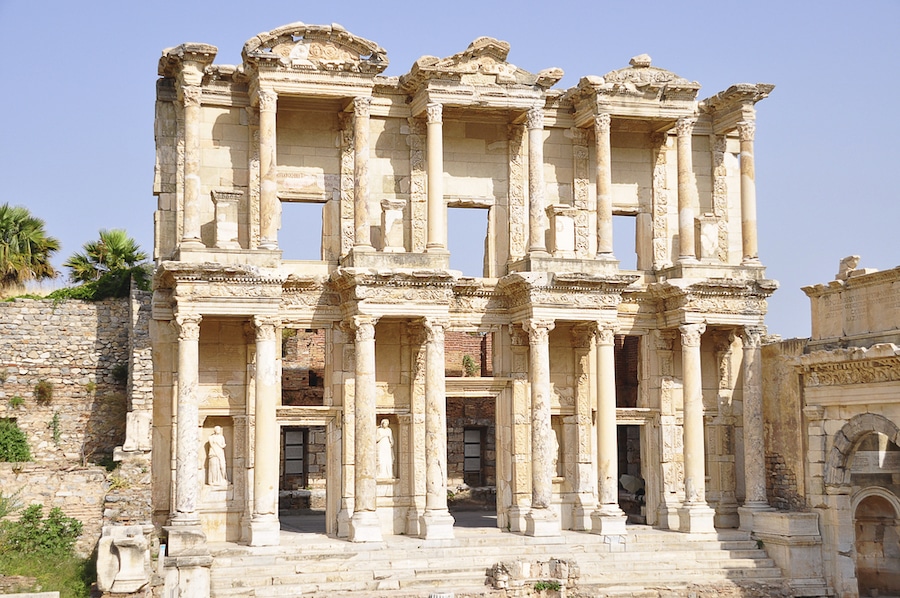 You'll see old temples, libraries, statues, houses, and of course, the vast amphitheater.
The Library of Celsus is probably the most iconic picture of Ephesus you'll see when you Google it. It would be best to spend a good portion of time at this place, looking closely at the intricate decorations, the Roman and Greek inscriptions on the walls, and the sculptures. Words really do not do this place justice.
The Temple of Hadrian is another highlight, as is the Temple of Artemis, which draws enormous crowds.
Additionally, there's also a less "serious" side to Ephesus. For example, you can see the old toilets, which are undoubtedly eye-opening given that they're in public view and a brothel that dates back to the 4th century BC.
Now protected and preserved as a UNESCO World Heritage Site, Ephesus served as a prominent and prosperous city in the Greek, Roman, and Byzantine Eras before falling into disrepair under Ottoman rule.
This is undoubtedly a city that has many stories to tell. We've already mentioned that it's an important site in Christianity, and that is not only because of the Basilica of St. John. The House of the Virgin Mary is also situated in Ephesus, although you will need to pay an extra supplement on top of the regular entry price if you want to visit.
It's said that the Virgin Mary lived in this small stone house until she died aged 101. She was taken here by St. John himself.
Top Tips For Visiting Ephesus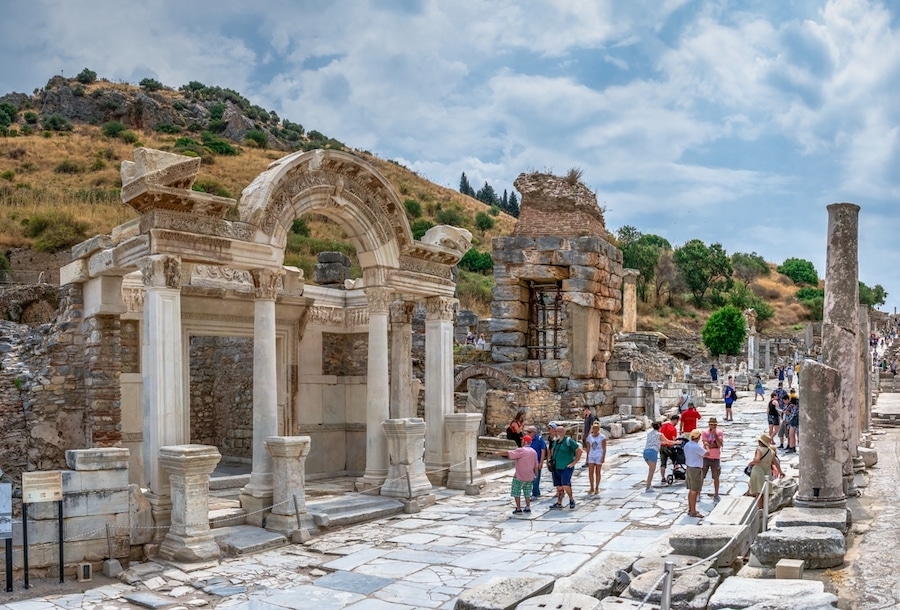 Ephesus is not a place you can visit in just a few hours. So, let's check out some top tips to get the most out of this stunning site.
TIPS FOR VISITING EPHESUS
Visit outside of the peak season months if you can.
Wear comfortable shoes and avoid flip-flops. Flip-flops are a recipe for a slip and fall! A lot of Ephesus consists of marble pathways that go up and downhill.
Wear a hat and sunscreen during the summer months. There isn't a lot of shade in Ephesus, and the Turkish summer sun can be unforgiving.
Take your time, make sure to sit down, and have a drink of water every so often. It's surprising how many people try and motor their way around, only to become tired and run out of steam.
Budget appropriately. Ephesus isn't the cheapest place to visit, but it's certainly worth it. You will need to pay extra if you want to see the House of The Virgin Mary, so bear this in mind when budgeting.
Stop for breakfast as you enter Selcuk. There are some fantastic roadside restaurants in town, many of which offer a stunning view of the mountainside and serve a delicious, traditional Turkish breakfast
Clear out your camera memory card. You're going to need the space!
Arrive early to make the most of the whole day
Places Close To Ephesus
When visiting Ephesus, you could easily add in a few other spots. While Ephesus is surrounded by countryside, it's relatively close to Izmir, Kusadasi, Aydin, and Selcuk. 
Selcuk
Selcuk is the closest place to Ephesus, at just one mile away. This is a large town that is quite a tourist, so you can easily find somewhere to stay and plenty of fantastic restaurants to try local food and excellent Turkish breakfasts. While in Selcuk, visit the Grand Fortress of Selcuk, which sits on top of a hill and has amazing views. 
Izmir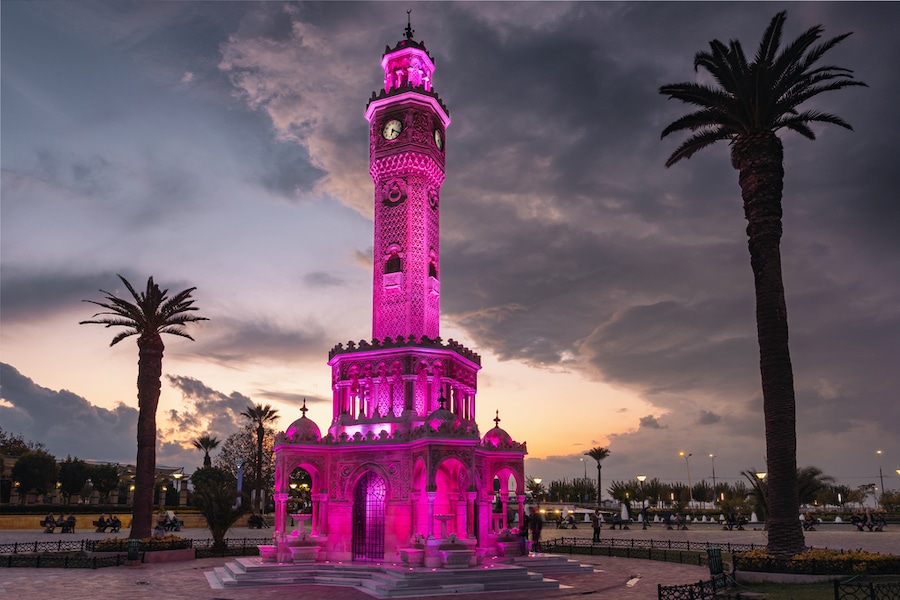 The bustling coastal city of Izmir. Izmir is a fantastic, young, vibrant, and hip city with history lurking behind every corner. Located on the Aegean coastline, this bustling coastal city is also super-pretty, with a beautiful blend of old and new. The nightlife is vibrant and varied, the gastronomy is seriously on point, and there is plenty of history to explore simultaneously.
Kusadasi
If you want to kick back and relax, get a tan and enjoy the summer temperatures (although, warned, they're hot), you should head to this tourist resort on the south coast with plenty to see and do. Lapped by the Aegean and Mediterranean, Kusadasi is close to Izmir and ideal for a city and beach break.
How To Get To Ephesus
There are a few ways to get to Ephesus, and because it's close to a major city, that makes logistics much easier!
From Istanbul
If you're heading to Turkey and landing in Istanbul, you can take a domestic flight down to Izmir. From there, you can take the bus (Pamukkale and Kamil Koc are two bus services that run around Turkey and are high-quality options), or you can arrange a tour that will take you directly to Ephesus. The journey time is only around one hour either way. It only takes just over an hour and several daily flights from both of Istanbul's airports. 
From Selcuk
Alternatively, you can spend some time in Selcuk, which is around 45 minutes away from Izmir. To get to Ephesus from there, you can take the minibus, which runs several times per day and takes only 5 minutes. A taxi is another option. 
From Kusadasi
Finally, if you're staying in Kusadasi, you take a taxi, or you can head to Selcuk via the local bus network and then take the quick minibus from there. 
Share