Of late life has been too much about tennis because of my daughter's tournaments and too little about anything else. So, when I got a few free days, I accepted the invitation from Brij Bageecha Kukas, Jaipur and spent two nights at their beautiful property. A lot of people wonder why I sometimes like to travel alone. Let me set the record straight, I really truly certainly definitely need that me time once in a while. There is a serious lack of it in my life right now but I know this too shall pass! So, when I got an opportunity to fit a blogging trip around my daughter's tennis, I went and I am so glad I could look at something called a vacation!
The Villas at the Brij Bageecha
All the rooms at Brij Bageecha are Viilas. It is situated in the Kukas area, a little away from the Jaipur City. I have been to Jaipur a few times recently so I was actually looking forward to the some peace and quiet. I had a huge villa to myself with a splash pool right inside the room! I enjoyed all my time inside the room during the day when the sun was hot outside.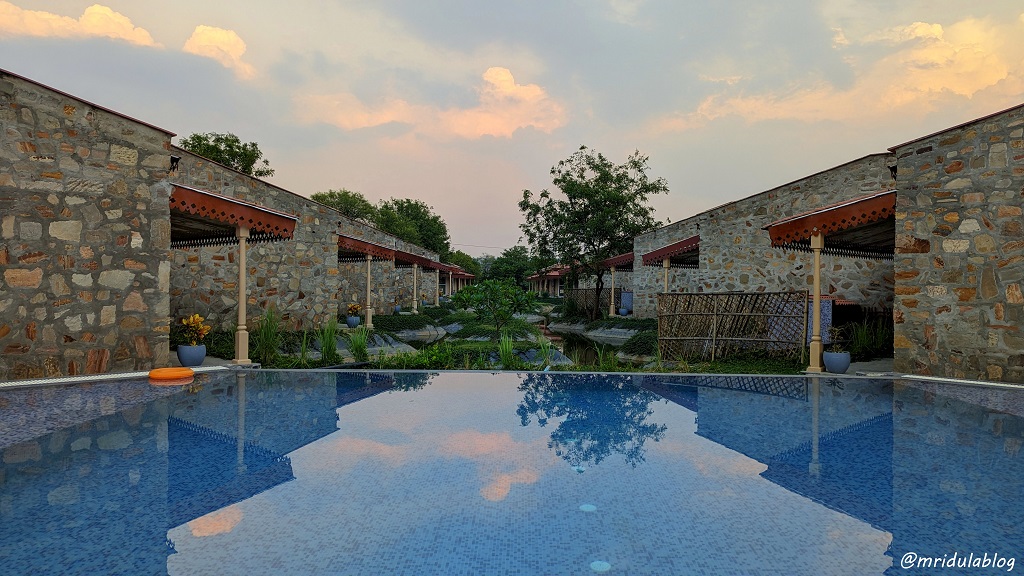 The villas will be a good choice for spending quality time with family as there is a lot of space to stay indoors and enjoy. They are pet friendly too but you need to keep your pet on leash in public areas!
The Pool
The Birj Bageecha has a beautiful swimming pool right by their casual dining restaurant Sangri. I think it is a theme! I would eat so much and then find myself in the pool. I have known swimming since childhood and I like being in a pool if I have free time. I am someone who likes to do laps. I went to the pool many times and did my laps to digest the food, only to eat more later! But sometimes it is nice to sleep a lot, eat a lot and do some exercise to keep things in perspective!
The Food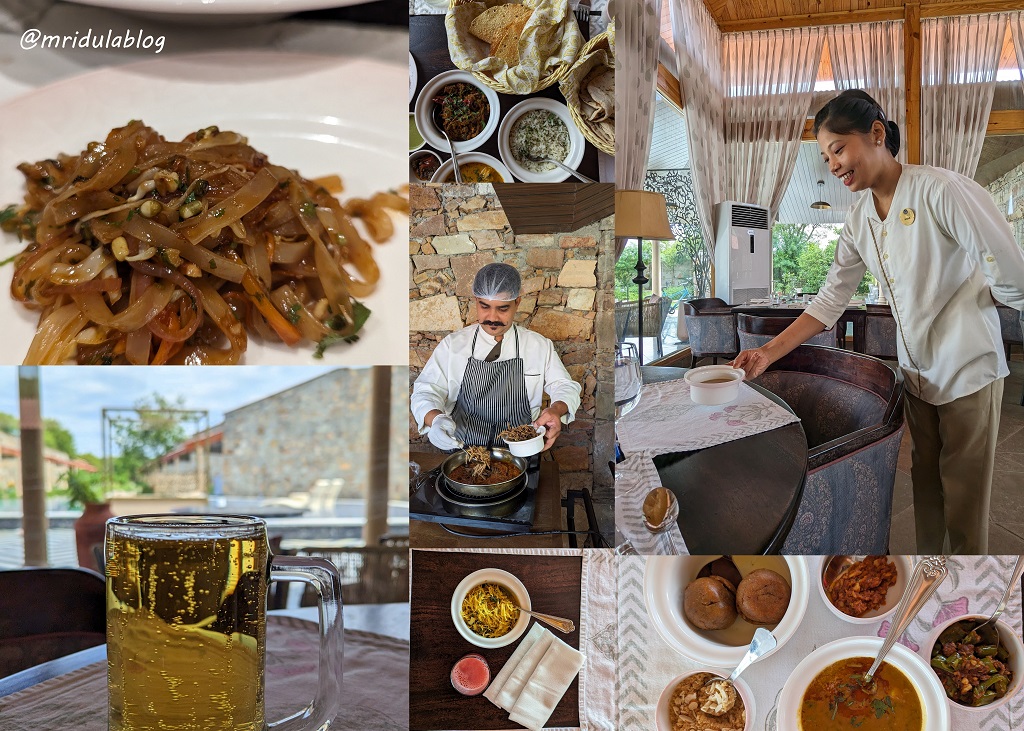 Here is a snapshot of some of the good food I ate at Sangri, the casual dining restaurant. Chef Manish prepared ker sangri, the local delicacy in front of me. I also enjoyed daal bati churma! But there was pasta and phad thai too! I often washed it with a mug of beer. Nisha, a member of the serving team was often around at lunch.. All the staff, and particularly Nisha, served food with a lot of warmth. We would often end up chatting about this and that but I was there during the week. Weekends may have a more busy vibe! I found the food at the resort to be excellent!
Bangle Making and Other Activates
Shyamlal ji making Lac bangles at Brij Bageecha Jaipur! #rajasthan pic.twitter.com/9o42vIWZed

— Mridula Dwivedi (@mridulablog) September 24, 2023
There are many activities going on at the resort in the evening. When I went, there was pottery making, puppet show and lac bangle making. I had an excellent discussion with Shyamlal ji who is the 5th generation in his family making lac bangles. Part of the discussion is in Hindi but I switch to English when I am doing the commentary. Lac bangles are a good local souvenirs to buy in Rajasthan.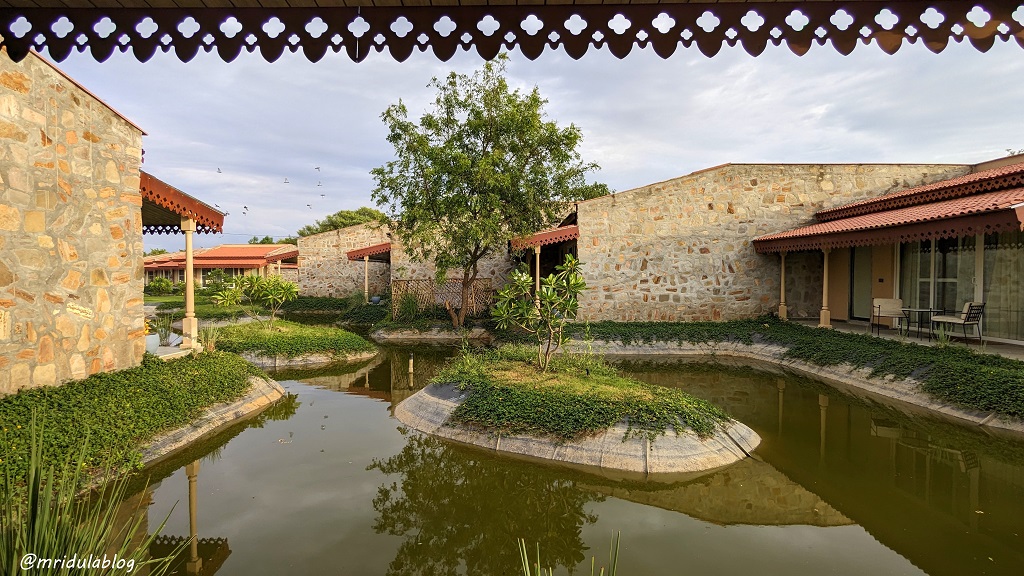 Overall, I had a wonderful time at Brij Bageecha. I went looking for some 'me time' and I got it in plenty! I am sure the place will work for people who are looking for quality family time too. For me, there was enough time to unwind, to swim and to enjoy good food! On this trip, I did not wish to venture out but if you wish to go to the city or explore activites outside the resort, they can arrange it as well.
A walkthrough the Villa 12 at Brij Bageecha Jaipur! pic.twitter.com/T4ok5iAyap

— Mridula Dwivedi (@mridulablog) September 24, 2023
It was difficult to capture my villa at the Brij Bageecha in a single photo, so I made a short video of it! And I had it all to myself! It was exactly what I needed. I am back to my hectic tennis filled days, always out in the sun when daughter is playing. But I got the much needed break at Brij Bageecha and I can go on now for a while!
PS. I was invited at Brij Bageecha as a blogger