Welcome the queen of the Himalayas
Well, Kashmir doesn't need any introduction. The Himalayan beauty transcends the world. Above all, Kashmir is known as the Switzerland of India. Talking about the beauty and charm. Not only in winter but also in summer. Besides, it attracts millions of people across the world every year. Also, these days visiting Kashmir in autumn is a new trend. Fall colors are amazing. 
All in all, there are many interesting facts associated with it too. Such as, the founder of Srinagar is Emperor Ashoka. Not the Mughal emperor Jahangir. Also, Kashmir is not all about Muslims. Srinagar, Kashmir is a mixture of  Hinduism, Buddhism, and Islam altogether. Kashmiri culture is addressed as " kashmiriyat". 
Queen of mountains.
Himalayan beauty is top-notch.
Summer and winter capital.
History makes it worth it.
Kashmir is naturally Glamorous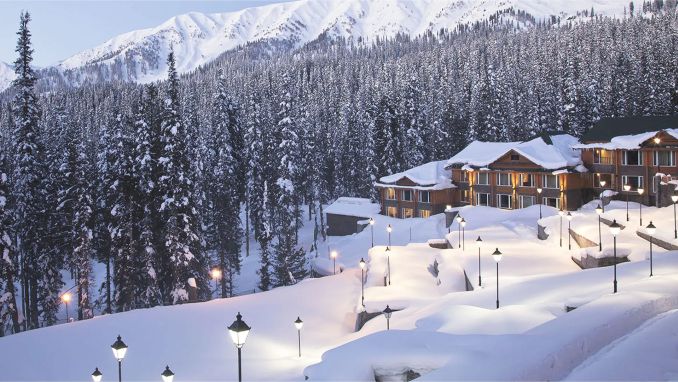 At the present time, Kashmir is thriving in all ways. India's Longest Railway Tunnel named Bannihal is 11,215 km long, 8.4m wide and 7.39m tall. It is also Asia's fourth-longest railway tunnel. Furthermore, Kashmir is known for art. Hence, you must buy some souvenirs. Also, some hand-crafted walnut furniture. 
Moreover, Kashmir is geographically diverse. You can find a diverse range of elevations. Not only Himlayan escapades but also pilgrimage spots. And obviously, Kashmir has numerous places to see, vividly. Also, its the oldest Hindu pilgrimage destination. Amarnath Cave in Jammu and Kashmir has the natural Shiv Lingam.
Overall, Kashmir is a vacation destination. Particularly, the food here is something which you should not miss. Firstly, you must try Kashmiri khawa. Secondly, you must try Gulabi Chai is the traditional beverage of Kashmir. And it looks pink as well. For adventure purposes, Kashmir is on the top list as well.
Longest Railway tunnel in India.
Best in Art and handcraft.
Extremely diverse in landscapes and people.
Kashmiri delicacies are must try.
Kashmir's picturesque landscape charm

Snow-clad Himalayas and gleaming lakes, oh that Kashmir. Not to mention, there are a plethora of sites in Kashmir. Undoubtedly, you must start exploring from Srinagar. You must stay in the boat house, visit the Mughal gardens, and shikara ride. Also, take a walk with your loved ones at Dal lake during the sunrise. It is healing. 
Then, Gulmarg the adventure paradise. Particularly many skiers stream to Gulmarg for skiing. Also, many opt for basic ski learning courses as well. And, when in Gulmarg you must take a Gondola ride. The view is just spectacular. Especially, during summers you should visit Strawberry Field, Gulmarg Biosphere Reserve, and Apharwat Peak.
Another is Sonmarg which means "meadow of gold". Well, in figurative language. Sonamarg is filled with natural beauty and hidden routes. Eventually, you will fall in love with the blooming views. Not only camping but also you can go trekking and nature walks. Especially, May & June is the perfect time to visit. 
Furthermore, next can be Kupwara. Another naturally stunning destination in Kashmir. Despite it being a little far. That is 90kms from Kashmir, you get to witness the best. Definitely, the thriving meadows are captivating. Also, you must visit Sheikh Baba Behram, Lolab valley, and Qamar Reshi Sahib Shrine.
Explore Srinagar.
Try out some new adventures at Gulmarg.
Witness the summer blooms in Sonmarg.
Relax on the riverside at Kupwara.
Explore hidden gems of Kashmir

Ever heard of the city of Sufis? Surprisingly, Kashmir does have Kathua. It's a great place for history and picnics. Also, you must not miss Jasrota fort, the living history. Moreover, summer seems to be the best time to visit. Next, is Kargil the pride of India? By all means, Kargil is one of the untouched beauties to be explored. 
Further, Pulwama should be on your list. It is also known as the "Rice Bowl Of Kashmir". Surrounded by apple orchids you get the real Kashmir experience here. Besides, the place has multiple hues. The saffron fields attract lakhs of tourists. You can opt for trekking or mountaineering here. Especially, summers are the best time. 
Moreover, Pahalgam is the perfect illustration of Kashmir. Overall, serenity and tranquility is the alternative name for Pahalgam. In addition, you must visit Betab and Aru Valley. Also, you must try some adventure activities here. Such as Horseback riding and canoeing too. Especially, Pahalgam is surrounded by meadows of flowers, dense forests, and beautiful alpine lakes.
Explore Kathua's history and Kargil's testimony.
Go for the saffron field in Pulwama.
Pahalgam the scintillating beauty
Must try adventures.

Obviously, Kashmir is more than landscapes and adventure. Traditional and local Kashmir cuisines make it wholesome. Starting from Mutton Rogan Josh cooked with local spices. Also, a Mughal history makes it more delicious. Then we have Paneer Chaman for the vegeterains. Well, it is cooked slowly in milk while it has the flavors of cardamom. 
Thirdly, try out Nadru Yakhni. It is a lotus stem with rich yogurt and crunchy stems. Definitely different yet delicious. When in Kashmir you got to taste Kashmiri rajma. It is the staple here eaten with rice. Also, it can be eaten with some chapati. You can feel the experience of Kashmir bursting in your mouth. 
Kashmiri Dum Aloo, is a vegetarian's delight. Moreover, the local spices and herbs wrap the potato. And that's what makes it super delicious. Lastly, you must try Gostaba. It is quite a royal dish from the old times. It is minced mutton and the shape of balls. Cooked with cooked yogurt and spices. It simply melts in your mouth.
Kashmiri cuisine makes you whole.
Must try Mutton Rogan josh, and Paneer Chaman.
Try out lotus stem.
Everyone's favorite Kashmiri dum aloo.
Frequently Asked Questions.
Q1. what is Kashmir known as?
Ans: Switzerland of India.
Q2. when is the best time to visit Kashmir?
Ans: March to September for summer and December to February for winter.
Q3. What makes Kashmir unique?
Ans: The people, landscape, adventure, and food.