Mary and I have been going to the lake 3 to 4 times a week on average for the last 12 years– ever since we pooled our savings and bought a used pontoon boat in 2009. 
Because travel is work for us, a lake day feels more like a vacation, with time for swimming, hiking, floating, grilling food, and just hanging out with friends and family. 
Over the years we've figured out a fairly manageable lake trip packing list that has all of the essentials we (and our two dogs) will need for an awesome summer outing. 
Some things we leave on the boat, like floats, life preservers, ropes, lighters, gas for the grill, sunscreen, bug spray, pocket knives, and dry bags. But some things we bring to the lake each time, including hats, towels, food and drink, dishes, etc. 
Every year it seems we discover cool new lake accessories to add to our lake packing list: Last year's favorites included a rocking camp chair, a massive sundeck-style float, and a roll-up table that's perfect for picnics. 
So read on for a look at our picks for the Best Lake Day Gear for 2021, from camping gear, grills, and coolers to lake clothing, sunglasses, water shoes, and more!
READ MORE: The 20 Largest Lakes in the World (By Continent)
LAKE CAMPING GEAR
Eureka! NoBugZone 3-in-1 Shelter
When I'm in Zen mode chilling at the lake, nothing bugs me more than…. well, bugs.
From ants and mosquitos to horseflies and wasps, biting/stinging insects can be a literal pain in the ass. In fact, just last week our dog stuck his nose into the wrong hole at Lake Allatoona, and we both got swarmed by yellowjackets!
Seven stings and a Cortisone shot later, I was much more appreciative of products like the NoBugZone 3-in-1 Shelter from Eureka. Measuring 12 x 9 feet, with a peak interior height of 7 ft 8 inches, the shelter offers protection from even the tiniest creepy-crawlies via no-see-um mesh. 
We love the double zipper doors, the near-vertical sides, and the removable waterproof rain fly. But it does seem a little weird that the NoBugZone Floor is sold separately (as are non-mesh sidewalls, if you want more tent-like protection).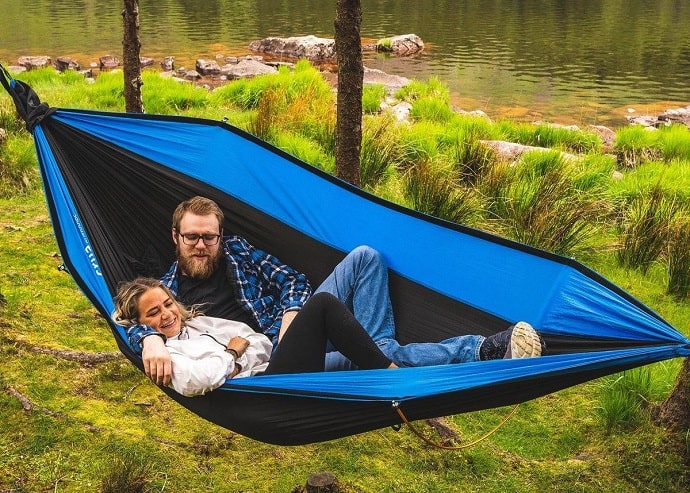 Crua Koala Maxx 
I've never been a huge hammock fan. For a guy my size (6'3″, 250 pounds), they're often difficult to get into and out of, and they aren't very comfortable even once you're settled in. 
Crua Outdoors is out to change the game with their Koala Maxx 2-person hammock, the original version of which broke records for successful crowdfunding in 2018.
It's designed to work with the natural position of the human body, using Buno Spreader Bars underneath to prevent that burrito-like feeling of enclosure and Scionn Tabs on the side to ensure the optimum flat-lay positioning. 
Measuring 9.8 feet long and 78″ wide, their 2-person hammock was updated in 2020 to include a thicker 360º bug mesh, upgraded zippers, removable pockets, and a stronger construction that can hold up to 500 pounds. 
And with the enclosed tree straps, it's impressively easy to set up for a day (or weekend) of lakeside lounging. 
 READ MORE: The Best Lakes in the North Georgia Mountains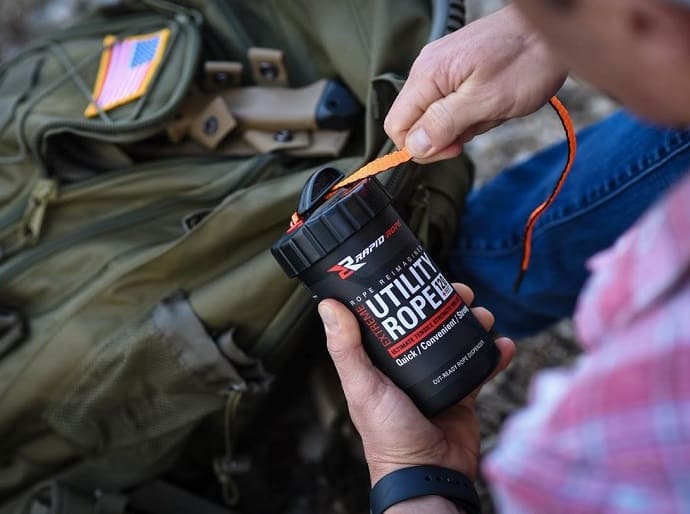 Rapid Rope
If you spend as much time at the lake as we do (3-4 days a week on average), you learn that you can never have too much rope. From tying off at the dock and anchoring to attaching floats and towing other boats, we try to always keep extra rope around. 
As seen on ABC's Shark Tank, Rapid Rope makes that a lot easier, offering 120 feet of 1,100 pound tensile strength "extreme utility rope" in a convenient canister small enough to fit in a cup holder or daypack. 
Even the weather-resistant, shatterproof canister comes in handy. You can simply wrap your desired length of rope around the enclosed insert to cut it, and there are illustrated knot-tying guides right on the side. 
We keep one on our boat and one at home, and we love that profits from the sale of Rapid Rope are being used to build a school in Ghana (where the family's adopted son is from). 
READ MORE: The Best Backpacking Gear for 2021 (35+ Reviews)
Selk'bag Rainforest
We've been writing about Selk'bag– the unique line of sleeping bags campers can wear like clothing– since we discovered the outdoor brand back in 2013.
Just last Christmas we rated their Original 6G as one of the best gifts for campers,  primarily because it improved on their core concept by adding more mobility and warmth.  
If you're down with the wearable sleeping bag trend, you'll love their new lightweight, limited edition, 100% recycled Rainforest Selk'bag. Its hand-drawn print was inspired by the unique flora and fauna of Chile's Parque Oncol forest, and includes wildlife such as the Monito del Monte (a marsupial opossum) and the Chucao bird.
We love the water-resistant bag's double slider zippers, Kangaroo pocket, and removable booties. And we especially love that each one uses 54 discarded plastic bottles!
READ MORE: 15 Ways to Reduce Waste & Move Towards Waste-Free Living
COOKING GEAR

Igloo Reactor 36-Can Roller Cooler Bag
I speak from experience when I say that lugging all the stuff you need for a fun family day at the lake back, from the car to the boat/beach and back, can be exhausting. 
And if you're on a boat, where space is typically at a premium, those massive 50+ quart coolers tend to take up a lot of room.
The waterproof Reactor 36-Can Roller Cooler Bag from Igloo offers an awesome middle ground between carrying all your crap by hand and rolling something roughly the size of a safari trunk.
Weighing just 6.82 pounds and measuring 15.4″ x 12″ x 20.7″, it's big enough to keep up to 36 cans ice-cold all day. But it's small enough not to get in the way of all the summertime fun. 
Noteworthy features include Advanced MaxCold insulation (keeps food cold up to two days), removable trolley, a sturdy compression-molded base for stability, and a leakproof T-bar zipper pull. 
READ MORE: The Haunting Beauty of Icebergs in Antarctica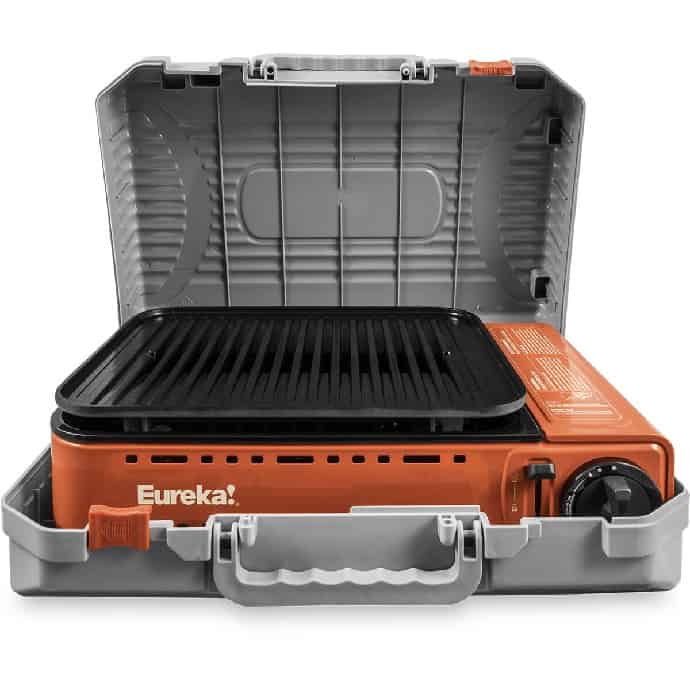 Eureka! SPRK Camp Grill
One of the coolest gifts Mary has ever gotten me was a UFO-shaped gas grill that could be mounted right on the side of our pontoon boat. For those that don't have a boat, the SPRK Camp Grill from Eureka could prove equally handy. 
Unlike traditional camp stoves, the SPRK exchanges burners for a compact grill (total measurements 16.6″W x 11.5″L x 4.6″H) with a non-stick ceramic grate.
The integrated fuel compartment holds an 8 oz butane canister, burning up to 7250 BTU/h  to provide that perfect sear that makes grilled meats and veggies so exquisitely tasty.
We love that it weighs just 8.8 pounds, has a removable drip trip to make cleanup a breeze, and includes a handy carrying case for the sake of portability. It's a great little hack for lakeside cooking when a campfire isn't possible! 
READ MORE: Traditional Food Around the World (30 Famous Dishes You Can Make)
ECOlunchbox Bento Wet Box Round & Large Rectangle
Remember back in the days of childhood, when having a cool lunchbox could actually raise your social standing?
As someone who had a pretty cool collection of them at one time, I've often wondered why adult lunchboxes aren't a more common thing.
The folks at ECOlunchbox are doing their part to revive that tradition with their line of Bento Wet Boxes.
Made from durable stainless steel, these plastic-free containers feature leakproof lids and a soft-close latch and silicone gasket, so they're perfect for wet meals (casseroles, salads with dressing, and anything saucy).
They're available in sizes up to 40 ounces, so you can pack enough for the whole family. Our only minor quibble is that the steel, while classic, is not nearly as stylish as my Yellow Submarine and Bettie Page collectible lunchboxes. 
READ MORE: 30 Plastic-Free Products for Plastic Free July
Klean Kanteen Insulated TKWide 32 oz, 64 oz & Stainless Steel Pint Cups
I learned the hard way, a very long time ago, the importance of staying hydrated during the hot, humid dog days of summer. Go ahead, ask me anything about heat stroke! 
So these days I am rarely seen outside my house without a massive 40 oz bottle of water in hand (usually with some sort of hydration tablet mixed in if I plan on being active). 
Klean Kanteen offers an array of insulated TKWide bottles in sizes ranging from 12 ounces up to 64 ounces. All of them have wide mouths and a TK Closure internal thread design that helps keep your drink (or food) hot for up to 17 hours and iced for up to 63 hours.
They've also introduced a new line of 16-ounce Stainless Steel Pint Cups that are perfect for sharing a rounds of cocktails at the lake, pool, or beach. 
READ MORE: How to Save Water: 15 Water Conservation Methods
SWIMSUITS
prAna Lurisia One-Piece & Marina One-Piece
Started in a garage in Carlsbad, California back in 1992, prAna has been one of Mary's favorite sustainable and Fair Trade clothing brands for years. 
Though they were originally focused on apparel for climbing and yoga enthusiasts, in recent years they've expanded into all sorts of athleisure wear. These days they also have lines specifically designed for hiking, lounging, traveling, and more. 
This is our first time testing out prAna's growing swimwear line, and Mary really loved everything about the Lurisia and Marina One-Piece swimsuits.
Though she's usually more of a bikini gal, the suits were both ultra-flattering and supportive for her curvy figure. Between the sexy cut, stretchy recycled nylon fabric, and eye-catching patterns, these are her favorite one-piece swimsuits of 2021. 
READ MORE: How Mary Conquered Her Fear of Water & Learned to Love Scuba
Everyday California Boardshorts & Cabrillo Tee
So it was a natural fit for them to branch out into apparel, with a focus on T-shirts, hats, gaiters, outerwear, and of course boardshorts for men (no women's swimsuits as of yet).
We love their stylish logo (featuring a bear holding a surfboard) and the vivid graphics of their t-shirt designs. The board shorts, while somewhat plain, are comfortable, with a a mid-length active fit that's perfect for long days in the sun. 
But our favorite thing about the brand is that they devote a portion of every purchase to
Greenwave
via their 1% For the Planet Partnership, which helps with
marine conservation
, biodiversity, and creating sustainable food sources. 
Infamous Swim Delilah & Sunrays Bikinis
As a large-chested woman (36F), Mary often struggles with finding swimsuits that offer enough coverage and support, but don't sacrifice style and sex appeal in the process. 
The Australia-based Infamous Swim is on a mission to design swimwear that will empower women of all shapes to feel confident, comfortable, and sexy. It's all about promoting a positive body image and helping you love whatever size or type of skin you're in. 
They offer a full range of one-piece swimsuits, tracksuits, and more in sizes up to 3X. But Mary was particularly enamored with their Delilah and Sunrays designs, each of which is available with tops and bottoms offering varying degrees of coverage. 
She loves the high-cut leg, moderate-to-low waist, and cheeky bottom coverage of their Radar Bikini (as opposed to the High Waist Bottoms pictured); and the supportive under-bust band of the flattering Gia Top. Note that Australian sizes are different, so consult their size chart before ordering!
READ MORE: The 30 Best Exotic Islands in the World to Visit Bucket List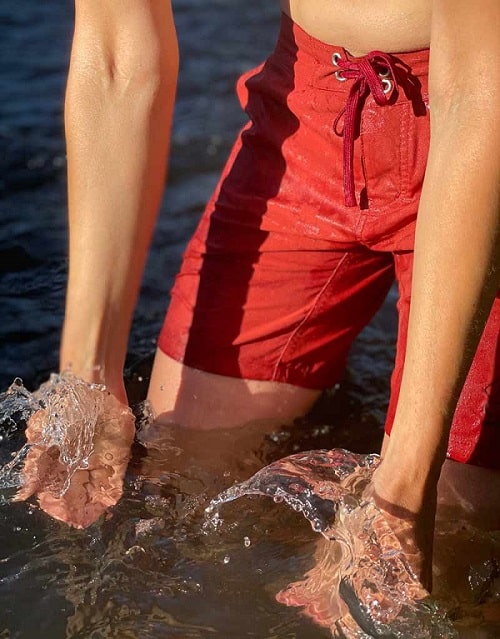 Beringia Aleutian Short
As we were writing this piece, a breaking news story revealed that Norway's women's beach handball team had been fined for wearing shorts rather than bikini bottoms while playing in a European tournament. 
Though they may seem an unconventional swimwear choice, the Aleutian Short from Beringia (an outdoor apparel brand based in Boseman, Montana and Tokyo, Japan) is a low to to mid-rise board short designed specifically with women in mind. 
Made with soft Cordura fabric and available in 3 colors, the stretchy shorts are double-stitched and boast bar-tacked seams for added durability. 
There's a key loop inside the zippered thigh pocket, plus two mesh drain pockets. And with a 7″ inseam and 15″ outseam, they're long enough to wear for active endeavors on land or in the water. 
LAKE LOUNGING

INTEX Floating Recliner Inflatable Lounge Chair
As serial entrepreneurs who typically juggle managing 3 to 4 business ventures at any given time, our downtime is precious and rare (especially since our travel= work). 
So when it comes to rest and relaxation, our time at the lake is really our vacation. And there's no better way to spend a day at the lake than lounging in a float, with a cold adult beverage close at hand. 
INTEX has been our favorite float brand for years, and this Floating Recliner Inflatable Lounge Chair makes an excellent addition to our ever-growing flotilla.
Measuring 71″L x 53″ W and made from heavy duty 18-gauge vinyl, it's rugged and durable enough to last. We love the two cup holders, carrying handles, and adjustable air chambers that allow you to personalize how firm you want the support. 
READ MORE: The Best Lakes in the North Carolina Mountains to Visit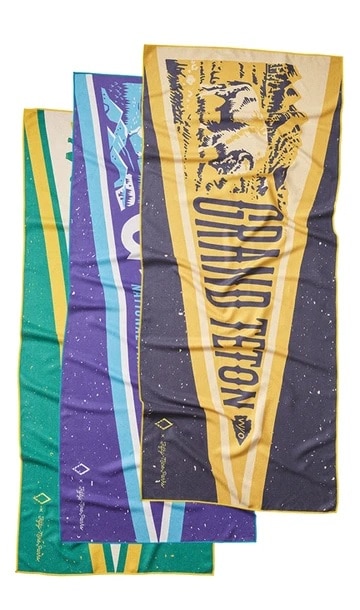 Nomadix 59 Parks Pennant Bundle
If you and your family love exploring the US National Parks, the 59 Parks Pennant Bundle from Nomadix is a great purchase that also gives back. 
Each bundle includes 3 full-sized towels, each of which features a retro-hip pennant for one of the most popular national parks (ours featured Glacier National Park, Grand Teton National Park, and Great Smoky Mountains National Park). 
Each of the stylish towels is made from certified post-consumer recycled plastic according to Global Recycled Standards. 
And we love the fact that 15% of each towel Nomadix sells will be donated to protecting our National Parks, so you can feel good about your purchase helping to fund nature/wildlife conservation.
READ MORE: The 10 Best National Parks in the USA for Watching Wildlife 

Tarpestry Epic Style
Back in the years before we bought our pontoon boat, lake days usually involved taking picnics and spending the day at one of the Georgia State Parks. 
We'd find a spot under the trees next to the water, spread out a big blanket, and alternate between swimming, sunning, and resting in the shade. 
The Epic Style line from Tarpestry offers a stylish alternative that can be used as a picnic blanket, shade covering, or home décor.  
They measure 6′ x 4.5′, are made with water repellent and UV resistant polyester, and can be customized with different grommet configurations to suit your needs. 
Though our favorite design– the Blue Ridge Parkway by artist Jerika Renee– is currently out of stock, they offer an array of other eye-catching options that are equally beautiful. 
READ MORE: The 15 Best Day Trips From Atlanta (For Nature Lovers)
LAKE CLOTHING
Champion Athletic Wear
After 11 years of running Green Global Travel, we consider it a privilege that we get to test and review products by some of the world's most respected outdoor apparel brands. 
But the more budget-friendly Champion brand is one we wore long before we became bloggers, and we continue to favor them for our everyday activewear today. (In fact, I'm wearing one of their muscle shirts I bought as I write this review!) 
From their Absolute Eco Crop Top and Reverse Weave Shorts to the Women's Sport Muscle Tee and Sport Lightweight Print Tee, what we love about Champion's clothing is the flattering fit, durable construction, and practical pricing. 
But the Absolute Eco Crop Top, which offers moisture-wicking stretch fabric, FreshIQ advanced odor protection, and is made with recycled polyester fibers, proves that the company is also able to evolve with the times. 
READ MORE: The Best Travel Clothes For Women & Men 
Carhartt Men's Storm Defender Jacket & Force Relaxed Fit Ripstop Cargo Short 
For us, lake days are about a lot more than mere R&R. The lake is where we work out (swimming laps), forage for food (mushrooms, wild blackberries, etc.), hike with our dogs, and more.  So we need lake clothes for every type of weather. 
Much like Yeti, Carhartt is one of those brands that is as much about a lifestyle as it is about the products themselves. Their clothes are known for being rugged and durable, designed to work just as hard as the people who wear them. 
Their Force Relaxed Fit Cargo Shorts are great for outdoor adventures. The sturdy cotton/ripstop fabric wicks moisture, the Rugged Flex technology stretches with your body, and the reinforced pockets are made to carry tools and other gear. I personally love the extra room in the thighs and rear, which makes it more comfortable when you have to bend over. 
The waterproof Storm Defender Jacket is made to withstand the elements. It's lightweight and breathable, yet seam-sealed for protection, with a visor on the hood and storm flaps on the zipper and external pockets. 
READ MORE: How to Design & Plant a Permaculture Food Forest Garden
Kühl Freeflex Short and Shay Tank Top
Born in the dramatic Wasatch Mountain Range of Utah (at the western edge of the Rocky Mountains), Kühl is an independent company that makes clothing for people who like to move. 
Although we reviewed some of the brand's winter outdoor gear in our 2020 Holiday Gift Guide, this is our first time trying out their summer clothing line.  
Mary especially loves their Freeflex Short, a stretchy low to mid-rise board short (7″ inseam) that conforms to her curves beautifully while still allowing a full range of motion. The soft, quick-drying fabric can also work as swimwear, making it perfect for water sports or hiking to waterfalls. 
She pairs it with their ultra-soft and breathable Shay Tank, which is made from 100% organic cotton and features lovely details such as custom embroidery and a crossover pleat. 
READ MORE: 25 of the World's Biggest Waterfalls (By Continent)
Headsweats Men's Active Line Core Tee & Core Shorts 
As a guy who's built like a linebacker, I don't perspire in the dog days of summer. I sweat!
So when I'm active, having clothes that wick away moisture from my body and keep me cool is an absolute must. 
There are a few things we love about the Headsweats brand. Their prices are better than many active wear lines, most of their clothes are made with REPREVE Recycled polyester, and they're all breathable and moisture-wicking. 
That being said, the drab grey color of the Active Line Core Tee and the "Bigfoot Camp" print of their new Active Line Core Shorts are not really my style. But they are supremely comfortable, with lightweight fabric and lots of stretch.
prAna Ocupas Popover & Alana Short
We've already discussed how much Mary lovers her new prAna swimwear, so it should come as no surprise to see the line's clothing on this list as well.
The Alana Short ranks among her favorite shorts of 2021, thanks in large part to the stretchy, durable ReZion performance fabric. She loves their form-flattering fit, quick-drying properties, wrinkle resistance, and stash pockets. 
Their Ocupas Popover Top is another winner. Made from an ultra-soft blend of organic cotton and recycled polyester, the Fair Trade Certified shirt offers a relaxed fit, front pintuck detail, and an elastic encased hem that keeps its shape and structure intact even when you're on the move. 
READ MORE: The Best Fair Trade Clothing & Ethical Clothing Brands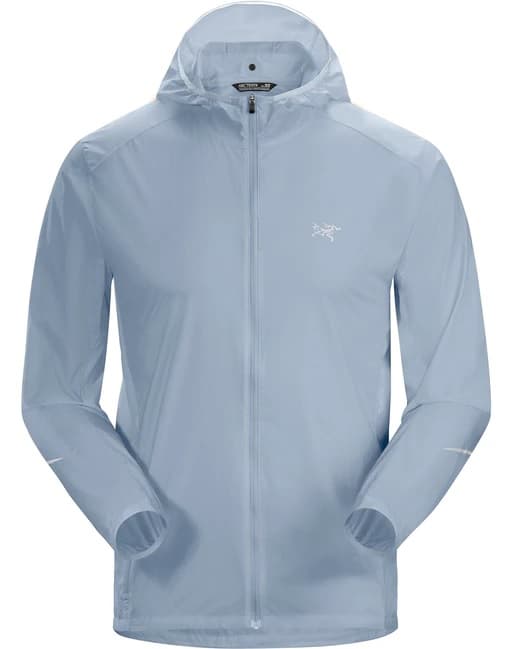 Arc'teryx Incendo Hoody
I've lived in North Georgia my entire life, and I don't remember a summer in which we've gotten more rain than we've had in 2021. I'm writing this at the end of July, and we haven't had to water our garden more than once or twice this year! 
That's great for the water levels at our local lake, which are as high as I've ever seen them at this time of year. But it makes outdoor recreation opportunities a LOT more unpredictable. 
The Incendo Hoody from Arc'teryx is the perfect lightweight jacket for summer. Made with DWR-treated Lumin fabric, it weighs just 4.6 oz, yet it resists wind and water while offering strategically placed mesh panels for evaporative cooling.
The minimalist jacket also features an excellent fitted hood, ergonomically efficient trim fit, reflective blades for enhanced visibility at night, and gusseted underarms and articulated sleeves for maximum freedom of movement.
READ MORE: Climbing Norway's Nigardsbreen Glacier (A He Said/She Said Story)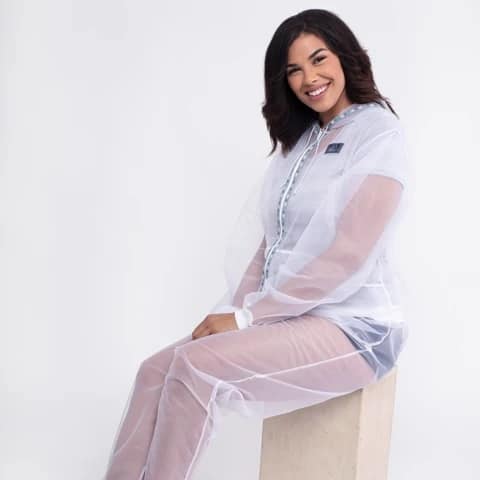 Mozzie Style Mosquito Net Jacket & Pants
We've already discussed our great distaste for biting bugs at the lake.
And while they're usually not too bad if you're just there for the day, nighttime camping at the lake brings out gnats, mosquitos, and more. 
Though it may look a little odd, the mosquito net jacket and pants ensemble from Mozziestyle offers an easy, airy, and relatively attractive way to keep those bothersome bugs at bay. 
The unisex cut is made with no-see-um grade mesh to prevent even the tiniest bugs from getting in. The jacket has a  drawstring hood, zip front, and built-in front pockets, and it's all made with a comfy lightweight and breathable material to keep you cool even when it's hot outside. 
READ MORE: 20+ Camping Tips & Tricks for Responsible Travelers
SUNGLASSES
Dragon Alliance Finch LL & Wilder LL
If you've followed Green Global Travel for any length of time, you've probably noticed that I'm very rarely seen without my trademark prescription sunglasses. 
It's not just that shades make you look cool (although they most definitely do). I also have blue eyes that are extremely sensitive to light, especially bright headlights when I'm driving at night. 
The Finch LL and Wilder LL shades are part of Dragon Alliance's Upcycled Collection. So in addition to looking sharp and providing 100% UV protection, they're also made using recycled PET material from 5 plastic water bottles. 
In terms of style, the Finch has a timeless unisex design (including a keyhole nose bridge) that looks great with Matte Tortoise frames, while the Wilder has more of that classic Tom Cruise-circa–Risky Business look that never goes out of fashion.
READ MORE: The 20 Best Caribbean Islands to Visit For Nature Lovers
Shwood Eyewear Camp Cove & Camp Trail Sunglasses
A new brand for us, Shwood Eyewear is based in Portland, Oregon and inspired by outdoor adventures in the natural beauty of the Pacific Northwest.
Their CAMP line was created to fill a void for sunglasses with polarized lenses, spring hinges, and adjustable temple tips at a price point somewhere in between cheap, disposable shades and expensive premium eyewear.
The Camp Cove (for women) and Camp Trail (for men) offer classic styles, with plant-based bioplastic frames featuring genuine wood inlays, polarized lenses offering 100% UVA/UVB protection, and a sleeping bag-style travel case.
They're chic, affordable ($79), and best of all sustainable– a winning trifecta!
READ MORE: The 20 Best Small Ship Cruises For Your World Travel Bucket List
WATER SHOES
Chaco z1 Classic Sandal Womens & Mens
When it comes to water shoes, Chaco is one of the oldest and most reliable brands in the business. Launched in 1989 by a Colorado rafting guide, they were all about outdoor adventure from the very start. 
The Z/Classic was their iconic sandal developed specifically for whitewater adventures, and the Z1 offers an impressive update on the 32-year-old line. 
It's named for the Z-shaped straps that criss-cross to wrap your foot in a fully customized fit. 
We also love the cushioning comfort of the podiatrist-certified LUVSEAT PU footbed, and the durable ChacoGrip rubber outsole for excellent traction on event eh m most slippery surfaces.
READ MORE: The 50 Best Travel Shoes for Women & Men 
 MBT AZA & MTR Sandals
The Swiss-engineered brand MBT is famous for crafting shoes designed with health and wellness in mind. Every pair they make boasts 5-component curved soles with varying levels of "rock" to them, ranging from high to recovery.
Their new AZA and MTR Sandals offer a great balance of style and substance. Both shoes feature MBT's proprietary SensorTechnology cushioning, and PivotAxis Technology for enhanced balance and natural movement that activates your muscles as you walk.
Both of these stylish casual sandals feature uppers made of genuine leather, a microfiber footbed, and MBT's High Abrasion Rubber outsole.
The biggest difference between them is the level of "rock" they offer: The AZA is a Level 3, with extra cushioning and maximum muscle activation, while the MTR is a more moderate Level 2. The MTR also features three adjustable straps for a more customized fit. 
READ MORE: The Most Comfortable Walking Shoes & Hiking Shoes for Women 

Kuru Pace
As much time as we tend to spend at the lake on our pontoon, it makes sense that boat shoes rank among my favorite footwear.
The Kuru Pace is an excellent boat shoe option because it offers flexibility. You can fold the collapsible full-grain leather heel down and wear them like a comfy slip-on, or pop it back up when you need the structural support of a heel.
This feature also makes these breathable canvas shoes perfect for packing in a backpack or carryon. 
Other features we like include the space-age foam cushioning of their patented KURUSOLE, built-in arch support, and light weight (around 9.6 ounces). 
READ MORE: The Most Comfortable Walking Shoes & Hiking Shoes for Men 

Thermacell Rechargeable Mosquito Repeller
Of all the tech gear we've received over the years, the Thermacell Rechargeable Mosquito Repeller is one we use the most often. 
We live in the hot and humid Deep South, where mosquitos are a constant presence for more than half the year. So we use this DEET-free mosquito repeller for morning coffee in the garden, lunch on the patio, and picnics at the lake. 
Charged via USB, the device provides up to 5.5 hours of protection with the push of a button. It comes with a 40-hour repellent cartridge plus a 12-hour refill, with other refills sold separately. 
In our experience, the advertised 20-foot protection radius is a bit of an exaggeration. When we meet other couples at the lake, we usually bring two Thermacell devices (despite the fact that we're less than 10 feet apart).
But with no scent and no spray involved, it's still a great solution for airborne pests!
READ MORE: The Best Backyard Camping Gear for 2021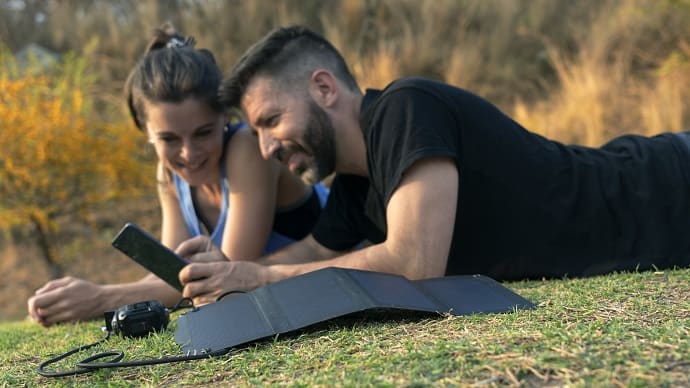 Box Synergy SOLAR 7 Charger
One of the best things about owning your own boat docked at a marina just 20 minutes from your house is that it makes it easy to get to the lake often. 
And when the weather isn't rainy or miserably hot, we'll sometimes spend 5-6 hours or more at  the lake, occasionally taking our phones and laptops so we can work on the boat. The only issue is keeping our devices charged when we're there that long.
The SOLAR 7 Charger from Box Synergy offers a great solution that's more compact and efficient than similar devices from bug brands like Goal Zero and BioLite. It weighs just 8.1 ounces, yet it produces 7 watts of power and can charge your devices at about the same speed as a wall outlet. 
The shockproof solar cells can charge an average smartphone in 3 hours, or a GoPro in 1.3 hours. But they also fold down to 3.9 x 6.7 x 1 inches, so it's small enough to fit in your pocket! 
READ MORE: The Ultimate Beach Vacation Packing List

STM Goods PowerKick (Rakuten)
STM Goods' PowerKick is another deceptively powerful portable charger that's perfect for lake, beach, or poolside use.
Measuring 5.4 x 2.9 x .8 inches and weighing just over half a pound, this sleek wireless power bank offers 10,000 mAh of power to charge your devices wirelessly or with cables (USB-A or USB-C).
We love the clever design innovations, such as the suction cups that secure the charger to your smartphone or other device while charging, and a kickstand that props it up in either landscape or portrait mode.
There are also indicator lights that show the device charging status as well as the current battery charge level. –reviews by Bret Love & Mary Gabbett; lead photo via Canva