Santorini is known for it's sprawling whitewashed villages clinging to the high sea cliffs overlooking the Aegean Sea. But there are so many places to visit in Santorini that it will surprise you. There is so much to do on this gorgeous Greek island that it requires a lot more time than just a day stop on a Mediterranean cruise.
Have you always dreamed of going to Santorini? Late summer of 2021 might be the time to do it when things open up. Santorini has been plagued with over tourism but with restrictions in place for so long, it might be quiet for at least a little while until travel picks up.
Best Places to Visit in Santorini
While many people will say that Santorini is too touristy and crowded, we are going to share all the reasons to visit Santorini and make it your first stop on your tour of Greece.
We gave ourselves eight glorious days on the island of Santorini and let me tell you, this is the way to do it. Skip the cruise ships that pop in for a three-hour tour, and instead book an entire week on the sexiest stop in the Greek Isles. It's just a short half-hour flight from Athens yet a world away.
1. Oia
The most beautiful village in Santorini is Oia. The perfect whitewashed houses with blue doors is the epitome of what one thinks of when visiting Santorini. Don't just visit Oia on a day tour, stay overnight for a few days to take in the gorgeous views of the caldera and to get lost in the maze of streets. Must-see places in Oia are the Oia Windmills, Oia Castle, and the Blue Domed Churchs of Oia.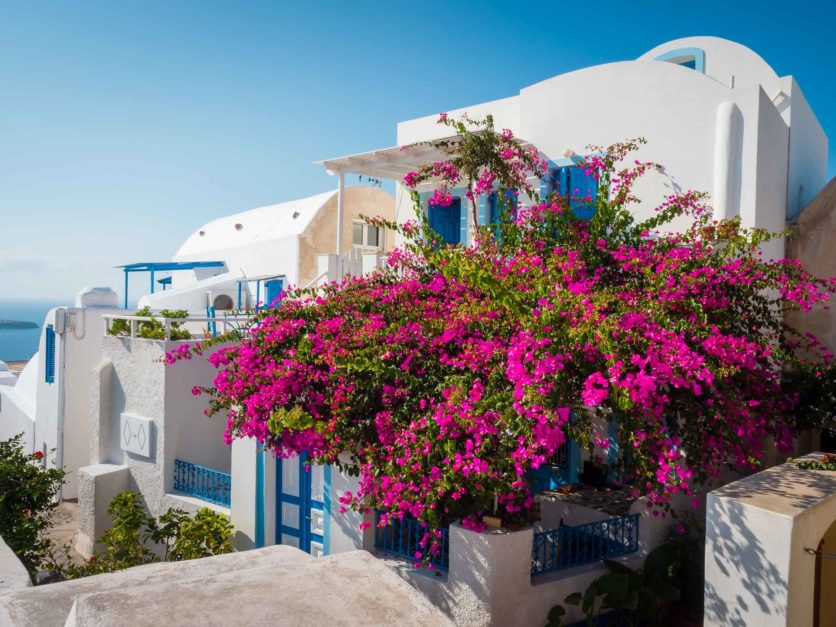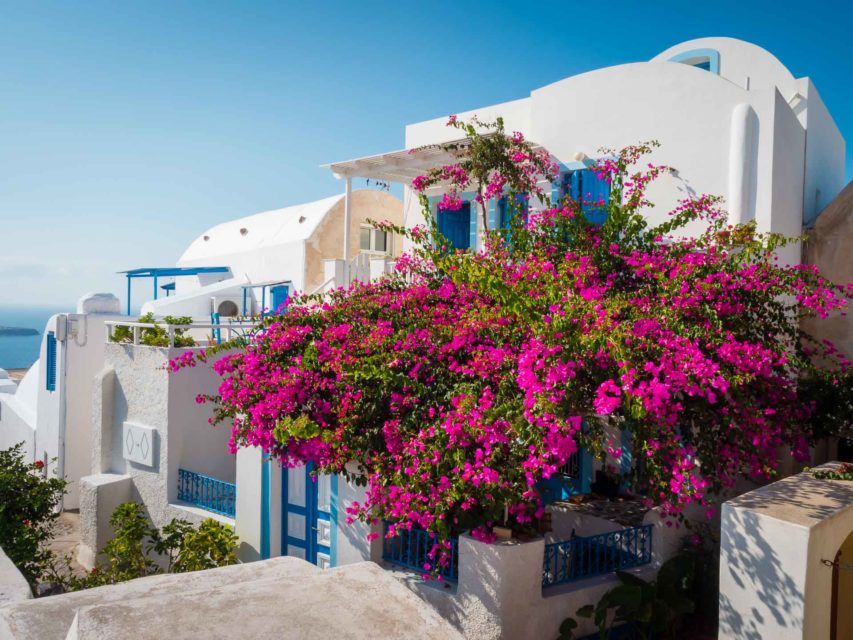 Make sure to hike from Fira to Oia to where you can stop for coffee or wine along the way in the towns of Firostefani and Imerovigli. It's a great way to spend the day and you can always catch a bus or cab back.
A great place to stay in Oia is the Andronis Luxury Cave Hotel and Suites. It has the best postcard perfect shot of the caldera from its infinity pool.
2. Fira (Thira)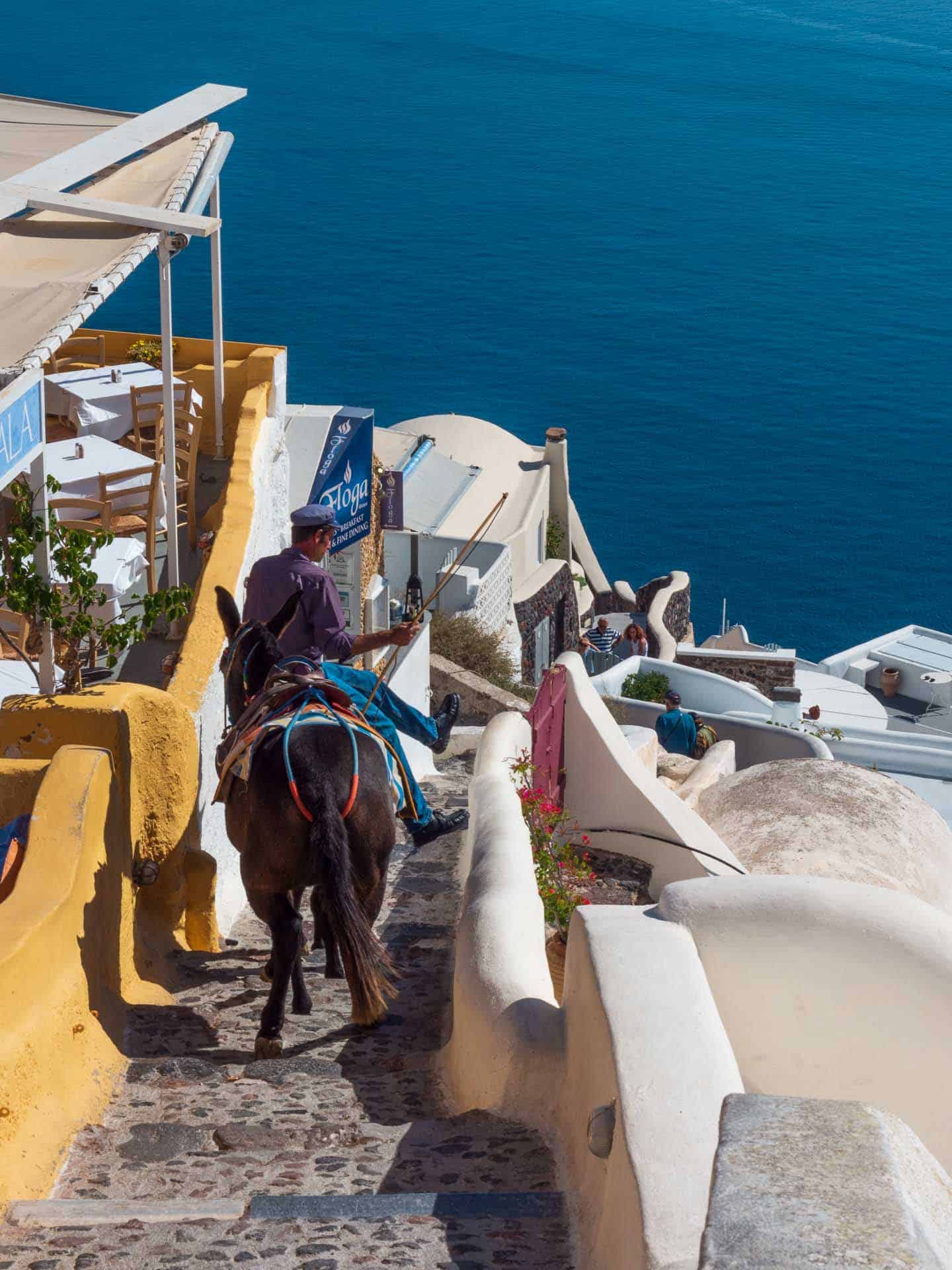 The Capital of Santorini, Fira is where all the cruise ships come in. The beautiful village is busy, but it is definitely worth visiting. Walking even part way along the path from Fira to Oia is worth doing. It takes you away from the crowds and shows different views of the caldera and local life. This gorgeous stroll takes you along the scenic cliff path going through whitewashed villages.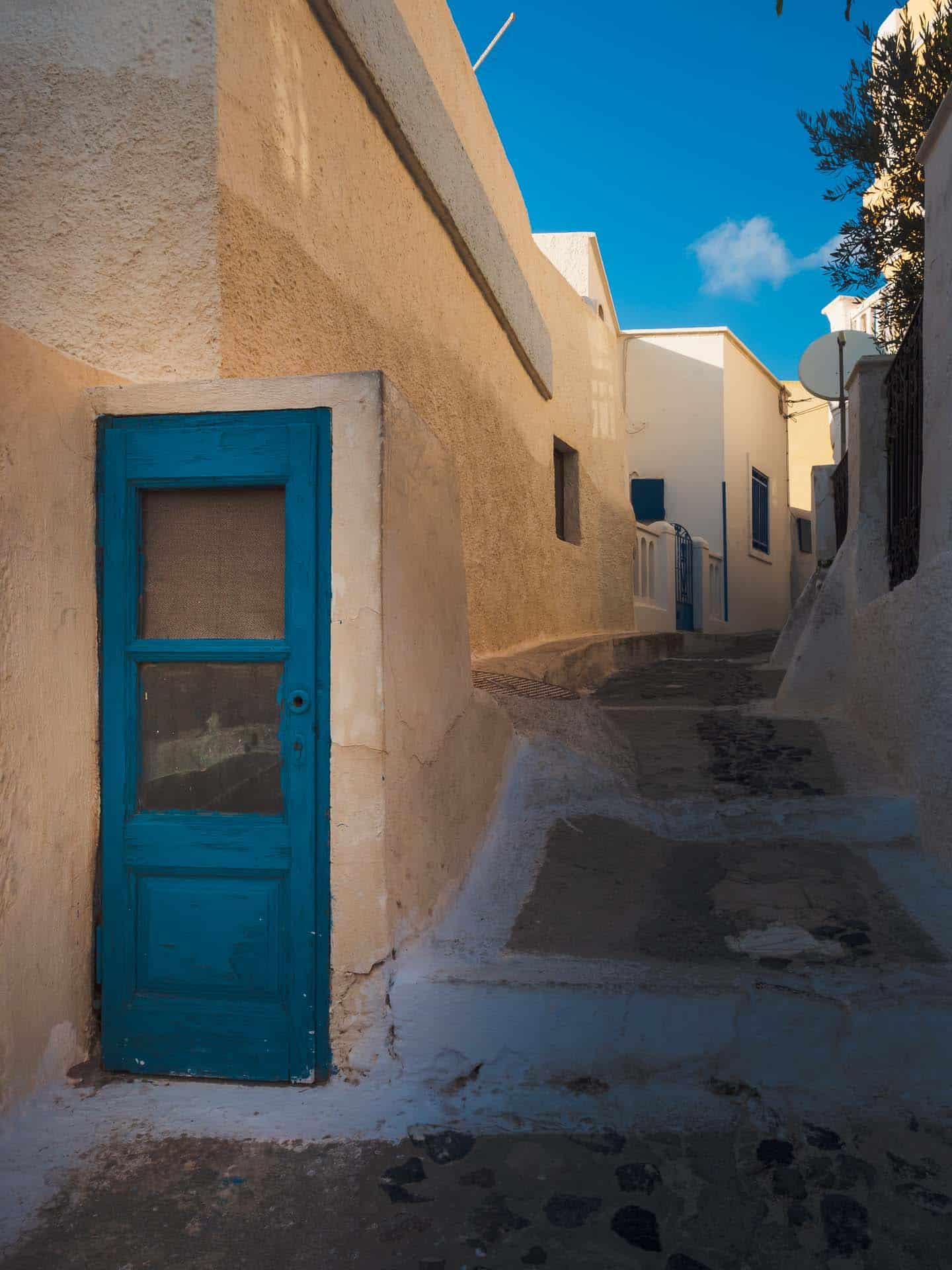 When in Fira, take the cable car down to the water. People used to have to hike up to Fira (or take donkeys from the water you can still do) but the cable car has made things much easier and offers gorgeous views as you relax in comfort.
3. Imerovigli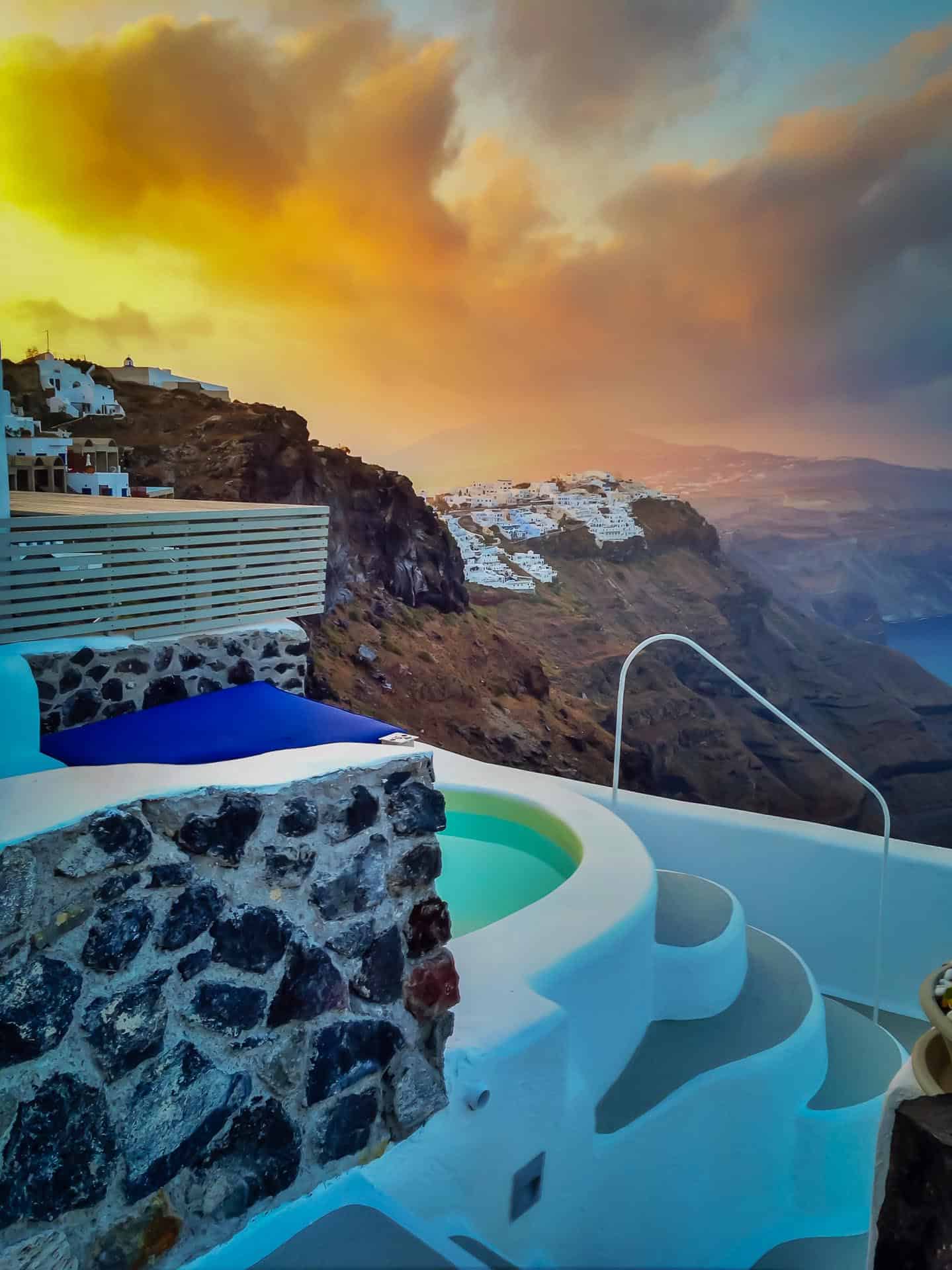 One of the best places to stay in Santorini is Imerovigli. Located between Fira and Oia, it isn't as crowded as the two, but it is just as gorgeous. You can expect the same beautiful whitewashed houses, blue domes and extraordinary sunsets over the caldera.
Stay at the Iconic Santorini and take your breakfast on your balcony as you enjoy fresh yogurt while watching the sunrise.
4. Oia Castle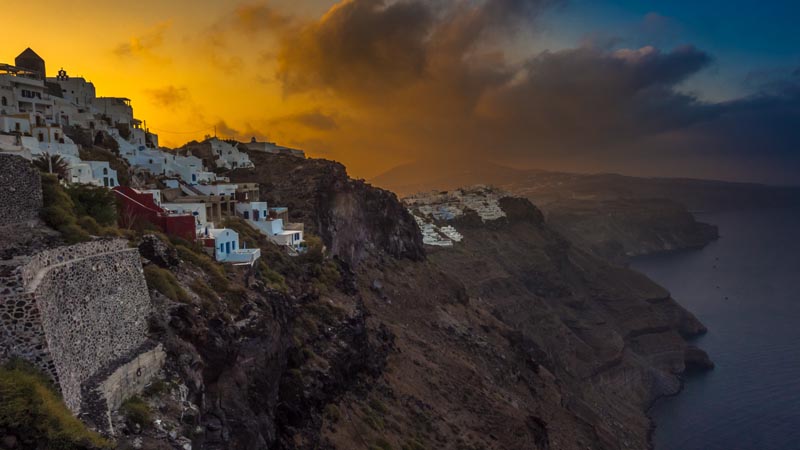 The best place to watch the sunset in Santorini is from Oia Castle. It is crowded, but it is certainly worth it. Make sure to stay past blue hour when watching the sunset in Oia. You'll be amazing at how many people leave while the sun is still setting. It gets more beautiful with each moment and as the crowd disappears, you'll have it all to yourself.
The most famous site in all of Santorini is the three domes of Oia. They are more difficult to fine than it looks, so check out our photography guide to Santorini to see how to get there.
5. Blue Domes of Santorini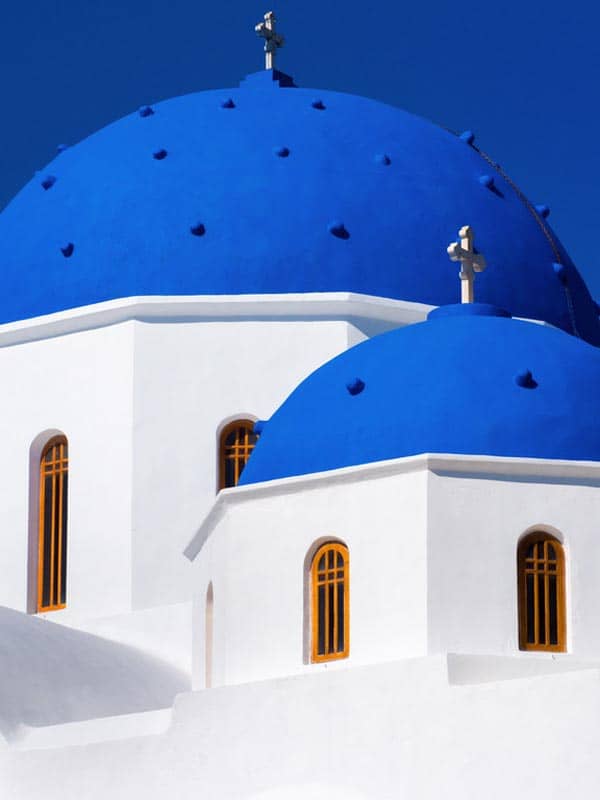 One of the most iconic places in Santorini is definitely the blue domes. These three blue-domed churches are located in the town of Oia and are the most photographed views of Santorini. They can be tricky to find. So to help you check out our photography guide to Santorini
6. Perissa Beach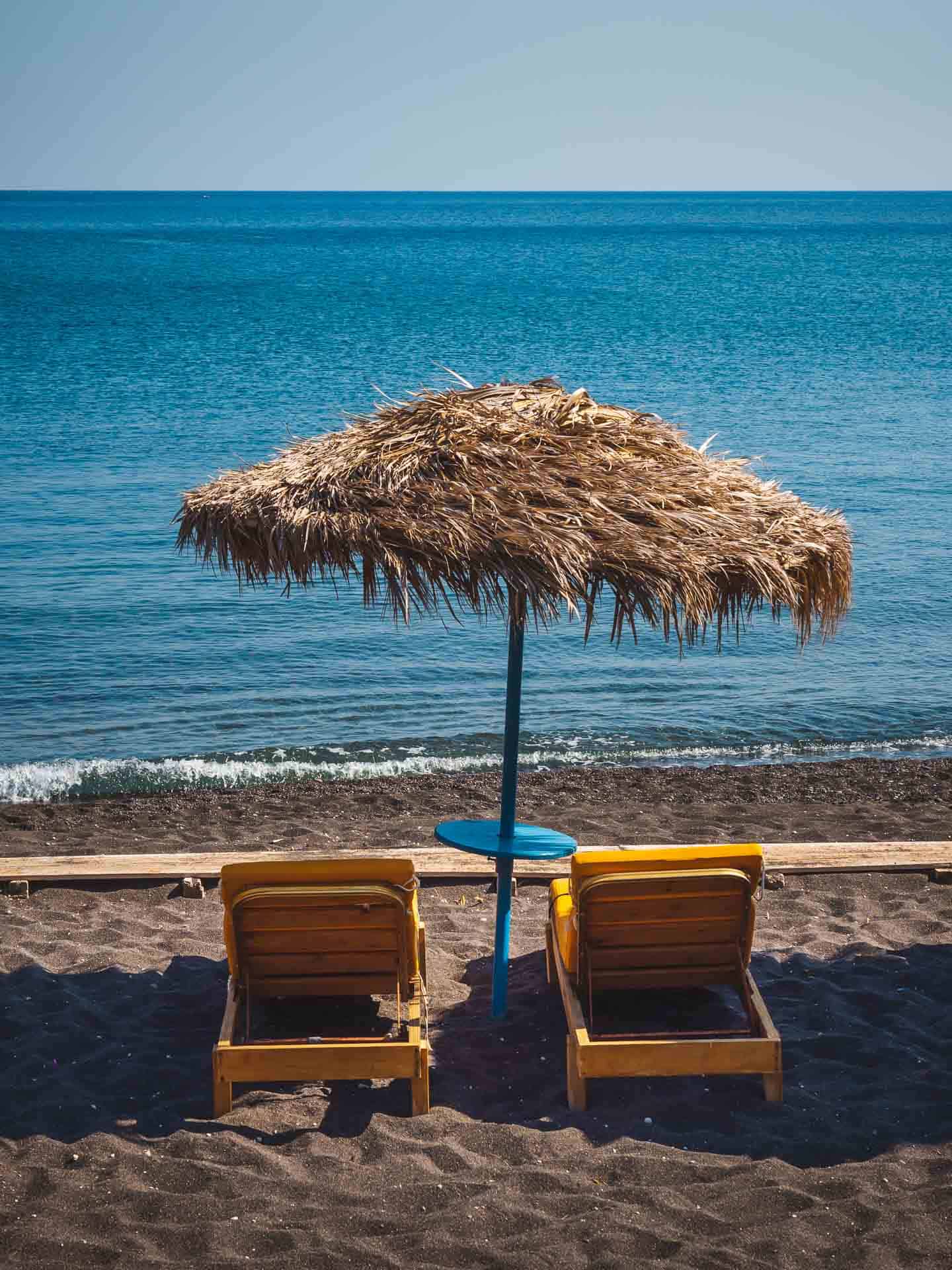 The most popular beach on Santorini is Perissa Beach. An astounding 6 km long beachmade of black volcanic sand is located between Perissa and Perivolos. We stayed nearby for 2 nights on Santorini and loved hanging out on Black Beach all morning as we sat under an umbrella sipping cappuccinos.
7. Kamari Beach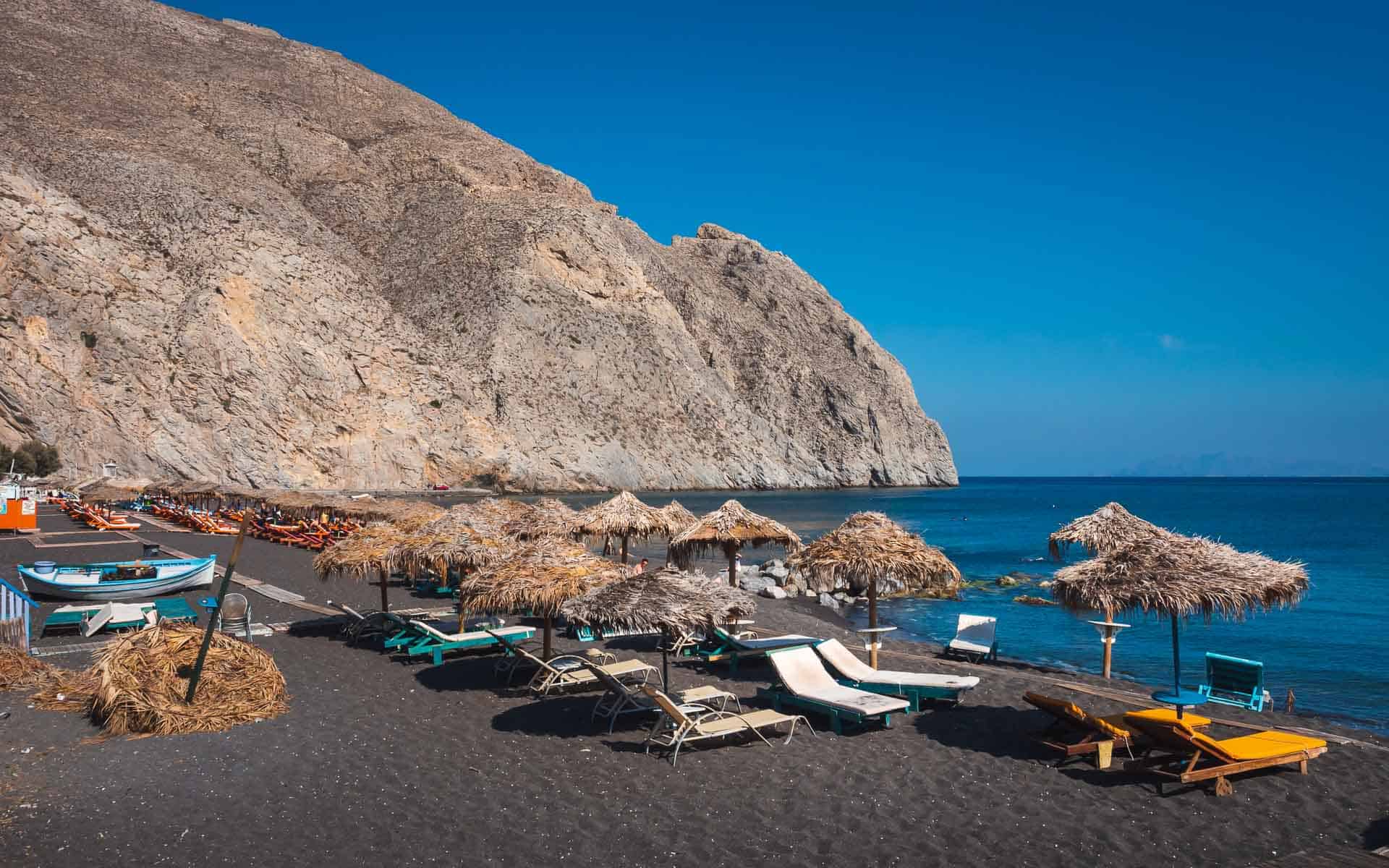 Located about 8km from Fira, Kamari Beach is similar to Perissa Beach. This picturesque black sand beach and is known for its massive rock that separates Kamari and Perissa Beaches. There are the usual sunbeds, umbrellas and watersports to be had.
8. Red Beach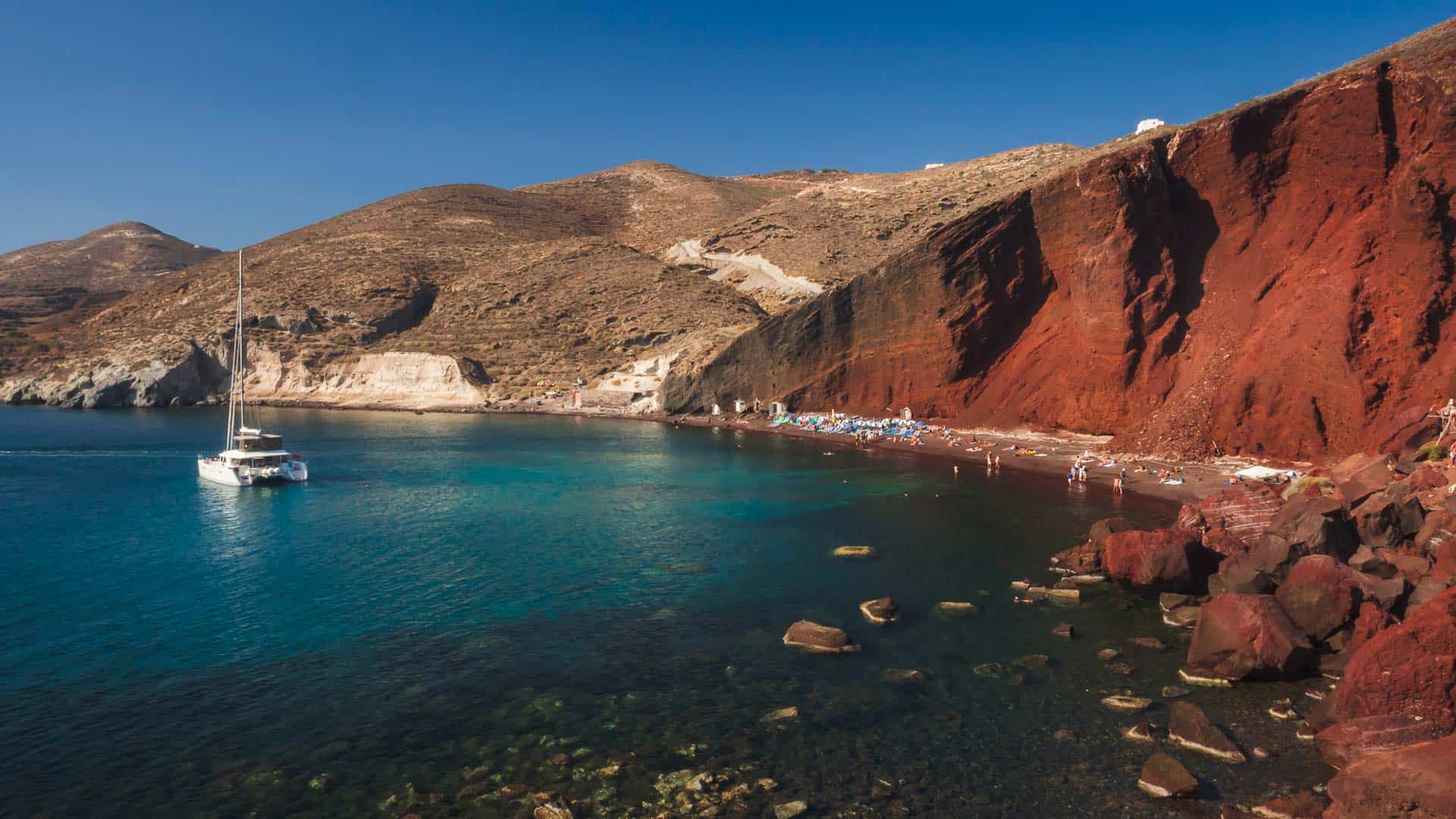 Not to be outdone, Santorini has another colourful beach, Red Beach. Located near the town of Akrotori, Red Beach is a spectacular site with high red sea cliffs jutting up from a red sand beach. It is a bit of a trek to get there, but boat tours also stop for a swim at Red Beach.
9. Pyrgos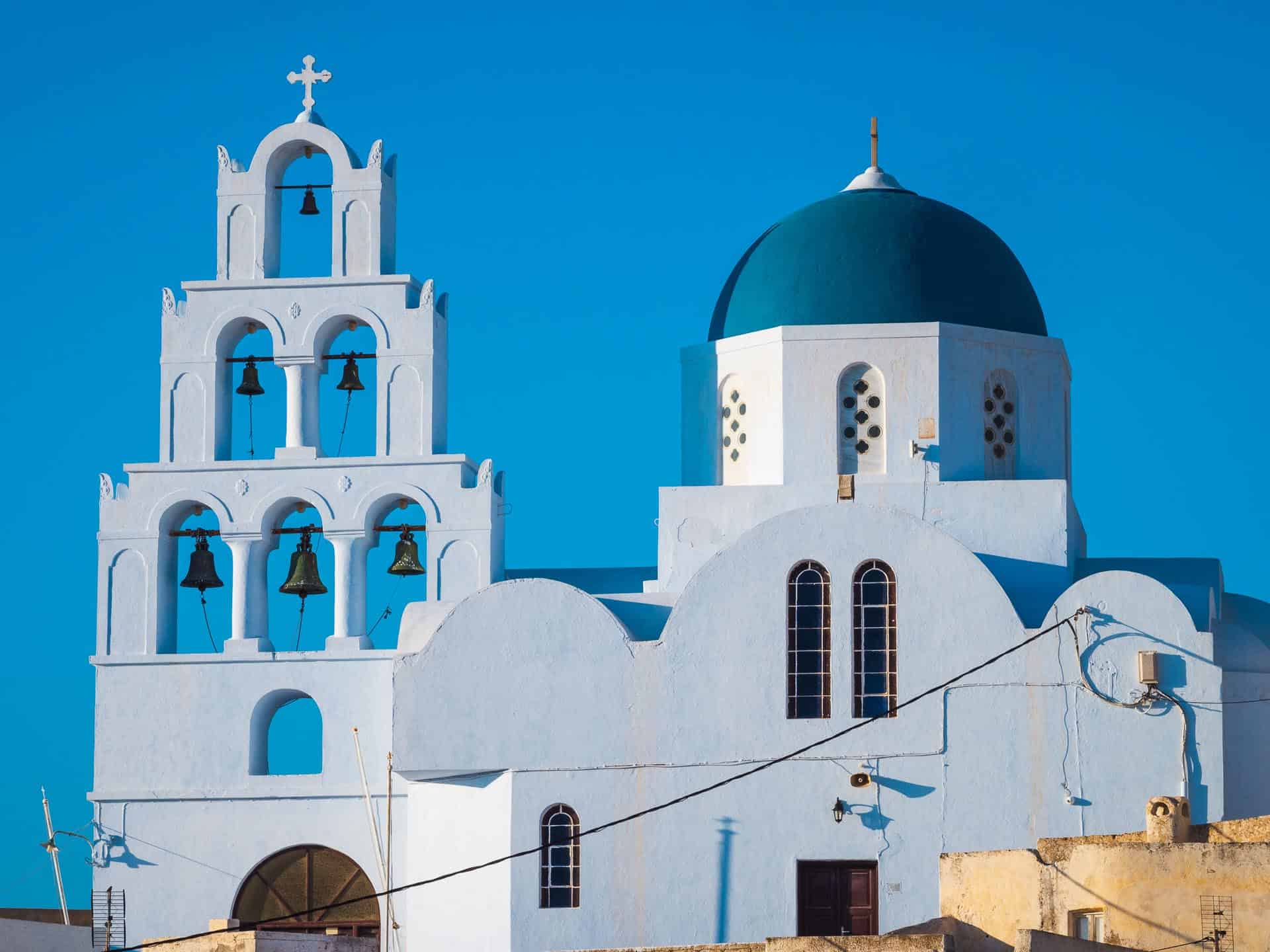 One of our favorite places in Santorini was Pyrgos. It is a lesser-known village of Santorini that was nearly deserted when we visited. It was once the capital of Santorini and it is just as picturesque as the typical villages of the islands with blue domed churches, medieval ruins, and gorgeous views.
10. Three Bells of Fira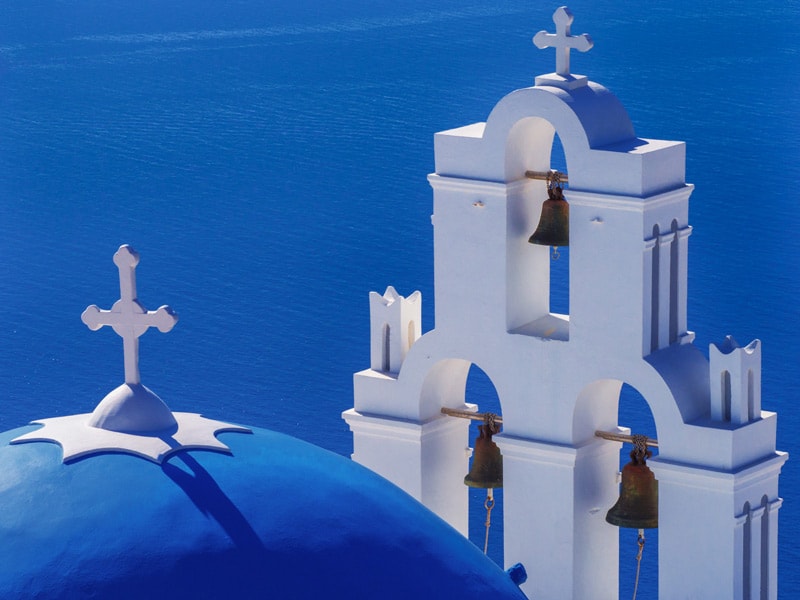 The Three Bells of Fira is another iconic landmark on Santorini that you must not miss visiting. There is a parking lot above it where you can look down on it, or you can walk to it form Mama Thera's restaurant. It is one of Santorini's most iconic photographs and is not to be missed.
11. The Caldera
Santorini was formed in 1620 BC by a massive volcanic eruption that created the caldera that the island overlooks today. Th earth was covered with water creating the Santorini Calderra and spurring the legend of the lost city of Atlantis. Be sure to stay at a cave hotel that overlooks the caldera to take in views from sunrise to sunset.
12. Sail to the Hot Springs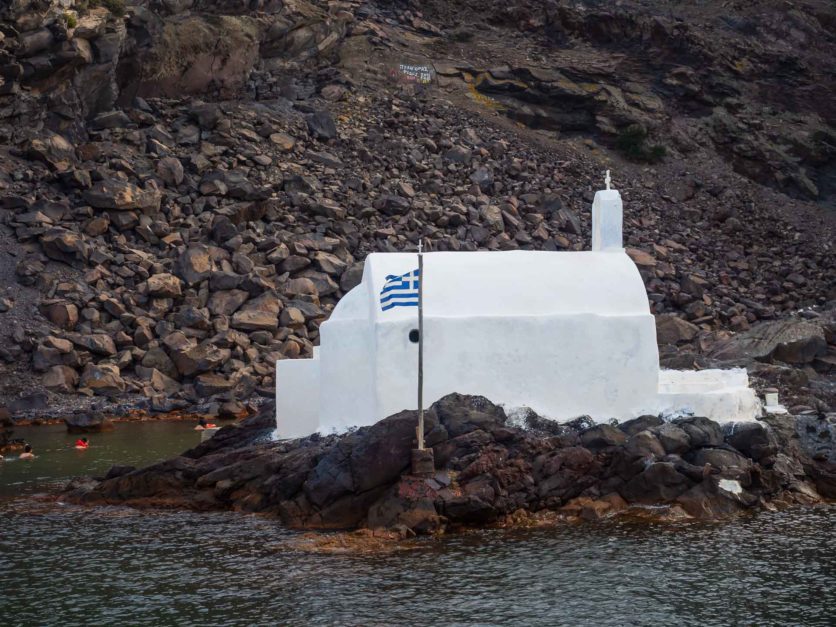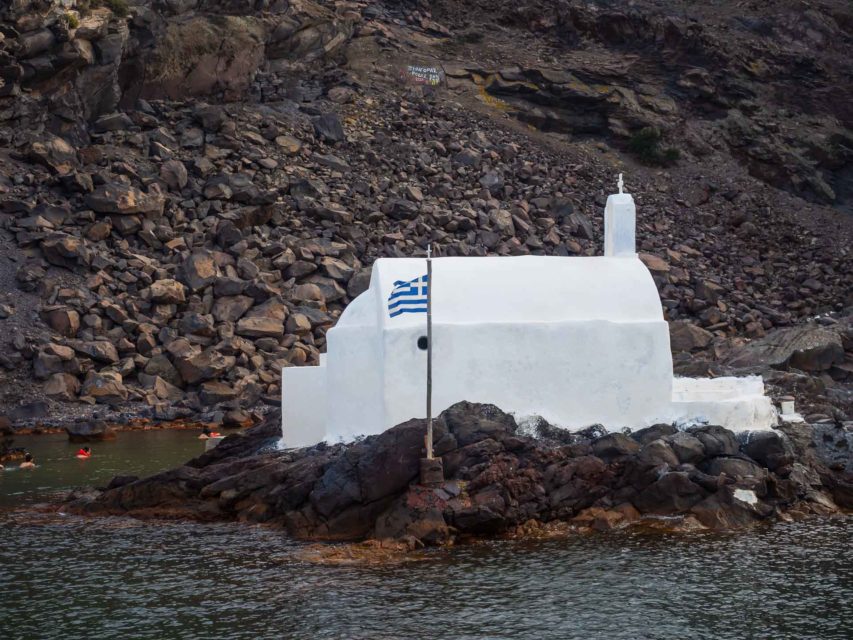 One of the best things to do in Santorini is to take a sunset sailboat tour to explore the caldera. We sailed along the coast gasping in awe of the giant cliffs dotted with sprawling white villages. Sunset sails take you out to the Hot Springs where the bubbling waters mix with the Aegean Sea.
You get to jump into the crystal clear waters at Red Sand Beach and enjoy a dip in the Aegean Sea before heading to the hot springs located on the islet of Palea Kameni. Volcanic activity underground continues to keep the water warm and inviting.
13. Amoudi Bay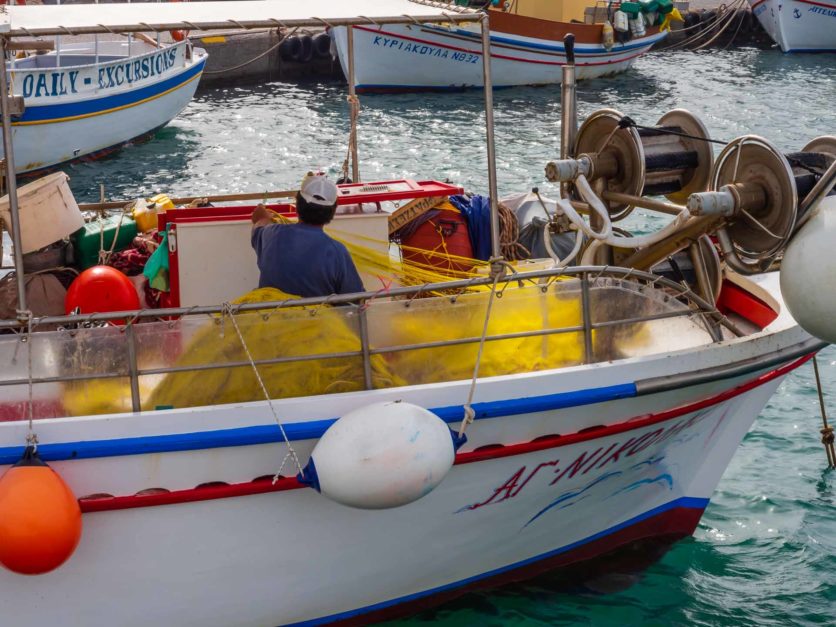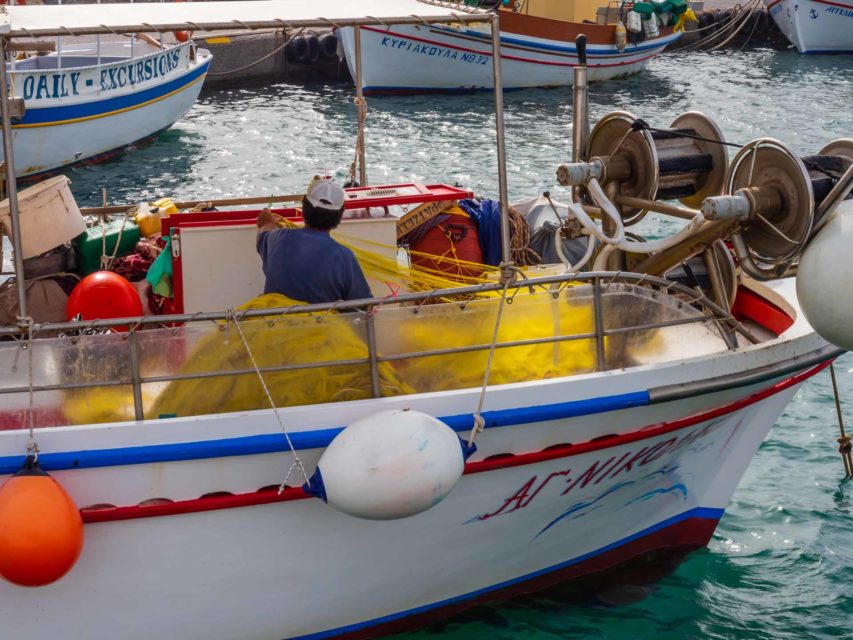 Located some 200 steps down from the town of Oia is the fishing village of Amoudi Bay. Take a hike down to have lunch at one of the tavernas as you watch the cliff divers or go for a swim or snorkel to explore the crystal clear waters.
14. Museum of Prehistoric Thera
If you want a break from the heat and beauty of Santorini, step inside to the Museum of Prehistoric Thera. It displays the archaeological finds from Akrotiri
Another popular museum is the Archaeological Museum, Fira. Located right beside the cable car in Fira it easily attracts cruisers stopping in to learn of the history of Santorini.
15. Akrotiri Archaeological Site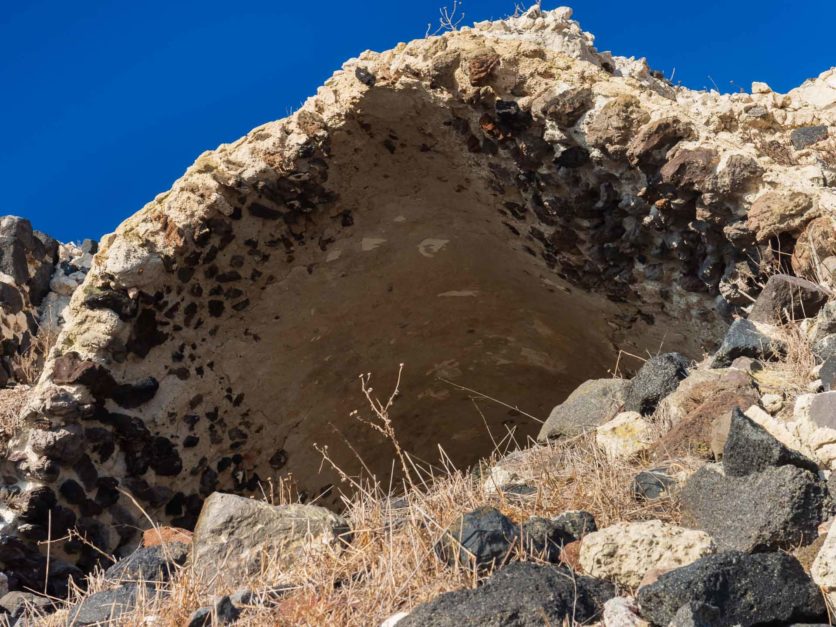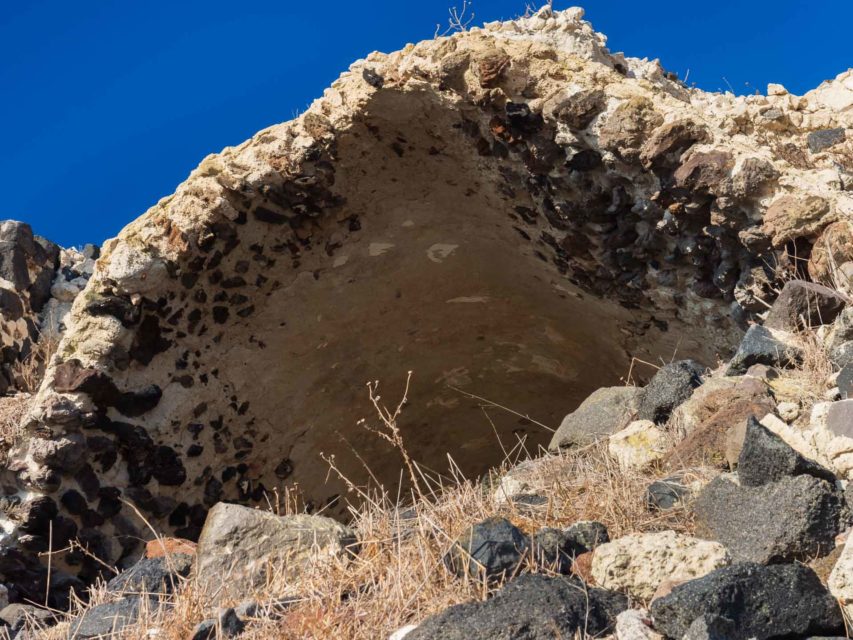 The Akrotiri Archaeological Site is an ancient Minoan settlement that was buried by a volcanic eruption of the 16th century BC. The town of Akrotiri was thriving when the eruption occurred and is often compared to Pompeii as it is so well preserved. But unlike Pompeii, it seems that they knew it was coming, as no human remains have been found, so it was most likely evacuated. The excavation is ongoing and they are still making finds today.
16. Ancient Thera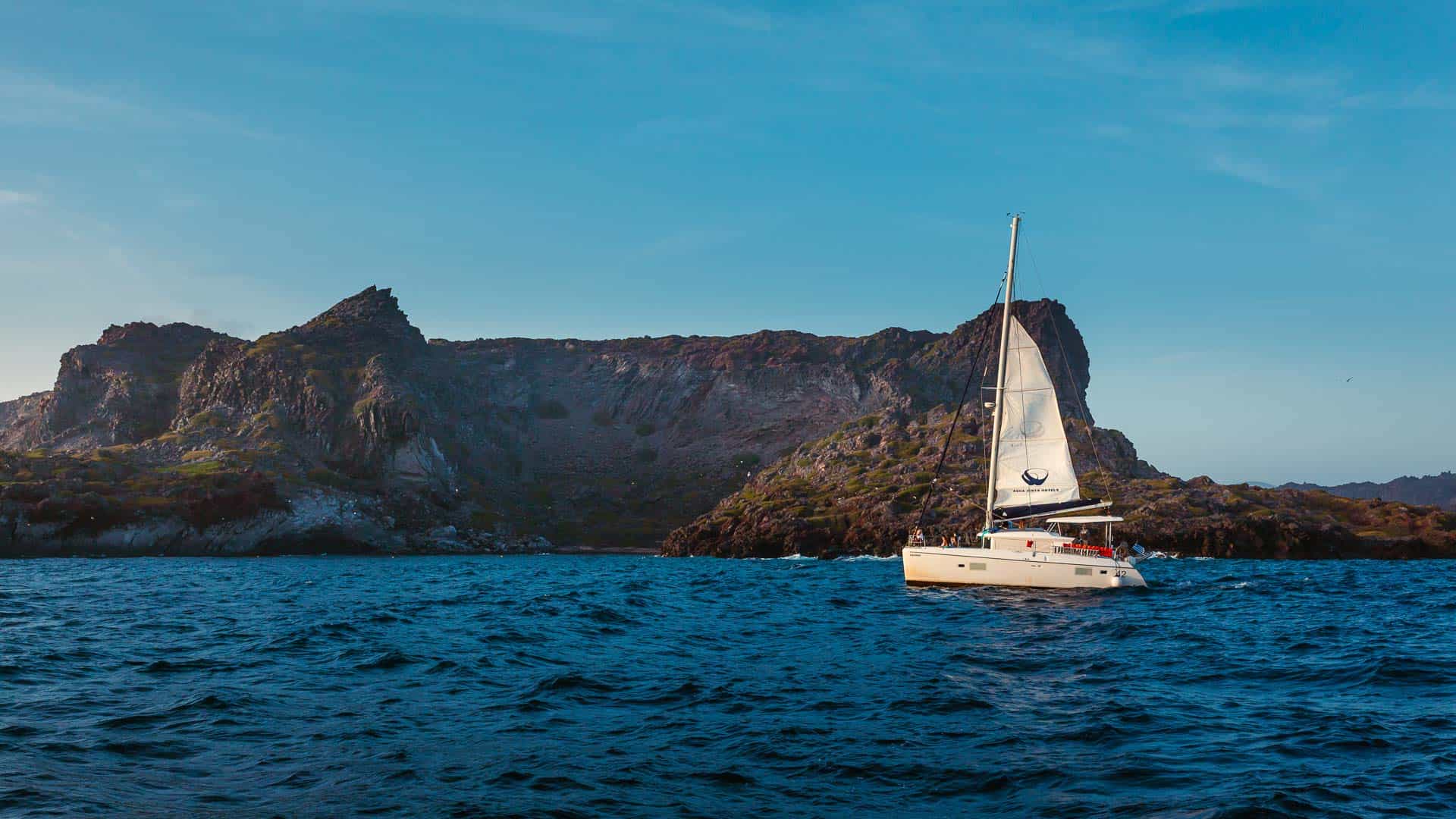 There is a lot of history on Santorini and a good place to visit is Ancient Thera is located on the top of Mesa Vouno Mountain between Perissa and Kamari. When you get to the top you'll have beautiful views of the Aegean Sea as you explore this archaeological site.
17. Megalorhori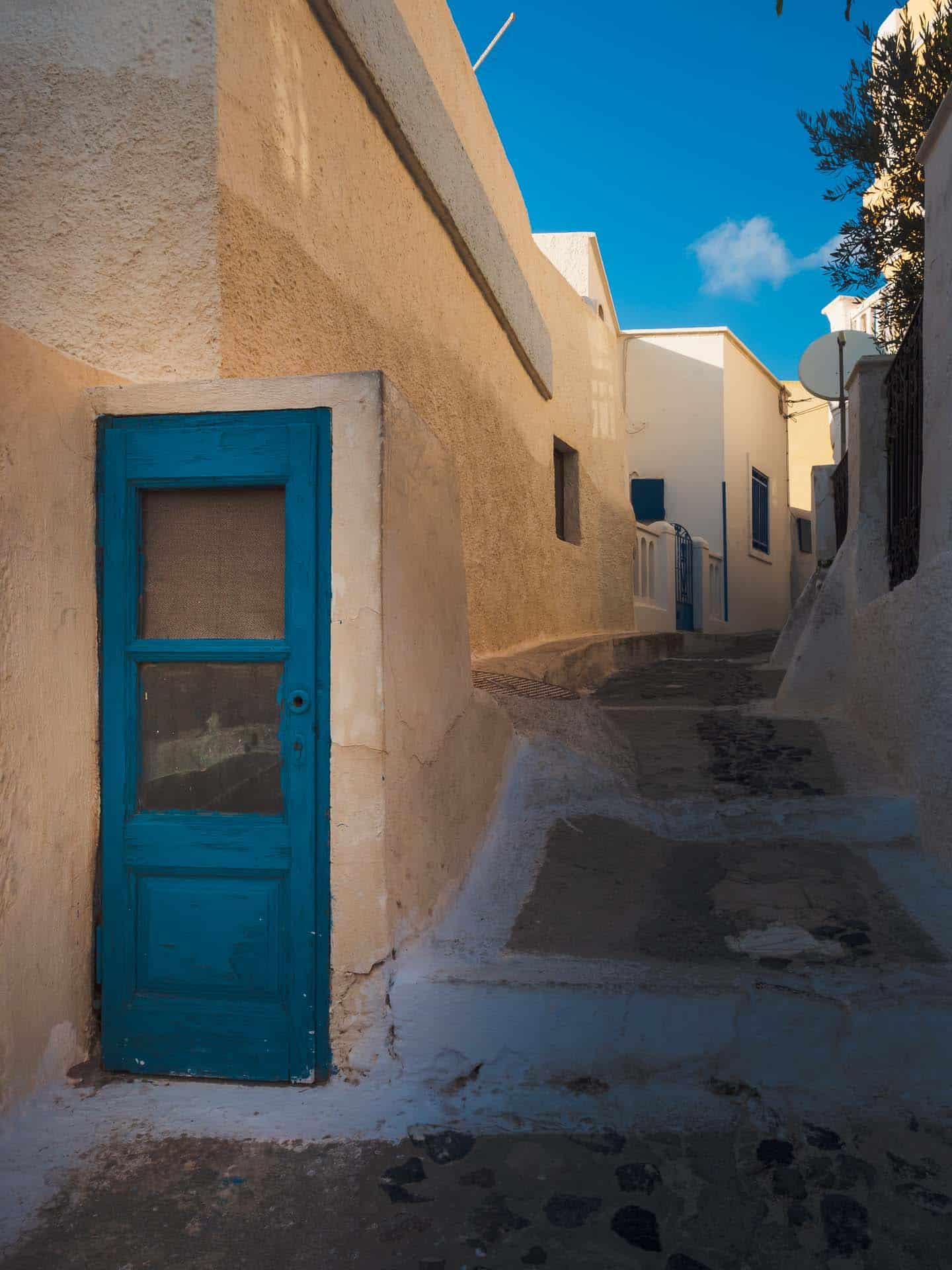 In the town of Megalohori we had our own cave hotel villa with private pool. Here we had the chance to shop for local cuisine and wine. We then locked ourselves in our private getaway.
Nobody could bother us and we had our own Greek snacks and drinks at hand as we lazed in the sun free from anyone else intruding on our secluded getaway.
Read More about our Cave Hotel Experience – Iconic Santorini: A Cave Hotel Experience
18. Mount Profitis
If you are like us and enjoy checking off the details head to the highest point in Santorini, Mount Profitis at 584 meters above sea level. Located at the top of Mount Profitis, the monastery of Profitis Ilias (Prophet Elias) is the oldest on the island. It is just 3km from Pyrgos, so it is a good addition to your day trip the former capital of Santorini. We didn't go at sunset, but we hear it is an absolutely beautiful view as the sun goes down.
19. Visit the Santorini Wineries
Santorini is home to some of the oldest vineyards in the world. Traces of wine making were found in the ancient city of Akrotori. When in Santorini, hop on a wine tour to sample a few of its 20 wineries. The amount of wineries per land area makes it the densest wine region in the world!
Combine your visit with a sunset sunset Wine tour where you'll visit 3 different wineries followed by a tasting with a view at sunset!
How to Get Around Santorini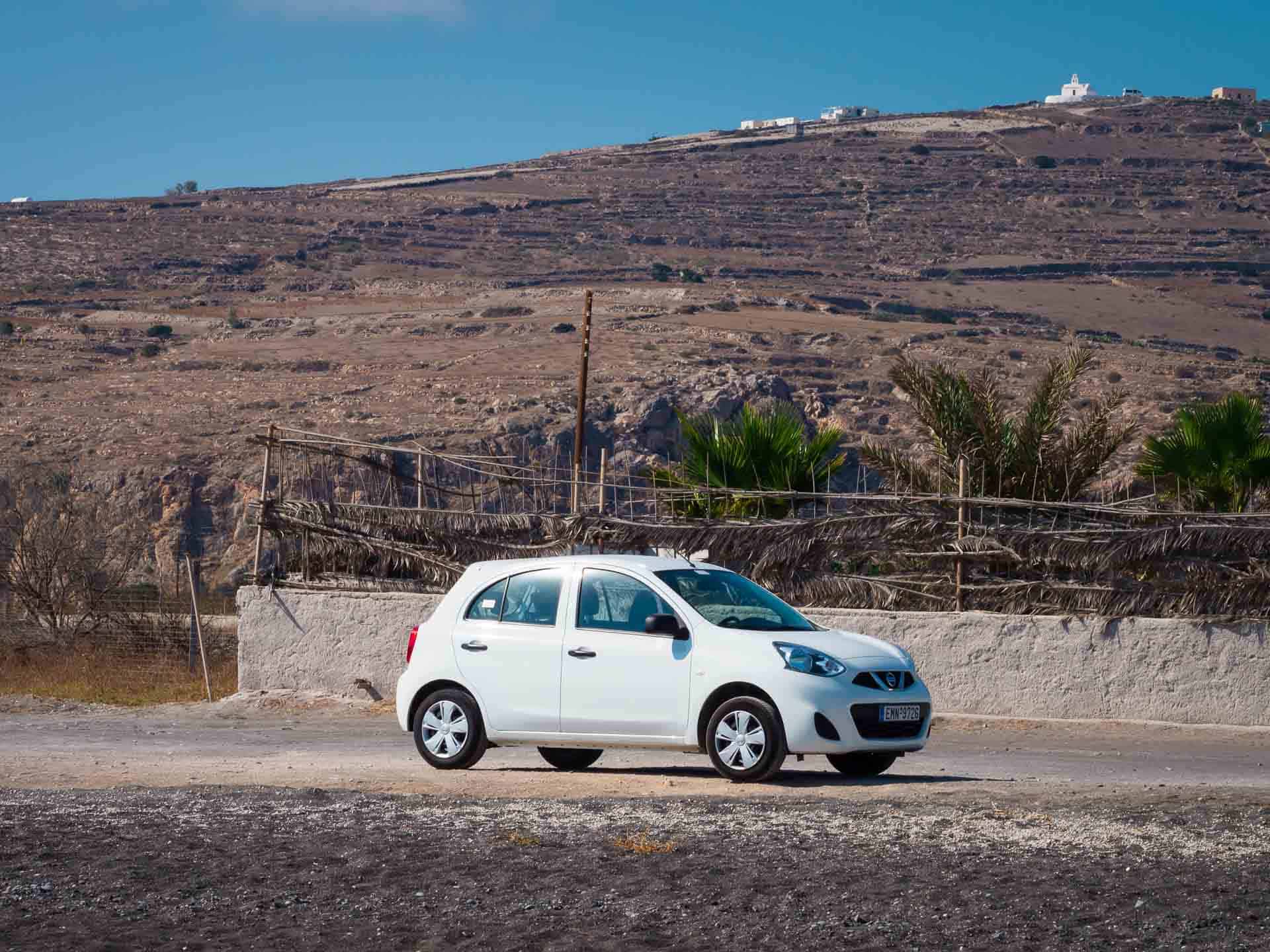 We highly recommend renting a car while visiting Santorini. It is a great way to get around and to see all of the best places on the island. Having the freedom to explore, we set out to the important cultural sites and lesser-known places on the island.
How Long to Spend in Santorini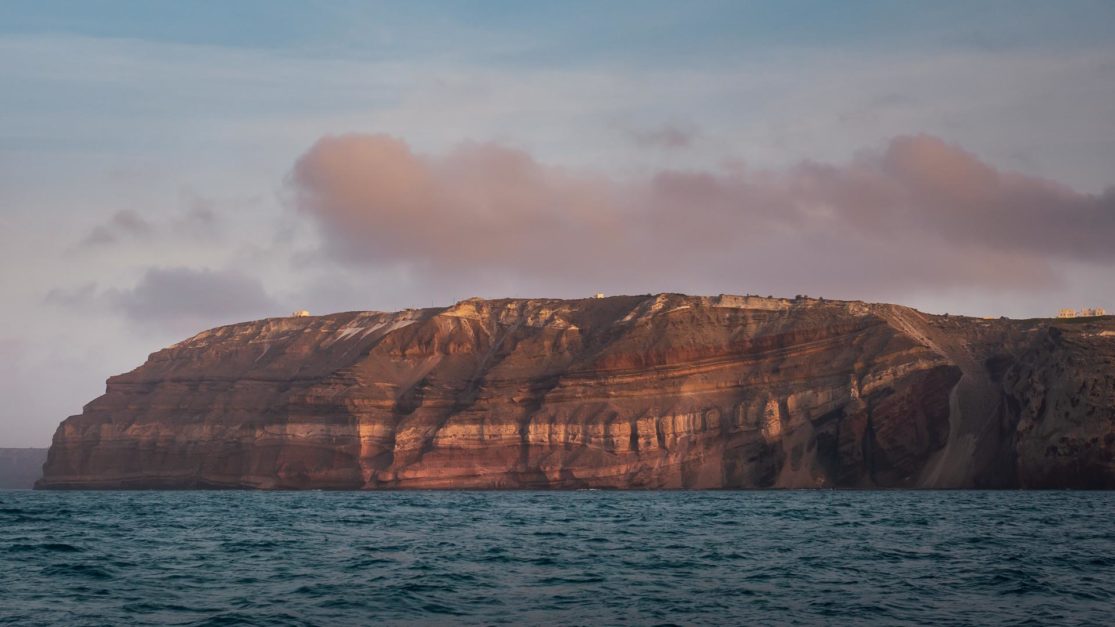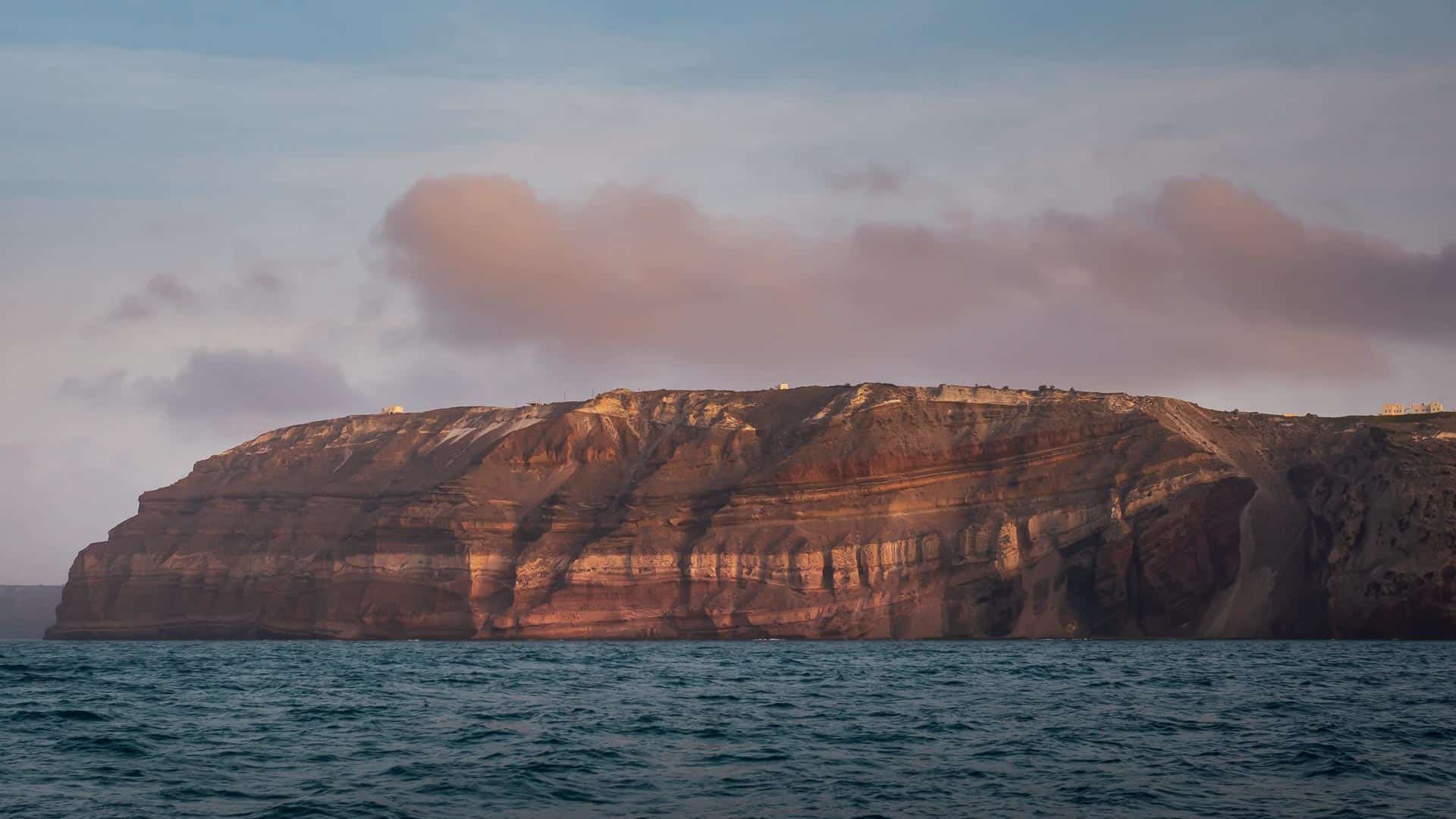 We spent 8 days in Santorini, but you don't have to spend that long. Although, we found it to be just enough time for the perfect blend of relaxation and sightseeing.
We recommend a minimum three days in Santorini. That will give you enough time to visit the three main villages of Oia, Imerovigli and Fira.
Day 1 – You can spend a day shopping in Fira, taking in the views from the cable car or overlooking the caldera and then walking from Fira to Oia where you can enjoy some time admiring the blue domes and Amoudi Bay. Then you can watch the sunset at Oia Castle followed by a traditional Greek dinner overlooking the caldera.
Day 2 – You can then head out to one of the beaches of Perissa or Kamari followed by a sunset tour to Red Beach and the Hot Springs.
Day 3 – This is a good day to take in the culture and history of Santorini to visit the archaeological sites of either Akrotori or Ancient Thera. Then visit the former capital of Santorini, Pyrgos. End you day with a sunset wine tour.
Three days is just enough to explore Santorini, but to truly take it in, we recommend a week. You will want to enjoy relaxing moments at your infinity pool, quiet solitude at your cave hotel and many nights to sample the world class restaurants.
We suggest splitting your accommodations between one of the villages high on the caldera and then at a resort in Perissa or Kamari. Four days in Oia, Fira or Imerovigli followed by three days on the beach should do the trick!
Note: We split up 2 nights in Imerovigli, 3 nights in Oia and 3 nights at the beach and it was a perfect Santorini vacation.
We then caught the ferry to Crete and continued our Greek adventure!
Read More: