This is a huge relief for all extroverts in Delhi. Now with all festivities over, fairs in Delhi 2021 are back to regale us. You must know, as we pen this post, Trade Fair Delhi 2021, a celebration of Indian creativity is hogging all footfall at Pragati Maidan.
In fact, Delhi is forever up for a celebration. No surprise that Delhi is home to many interesting fairs and exhibitions spread throughout the year. Being the capital, the melas in Delhi draws participation from all over the country and even overseas. Delhi Fairs like The Blind School Diwali Bazaar 2021 and the Sundernagar Diwali Mela evoked many excited visitors. Given the busy upcoming events in Delhi, we don't see a dull moment in the next couple of months.
What is the most popular fair organised in Delhi? – IITF
The unanimous answer must be Trade Fair Pragati Maidan (IITF). The Trade Fair Delhi is a display of all things big like tools and machines to handloom and handicraft to pickles, halwas, and other purely Indian food items. The focus is on all kinds of products manufactured in India, at every level, in every corner of the country.
Many countries not only from Asia but other continents also participate with their ware. That is no surprise because Trade Fair is not only a retail fair but a B2B event as well. Add to that the food courts with food from various states, this is the perfect recipe for a late-autumn picnic.
New Delhi World Book Fair
If you are looking for an interesting upcoming event in Delhi, mark your calendar. The New Delhi World Book Fair 2022 is slotted for January 2022.  There are 2 major book fairs that take place in Delhi. This is the first, perhaps the larger book fair. This book fair draws not only Indian publishers and booksellers but a host of foreign publishers as well.
From experience we say, soon after we reach the fair, our bags are unwittingly overflowing with books! The book fair is a unique spot where sometimes books are sold by numbers like 3 for Rs 100. We are unembarrassed to say, we look out for such bargains. The venue is the reconstructed Pragati Maidan and we can't wait to visit the Book Fair.
Delhi Book Fair – Delhi Fairs For Bookworms
The second book fair in Delhi is held around September every year. The venue is again Pragati Maidan. We got this question earlier this year– will there be book fair in 2021? Well, Delhi Book Fair 2021 was held online.
However, now that melas in Delhi are back in business we are optimistic that Delhi Book Fair 2022 would be held in reality. The Delhi Book Fair sees more Indian participation than foreign stalls.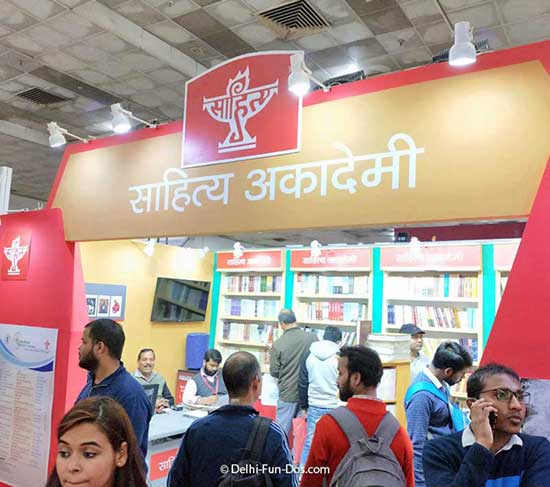 That does not deter the book worms. They still swarm the book fair in large numbers, look up books, buy a lot and start reading some of those sitting on the floor of a pavilion! Mini snack shops selling tea-coffee and savouries like samosa, patties and sandwiches do brisk business. We thoroughly enjoy this book fair as well.
Aadi Mahotsav
India has uncountable cultures cutting across the whole gamut – urban, rural, folk and tribal. All of these come with their unique life practices. Aadi Mahotsav celebrates tribal life in India. Aadi Mahotsav is held at Dilli Haat, INA Market. If you visit this festival, you get to explore the unique crafts and weaves of various tribal communities across the country. Some of these are complete mavericks while some stylishly fit our urban homes.
There are various cultural programs such as music and dance performances by troupes from Bastar, Orissa, Santhal region of Bengal and the famous Siddi Gomars from Gujarat. These are a riot of colours in the truest sense. Last but not least, you get to sample unheard of delicacies here. We are still excited about the ant chutney from Chhatisgarh that we tried here. Aadi Mahotsav 2022 dates are in February 2022.
Surajkund Mela
Will Surajkund Mela be held in 2022? The answer is a regaling yes! We are told, Surajkund International Crafts Mela will be held from 4-25 February 2022. The Surajkund Crafts Fair is an annual celebration of handmade items of India.  Just not India, many neighbouring foreign countries participate with their crafts and weaves as well. Stalls from Thailand, Afghanistan carpets, Bhutanese bags and so on draw many customers.
Cultural performances are an integral part of this fair. There is an amphitheatre with a seating arrangement where music, dance and even magic shows and folk theatre pieces are routinely held. Nothing heavy, just enough to entertain the visitor. Folk dance troupes break into performances at various spots and the visitors also join in.
Last but not least, there is a dedicated food zone with stalls from various states. Some hotel management schools also set up pop-ups. Come lunchtime, this area is the most crowded at the fair. Surajkund is a day-long affair.
While at one point it was pedantic about authentic arts and crafts.  Craft-aficionados would mark their calendar for this event. Now it has entertainment at its heart and can be enjoyed by all.
Also Read: Top Places to buy Indian Handicraft in Delhi
Hunar Haat
Hunaar Haat is again another handicraft fair. This fair sees huge participation from small artisans and cooperative societies. Artful as well as functional items are available here. The prices at this fair are mostly affordable.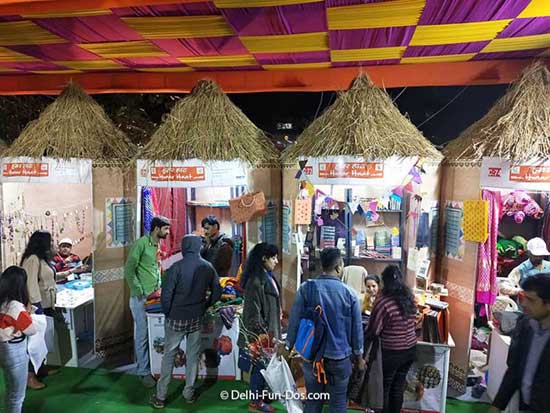 The venue keeps changing and we recall a very successful Hunaar Haat that was held at India Gate lawns. One pavilion was dedicated to the endless varieties of food from various corners of India. Needless to say, we had a rocking time. Hunaar Haat 2021 is part of the Trade Fair Pragati Maidan now ongoing in Delhi.
Saras Ajeevika Mela
Saraj Ajeevika Mela also celebrates the hand-skills of Indian artisans. The difference between this fair and other handloom and handicrafts is that Saras Ajeevika Mela gives preference to women participants. This is a fair that is a must-do for anyone who is a fan of traditional Indian items. Food items such as pickles, papad, packed savouries are a special draw here.
Comic Con India 2022
Comic Con is one of the biggest events celebrating comic culture. It is an assembly of comic creators, artists, fans and aspiring comic artists. Comic conventions probably started in USA. They have spread to all corners of the world.
Comic Con in India started in Delhi more than a decade back. It has now spread to various other cities as well. We love this fair since not only come across comic characters that we know but also many comic characters that became popular after we became adults. Also, the Phantoms and Chacha Chaudhuris make us nostalgic. Comic merchandise like printed mugs, t-shirts etc are something we love. Cosplay, where fans dress up as their favourite comic characters is something we look out for.
The Comic Con venue keeps changing. We have attended the sessions at Dilli Haat, INA Market; Thyagraja Stadium and NSIC Ground Okhla. We are optimistic that Comic Con 2022 would be held physically and we shall be regaled as ever.
Auto Expo 2022
As the name suggests, Auto Expo is an exhibition of various automobiles. This fair draws huge footfall since everybody wants to check out the new kid on the block when it comes to automobiles. The venue of the Auto Expo was traditionally Pragati Maidan. However, it has now been shifted to the newly constructed India Expo Mart, Greater Noida Uttar Pradesh. Auto Expo 2021 was cancelled. On some research over the internet, it appears that Auto Expo 2022 is going to be organised. As soon as we come to know of the dates, we will update the Upcoming Events calendar.
This is actually a list of the best fairs and exhibitions in Delhi. A host of other exhibitions are held at Kisaan Haat, Crafts Museum, the various Dilli Haats so on and so forth.  Christmas Fairs are also in the offing. We will keep updating DelhiFunDos as and when anything is interesting. Please keep visiting our blog and social media channels.