León, situated in Spain's northwestern Castile and León region, is a refined city of architectural treasures and tempting tapas. These two magic ingredients ensure that a weekend in León is a treat for both the eyes and the taste buds.
A long-standing stop on the Camino de Santiago since the 10th century – León Cathedral is part of its UNESCO listing – it's a well-traversed city with plenty of history.
From admiring the modernist Casa Botines, one of Gaudí's only works outside Catalonia, to marvelling at the frescoes in the Royal Pantheon, León's stacked architectural credentials are the city's main draw.
Throw in the decent bar and dining scene – the tradition of free tapas is still alive here – and you've got an ideal-sized city break. A little over two hours by high-speed train from Madrid, this is one of Spain's best cities to visit.
Here's how to spend a weekend in León, Spain.
Day one: arrival and orientation
Once you've arrived and checked in for your weekend in León – a heritage hotel such as Hotel Real Colegiata San Isidoro is a good choice if you're seeking a special stay – set out on a little introduction to the city, before devouring León's celebrated cuisine.
All the suggestions and opening hours here are based on a Friday arrival and Sunday departure. Still, it's always best to check opening times (and remember Spain's afternoon siestas) in advance.
Late afternoon: Introduction at the Museo de León
Paid – Cheap | Closed Monday | Website
Housed in the curiously round-fronted Pallarés building, León's city museum offers an informative and relatively brief introduction to the city.
The space tells the story of the city and surroundings from The Stone Age until contemporary periods. Exhibits such as Roman limestone pillars and sacred arts paint a picture of times gone by. There is also a second part of the museum in the Convent of San Marcos, which we'll visit tomorrow.
The museum closes at 7 pm in winter and 8 pm in summer. If you're arriving later in the evening, you can squeeze this in on Saturday morning.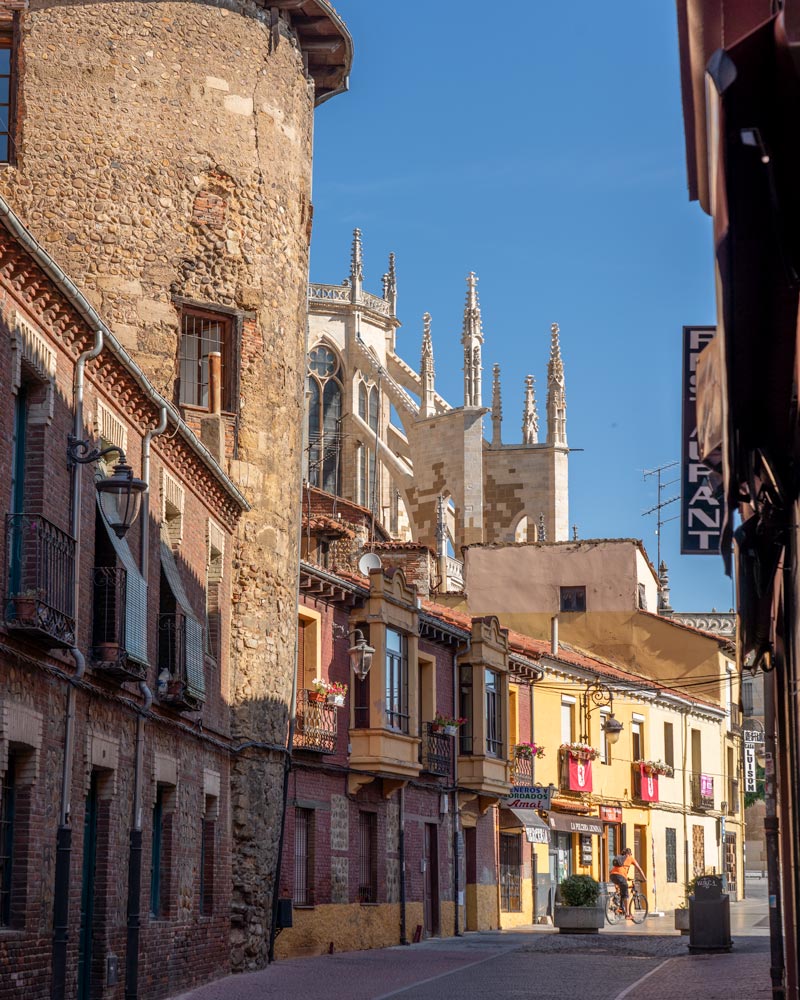 Evening: Tapas crawl in Barrio Húmedo
León's pedestrianised medieval centre is a delight, especially come evening when it's time to bar hop.
By dusk, the Barrio Húmedo – literally, the wet neighbourhood – is the place to be. There are heaps of quality bars and restaurants, and the vibe feels local rather than touristy.
León's other USP is that most taverns will offer traditional free tapas with your drink. This is a rarity in the Castille and Leon region. Meat is beloved, so vegetarians be warned. Morcilla (blood sausage), albóndigas (meatballs), and various pork dishes are typical menu features. For a more filling post-tapas dinner, Cocido Maragato, a chickpea and meat stew, is a choice.
Solid choices for tapas are La Ribera, Four Lions Brewery and La Trébede. For something more substantial, head to El Patio or El Romántico. Post-feast, follow your ears to the liveliest bar and soak up the atmosphere to the early hours.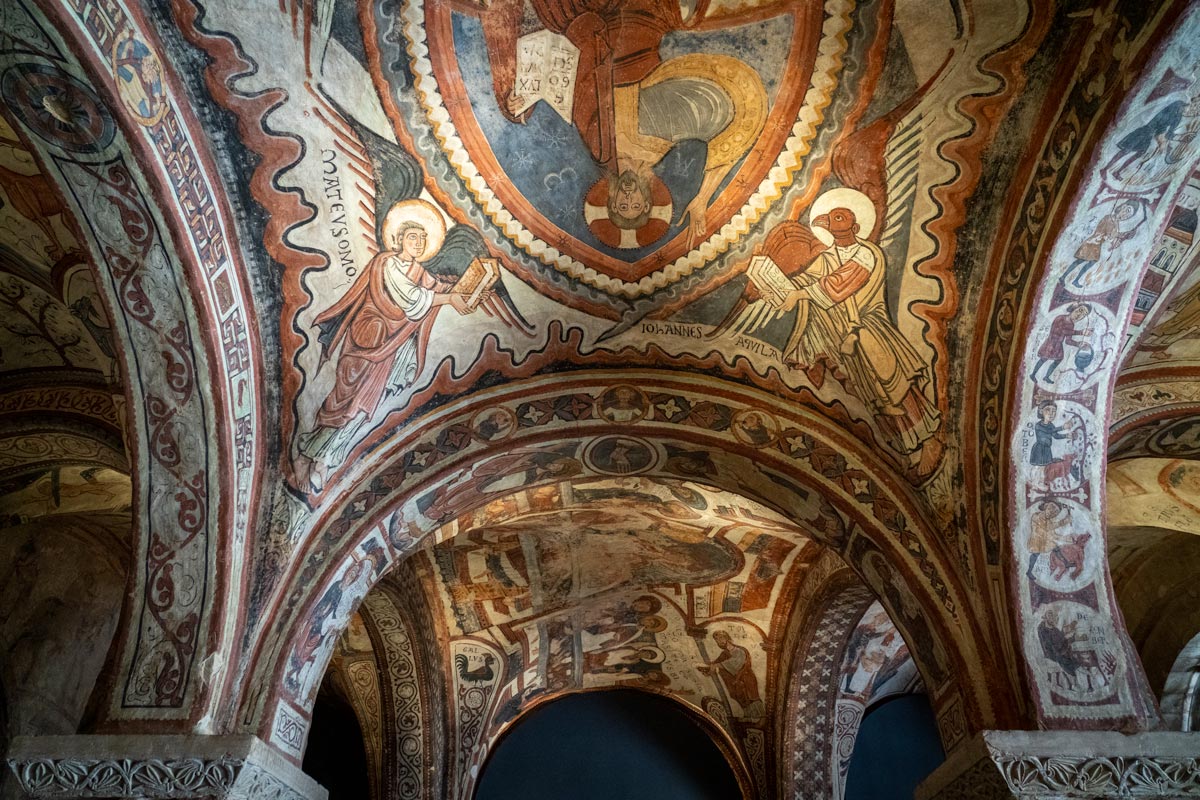 Day two: things to do in León, Spain
Spend your Saturday soaking up the atmosphere, flavours, and most striking architecture of the city.
Morning: Tour the Basílica de San Isidoro
Paid | Book guided tours in advance | Closed Sunday afternoons, and Monday | Website (ticket sales)
Start your deep-dive into León trio of impressive architectural gems at the Royal Pantheon, part of the larger Real Colegiata de San Isidoro. This incredible building also houses the Basilica and museum.
The star is the Panteón Real, known as the 'Sistine Chapel of Romanesque art'. Incredibly well-preserved frescoes depicting religious scenes adorn the vaulted ceilings, looking down on the chapel's sarcophagi. Dating from the 11th Century, the artwork is mesmerising.
If you join one of the guided tours, they will talk you through the stories shown on the ceiling. There are some surprises, such as mountain animals and dogs. It's unfathomable that, at one point, this room was used merely as a stable.
Beyond the breathtaking frescoes, you can also visit tour much of the complex. From 1000-year-old silver jewels and a golden chalice to the aged-library and main religious hall, you'll want to allow at least 90 minutes for your visit.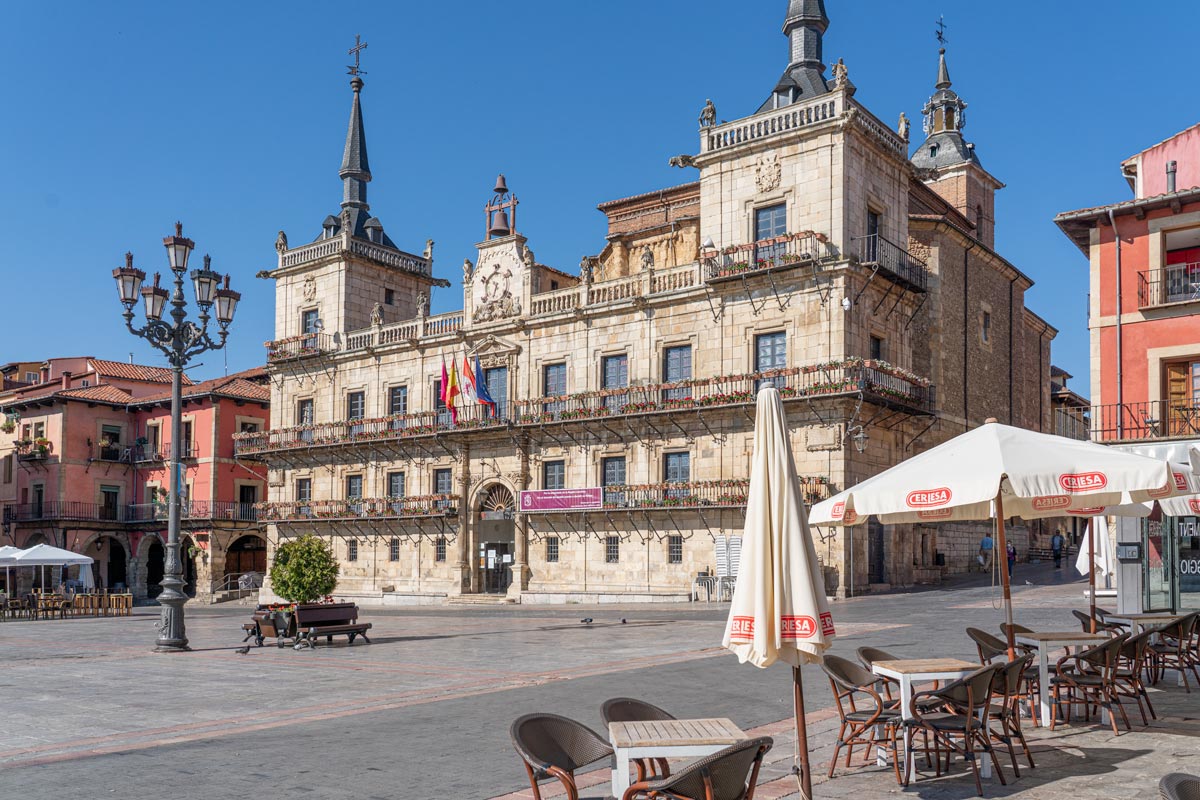 Lunch: Typical dishes and wines on a plaza
For lunch, head to one of the restaurants occupying the city's squares. Plaza Mayor and Plaza San Martín are good bets. While you'll find plenty of delights on the food menu, be sure to browse the wine list too.
León has around 40 wineries in its designated domain and has been producing under DOP status since 2007. Still, the wines and production date back long before, and there are some exciting flavours to be had.
The native grape – Prieto Picudo – is a dashingly dark grape which produces a deliciously minerally wine with notes of berries and liquorice. If you prefer white, the region's limited production of Albariño is the go-to choice.
As production is minor compared to most of Spain's wine regions, the wines of León are not so easy to find when abroad. Thus, now's your chance – and a perfect excuse for a slightly boozy lunch.
Prefer to visit the vineyards? Book this 4 hour Valdevimbre winery buggy tour (with pick up from León)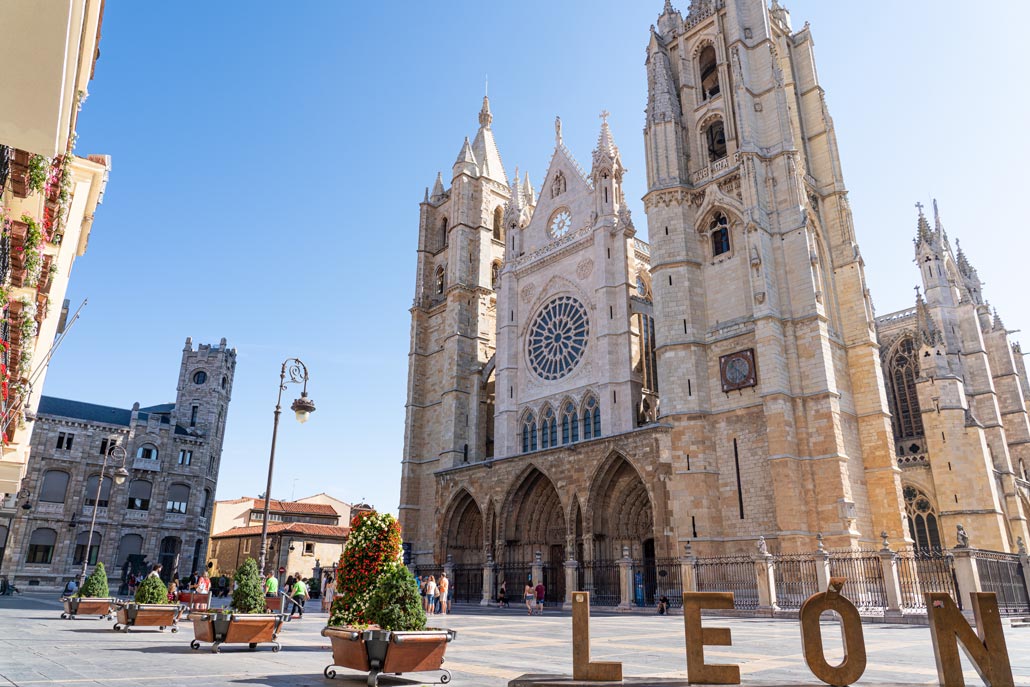 Afternoon: Marvel at León Cathedral and the cloister
Paid | Open daily, closed for lunch and during mass | Website
After a long lunch – the Cathedral doesn't re-open until 4 pm – it's time to see some exquisite stained glass windows, hopefully with the late-afternoon sun adding to their appeal.
As soon as you step into León Cathedral, you'll see what it's called the 'House of Light'. These 1800 square meters of stained glass windows are some of the world's most extensive and impressive, second only to France's Chartres Cathedral. The rose windows, and detailed depictions when viewed up close, are outstanding.
Many of these original windows date back to before the 1700s, with the oldest painted in the 11th century. Sadly, some have been lost over the years. However, an extensive project to repair and re-touch each one is ongoing.
Having seen its fair share of troubles – part of the building collapsed due to poor foundations – it's a miracle these artworks remain at all. If you upgrade your ticket, you'll also be able to visit the museum and cloisters. The latter's intricate ceilings and statues make the extra few euros a sound investment.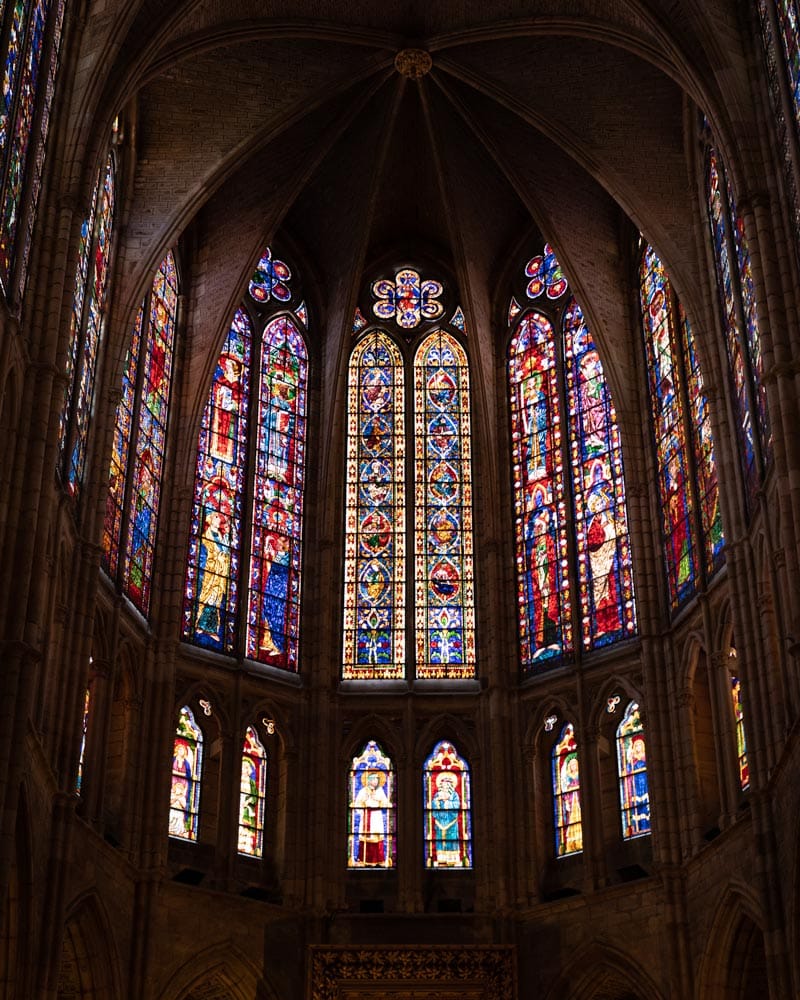 Late afternoon: Self-guided walking tour
Before the sun disappears for the day, enjoy a golden hour stroll around the city.
Admire the Palacio De Los Guzmanes (there are some brief guided tours to the patio inside if you wish to venture inside). See how the old Roman Walls have become part of the city's fabric, with homes and shops built into them. Then, tour Leon's collection of quaint squares, the Plaza de Santa María del Camino being a particular favourite.
Away from the centre, stroll along the Bernesga River towards the Convento de San Marcos. This hulking Renaissance building, now a luxury hotel, is a sight to behold. If you arrive before 7 pm, you'll be able to enter part of the building which houses the archaeological collection, the secondary outpost of Museo de León.
With much of the building now in use as a luxury hotel, exploring freely inside the grand cloisters is restricted to staying guests only. So, if you want an all-access pass, you'll want to make this your weekend in León hotel of choice.
Prefer a guide? Book this 2.5 hour walking tour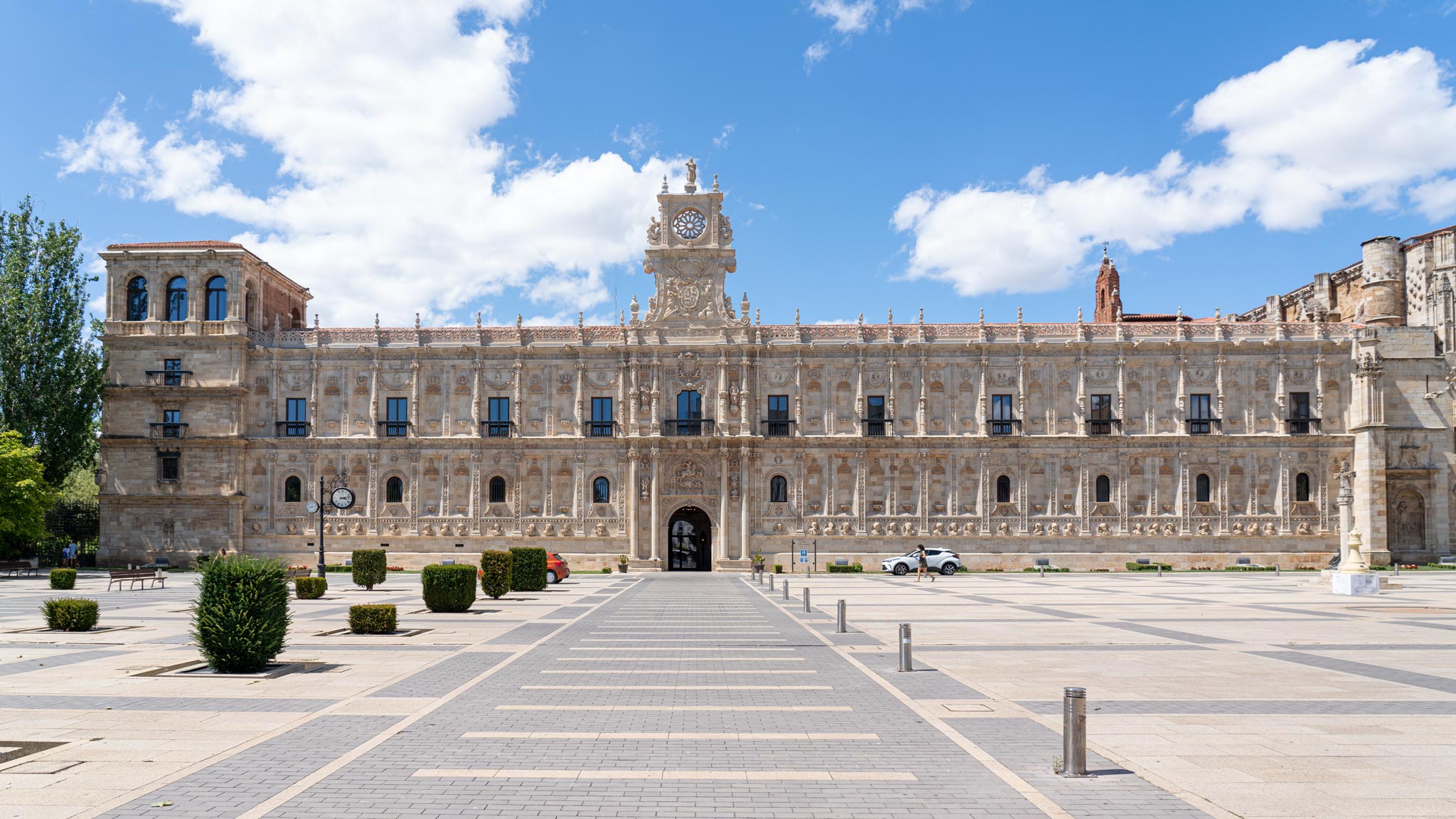 Evening: Enjoy an opulent dinner in a monumental setting
Splash your cash on Saturday night and enjoy an upscale dinner in one of the city's heritage properties.
The restaurant at Parador de León is a grand choice, especially if you've ended your walking tour here. It will also get you inside the hotel if you want to peek around. Sadly, the dining room lacks a little charm, as it's part of the modern conversion. Still, the premium dishes are delicious, and the old wooden doors and arched windows help retain something of an opulent feel. 
An alternative is the Restaurant at Hotel Real Colegiata San Isidoro. The restaurant takes over the attractive courtyard on warmer weekend evenings, and live music adds to the evening. While the food here was more traditional and down to earth, it was excellent quality.
Afterwards, it's time for round two in the bars of Barrio Húmedo – cheers!
Day three: what to do in León, Spain
After a lazy Sunday breakfast, dive a little deeper into León's creative scene, and visit one of Gaudí"s few creations outside of Catalonia.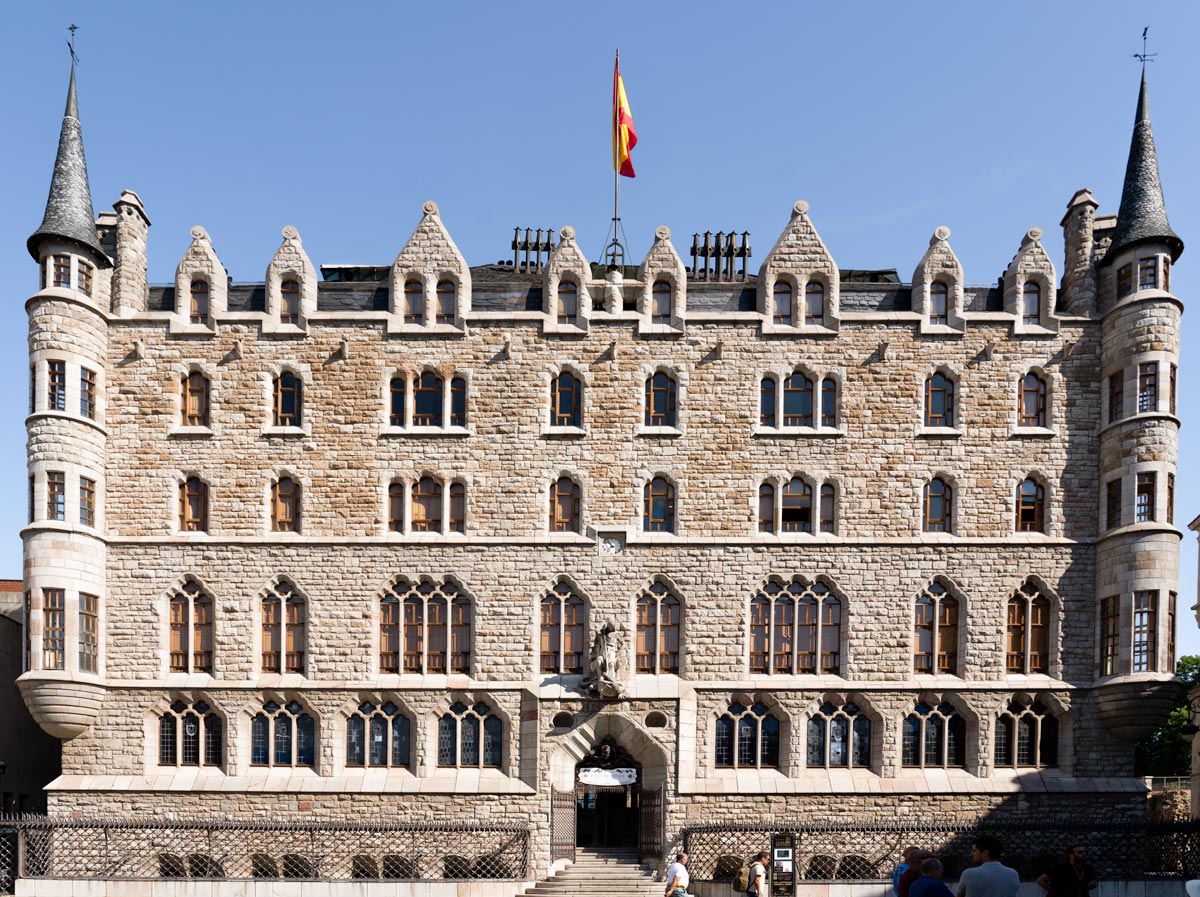 Morning: See Gaudí's Casa Botines
Paid | Closed Tuesday, and Wednesday morning | Website (ticket sales)
Bringing a little architectural magic to the Barrio Romántico (Romantic Quarter) is Casa Botines, one of Gaudí's few works outside of Catalonia.
León province is actually home to two of his creations, the second being the whimsical Episcopal Palace in the nearby town of Astorga, which makes for a great side trip if you spend a long weekend in León.
If you've envisioned something flamboyant, scrap that thought. The design is a far cry from his usual style. Straight lines and the somewhat typical facade of the Modernist building seem 'simple', but it's not without its quirks.
Constructed to be a house and fabric factory, the plans were slightly limited by the owner's ideas rather than the artist's imagination. Yet, when you venture inside the now museum and join a guided tour, they'll point out some of his signature inclusions. The ground floor is dedicated much to the building's history and design process. On the upper levels, you'll find more insight into both Gaudī and how the two homes here used to be.
Lunch: Head underground to El Modernista de Ezequiel
In the basement of Casa Botines, you'll find the modern and streamlined El Modernista de Ezequiel restaurant.
Sadly, it isn't Gaudí themed, so don't come here expecting elaborate dishes decorated with flamboyant designs. Instead, the team offer a solid choice set-course lunch based on reliable local flavours, such as roasted peppers, quality pork items, and regional cheeses.
The drinks list also highlights León wines alongside a decent choice of cocktails.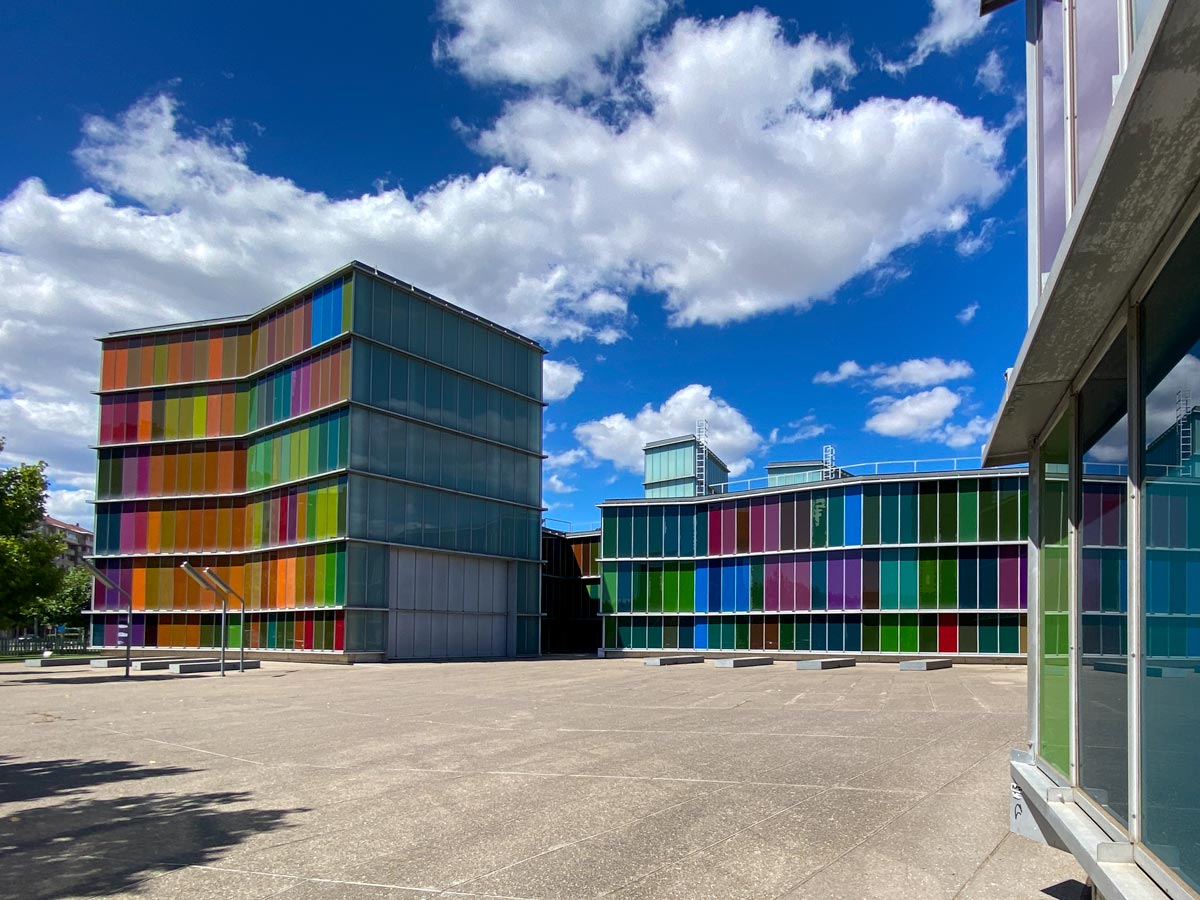 Afternoon: Visit the Contemporary Art Gallery
Paid | Closes Monday, and daily for lunch | Website
If you still have time before departure, consider spending an hour or two in MUSAC, the regional contemporary art gallery.
Easily distinguished by its multi-coloured glass panels and modern frontage – a stark contrast to the city's heritage buildings – the relatively small collection adorns five different rooms.
Representing some 400 artists, the contemporary pieces cover an array of creative disciplines, with temporary exhibitions usually focusing on an often social or political narrative.
If you didn't manage to make it into the Convent of San Marcos the previous day, this is also nearby so there's a second chance to visit and enjoy a grand end to your weekend in León.
When to visit León, Spain 
Summer is, of course, the most popular time to visit Spain for Brits. However, the exceptionally high temperatures can sometimes feel a little unbearable. The same can also be said of winter, when the mercury plummets, sometimes falling below freezing at night.
Luckily, being a fantastic city break with plenty of museums and impressive architecture to tour, there isn't a wrong time to visit León. However, if you can, I suggest plumping for late spring or early autumn. This will hopefully mean fewer crowds, better deals on accommodation, and more balanced weather.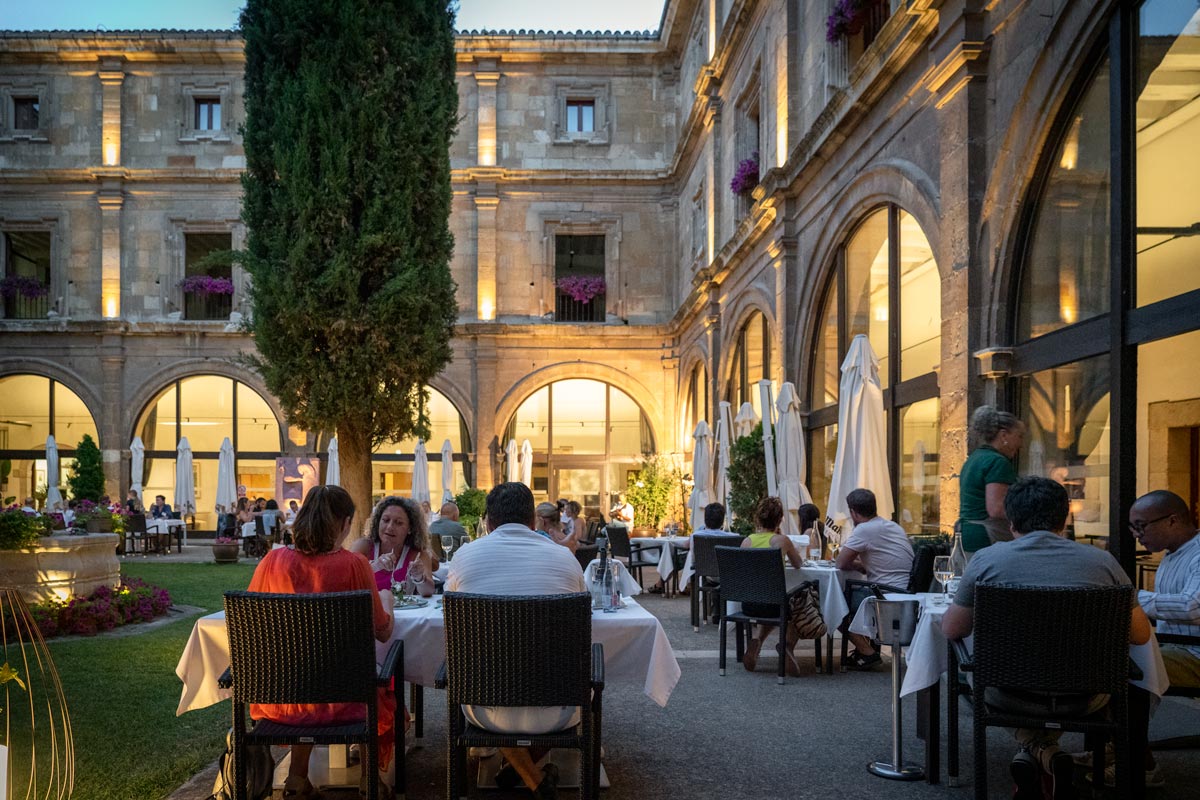 Where to stay in León, Spain 
León is a fairly large city and an established tourism destination, so you'll have a reasonable amount of choices regarding accommodation for your weekend in León.
Budget – Palacio Real Hostel There aren't too many budget options in León, but this simple and modern hostel has clean and basic dorms and doubles.
Mid-range – FC Infantas de León Fair priced and well-furnished rooms in the city centre complemented by a rooftop terrace with cathedral views.
Luxury – Hotel Real Colegiata San Isidoro For something a little special, opt for this restored and converted basilica. While the historic building is a grand setting to stay in, the prices are relatively fair thanks to the 3-star rating. I enjoyed my stay here, and you can choose between more modern and renovated rooms in the new quarter and chambers in the older section. The music evenings in the courtyard are also great for dinner. The Parador de León is another luxury heritage option, but not so centrally located.
How to get to and around León, Spain
Exploring the city centre is easily done on foot, especially with much of the historical centre pedestrianised, so you likely won't need to use any public transport during your weekend in León. Below, I've highlighted how to arrive from Madrid or further afield.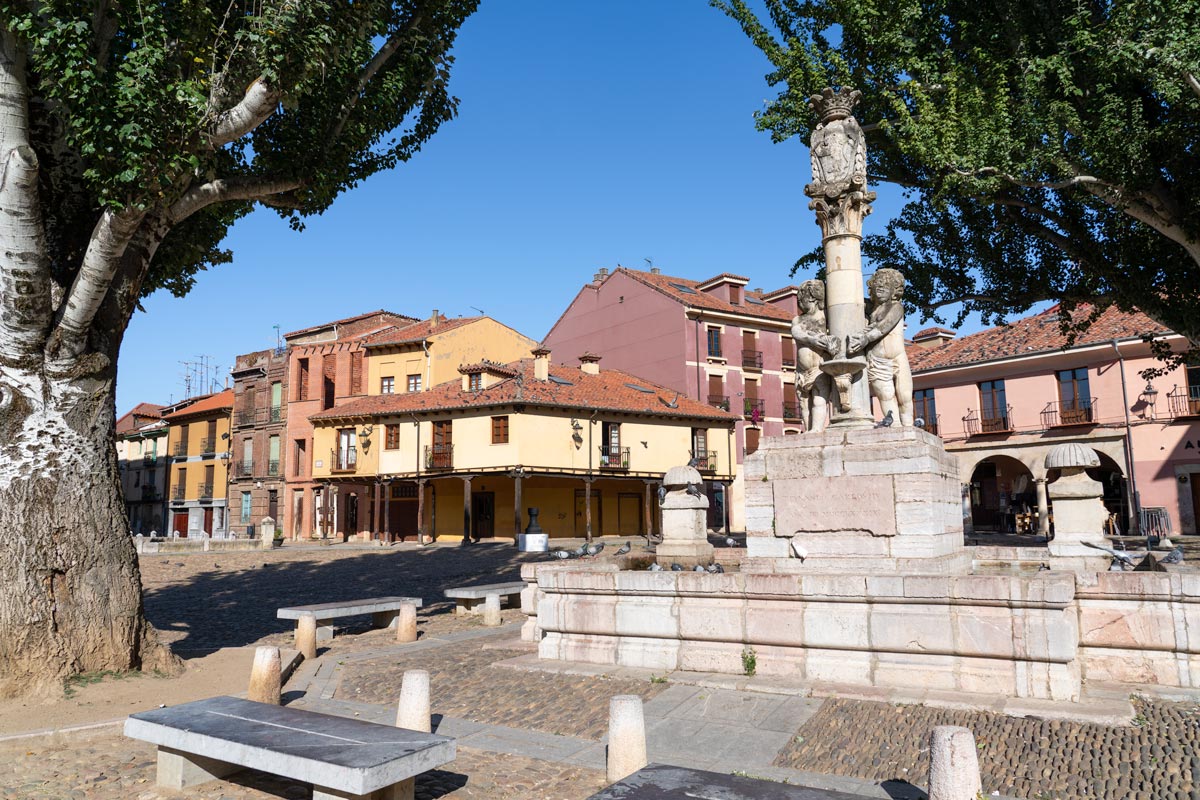 Travelling to León by train and public transport
If you're coming from elsewhere in Spain, then the train service is likely the best connection, with buses being a decent alternative. From Madrid, the journey by train takes around 2 hours on Renfe's AVE service (high-speed rail).
Train tickets, especially for long-distance journeys, which you should book in advance, can be made directly on the Renfe website (usually cheaper) or using popular apps like Omio. ALSA is the leading bus company for intercity travel in Spain, and FlixBus is good for international bus connections.
BlaBlaCar, a car-share service (where you book a spare seat in the car of someone already making a journey), is also very popular in Spain and worth checking out if you struggle to find a direct connection from your starting point.
Read more: A guide to travelling in Spain by train
Travelling to León by plane
León does have its own airport, just a few miles from the city; however, it only offers domestic connections. Oviedo/Asturias is the nearest international airport with a growing number of links, including London.
Santander and Bilbao's airports are other options (see connection details below), although I'd suggest Madrid as the best. Not only does it have a huge choice of flights from all over the world, but the direct train connection to León is also quick – only two hours – if using the high-speed rail service.
Travelling to León flight free from the UK
If you want to enjoy a weekend in León from the UK without flying, you have a couple of options.
The first is to take the Eurostar to London and, from there, the train to Hendaye, with two further train connections via Irun and Palencia. You can expect this route to take around 24 hours if timed well. Buses from the UK will take longer (over 24 hours), but the journey only involves one change, either in Vitoria-Gasteiz or Paris. From Paris, there are direct 18 hour FlixBus connections to León.
An alternative is to take the ferry from the UK, operated by Brittany Ferries, either to depart Portsmouth or Plymouth (though some sailings are only in summer) and arrive in Santander or Bilbao. Both journeys involve two nights aboard the ship. From either arrival point, you can continue by car if driving, pick up a rental car, or take an approximately 5-hour train journey to Le, with a connection in Palencia from Santander or Miranda De Ebro from Bilbao. 
While there are direct trains from Bilbao, it is on the slow service, hence the connection perhaps being best. In general, though, the bus routes are usually quicker than the train in these instances.
If returning the same way, you might want to consider spending a night in San Sebastian – a gorgeous coastal town with some of the best food in the county – before sailing back.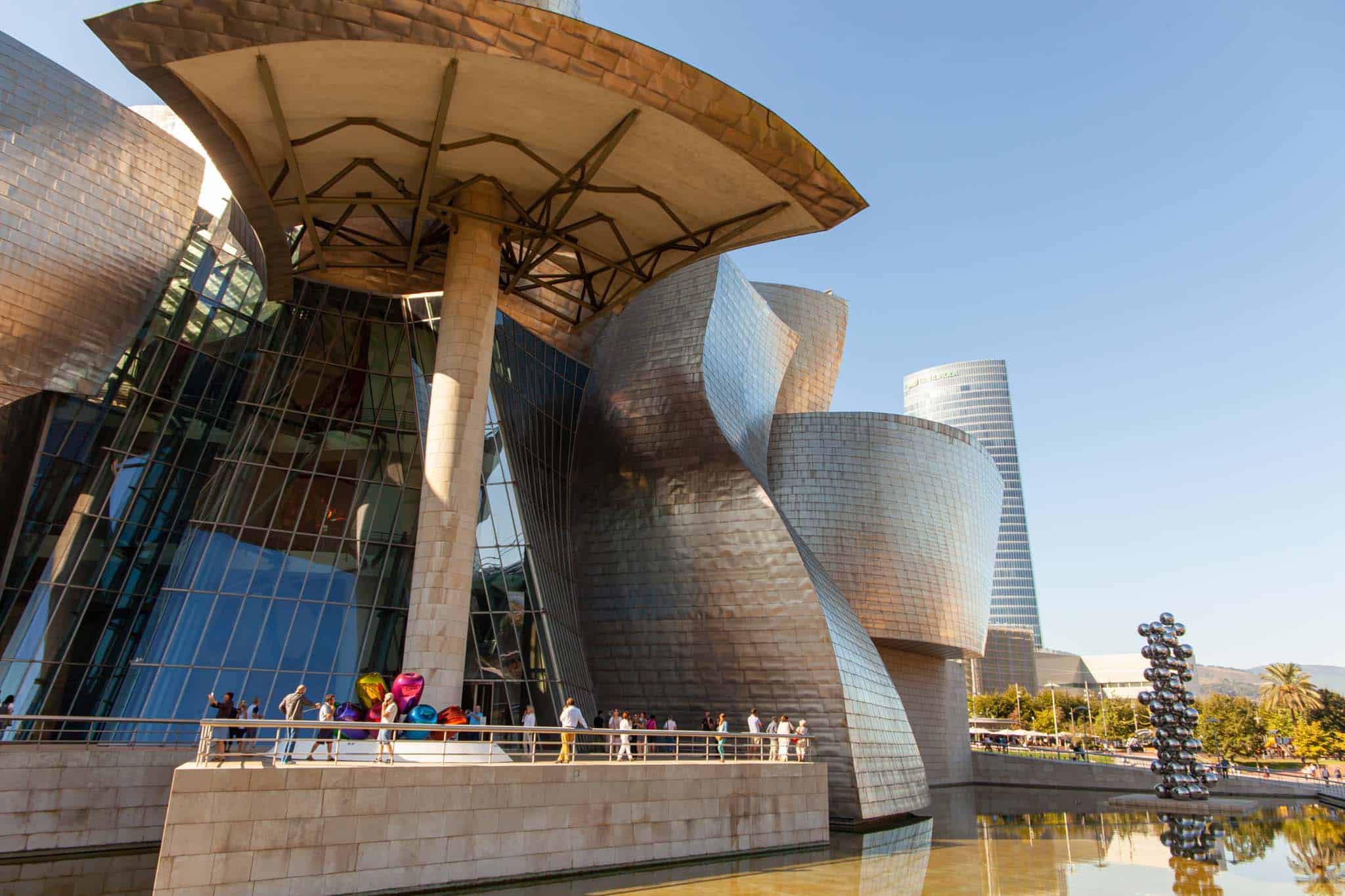 Where to travel after a weekend in León
From León, it's easy to continue your journey by train to experience the youthful energy (and wine) of Valladolid, head north to Asturias and the city of Oviedo, or enjoy a coastal escape in Gijon. Beyond, plenty more of Spain's hidden gems await.
Read more: Northern Spain itineraries by train
This article was written as part of my #SpainByTrain trip in autumn 2022 in partnership with Spain Tourism and Castilla y León Tourism.