Don't sit at home and wait for mango tree to bring mangoes to you wherever you are. It won't happen.
– Israelmore Ayivor
If you are a mango lover, then you are in for some good times. Mango Mela, 2023 is on at Handloom Haat, Janpath. We took the works of the lifestyle guru literally and visited Mango Mela 2023 last weekend. Mango Mela is an annual event every summer for many years now. We make it a point to visit the Mango Mela no matter how soaring the temperature outside.
Mango Mela Delhi, 2023
The Government of West Bengal has been organising Mango Mela in Delhi for many years. Eastern India is known for its wide mangoes which are smaller yet sweeter than mango varieties like Alphonso. Mangoes from Bengal are way more affordable too. We know people who would happily breakfast, lunch, and dine on mangoes. There has been a bumper mango crop this year, 2023. No wonder we were most excited.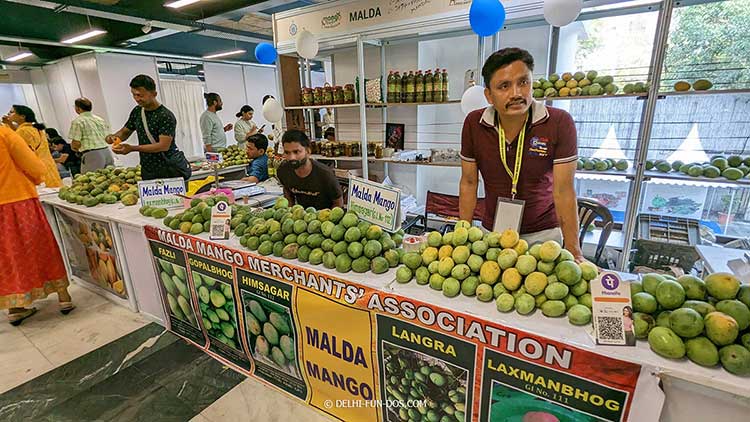 Traditionally, most Bengali mangoes that made way to the market were from the district Malda. There are myriad mango orchards in Malda and different varieties of mangoes are grown here. Himsagar, Lakshmanbhog, and Fazli from this district are protected as G.I. The mango varieties are not only sweet but Himsagar is known for its smooth texture making it perfect to use for cooking or desserts. Malda mangoes are always very sought after at Mango Mela.
Over time, we see participation from other districts of West Bengal as well. We sampled Langda, and Himsagar from 24 Parganas and Hooghly at the Mango Mela. These were supremely sweet with a melt-in-the-mouth texture. Our special favourite was Amrapali from North 24 Parganas. These were small in size, sweet with a hint of tart. It made the perfect palate cleanser after a heavy meal. We zeroed in on Himsagar, Langda, and Amrapali and filled our bags suitably.
Mango-Derived Products at Mango Mela
Mango Mela is not just about mango fruit. The farmers have brought a host of mango-derived products such as mango pickles, Aam Panna, Aam Choor (dried raw mango powder), and our favourite mustard relish Kasundi which is prepared with mustard seeds and mango.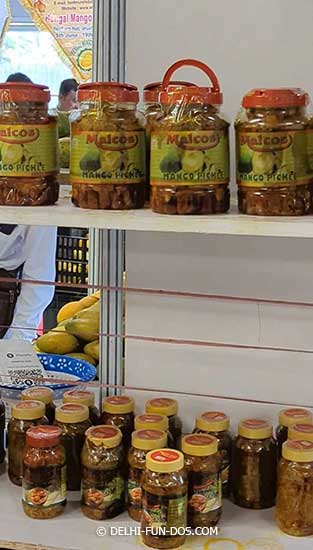 This time we bought dried raw mangoes and pickles. However, our favourite Kasundi from the West Bengal government store Biswa Bangla was not available.
West Bengal Handloom & Handicraft Items
The earlier Mango Melas would be mostly about mangoes and some food stalls. However, the fair is much larger now with many handloom and handicraft stalls from West Bengal. In fact, the fair is now called Mango Mela and Handloom and Handicraft Expo.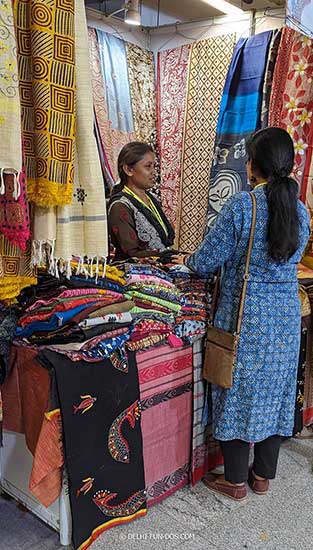 On the first floor, you would find stalls by West Bengal government-run initiatives such as Biswa Bangla, Manjusha, Tantuja, and Bangasree. They sell saris, fabrics, kurtas, and home linen, all handloom items. Some handicrafts are available here too. These are fixed-price shops with no doubt about the authenticity of the products.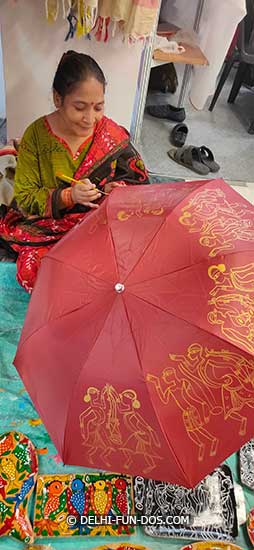 If you want a little more quirk, you should try the private vendors on the first floor. They are selling a host of lifestyle goods that are artful. Patachitras, Pata-painted umbrellas, lanterns, mugs, coasters, and trays are small items that could easily add oomph to your life.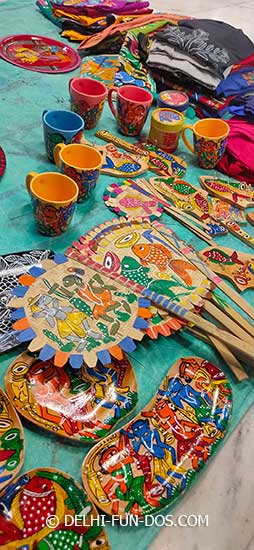 They also have intricately embroidered Kantha saris, bedspreads, and wall hangings. While these could burn a hole in the pocket, we found many visitors interested in these items.
If you want to taste some of the fragrant rice varieties from Bengal, you could try Gobindobhog or the healthy Tulai Panji both moderately priced between Rs 90 to 100 per kg. These are available at the Sufal stall on the first floor.
Food Court at Mango Mela
There is a designated food court area with many stalls. The menu boasts of popular stuff such as Mango Shake and Mango Sandesh along with intriguing items such as mango mutton and mango fish fry.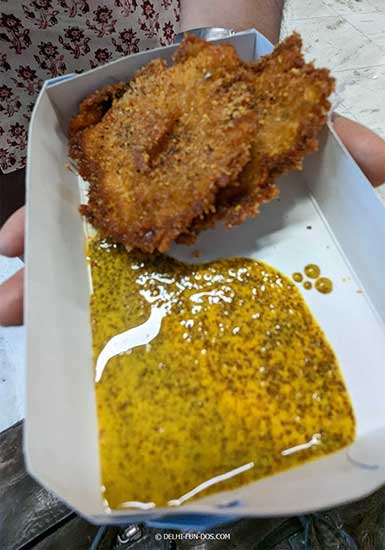 We played safe and stuck to fish fries from the Haringhata stall and Sandesh, Malai Chamcham, and Baked Rosogolla from Sweet Treat. All these items were top-notch. What we missed was tea. They had a stall that was selling machine tea. But what's a Bengali affair without the quintessential cha?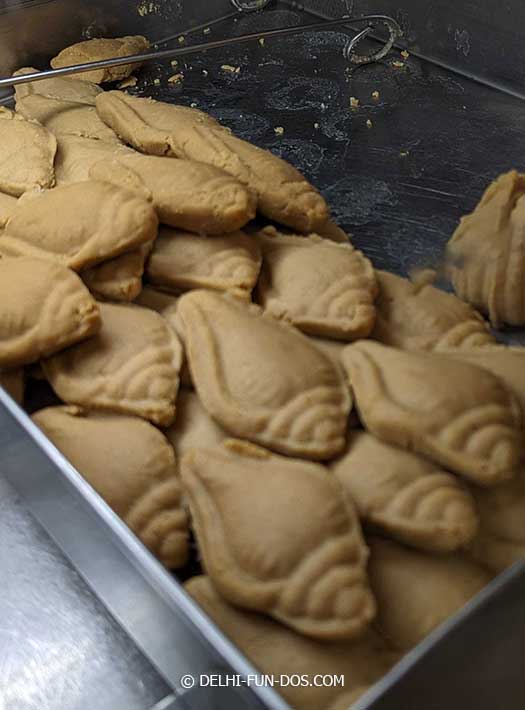 Baul and Cultural Evenings at Mango Mela
A host of cultural programs are being held in the evenings. Sreekhol (a percussion instrument), folk dances, and Hum-Sufi, a Sufi band from Kolkata are performing on select evenings.
Dhak drummers were performing at the gate when we went. Later, a Baul singer, a mystic from Bengal sang a few touching numbers.
How to reach Mango Mela 2023
Mango Mela is on at Handloom Haat, Janpath Road almost at the Connaught Place radial. You can drive here easily and park at the authorised parking lots in the lanes or on Janpath.
Metro is a great option too. The nearest metro station to Handloom Haat, Janpath is Janpath on Violet Line. It is 2 minutes' walk from here.
West Bengal Mango Mela and Other Mango Melas
Mango is the national fruit of India. There are many mango fairs held all throughout Delhi NCR during summer. What sets West Bengal Mango Mela apart is that you would rarely find Himsagar, Langda, or Golapkhash from Bengal in the other mango fairs.
Also, West Bengal is known for its aesthete and Mango Mela Handloom and Handicraft Expo is an attractive event for handloom and craft lovers as well.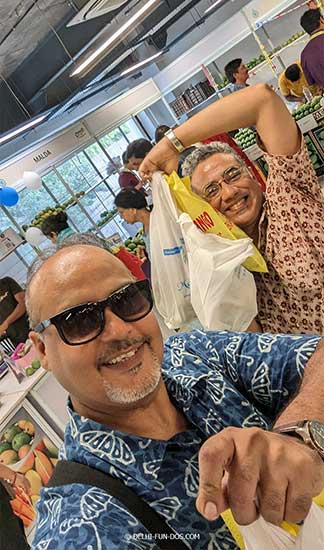 Last but not the least, mangoes from Bengal are perhaps the most affordable in Delhi. Ranging from Rs 40 to Rs 120 per kg, the King of Fruits from Bengal does not burn a hole in your pocket. No wonder, between the 2 of us we bought about 10 kgs for about Rs 600. And we are planning a second visit before the fair is over.
Mango Mela Delhi 2023 Dates and Time
Should you wish to attend, here are the details. The Mango Mela and Handloom and Handicraft Expo 2023 is on from 5th to 19th June 2023, 11 a.m. to 8 p.m. Entry to this fair is free.